Bill Belichick Takes Dig at Tom Brady and His Time with Patriots
For two decades Bill Belichick and Tom Brady were the most successful player-coach partnership in sports. While the NFL is a team sport, there's no denying those two were the consistent thread running through the fabric of success in New England dating back to the turn of the century. Brady's departure to Tampa Bay this offseason was a shock to the system for all involved. 
Belichick, despite his historic achievements with Brady, has always been one to downplay individual players' achievements and focus on the overall team success. However, with Brady now gone, it's reasonable to think, when asked, Belichick would readily admit Brady's greatness and his overall value to the organization during its glorious run making history. In a press conference, Belichick did just the opposite.
Tom Brady earns GOAT title
Tom Brady's numbers are mind-boggling. Since he became the starting quarterback for the 2001 season, Brady has been a model of consistency at an extremely high level. 
He's led the league in passing yards on three different occasions. Brady has been the league leader in touchdowns in a season four different times. He's been atop the NFL for lowest interception percentage in a season four times. For all of his individual accomplishments, Brady has been a 14-time Pro Bowler, three-time All-Pro, and a three-time MVP.  
All those numbers are great, but there's only one number that matters in the annals of history, and that number is six. That's the number of Super Bowl titles Brady won while under center in New England. It's an impressive number by itself, but even more so when you consider the second-highest title total is four, held by both Joe Montana and Terry Bradshaw. To put it in perspective, Brady won four Super Bowl MVP crowns. 
Brady departs for Tampa Bay
In March, after months of speculation, Tom Brady stunned the sports world and announced he was moving on in free agency and signed with Tampa Bay. It was a moment Patriots fans had feared, but one many sports pundits thought would never happen. 
In April, Brady wrote in The Players' Tribune that he made the move because he relished the opportunity to prove himself with a new organization while mentoring a younger core of players in Tampa Bay.
"A lot of veteran players were mentors to me during my years as a Patriot. They were there for me when I signed a second contract," Brady wrote. "Along with the opportunity to win championships, the support of older teammates is an amazing part of playing for a team. Doing whatever I can to help younger players evolve as people and players matters a lot to me. I've learned so much during my 20 years in New England—and I want to bring those things to a new team. Right now, though, I have things to prove to myself." 
Bill Belichick doesn't miss Tom Brady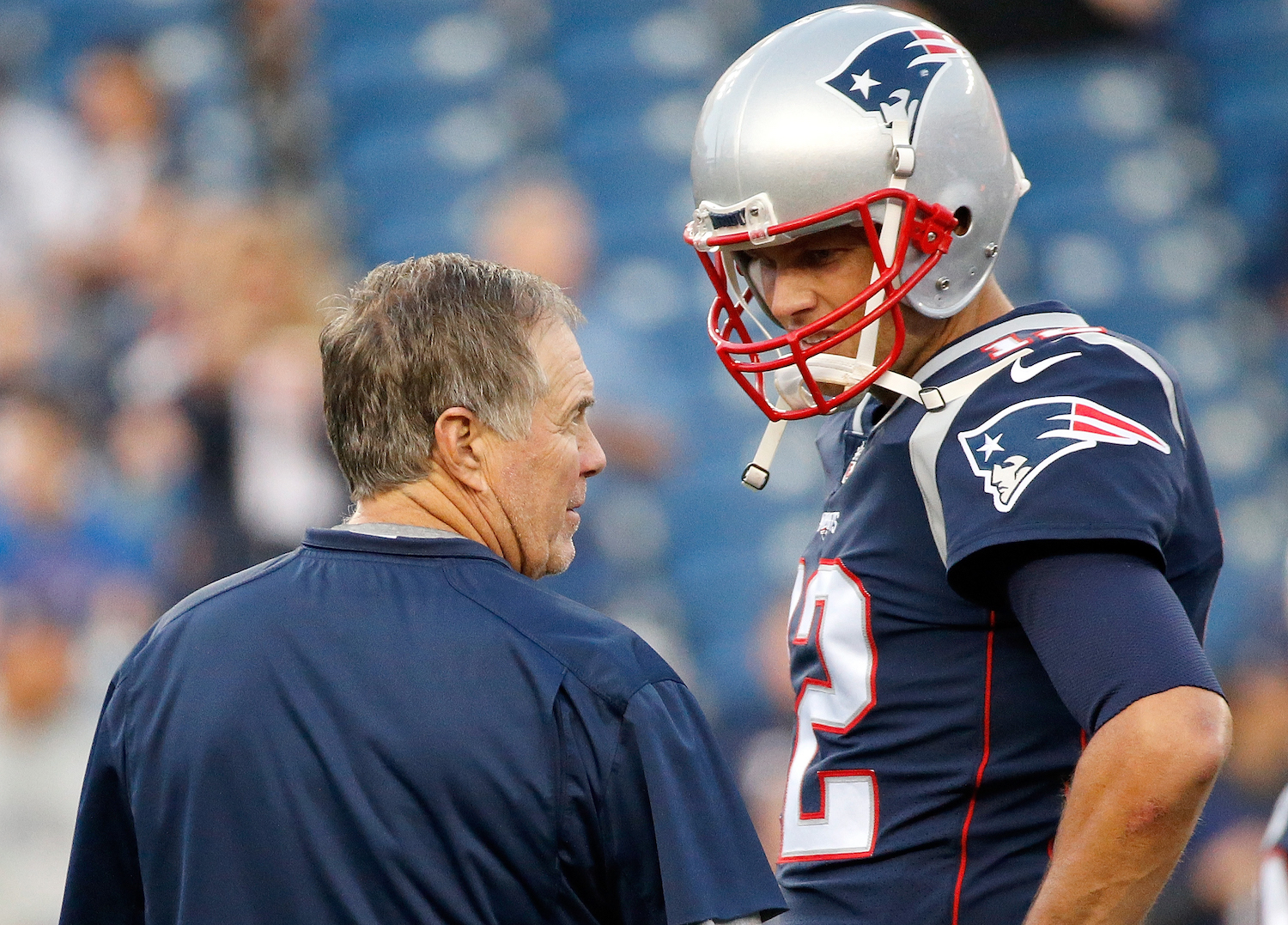 Shortly after Tom Brady's announcement, Bill Belichick issued a heartfelt response on his now former signal caller. 
"Tom and I will always have a great relationship built on love, admiration, respect and appreciation. Tom's success as a player and his character as a person are exceptional. Nothing about the end of Tom's Patriots career changes how unfathomably spectacular it was. With his relentless competitiveness and longevity, he earned everyone's admiration and will be celebrated forever. It has been a privilege to coach Tom Brady for 20 years." 
That was then. This is now. When a reporter asked Belichick in a press conference if Brady's absence was strange, the head coach had a surprising response.
"Well we've had a lot of great, great players over the course of that time. You could have the same conversation about all of them – Tedy Bruschi, Rodney Harrison, Ty Law, Logan Mankins, Rob [Gronkowski]. You could go right down the line," Belichick said. "So, it's professional football. It's the National Football League. Every team has changes every year. We have 'em, so does everybody else. I think right now, everybody's focused on this year."
After Brady's 20 years of excellence in New England, Bill Belichick's comments are dismissive and disingenuous. While all those players were, in fact, big contributors to the success in Foxboro, they were all interchangeable. Belichick proved that year after year. Tom Brady was the one constant. His contributions are incomparable. They have never been seen before in the NFL and likely will never be seen again. That's the reason he's the GOAT. Bill Belichick misses him. He just can't publicly admit it.