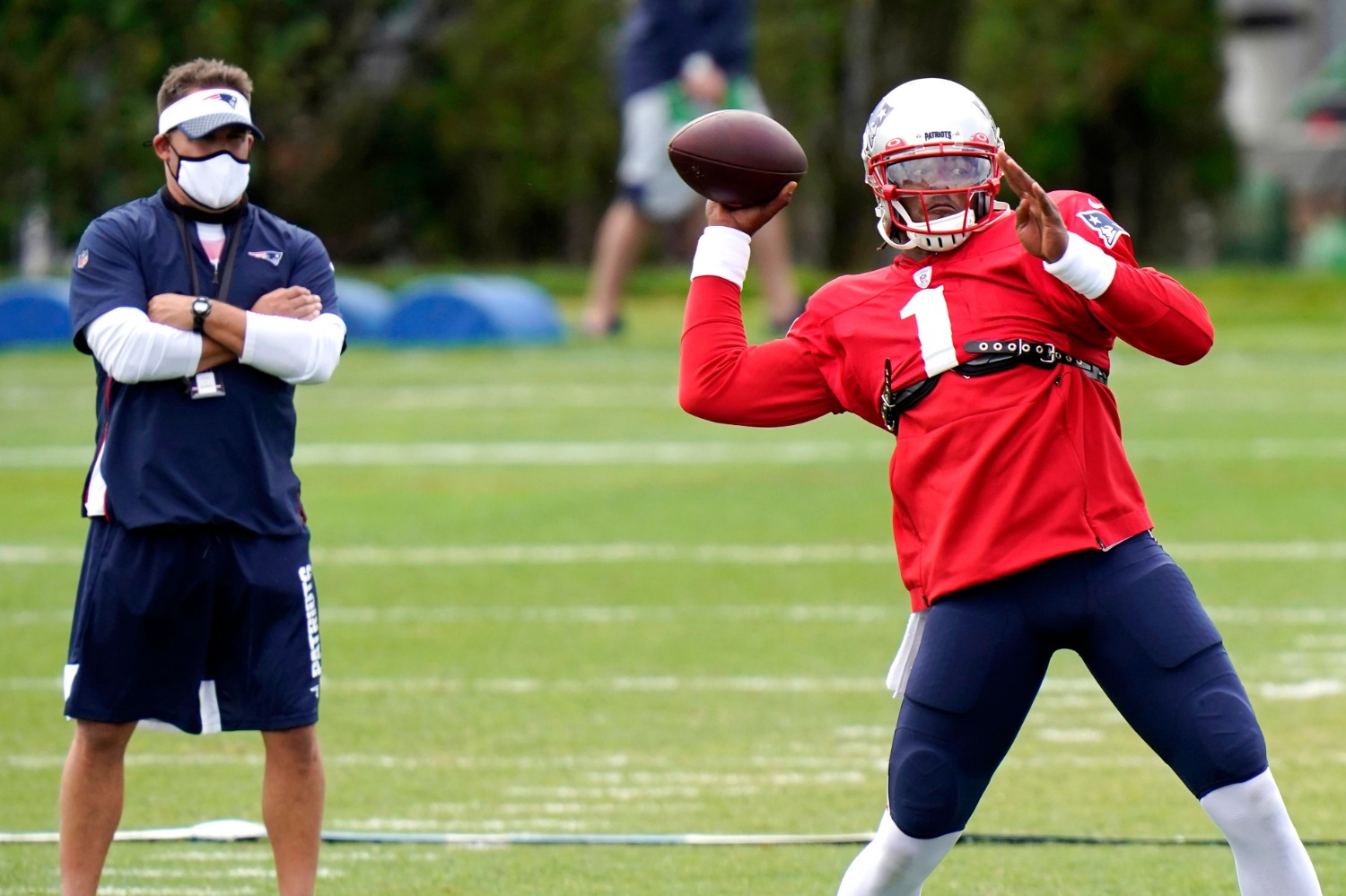 Former Super Bowl Champion QB Delivers Scary Prediction About Cam Newton's Effect on Patriots Coaches
Former Super Bowl champion Trent Dilfer made a scary prediction about the effect Cam Newton will have on the Patriots coaching staff.
Trent Dilfer never achieved elite status in the NFL, but he did capture a Super Bowl championship with the Baltimore Ravens. Nowadays, he's viewed as somewhat of a quarterback guru. And on Tuesday, the former NFL quarterback made a scary prediction about Cam Newton and his effect on the New England Patriots coaching staff.
And if Dilfer's words hold true, the rest of the NFL should be terrified of a Patriots offense that will look much different without Tom Brady running the show.
The Patriots have a history of innovating on offense
While Bill Belichick values consistency, he also has never been afraid to shake things up. Even with the same quarterback under center for two decades, the Patriots attacked opponents in a number of different ways.
Early in Brady's career, New England primarily won through a solid ground game buoyed by a passing attack predicated on timing routes and gaining yards after the catch. While those principles have never gone away, the Patriots made a radical change to their approach in 2007.
That season, Belichick traded for Randy Moss and Wes Welker. That resulted in a wide-open passing attack that featured Brady in the shotgun almost exclusively. Moss revitalized his career and reminded everyone why he had long been considered the most dangerous receiver in football. Welker went from an unknown commodity into the NFL's preeminent slot receiver.
Just three years later, the Patriots transitioned to a two-tight end offense built around Rob Gronkowski and Aaron Hernandez. That duo dominated for a brief stretch before Hernandez's legal troubles led to a swift exit from Foxborough.
In recent years, the Patriots turned the clock back with a run-based offense. Belichick drafted Sony Michel in the first round in 2018, and the rookie running back played a huge factor in New England capturing its sixth Super Bowl title.
Trent Dilfer makes scary prediction about Cam Newton and Patriots coaches
With TB12 in Tampa, the Patriots will look much different in 2020. Initially, many expected Jarrett Stidham to become the team's next starting quarterback. Belichick changed that narrative by stealing Cam Newton for pennies on the dollar. Both sides can benefit from the relationship, no matter how long it lasts.
For Belichick, Newton represents the polar opposite from what he had at quarterback for the last 20 years. For Newton, Belichick and the Patriots represent a chance to work in a demanding environment that will put him in the best position to succeed.
On Tuesday, Trent Dilfer appeared on The Pat McAfee Show to discuss Newton's fit in Foxborough. In doing so, he made a scary prediction about how the former No. 1 pick could inspire New England's coaching staff to totally transform the offense.
"I think Cam, especially as he's rebuilt his body, gives your offensive staff a lot of creative juices," Dilfer explained. "There's schemes you can implement that they haven't been able to implement before."
The former Super Bowl champion also said it wouldn't surprise him if the Patriots' coaching staff used this offseason to "take a deep dive into Saturday football" to learn more about quarterback-driven runs, zone-reads, and triple options—all of which seem suited to Newton's strengths.
What should we expect from New England's offense?
Trent Dilfer may not call plays on Sundays, but his prediction about how the Patriots coaching staff will utilize their new quarterback should scare the rest of the NFL. After all, Josh McDaniels already tried to build an offense around a dual-threat quarterback in Denver. But while Tim Tebow failed to live up to his first-round billing, Newton offers elite upside.
So what could New England's offense look like in 2020? Assuming Newton beats out Stidham for the starting job, it would make sense for the Patriots to implement more creative elements to their run game. Newton possesses rare physical ability that Brady simply did not bring to the table. Read-option plays would take advantage of Newton's rare running ability and force defenses to think quickly on their feet.
Expect the Patriots to also find ways to get the ball in the hands of their two young tight ends. Devin Asiasi and Dalton Keene offer intriguing tools. Newton relied heavily on Greg Olsen in Carolina, which gives both rookies a chance to see plenty of targets early on.
Of course, figuring out what Bill Belichick will do is as easy as trying to tackle Cam Newton in the open field. But if Trent Dilfer's prediction proves correct, the Patriots will unleash a new version of offense we have never seen in Foxborough.
Like Sportscasting on Facebook. Follow us on Twitter @sportscasting19.