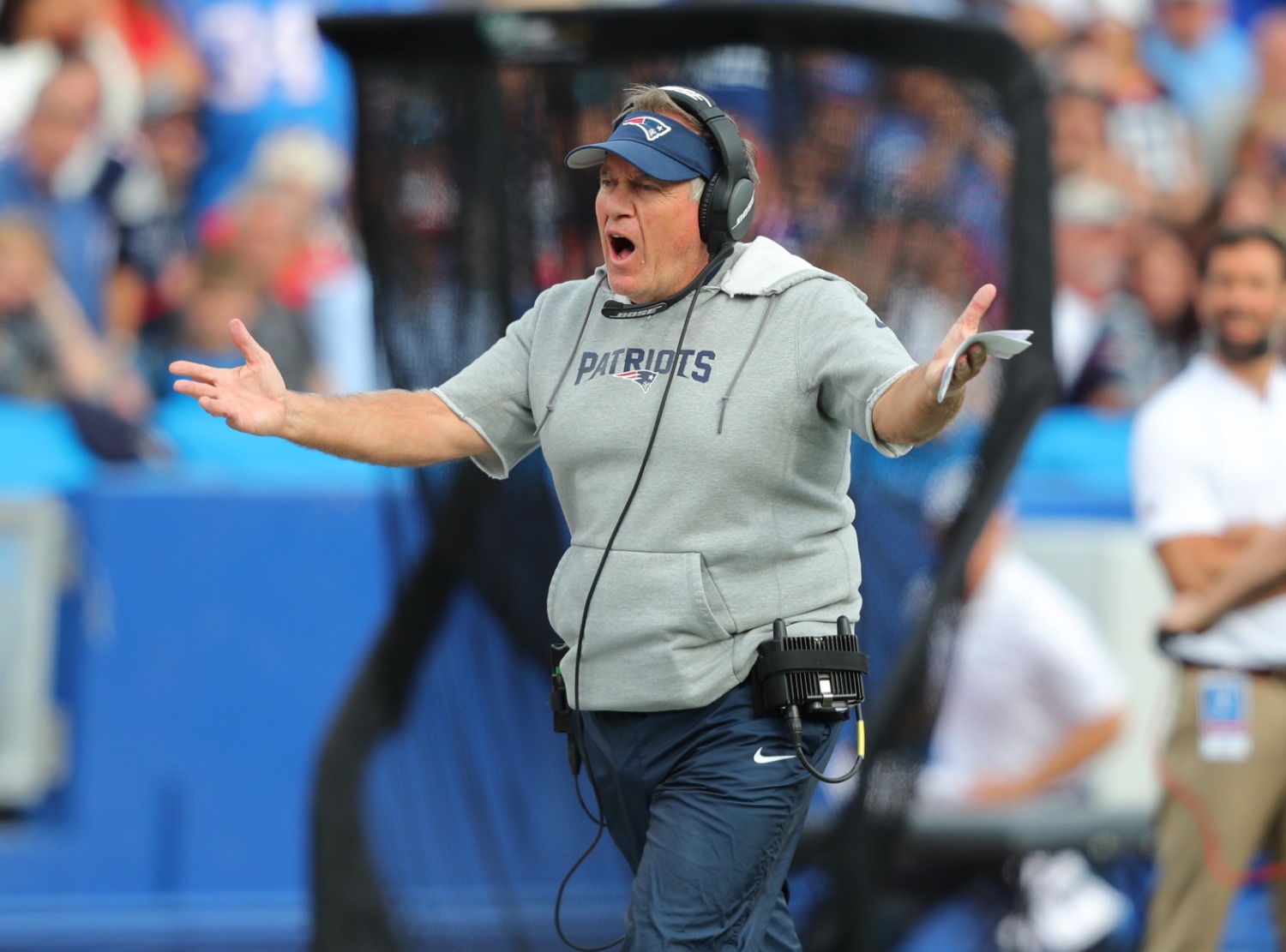 Bill Belichick Just Fired a Warning Shot at Sony Michel With Latest Signing
By signing veteran running back Lamar Miller on Monday, Bill Belichick just fired a clear warning shot to Patriots RB Sony Michel.
Bill Belichick doesn't need a microphone and a podium to fire a warning shot at one of his own players. After all, the man in charge of the New England Patriots has never hesitated about making a controversial move to shake up his team. And on Monday, he sent a clear message to Sony Michel by signing veteran running back Lamar Miller.
Based on Belichick's history at the running back position, that could spell trouble for Michel's future in Foxborough.
Sony Michel has not lived up to his first-round status
Even with Lamar Jackson still on the board, the Patriots went the unconventional route by choosing a running back over the electrifying quarterback. By selecting Sony Michel with the 31st overall pick in the 2018 NFL draft, Belichick hitched his wagon to the former University of Georgia star.
A dynamic playmaker in college, Michel entered the NFL with plenty of injury concerns. He tore his ACL in high school and had trouble staying healthy with the Bulldogs. Still, his ability to run between the tackles and catch the ball out of the backfield made him a coveted commodity.
It didn't take long for Michel to experience a health setback. The young running back underwent a knee scope and played just 13 games as a rookie. The Florida native did step up in the playoffs with 336 rushing yards and six touchdowns. Of course, the Patriots captured their sixth Super Bowl ring.
However, Sony Michel failed to build off a solid rookie year. Last season, he averaged just 3.7 yards per carry. He found the end zone just seven times in 16 games (14 starts). After snagging just seven catches in 2018, he caught only 12 balls in 2019.
Bill Belichick fires warning shot by signing Lamar Miller
Bill Belichick certainly expected more from Sony Michel when he took him in the first round two years ago. After all, you don't spend a top-32 pick on a running back who can't even crack 1,000 rushing yards. Plus, Nick Chubb, Michel's college teammate, has turned into a star after going just four picks later.
On Monday, Belichick fired a clear warning shot at Michel. And it didn't involve a single word. Adam Schefter tweeted that the Patriots signed veteran running back Lamar Miller to a one-year deal. The 29-year-old missed the entire 2019 season with a torn ACL. However, he has a track record of solid all-around production.
In fact, the Patriots have seen plenty of Miller over the years. After starring at the University of Miami, the Florida native stayed right at home. The Miami Dolphins selected Miller in the fourth round of the 2012 NFL draft. He started 48 games for the Dolphins and showcased a well-rounded skill set.
After racking up nearly 4,000 total yards in four years in Miami, Miller signed a lucrative contract with the Houston Texans. Though he cracked the 1,000-yard mark just once, he still provided a solid ball-carrying option. Plus, he racked up 92 catches in 41 starts.
Though he just turned 29 in April, Lamar Miller could play a significant role in Josh McDaniels' offense. And that could spell trouble for Sony Michel.
Michel's future in New England
Bill Belichick cycles through running backs like nobody's business. He rode Antowain Smith to two Super Bowl titles. Corey Dillon carried the load for another championship team. New England has also employed the likes of Kevin Faulk, Danny Woodhead, Shane Vereen, Stevan Ridley, and LeGarrette Blount over the years.
Needless to say, Belichick has demonstrated that he will ride the hot hand. And he certainly won't show any hesitation about pulling the plug on a player who fails to deliver.
In the case of Sony Michel, the third-year back has largely underwhelmed so far. When you factor in another offseason surgery (foot), that already puts him in a bad position to start the 2020 season.
The Patriots just brought in Miller, and they also have 2019 third-rounder Damien Harris on the roster. The former Alabama standout has to prove he can stay healthy and contribute, but his skill set gives him a shot at unseating Michel.
If Miller and/or Harris emerges, that could spell serious trouble for Michel's future. Could New England look to unload the running back as he enters the final years of his rookie deal? Would Belichick even consider picking up his fifth-year option if he disappoints again?
Ultimately, Sony Michel has to get healthy and produce like a first-round pick if he plans on making Foxborough his permanent NFL home. Hopefully, he heard the warning shot Bill Belichick just fired at him on Monday. If he doesn't turn his career around quickly, he'll be playing elsewhere sooner than later.