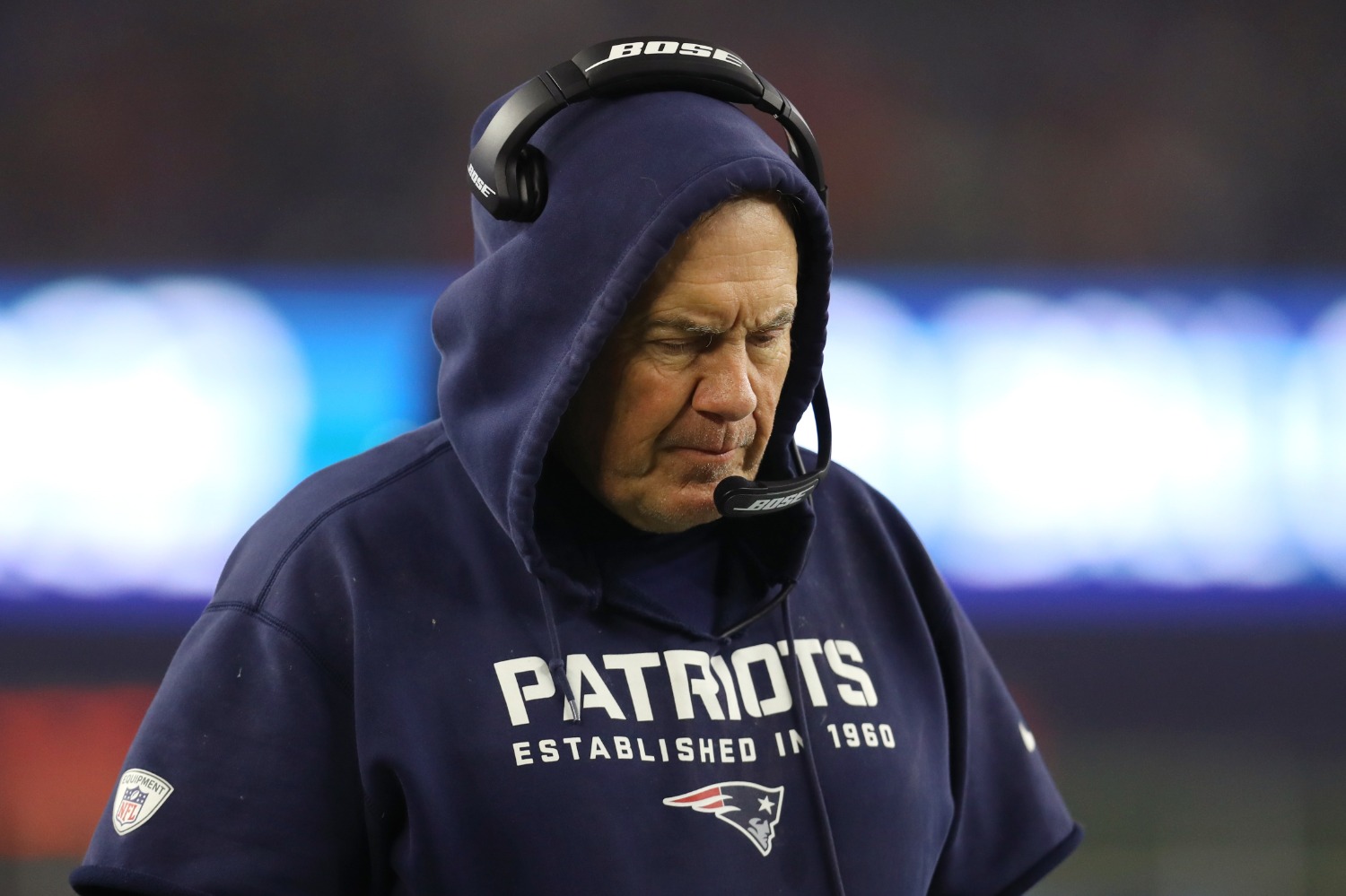 The New England Patriots Just Suffered a Brutal Retirement Blow
The New England Patriots just drafted Dustin Woodard in April. His abrupt retirement is a brutal blow to New England's center depth.
Bill Belichick already watched Tom Brady depart this offseason. He lost Kyle Van Noy and Jamie Collins in free agency. His No. 1 defense got gutted further with Dont'a Hightower and Pat Chung opting-out of the 2020 NFL season. And on Thursday, the New England Patriots head coach suffered another personnel loss with rookie center Dustin Woodard retiring before ever playing an NFL snap.
On the surface, it seems silly to think that losing a seventh-round pick would inhibit the team's success this season. But anyone who watched the Patriots last year knows the importance of stability at the pivot position. And given New England's razor-thin depth at center, Woodard's retirement represents a brutal blow to that group.
Dustin Woodard's journey to the Patriots
Born in Chandler, Ariz., Dustin Woodard parlayed a successful high school career into a scholarship to the University of Memphis. Though he did not wow anyone with his size, he became one of the top offensive linemen in school history.
His 52 starts tied the program record for the most ever by an offensive lineman. He proved his versatility by starting at all three interior positions. Woodard earned All-American Athletic Conference honors at right guard (2018) and center (2019).
The management major also received an invitation to the NFLPA Collegiate Bowl. At 6-foot-2, 291 pounds, Woodard's size gave some NFL teams concerns about where he would play at the next level. However, the Patriots—who value versatility and intelligence—selected the experienced interior lineman with the 230th overall pick.
Expected to compete for the backup center job, Dustin Woodard threw a wrench in those plans on Thursday.
Woodard retires before ever playing a snap
As a seventh-round pick, Dustin Woodard already stood a tall task in making the active roster. However, given New England's problems at center last season and the fact that Joe Thuney could be gone in 2021, the former Memphis standout had a legitimate shot at earning a roster spot. In fact, he may have had a chance at becoming the Patriots' backup center in 2020.
But on Thursday, the rookie surprisingly opted to retire from the NFL. Naturally, some speculated that the decision could be related to COVID-19. However, Woodard did not walk away because of the coronavirus. Instead, he ended his NFL career before it really began.
For the Patriots, the loss stings more than it normally would for a late-round selection. Woodard certainly had a long way to go to earn a roster spot. Yet, his experience starting at multiple positions would have given him a leg up on other offensive linemen battling for a job.
Plus, the Patriots don't exactly have impressive depth at arguably the most important position on the offensive line other than left tackle.
The Patriots have major issues at the center position
With Dustin Woodard no longer part of the equation, Bill Belichick has a serious center problem. Longtime starter David Andrews missed the entire 2019 season due to blood clots. While he will return to action this season, his existing health issues could prove problematic in light of the COVID-19 pandemic.
In 2018, the Patriots won their sixth Super Bowl title largely on the heels of a dominant rushing attack. New England ranked fifth in rushing yards during the regular season. In three postseason games, the Patriots totaled 485 yards and nine touchdowns on the ground.
Last season, Andrews' absence resulted in a steep drop in production. The Patriots fell to 18th in rushing yards and just 25th in yards per attempt. Sony Michel's yards-per-carry average tumbled from 4.5 to 3.7.
Getting Andrews back for the 2020 season should help shore up some of those issues. However, Tyler Gauthier is the only other pure center on the roster. The former undrafted free agent has never played in an NFL game. If Andrews suffers an injury, the downgrade to Gauthier would be massive.
Ultimately, Belichick will have to find another way to improve at the center position. It looked like he had done that by drafting Dustin Woodard. But with the rookie retiring abruptly on Thursday, the Patriots just suffered a brutal blow to a critical position. Let's see if Belichick works his magic again to make up for his latest personnel loss.
All statistics courtesy of Pro Football Reference.