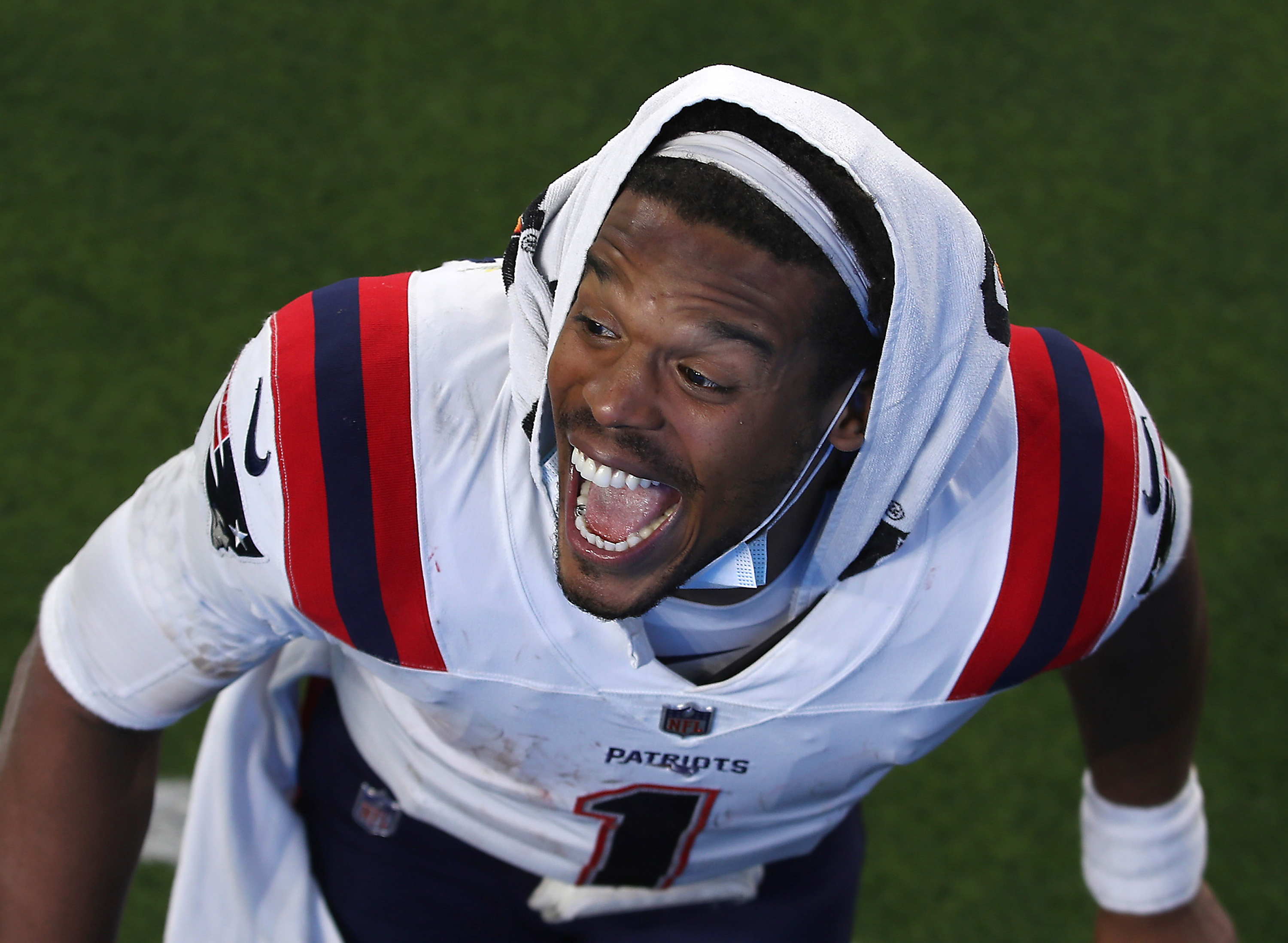 Cam Newton Has Apparently Been Given a Mandate by the New England Patriots
Quarterback Cam Newton has apparently been given a mandate by the New England Patriots when it comes to interviews.
On the football field, Cam Newton's performance for the New England Patriots has been average at best. Off the field, he's been refreshing. During his press conferences, Newton has been known to say what's on his mind, telling it like it is. Apparently, Newton has been given a mandate by someone within the Patriots organization that just may change all of that.
Cam Newton has had an up-and-down season
RELATED: Patriots Left Holding Their Breath After Cam Newton's Positive COVID-19 Test
Cam Newton came to the New England Patriots with some big shoes to fill. Replacing Tom Brady and his six Super Bowl rings isn't an easy task for anyone, even if they are a former NFL MVP. Newton, who claimed the MVP award in 2015, signed as a free agent in the offseason and has the Patriots sitting at 6-6.
Newton hasn't been a savior, but he hasn't been a bust. With the team at .500, that's about where Newton has been this year. His passing numbers are ugly. He's thrown five touchdown passes in 11 games. He's been picked off nine times. Newton does have 11 rushing touchdowns and has racked up 435 yards on the ground.
After a 2-5 start, the Patriots have won four of their last five games to give themselves an outside shot at the postseason. They lost each of their last two games by a field goal. Newton and the Pats are fresh off a 45-0 thrashing of the Los Angeles Chargers and will take on the LA Rams on Thursday Night Football.
Newton has been a refreshing personality in New England
Cam Newton came to the New England Patriots, replacing Tom Brady at quarterback. Brady is the king of quarterbacks with six Super Bowl titles, but he is also the king of the mundane interview. Brady frequently said a lot without saying anything.
At times, Newton has been considered diva-like. In New England, he still wears the flashy outfits and brings his outgoing personality to the press conferences. There haven't been many "we're onto Cincinnati" quotes coming out of his mouth.
Newton tells it like it is. He's been extremely hard on himself. He's become very likable in New England, a refreshing personality after dealing with the robotic-like antics of Brady and Bill Belichick for years.
Newton may have been given a mandate by the team
Earlier this week, Cam Newton was doing his weekly interview on The Greg Hill Show on WEEI in Boston. Newton has always been an up-front guy with his answers during the show. This time, however, the Patriots quarterback was very vague when asked a simple question.
Newton was asked how injured wide receiver Julian Edelman has looked. Newton then turned into Bill Belichick and Tom Brady. "I've been summoned not to talk about things I can't control," Newton quipped. Newton was then asked who told him that. ""Let's just say, if you know, you know."
Seems like the obvious answer there is Belichick. Belichick also has a weekly interview on WEEI and never gives out any information during his air time. It's clear that someone has spoken to Newton and has told him to watch what he says. That must be the Patriot Way.