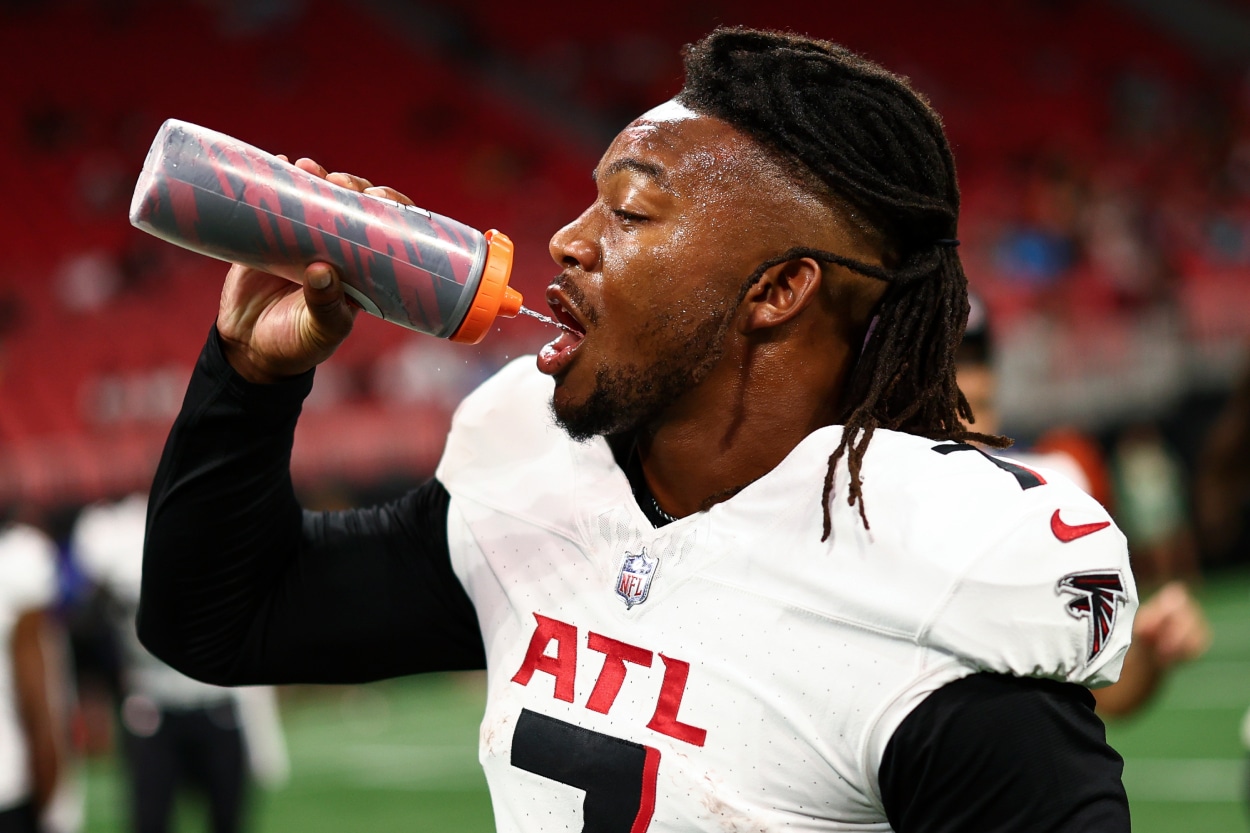 Who Is Bijan Robinson, and How Do You Pronounce His Name?
Most Fantasy Football leagues will see Atlanta Falcons RB Bijan Robinson drafted by the second round. If you snag him, just say his name correctly.
Fantasy Football drafts are underway, and if you're not a big college football fan, you might not be overly familiar with Atlanta Falcons rookie running back Bijan Robinson. Robinson, the eighth overall pick in the 2023 NFL Draft, is expected to be the workhorse in the Falcons backfield. Most Fantasy Football mock drafts have him in the top five at the running back position. If you decide to draft Robinson, just make sure you pronounce his name correctly.
How good is Bijan Robinson?
Bijan Robinson was the top running back selected in the 2023 NFL Draft and one of just two selected in the first round. At 5-foot-11, 215 pounds, Robinson has the size to be an every-down back and carry the workload in the NFL.
A dual threat out of the backfield, Robinson caught 60 passes in his three years at Texas and finished with eight touchdown receptions. Those eight TD catches are the most ever by a running back at Texas. In his junior year alone, he rushed 258 times for 1,580 yards and 18 rushing touchdowns for the Longhorns.
For his career, Robinson tallied 3,410 yards after eclipsing the 1,000-yard rushing mark as a sophomore. In that season, he carried the ball 195 times in 10 games, gaining 1,127 yards. He finished with 11 rushing touchdowns.
In 2022, Robinson was the winner of the Doak Walker Award, given to the nation's top running back. He also became the fourth running back in Texas history to be a unanimous First-Team All-American.
Pro Football Network has Robinson ranked second among 2023 Fantasy Football running backs, just behind San Francisco 49ers star Christian McCaffrey. While most publications don't have him quite that high, he's typically among the top five backs listed.
When you call his name at the Fantasy Football draft, make sure you pronounce his name right
It's clear that the potential for a big rookie season for Robinson is there. With a young quarterback in Desmond Ridder lining up under center, the Falcons will likely rely on a strong ground game headed by Robinson.
Robinson's name will be called within the first two rounds of most Fantasy Football drafts. If you want to take him but are unsure of how exactly to say his name, he gave a tutorial during training camp.
"How you pronounce my name is Bi-Juhn," Robinson told reporters at camp earlier this month. "That's how you say my name, but I say Bee-Juhn, and I don't know why I say that.
"All my life I said that, and my mom's like, 'Why do you say your name like that?' It doesn't really affect me on how it's said, so if you guys want to say Bi-Juhn, go ahead. If you want to say Bee-Juhn, I'm cool with that, too."
There you have it. If you want to snag Robinson in your draft room but are afraid of mispronouncing it, you really can't go wrong. You've got two options, and Robinson is fine with both.