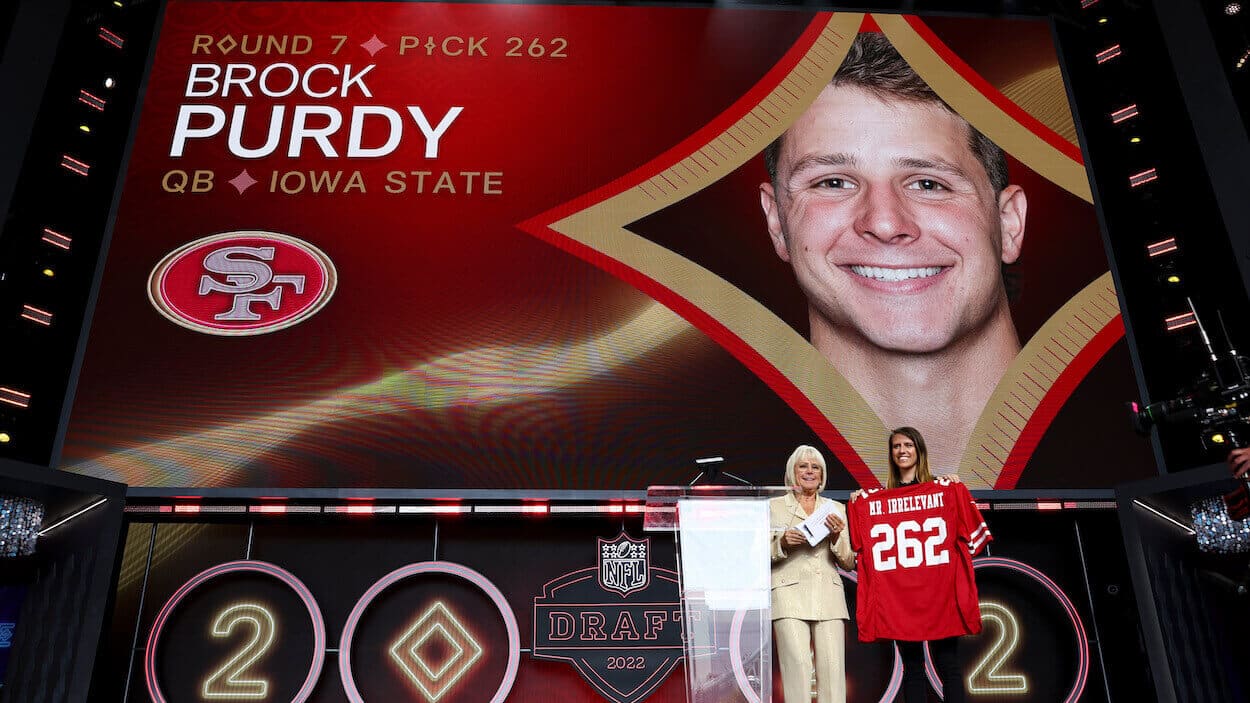 The 'Brock Purdy Effect' Dominates Day 3 of the 2023 NFL Draft
Thanks to the Brock Purdy Effect, nine QBs went on Day 3 of the 2023 NFL Draft, and some might have a chance to play sooner rather than later.
Most of the conversation surrounding the 2023 NFL Draft was about the first-round quarterbacks. Bryce Young vs. C.J. Stroud, Anthony Richardson's combine, and Will Levis' draft day fall were the biggest stories of the season. However, on Day 3 of the draft, another QB-centric storyline emerged as successful college signal-callers flew off the board: The Brock Purdy Effect.
The Brock Purdy Effect was in effect on Day 3 of the 2023 NFL Draft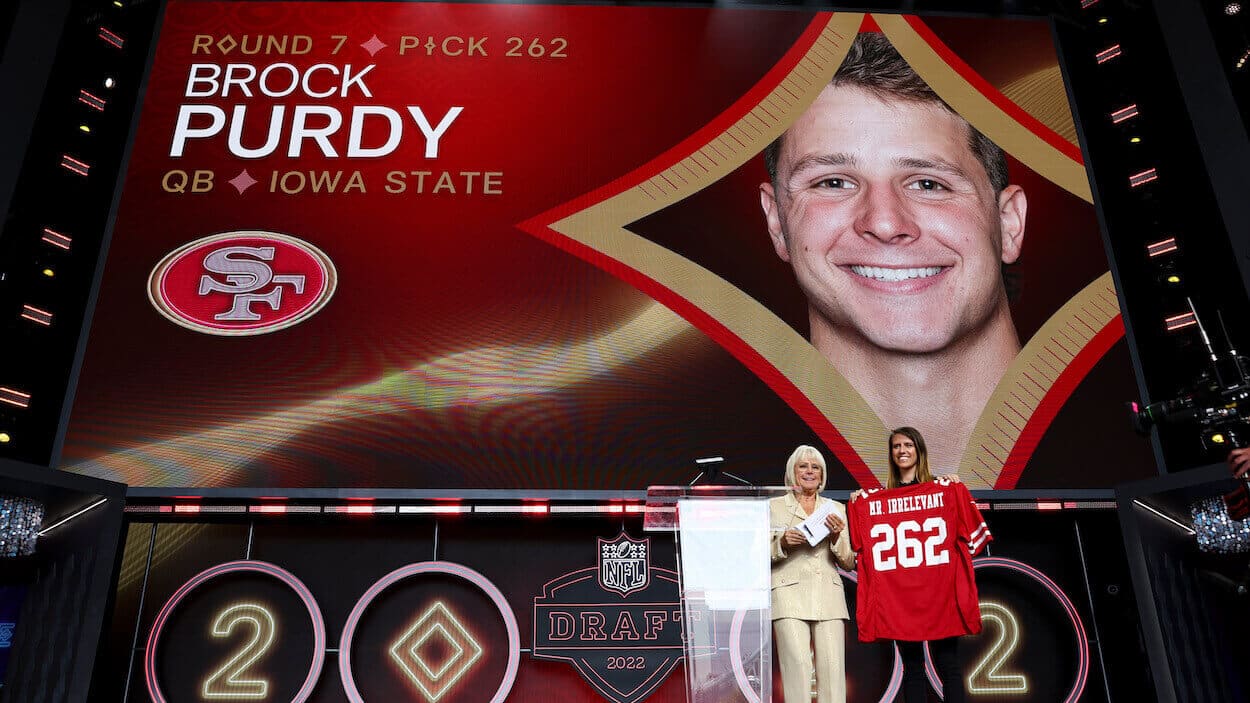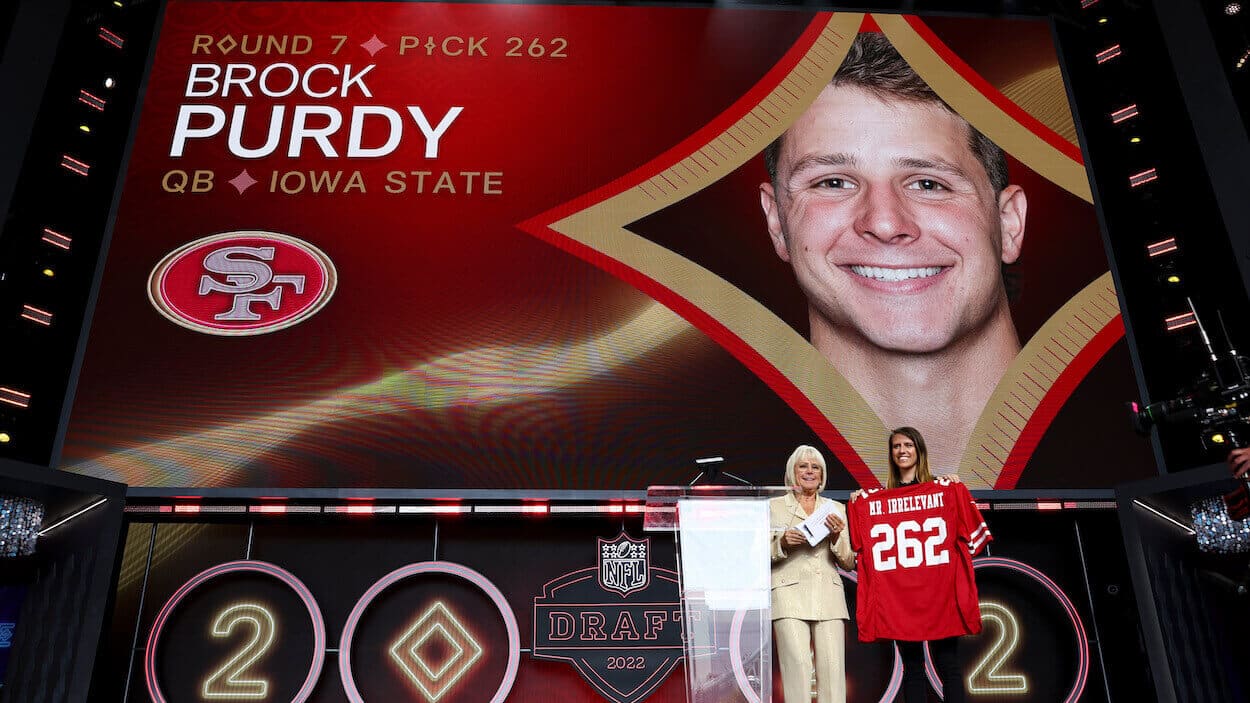 The last NFL draft pick before Alabama QB Bryce Young went No. 1 overall in the 2023 NFL Draft was Iowa State signal-caller Brock Purdy who went No. 262 as "Mr. Irrelevant" in the 2022 draft.
That pick rarely makes an NFL roster let alone contributes. But after injuries to San Francisco 49ers quarterbacks Trey Lance and Jimmy Garoppolo, Purdy stepped in, won seven consecutive games as a starter, and led the team to the NFC Championship.
Purdy is now the 49ers franchise quarterback, despite his lowly draft position.
He was a four-year starter at Iowa State, but scouts decided he had too many holes in his game to become a starting QB in the pros. His NFL.com scouting report called him "a scrappy runner but not dynamic enough to make up for his shortcomings as a passer."
Purdy proved all of them wrong, and the NFL took notice.
In the 2022 NFL Draft, there were five quarterbacks taken on Day 3 (rounds 4-7). Just a year later, thanks to the Brock Purdy Effect, there were nine.
Here are the QBs who benefitted from this phenomenon and what their situations look like with their new teams.
New Orleans Saints, Round 4, pick 127: Jake Haener, Fresno State
Jake Haener joins his fellow Fresno State Bulldog, Derek Carr, and could be the heir apparent if he develops under Carr's tutelage.
Los Angeles Rams, Round 4, pick 128: Stetson Bennett, Georgia
Just like Haener, Stetson Bennett will play behind a Georgia Bulldog in Matthew Stafford. He'll also be the primary backup and could play sooner than most would think.
Las Vegas Raiders, Round 4, pick 135: Aidan O'Connell, Purdue
Aidan O'Connell is a pure pocket passer who will learn from a similar player in Jimmy Garopplo, and as we know, Jimmy G doesn't always stay healthy for a full season, so O'Connell could see time.
Arizona Cardinals, Round 4, pick 139: Clayton Tune, Houston
With the Kyler Murray and Colt McCoy injury situation, Clayton Tune may be the only healthy QB on the roster in Week 1 of next season.
Cleveland Browns, Round 4, pick 140: Dorian Thompson-Robinson, UCLA
Dorian Thompson-Robinson probably won't see much PT any time soon, but he'll get to learn under a QB with a similar style in Deshaun Watson.  
Green Bay Packers, Round 5, pick 149: Sean Clifford, Penn State
Jordan Love will get all the chances he needs to become the next great Packers starter, but no one has any idea how that is going to turn out. If he falters, Sean Clifford could get a shot at some point.
Minnesota Vikings, Round 5, pick 164: Jaren Hall, BYU
The Vikings need to find a young QB to hopefully one day replace Kirk Cousins, and after drafting the 25-year-old Jaren Hall, he's it.
Philadelphia Eagles, Round 6, pick 188: Tanner McKee, Stanford
Jalen Hurts has a massive new contract, so Tanner McKee will be on the bench. If he shows a little in the next few preseasons, though, he could be trade bait.
Los Angeles Chargers, Round 7, pick 239: Max Duggan, TCU
With Justin Herbert in the building, Max Duggan is another QB who won't see the field in the near future.