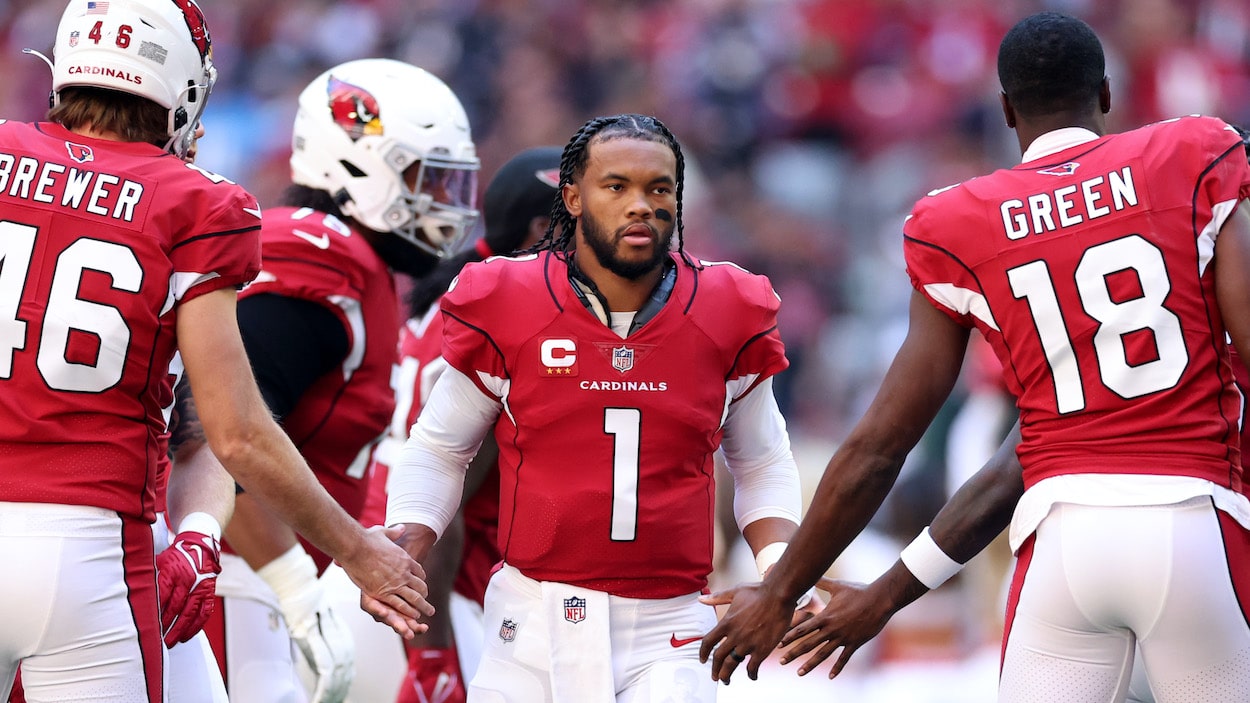 How Long are the Cardinals Stuck With the Kyler Murray Contract?
After the head-scratching Kyler Murray contract extension this offseason, the Cardinals are now stuck with the QB for a while.
In the 2022 NFL offseason, Arizona Cardinals quarterback Kyler Murray pitched a fit on social media and elsewhere, forcing the franchise to give their star QB a huge new contract extension at least a year (or more) before they had to. Now the Cardinals are mired in a 4-8 season, and it's questionable if Murray is the team's long-term answer under center. However, whether Murray is the best QB for coach Kliff Kingsbury and the Cardinals or not, the organization is stuck with him for a while now. Here is everything you need to know about the Kyler Murray contract and when his team could potentially get out of it.
The Cardinals re-signed their QB in 2022
As the No. 1 overall pick in the 2019 NFL Draft, the Kyler Murray rookie contract ran through 2022. It also included a fifth-year option (which the team initially picked up) of around $29 million for the 2023 season.
After that, the team could have comfortably franchised him for 2024 for less than what they've agreed to pay him per season now.  
Instead, the Cardinals handed Murray one of the biggest contract extensions in NFL history this offseason. The deal was for $230.5 million over five years with $189.5 guaranteed, per Spotrac. That works out to an average annual salary of $46.1 million, which made him the second-highest-paid player in the NFL by AAV (to Aaron Rodger's $50.2 million). Shortly after, Russell Wilson signed a deal that pays him $48.5 million a season, pushing Murray down to No. 3.
The contract also made news for including some embarrassing stipulations for Murray. Once clause requires at least four hours of "independent study" of game film while not engaged "in any other activity that may distract his attention (for example, watching television, playing video games, or browsing the internet)."
This contract was odd all around. From the early timing of it to the embarrassing clauses to the sky-high money, none of it was great, and now Murray and the Cardinals are stuck with each other for the foreseeable future.
The Kyler Murray contract keeps the QB in Arizona at least through 2024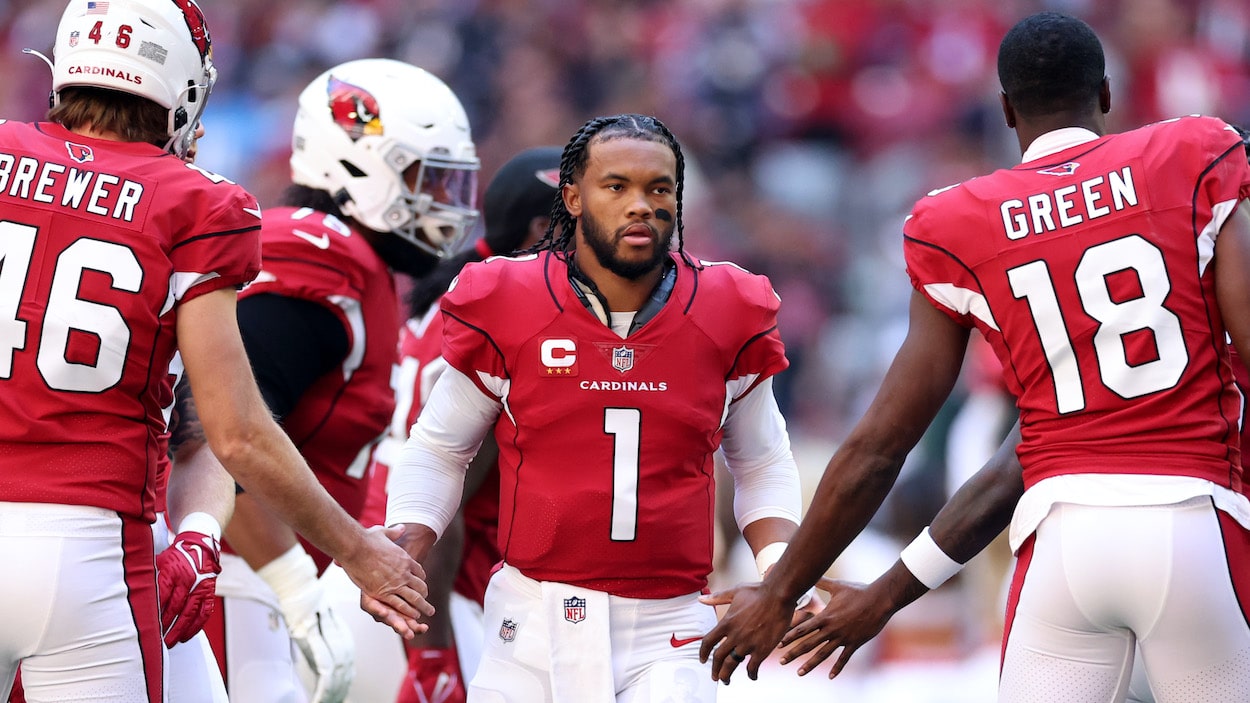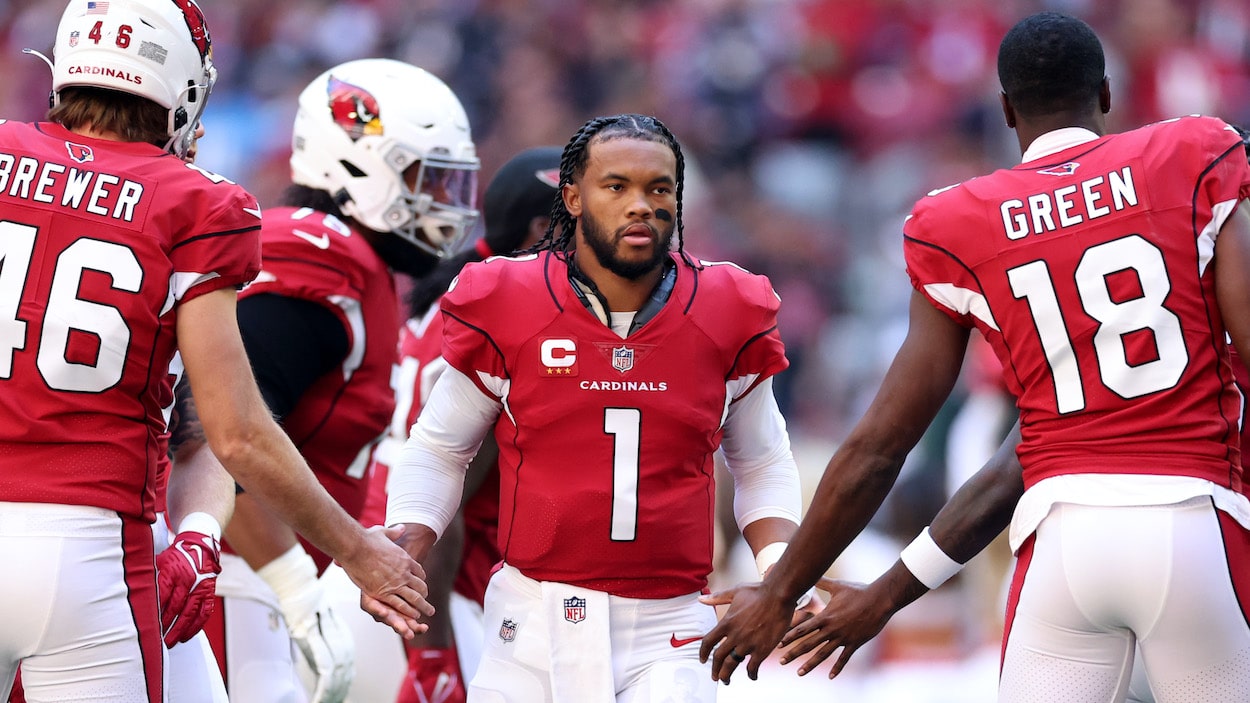 The Arizona Cardinals are 4-8 this season, and Murray has been unspectacular at best, with 2,359 passing yards, a 66.3% completion rate, 14 touchdowns, seven interceptions, and 415 rushing yards with three rushing TDs.
There has also been quite a bit of obvious and public tension between Cardinals head coach Kliff Kingsbury and his star signal-caller.
Just before the Kyler Murray contract extension, both Kingsbury and general manager Steve Keim also signed new deals that will keep them in Arizona through the 2027 season. That means if the Cardinals want to fix the problems that have made them 4-8 this season, they'll have to get rid of one of three highly paid (and highly guaranteed) people.
If Cardinals owner Michael Bidwill decides to fire Kingsbury or Keim, he'll likely have to pay them out through 2027. Getting rid of Murray would likely be more expensive and much more complicated.
In 2023, Murray has a cap hit of $16 million and a dead cap hit of $97.5 million, meaning if the Cardinals cut or trade him, it would add an additional $81.5 million to the team's salary cap. In 2024, those numbers are $51.8 and $81.5 (+$29.3 million on the cap).
The 2024 season would be the first time a move with Murray would make fiscal sense. That season, his cap number is $45.6 million, and the dead cap is $33.2. Then, the Cards would actually save $12.4 million by getting rid of Murray, but would still be dealing with more than $30 million on the cap for him not to play for them.
In 2026 and 2027, it begins to be beneficial to the Cardinals to get rid of Murray or renegotiate his deal. In those years, his cap vs. dead cap are $55.5 million/$20.2 million and $43.3 million/$7.2 million, respectively.
All that is the long way of saying that the Cardinals will have the Kyler Murray contract on the books for at least two more seasons, no matter how well he or the team performs on the field.