Taking Florida QB Anthony Richardson No. 1 in the NFL Draft Is a Huge Mistake
Florida quarterback Anthony Richardson lit the NFL combine on fire last weekend, putting up testing numbers no one has ever seen from a QB. In a league that now puts a premium on athleticism at quarterback, Richardson is a unicorn. And as such, there are now rumors he could be the No. 1 pick in the 2023 NFL Draft.
There's only one small problem with that. Anthony Richardson isn't a good quarterback.
Florida QB Anthony Richardson could be the No. 1 pick in the 2023 NFL Draft
There were a lot of great stories that came out of the 2023 NFL combine. Georgia EDGE Nolan Smith ran a faster 40-yard dash than Saquon Barkley, and USC offensive lineman Andrew Voorhees put up the most bench press reps (38) of anyone at the event with a torn ACL.
However, the week in Indianapolis was all about Florida Gators QB Anthony Richardson.
The 21-year-old prospect measured 6-foot-4, 244 pounds, just an inch shorter and four pounds lighter than Can Newton coming out of Auburn. And as a supersized quarterback, Richardson put up testing numbers QBs only dream about.
Officially, he ran a 4.43-second 40-yard dash and recorded a 40.5-inch vertical and a 10-foot-9 broad jump. All three of those numbers were the best at his position in the 2023 NFL combine. And the broad jump is the best by a QB since 2003.
This incredible showing vaulted Richardson up draft boards, and now NFL Network host Rich Eisen is hearing he could go with the No. 1 pick (h/t Dov Kleiman on Twitter).
If a team does trade up with the Chicago Bears to take Anthony Richardson with the No. 1 overall pick, they're asking for trouble.
Richardson hasn't proven he can play quarterback 
Anthony Richardson is an incredible athlete. There is no question about that. However, unlike the other top 2023 NFL Draft QB prospects — Bryce Young (Alabama), C.J. Stroud (Ohio State), and Will Levis (Kentucky) — he hasn't produced at the position yet.
In Richardson's first two seasons at Florida, he sat behind Kyle Trask and Emory Jones. In those two seasons, Richardson threw a grand total of 66 passes, completing 39 of them for 556 yards, seven touchdowns, and six interceptions.
When he finally got the QB1 mantle in 2022, Richardson was wildly inconsistent at best.
Over the course of 12 games, the Gators signal-caller was 176-of-327 (53.8%) for 2,549 yards with 17 TDs and nine INTs. For comparison, the NFL QB with the worst completion percentage in 2022 with enough passes to qualify for the ranking was the New York Jets' Zach Wilson. His completion rate was nearly a point higher at 54.5%.
And when you go game-by-game, you'll see what Richardson can do, as well as what he does do more time than not.
In 2022, Richardson threw for 453 yards at Tennessee and 400 yards at Vanderbilt. Incredible. He also threw for fewer than 200 yards seven times this season, including a 66-yard game against Missouri and two 112-yard performances vs. South Florida and South Carolina.
He also had two zeros TD, two INT games against South Florida and Kentucky.
All this led to his 6-6 record as a starter.
Maybe someday Anthony Richardson will develop into a legit — even a good or great — NFL starter. But there's no reason to think that will happen for at least a few years, and that's a huge gamble to take with the No. 1 pick in the 2023 NFL Draft.
Teams fall in love with traits at the NFL Draft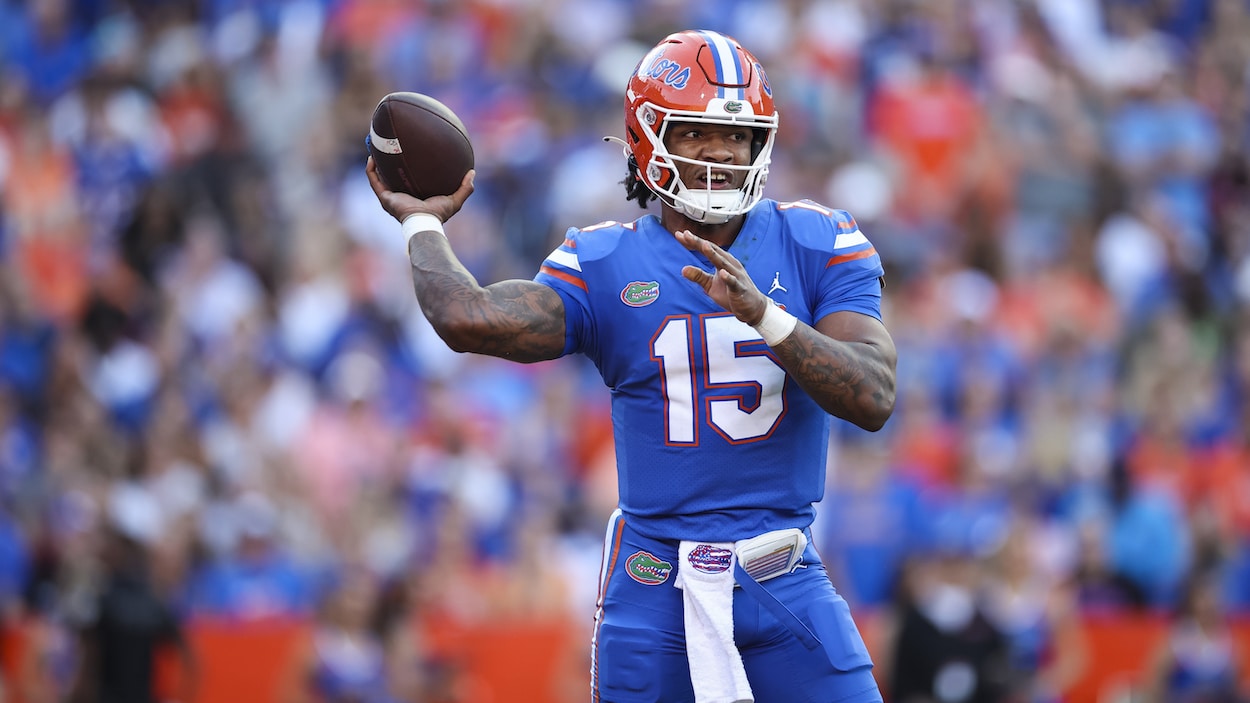 There is a long history of NFL teams looking at quarterback traits, falling in love with them, and over-drafting players because of them.
The biggest trait used to be arm strength. And the road of NFL draft busts is littered with cannon-armed QBs who never became good NFL QBs. Players like Jeff George, Ryan Leaf, JaMarcus Russell, and Jay Cutler all fall into this category and were varying levels of busts in the NFL.
In recent years, athleticism has been the trait that has outweighed production in many cases, and it rarely works out well. Vince Young, Alex Smith, Jake Locker, Jameis Winston, Marcus Mariota, Carson Wentz, and Mitchell Trubisky all fall into this category, and the jury is still out on players like Justin Fields and Trey Lance.
And when you look back at most of these players' NFL draft scouting reports, you'll see the same issues that Anthony Richardson has: A lack of accuracy, bad footwork, and an inability to read defenses and coverages.
Richardson is a generational athlete. But thinking he's a generational NFL quarterback will be a major mistake, and any front office that does will be looking for new jobs a few years from now.