Anthony Richardson's Scintillating Combine Performance Should Send Him Straight Into the Top 5 of the 2023 NFL Draft
Before the 2023 NFL Scouting Combine, Anthony Richardson was already viewed as a Day 1 prospect. In the aftermath of what might have been the most impressive all-around workout in the history of the event, the University of Florida product no longer looks like someone who'll have to wait until the middle of the first round to hear his name called. 
Rather, Richardson's record-breaking, spotlight-stealing trip to Indianapolis has made the idea of him becoming a top-five pick less of a pipe dream and more of a reality.
Anthony Richardson stole the show at the 2023 NFL Scouting Combine
Nobody's perfect. But in the eyes of the athletic testing world, Anthony Richardson proved to be about as flawless a quarterback prospect as we've ever seen. 
Expected to be near the top of the leaderboard in most categories, the former Gators quarterback went above and beyond to show just how special of an athlete he is. Not only did Richardson turn in a blistering 40-yard dash time of 4.43 seconds, but he also set positional records for both the broad jump (10 feet, 9 inches) and vertical jump (40.5 inches).

Oh, he did all of that after measuring in at 6-foot-4, 244 pounds. 
Besides putting up gaudy numbers for a player of his stature, Richardson flashed the elite arm strength that made him look like a future star at Florida. His on-field workout included several beautifully thrown deep balls, and he reportedly aced the interview portion of the event, too. 
Needless to say, the dual-threat signal-caller left no doubt that he possesses the most upside of anyone at his position in the 2023 NFL Draft.
Richardson's record-setting performance should result in a top-five selection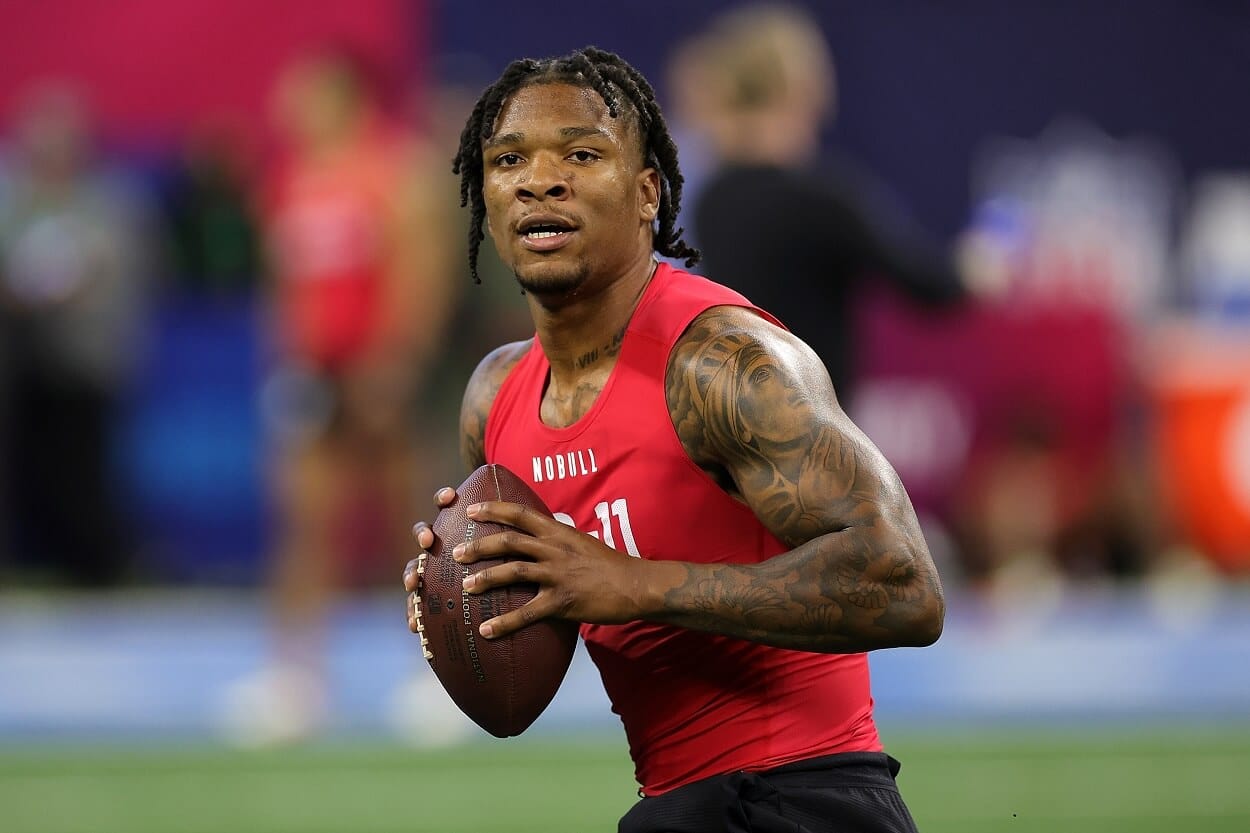 Prior to tearing up the combine, most mock drafts had Richardson pegged as a fringe top-10 pick. Now, though, it's clear he'll go significantly higher. 
In fact, it wouldn't be a surprise if the Miami native goes from being a one-year starter in the SEC to a top-five selection in the 2023 NFL Draft. 
Assuming the Chicago Bears trade the No. 1 pick to a QB-needy team, the first player off the board should be Alabama's Bryce Young. However, what's stopping Richardson from going No. 2 overall? 
The Houston Texans certainly need to find a long-term answer at quarterback. Why not hitch your wagon to a dynamic prospect who can spend a year on the sidelines before getting thrown into the fire? With a new head coach and a rebuilding plan to follow, the Texans wouldn't be forced to play Richardson right away, which would be best for his overall success.

Even if the Texans pass on a quarterback or opt for Ohio State's C.J. Stroud, the Indianapolis Colts and Seattle Seahawks seem like logical landing spots for Richardson. And if both franchises have their sights set on building around the self-dubbed Cam Jackson (an ode to Cam Newton and Lamar Jackson), the Arizona Cardinals could trade the No. 3 overall pick to the highest bidder. 
Plus, let's not rule out other teams moving up to secure Richardson's services. Could the Detroit Lions look at him as Jared Goff's replacement in 2024? Would the Las Vegas Raiders be willing to maneuver up the board to land someone with an entirely different skill set than Derek Carr? Or could the Carolina Panthers view Richardson as the prospect worth going all-in on?
All it takes is one head coach/GM to fall in love with his upside for the top of the draft to get shaken up significantly. And with more teams building around mobile quarterbacks, Richardson's record-setting Combine performance should make him even more coveted in NFL circles.
The former Florida QB might be the biggest boom-or-bust prospect in the 2023 NFL Draft
As easy as it is to become enamored by Anthony Richardson's upside, it's easy to forget that he will enter the NFL with fewer than 400 attempts on his college resume. A one-year starter at UF, the talented 21-year-old is far from a polished product. 
Although the Gators' coaching staff deserves some criticism for its usage of Richardson, that doesn't completely absolve him of a 53.8% completion rate and nine interceptions in 12 starts in 2022. Of course, Richardson's running ability (1,116 yards and 12 touchdowns in his career) makes up for some of his shortcomings as a passer, but there's no doubt he'll have to make significant strides to reach his potential. 
Richardson brings a rare blend of size, speed, arm strength, and creativity that should have offensive coordinators drooling. He also comes with obvious deficiencies and areas for improvement that cannot be ignored. 
Will he land in an ideal situation for his development? Or will Richardson become the latest athletic quarterback to fall short of expectations at the pro level? 
Whatever team drafts him better have a well-formulated plan to refine his mechanics, surround him with adequate talent, and tutor him on the finer points of playing the position. Combine that with his prolific physical gifts, and you have the makings of the NFL's next great quarterback.