Saints Give Derek Carr Something He Never Had With Raiders, and It's Not Just the $100M
New Orleans Saints quarterback Derek Carr — yes, that will take some getting used to — just signed a four-year, $150 million contract with his new team that includes $100 million guaranteed. And while the money is nice, Carr also gets something he's never had before in his nine-year run as the Oakland and Las Vegas Raiders starter, courtesy of the Saints defense. And this makes the Saints NFC South favorites.
The Saints defense is the best Derek Carr has ever played with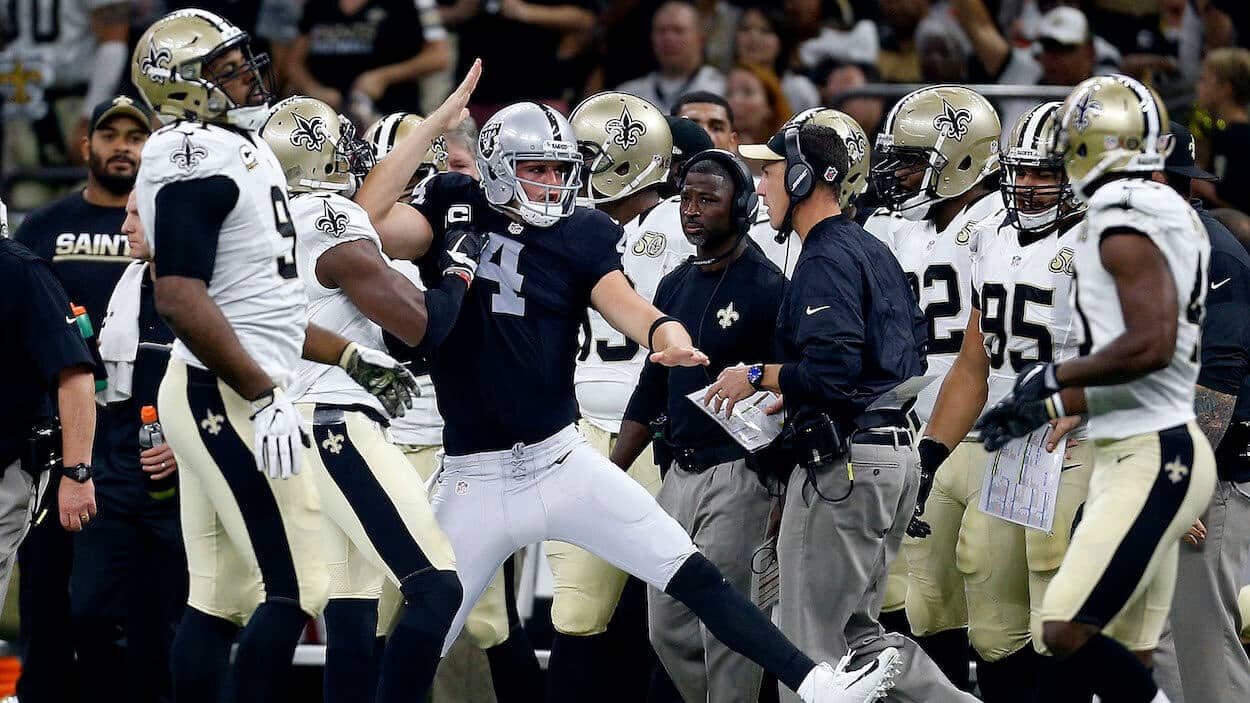 New Saints QB Derek Carr spent nine seasons with the Raiders and started 142 of the 146 games in that span. He missed one game in 2016 with a broken leg, one game in 2017 with a back injury, and Josh McDaniels benched him for the final two games of 2022.
As Tony Kornheiser likes to say, "That's it. That's the list."
In those seasons, here's how Carr ranked in scoring, per Pro Football Reference:
2014: 31st
2015: 17th
2016: 7th
2017: 23rd
2018: 28th
2019: 24th
2020: 10th
2021: 18th
2022: 12th
There are some obvious ups and downs there, but when Carr has solid weapons around him, he was able to lead a top-20 offensive unit.
But here's the thing, even in the good Raiders offensive years, the defense was always atrocious. Here is how the defensive unit stacked up in the Derek Carr Era:
2014: 32nd
2015: 22nd
2016: 20th
2017: 20th
2018: 32nd
2019: 24th
2020: 30th
2021: 26th
2022: 28th
In 2022, among teams with 17 games, the Saints defense ranked seventh is scoring (345 points) and fifth in yards allowed (5,352 yards). The year before, the D was just as good, ranking fourth in points (335) and seventh in yards allowed (5,410).
In that time, the Saints were 22nd (330) and 19th (364) in scoring offense for 2022 and 2021, respectively.
Derek Carr joining a Saints team with a top-10 defense is an incredible thing for the QB, as he's never had that in his NFL career.
Is New Orleans the NFC South favorites?
This one big move for Derek Carr makes the Saints NFC South favorites. The Tampa Bay Buccaneers entered the offseason as division favorites, but with Tom Brady's retirement and the Saints' Derek Carr acquisition, New Orleans now moves in front.
According to FanDuel, the Saints' NFC South odds are now +120 to win the division over the Carolina Panthers (+260), Buccaneers, and Atlanta Falcons (+450).
Just from starting QB perspective, the Saints are the best team by far.
The Bucs, Panthers, and Falcons have little to no idea who their starting QB will be in 2023.
The Falcons have the most stable situation, and that likely means starting second-year signal-caller Desmond Ridder, who has four starts and 708 career passing yards under his belt. Tampa Bay's only QB right now is Kyle Trask, who has 23 career passing yards.
As for the Panthers, they'll likely start Matt Corral or a rookie, either of whom will have zero career NFL passing yards.
The moral of the story is Derek Carr makes the Saints NFC South favorites in 2023, and the Saints defense makes Carr a legitimate threat to lead the team to the Wild Card Round and beyond.