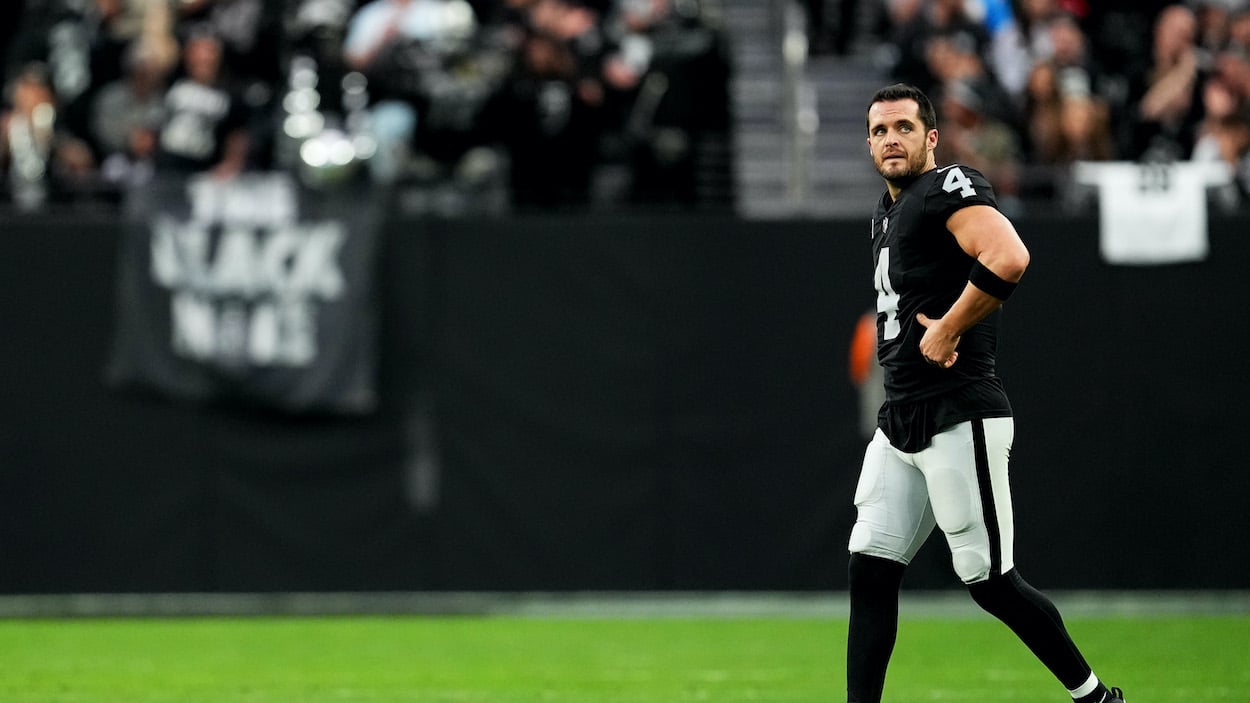 Derek Carr Tweet: QB Backtracks on His Promise to Retire Instead of Leaving the Raiders
After a Derek Carr tweet saying goodbye to Raiders Nation, the QB made it clear e's done with his beloved team, but not football.
Las Vegas Raiders quarterback Derek Carr has played nine NFL seasons for one NFL franchise in two different cities. The QB has only played for the team he rooted for as a football-obsessed kid growing up in the Central Valley of California. Carr loved the Raiders so much that he once said he'd rather retire than play anywhere else. Well, after a disappointing 6-11 season, it looks like the QB is out in Vegas, and a Derek Carr tweet both confirmed that fact and backtracked on his previous retirement threat.  
Derek Carr played for his favorite childhood team
Fresno State quarterback Derek Carr grew up in Bakersfield, California, just a few hours southeast of Oakland. The aspiring NFL QB grew up a Raiders fan, which made it an even greater thrill than usual when the franchise took Carr with the fourth pick of the second round in the 2014 NFL Draft.
Carr started every game in his rookie season, going 3-13 for Dennis Allen's 2014 Raiders. The following season he made the Pro Bowl under Jack Del Rio, and two years later, broke in a new coach, Jon Gruden, before moving with the team to Las Vegas.
Despite all the ups and downs, Carr truly loved the organization. In the 2021 offseason, when rumors of a Carr trade came up, the QB famously said, "I'd probably quit football if I had to play for somebody else. I am a Raider for my entire life. I'm going to root for one team for the rest of my life. It's the Raiders."
In 2022, Carr got his sixth head coach (four full-time, two interim) in nine seasons, and he couldn't get it done with an All-Star team around him under Josh McDaniels.
For the last two games of the 2022 season, McDaniels benched Carr in favor of Jarrett Stidham, and it looked like the Raiders QB's career with the team was over. On Thursday, after the season officially ended, the quarterback confirmed as much in a Derek Carr tweet.
A Derek Carr tweet said goodbye to the Raiders
Despite the threat to quit the game rather than play for one of the other 31 NFL teams, Carr is singing a different tune now that his Raiders career is officially over.
At the end of the Raiders 2022 season, with a trade or cut on the horizon, a Derek Carr tweet said goodbye to Raiders fans and reneged on his threat to quit when his time in Silver and Black was up.   
"Raider Nation it breaks my heart I didn't get an opportunity to say goodbye in person," the Derek Carr tweet started. "From the bottom of my heart, I am so grateful and appreciative of the years of support you gave to my family and me."
After that heartfelt thank you to the fans, though, Carr did a 180 on his previous retirement talk.
"I once said that if I'm not a Raider I would rather be at home and I meant that, but I never envisioned it ending this way, the 31-year-old QB admitted. "That fire burning inside of me to win a championship still rages. A fire no man can extinguish; only God. So I look forward to a new city and a new team who, no matter the circumstance, will get everything I have."
And with that, Carr announced his intention to challenge his beloved Raiders next season on another NFL team.
How Carr can stick it to the Raiders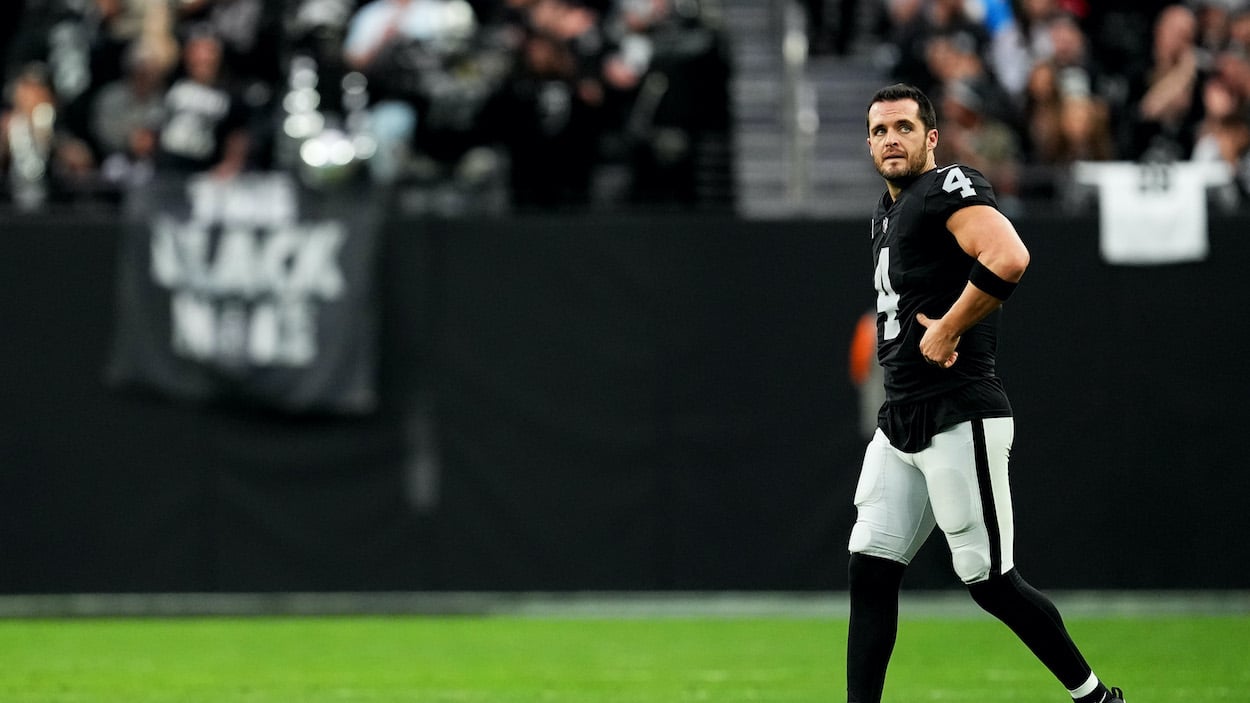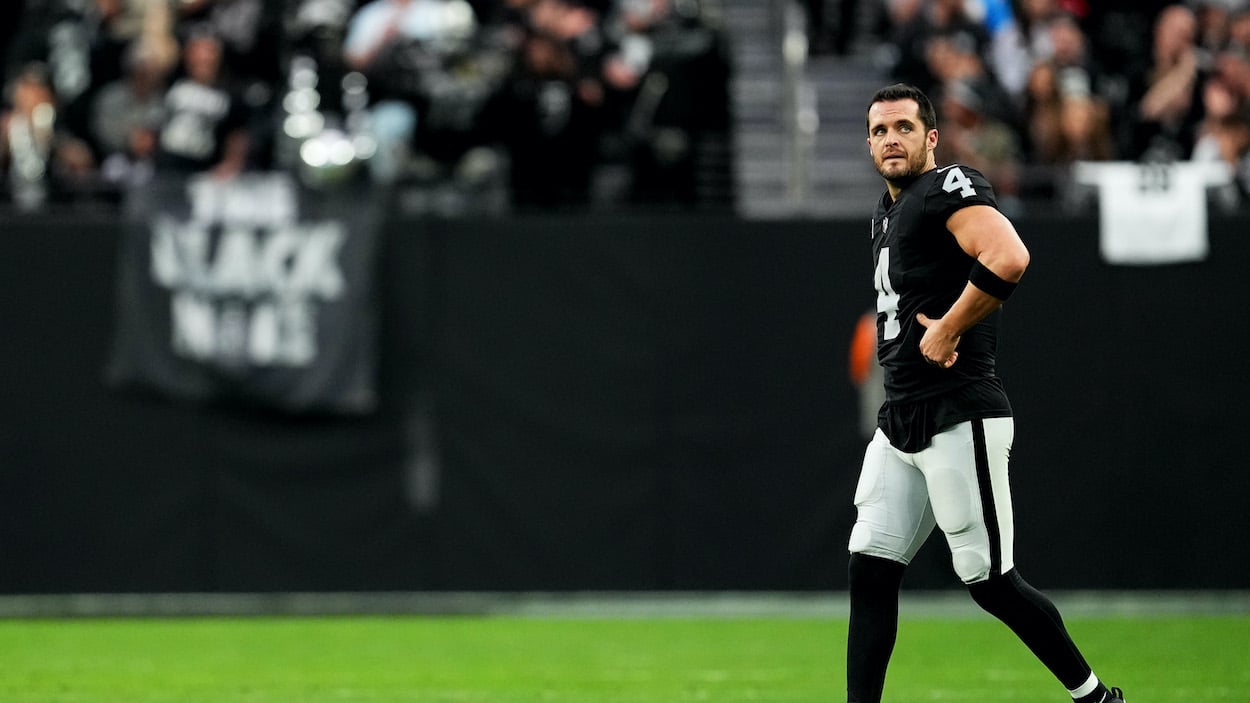 The Raiders may have told their quarterback his services are no longer needed, but the Derek Carr tweet exposed how he holds all the cards right now.
Last offseason, Carr signed a three-year $121.5 million contract extension with the Raiders. However, it was really just a one-year deal, with an easy out after the 2022 NFL season. The biggest thing it did, though, was give the QB a no-trade clause.
The Raiders have until February 15, 2023, to cut or trade the QB before his $32.9M million 2023 salary and $7.5 million of his 2024 cap number guarantee. The thing is unless the Raiders work out a trade to the exact team Carr wants to go to, there is little reason to approve it, especially if he thinks he can make more than $32.9M million on the open market.
The fact is, there are few teams that would consider trading for Carr before the offseason even begins, so the Raiders will likely have to cut the QB. That means Carr will play for a new team for the first time in his NFL career, and after the Derek Carr tweet saying goodbye, it seems like he'll be ready to beat up on his old team.