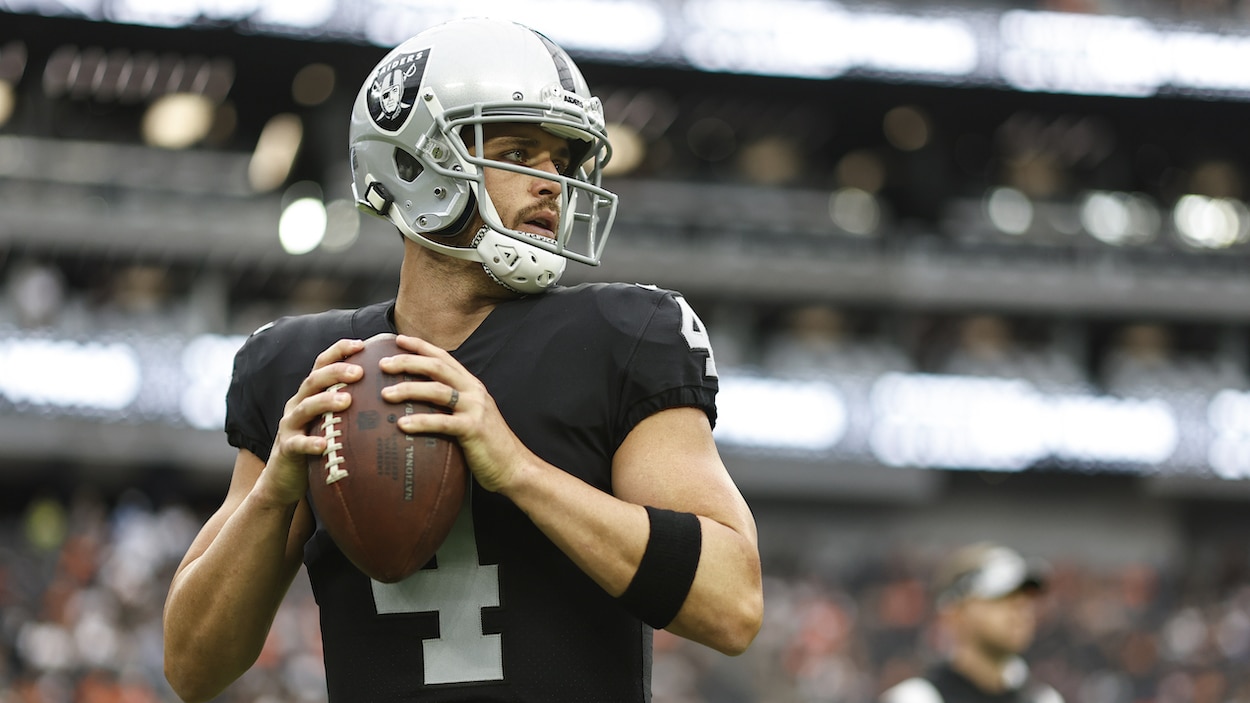 Derek Carr Contract: Why the Raiders Must Cut the QB as Soon as Possible
The Raiders need to cut ties with their QB and the massive Derek Carr contract before it becomes guaranteed in the next few months.
Ahead of the team's Week 17 game vs. the San Francisco 49ers, Las Vegas Raiders head coach Josh McDaniels announced that quarterback Derek Carr would sit for the final two games of the regular season. This move seems to end not only Carr's time as a starter this season but also his nine-year tenure with his favorite team from childhood. Here is why cutting the Derek Carr contract this offseason makes sense and is necessary for the Raiders if they hope to rebound next season.
The Derek Carr contract 
Since the Oakland Raiders drafted him in the second round of the 2014 NFL Draft, Derek Carr has carved out a solid career. He has 35,222 career passing yards, 217 touchdowns, and 99 interceptions. However, he is also just 63-79 as a starter and has just one playoff appearance.
With this as the backdrop, the Raiders signed the QB to a big Derek Carr contract extension this offseason, but the deal wasn't exactly what it seemed. On paper, the extension was a three-year, $121,500,000 deal with a $7,500,000 signing bonus, $65,277,519 guaranteed, and an average annual value (AAV) of $40,500,000.
While this put him in the neighborhood of the highest-paid quarterbacks (in terms of AAV) in the NFL for 2022 — with a $17,400,000 base salary and a $19,375,000 cap hit this year — it also gave the team an easy out in 2023.
Next season, the Derek Carr contract pays the QB a $32,900,000 base salary and gives him a $34,875,000 cap hit. However, his dead cap number is just $5,625,000, so cutting him this offseason would save the Raiders $29,250,000.
Carr's $32.9M million 2023 salary and $7.5 million of his 2024 payout are guaranteed for injury, which is one reason the Raiders are sitting him down. These numbers become fully guaranteed on February 15, 2023, so if the team does cut him, it will happen shortly after the NFL season is over.
Why the Raiders need to cut their starting QB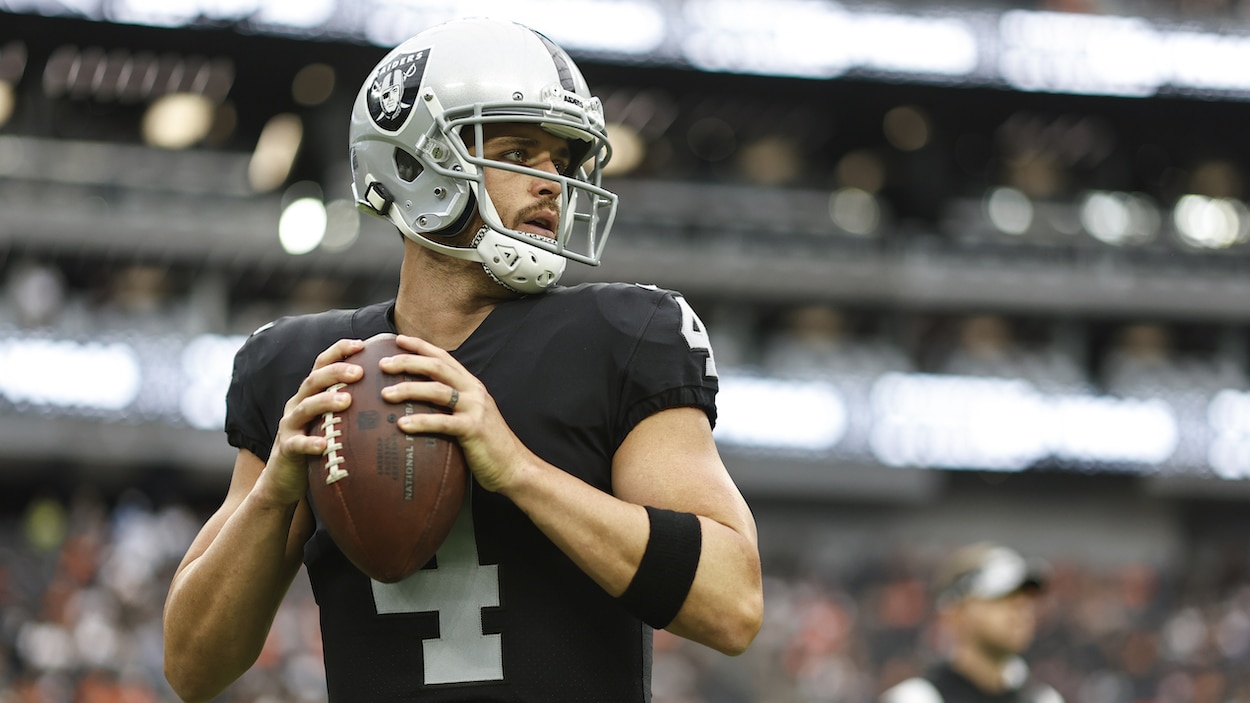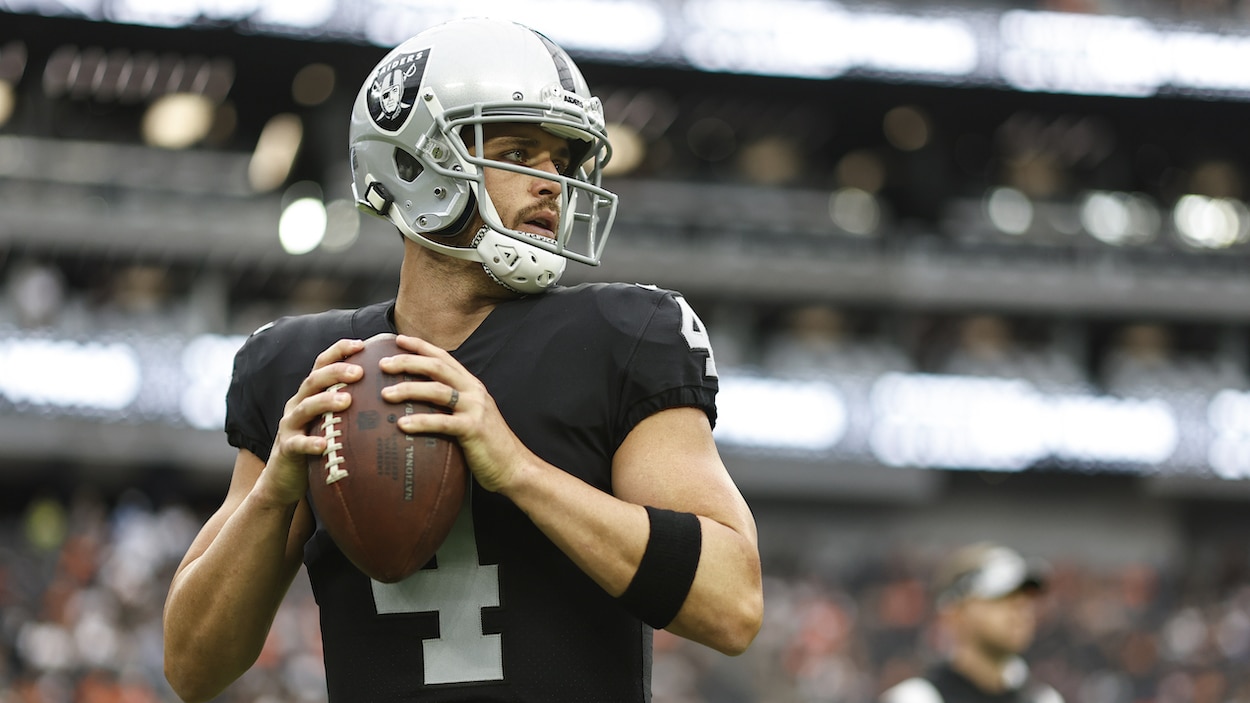 The most obvious reasons for the Raiders to cut Carr are in the last paragraphs above. Saving $28.25 million on the salary cap by cutting a QB you are benching while still mathematically in the playoff hunt is just good business.
If the Raiders don't cut Carr right after the 2023 Super Bowl, they are likely locked into him for two more seasons, and after this year's 6-9 disaster, that's not good.
Also, getting rid of Carr in February immediately makes the Raiders a buyer on the 2023 QB free agent and trade markets. Players like Tom Brady, Aaron Rodgers, or even Lamar Jackson could be available this summer. The Raiders would be a preferred destination for any of these stars with their location, history, and current roster talent.
Giving Josh McDaniels another shot with a real QB is another reason to cut the Derek Carr contract sooner rather than later. The OC had a ton of success in New England with Tom Brady but struggled as a head coach with Carr, Tim Tebow, and Kyle Orton (in Denver).
If Mark Davis truly believes in his coach, he needs to give him a chance with a better signal-caller than Carr, which means cutting the QB ASAP.
The writing is on the wall now. Carr's time as a Raider now seems to be over. It's the right move and could even be better for Carr, who should get another job as a starter with a new team in 2023. That fresh start could be just what the doctor ordered for the player who has languished under bad coaching and bad management for most of his career in Oakland and Las Vegas.