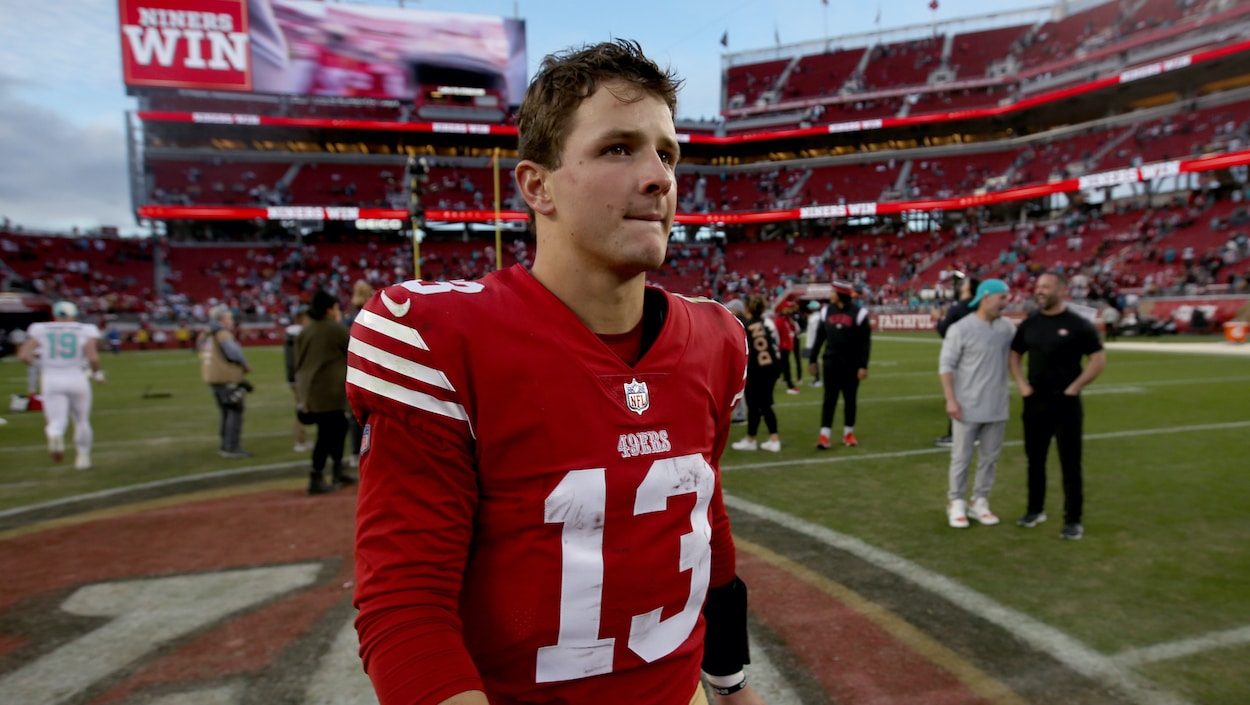 Who Is Brock Purdy, the 49ers' Mr. Irrelevant 2022? Everything You Need to Know About the New Starting QB and His Draft Distinction
Who is Brock Purdy? He is Mr. Irrelevant 2022, and after two tough quarterback injuries, he is now the 49ers starting QB for the stretch run.
When the San Francisco 49ers started the 2022 NFL season, they expected 2021 first-round draft pick Trey Lance to be their starting quarterback. An ankle injury in Week 2 ended his season prematurely, and veteran signal-caller Jimmy Garoppolo took over. After leading the team to a 7-3 record, a Week 13 foot injury likely put him out for the year as well. Now, in Week 14 (and beyond), the 49ers will start the 262nd pick in the 2022 NFL Draft, Brock Purdy. Here is what you need to know about the unlikely starting QB on a playoff team and how he got the nickname Mr. Irrelevant 2022.
Who is Brock Purdy?
Brock Purdy grew up in Gilbert, Arizona, and played his high school football at Perry High School. From there, he became the quarterback of the Iowa State Cyclones. In college, Purdy took over as the starter two games into his freshman season and started the rest of his career.
In 46 starts, Purdy threw for 12,170 yards with a 67.7% completion rate, with 81 touchdowns and 33 interceptions. His best season was his sophomore year, where he threw for 3,982 yards with 27 TDs and nine INTs.
After his four seasons at Iowa State, Purdy declared for the 2022 NFL Draft. At the NFL Combine, Purdy measured 6-foot-1, weighed 212 pounds, and ran a 4.84-second 40-yard dash.
"Purdy is a burly pocket quarterback who needs a play-action based offense where he can rely on timing over release quickness and arm strength," read the NFL.com scouting report on the QB. "He can be a confident passer when he finds his rhythm, but throwing is more of a chore than a talent thanks to a labored release. Certain areas of the field will be off limits as he moves up to take on NFL coverage talent. He's a scrappy runner but not dynamic enough to make up for his shortcomings as a passer."
Adding all this up, most draft experts projected Purdy would be a late-round pick or a priority undrafted free agent once the selection process wrapped up. As it turns out, the 49ers decided not to let him hit free agency, taking him with the last pick of the 2022 NFL Draft.
And that's how Brock Purdy became Mr. Irrelevant 2022.
What is Mr. Irrelevant?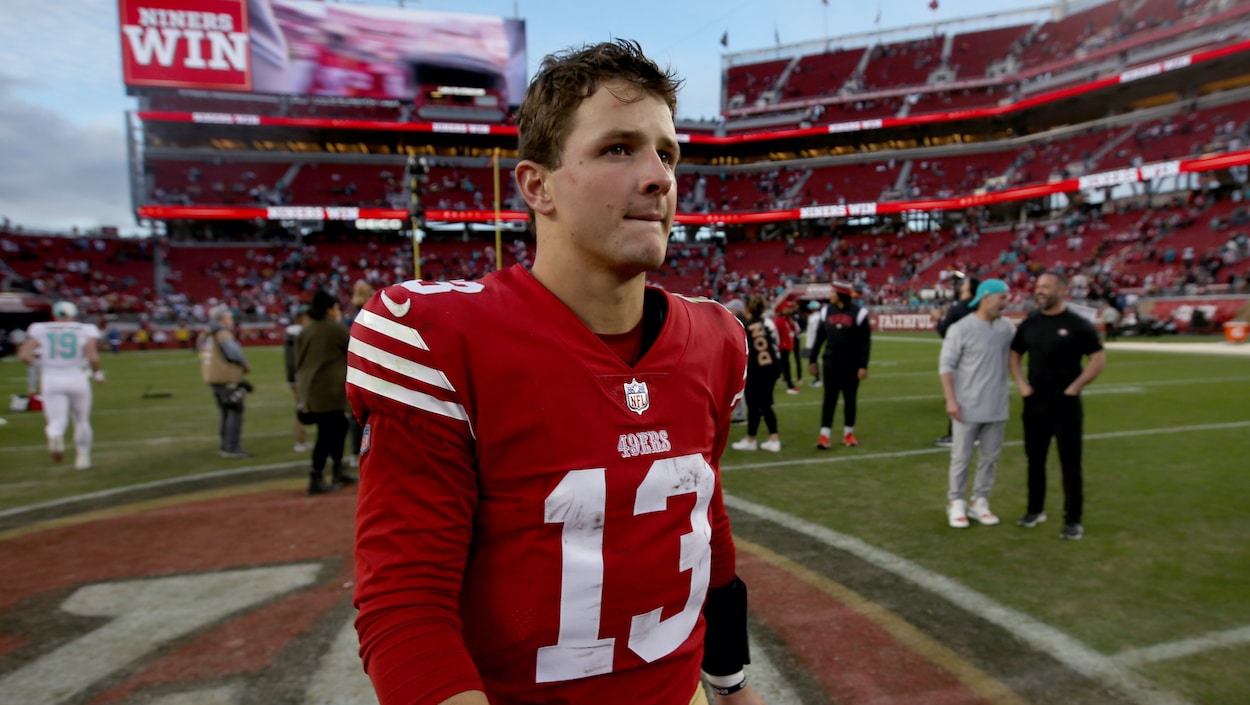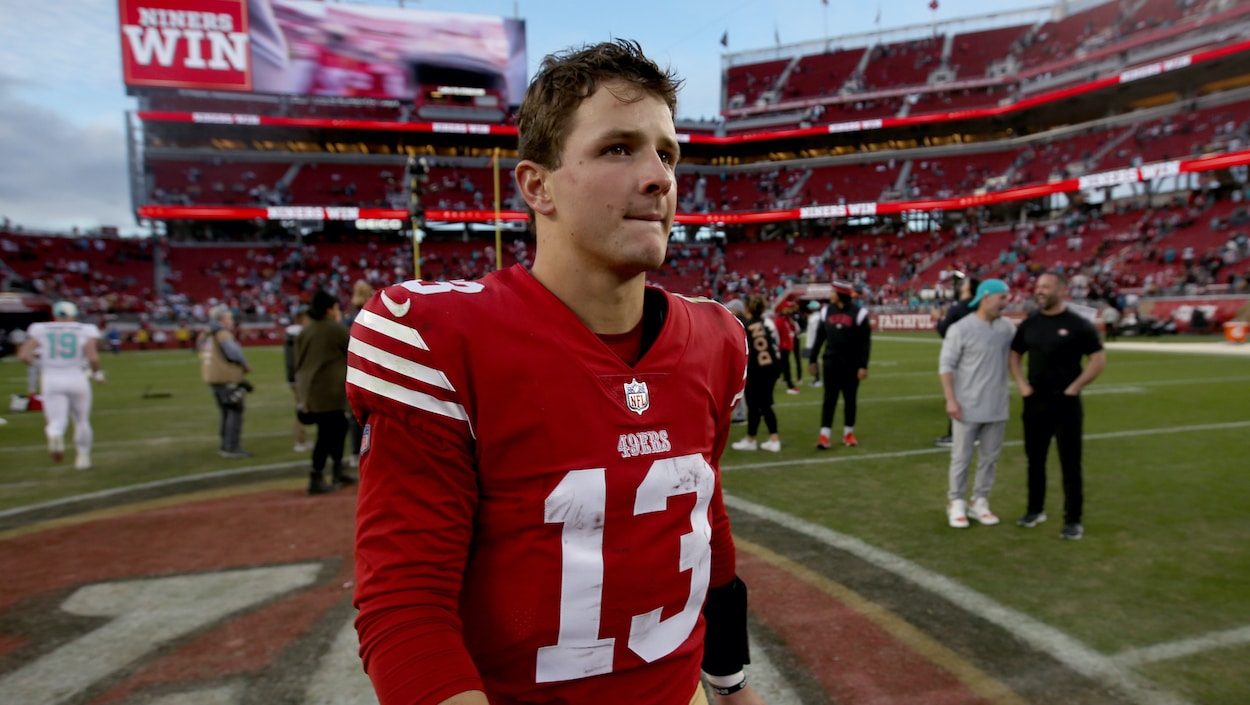 Mr. Irrelevant is the title bestowed on the final pick of the NFL draft each season. Former USC and NFL (49ers and Baltimore Colts) wide receiver Paul Salata coined the term and started the annual Irrelevant Week event in 1976, making Dayton and Pittsburgh Steelers WR Kevin Kirk the first Mr. Irrelevant.
The distinction comes with a week-long celebration of the player and some interesting prizes (more on that below). However, most Mr. Irrelevant winners don't do much in the NFL.
That said, there are a few who have become consequential NFL players. The best Mr. Irrelevant is likely Tampa Bay Buccaneers kick Ryan Succop. The last pick of the 2009 NFL Draft, Succop won a Super Bowl with the Bucs and has made $32.8 million in career earnings in the league. He is still a starting kicker today and will actually face off against Mr. Irrelevant 2022, Brock Purdy, in Week 14.
Additionally, linebacker Marty More (Mr. Irrelevant 1994) was a key special teams player on the New England Patriots 2001 Super Bowl team, Jim Finn (1999) was a starting fullback in the league and won a Super Bowl (although on injured reserve) with the New York Giants, and New York Giants linebacker Tae Crowder (2020) has started 31 games in three seasons.
Mr. Irrelevant 2021, Grant Stuard, appeared in all 17 games last season for the team that drafted him, the Buccaneers, and has featured in 11 games this season for the Indianapolis Colts.
Mr. Irrelevant 2022 prize 
Mr. Irrelevant 2022 isn't just a title 49ers QB Brock Purdy holds. It was a whole experience.
After being drafted last in the 2022 NFL Draft, Purdy went on to experience Irrelevant Week. That's where Purdy and his family got to spend a week in Newport Beach, California, and he received the Lowsman Trophy. This award looks like the Heisman Trophy, except the player is fumbling the ball.
According to KRON 4 in San Francisco, Purdy and his guests also got to "visit Disneyland, attend media events, visit the beneficiary charity (proceeds are collected throughout the week to benefit the selected charity), participate in a sailing regatta in Newport Harbor, and attend either a Los Angeles Dodgers or Angels game to receive special recognition."
The culminating event of the week is the Lowsman Banquet, which is "an evening gala that gives past and present sports stars and celebrities a chance to roast and toast the newest member of this exclusive club."
Shortly after that, Brock Purdy reported to 49ers minicamp, where Mr. Irrelevant 2022 started getting ready for a season that would ultimately see him become the team's starting quarterback as they make their final playoff push.