Dolphins Turned 1 Dumb 49ers Decision Into 3 Superstars
Would you rather have Trey Lance or Tyreek Hill, Jaylen Waddle, and Bradley Chubb? That seems like a no-brainer and a strange question to ask. However, that's essentially the trade that the San Francisco 49ers and Miami Dolphins made back in 2021. The Niners were desperate to trade from No. 12 to No. 3 in that draft so they could pick the talented but raw FCS quarterback Trey Lance. They then gave the Dolphins a slew of draft picks to do so, and the AFC East team turned those picks into an enviable haul of Hill, Waddle, and Chubb. Here's how it happened.
How the Dolphins turned the 49ers trading for Trey Lance into Tyreek Hill, Jaylen Waddle, and Bradley Chubb
In order to get up to No. 3 in the 2021 NFL Draft and select any QB they wanted after Trevor Lawrence and Zach Wilson, the 49ers traded the Dolphins the No. 12 overall pick, 2022 first- and third-round picks in 2022, and a 2023 first-round pick.
Miami then traded No. 12 and its own 2022 first-round pick to the Philadelphia Eagles to move back up to No. 6, where the team took Alabama wide receiver Jaylen Waddle.
The following offseason, the Dolphins made their next move. The team took their other 2022 first-round pick (No. 29 from the 49ers), added it to 2022 second-and fourth-round picks, and 2023 fourth- and sixth-round picks and traded those to the Kansas City Chiefs for Tyreek Hill.
Finally, Miami had just one 2023 first-round pick left from the 49ers deal, and at the 2022 NFL trade deadline, the team packaged that pick with a 2024 fourth-round pick and running back Chase Edmonds to the Denver Broncos. In return, the team gets Pro Bowl pass-rusher Bradley Chubb and a 2025 fifth-round pick.
So, that's how one team got Trey Lance, and the other got three superstars.
It was a trade for the ages, up there with the Hershel Walker deal between the Minnesota Vikings and Dallas Cowboys. The Vikings made the playoffs once, with Walker as the team's leading rusher.
The Cowboys got Emmitt Smith, Russel Maryland, Kevin Smith, and Darren Woodson, among others, and three Super Bowl trophies.
How the San Francisco-Miami trade stacks up by the numbers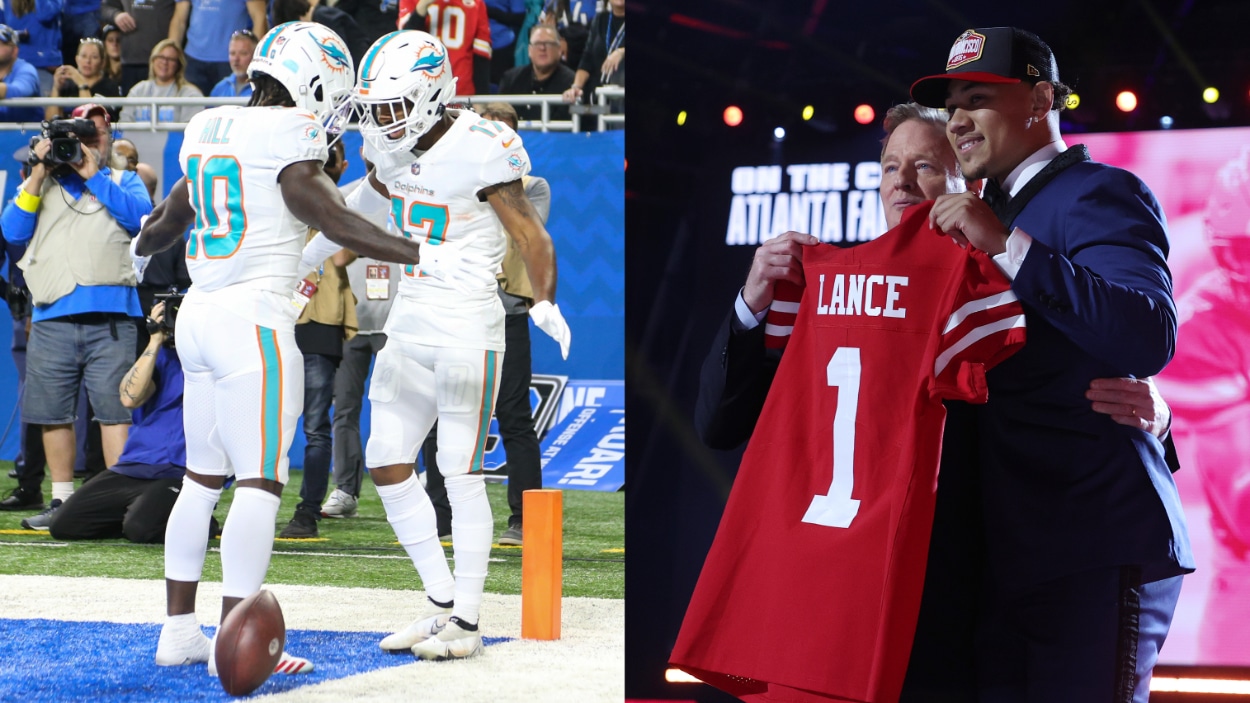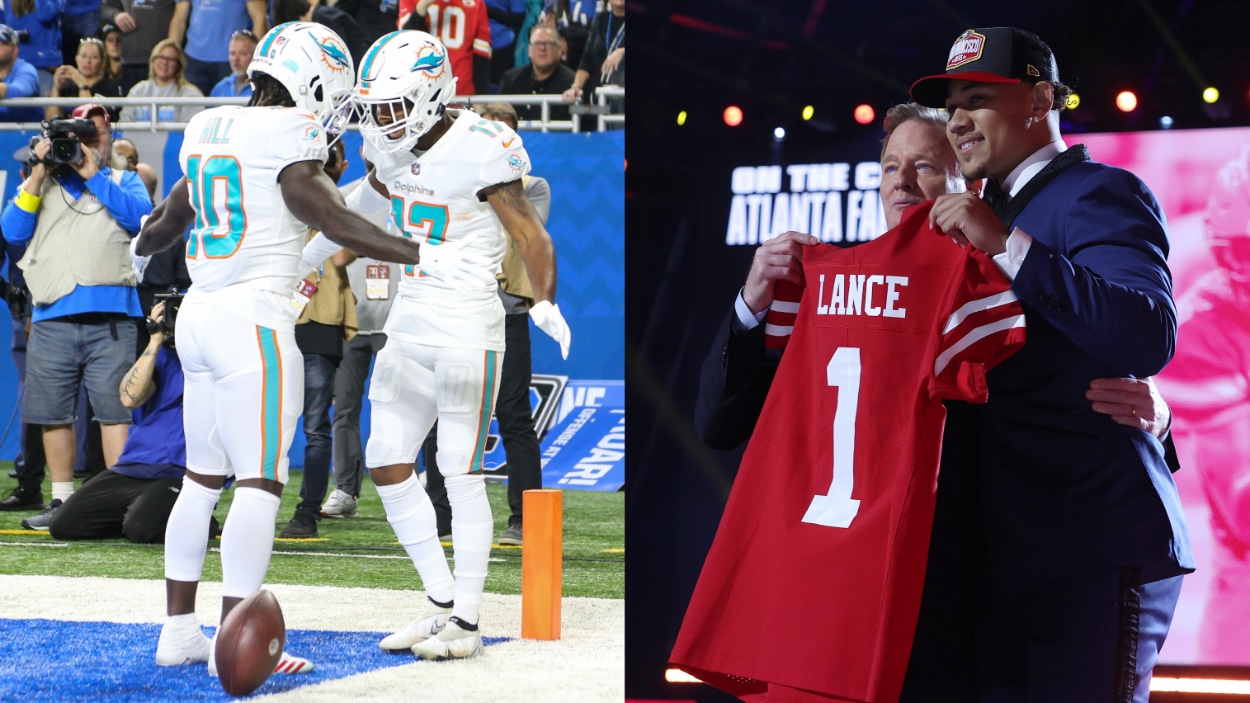 RELATED: WATCH: Jimmy Garoppolo Doesn't Deny Telling Kyle Shanahan His 'Plays Suck'
Comparing Trey Lance to Tyreek Hill, Jaylen Waddle, and Bradley Chubb right now isn't entirely fair. Maybe Lance does become a superstar. However, the Niners may have also been able to draft Lance at 12 or take Justin Fields there, who — right now — looks like the better NFL QB.
Still, here are Lance's career numbers with the 49ers:
Trey Lance: eight games, four starts, 2-2 record, 102 pass attempts, 56 completions, 54.9% completion rate, 797 passing yards, five passing touchdowns, three interceptions, 235 rushing yards, one rushing touchdown.
Now, here are Waddle and Hill during their careers with the Dolphins:
Jaylen Waddle: 24 games, 203 targets, 146 catches, 1,742 receiving yards, 11 receiving touchdowns, 20 rushing yards, one rushing touchdown
Tyreek Hill: eight games, 92 targets, 69 catches, 961 receiving yards, two receiving touchdowns, 25 rushing yards
That's pretty good. Now, add in Chubb's career numbers, and it gets really impressive:
Bradley Chubb: 49 games, 170 tackles, 33 tackles for a loss, 26.0 sacks, 58 QB hits, one interception, six forced fumbles, one fumble recovery
There is nothing more valuable in the NFL than a franchise QB. So there is still time for the 49ers to win this trade if Lance becomes a special signal-callers. However, for right now, it looks like the Dolphins took one dumb 49ers decision and turned itself into a Super Bowl contender with it.
Have thoughts on this topic? Keep the conversation rolling in our comments section below.