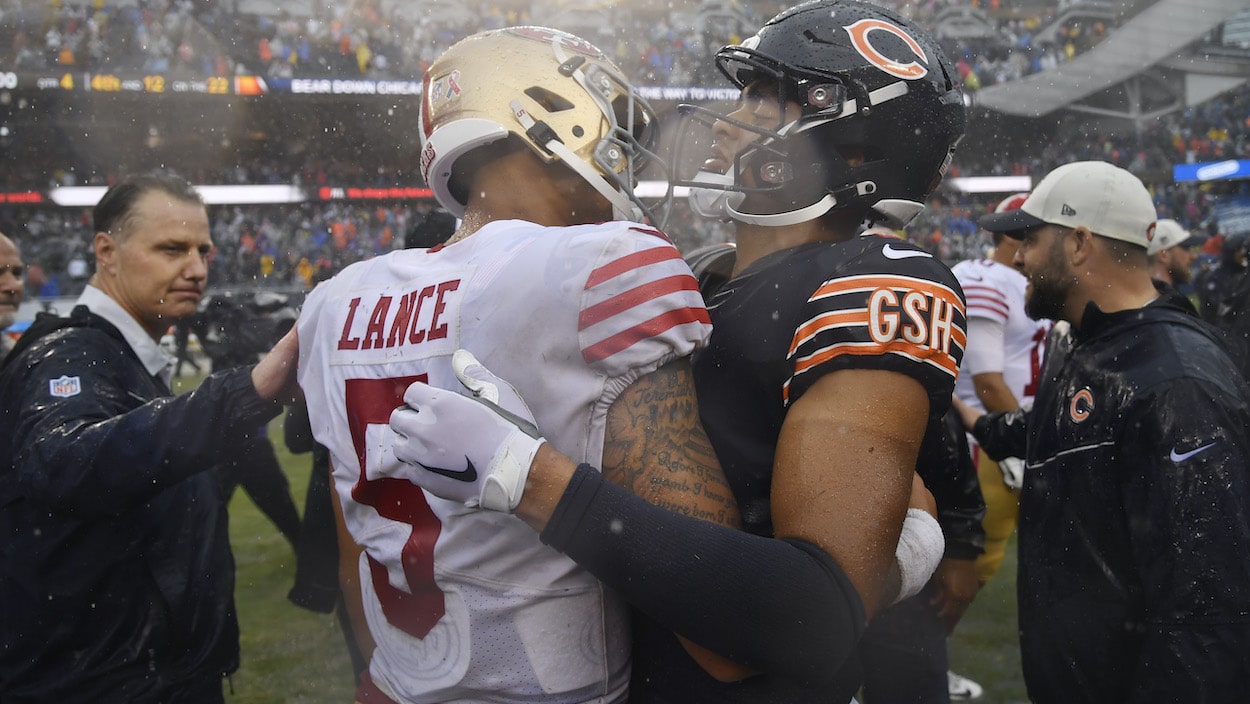 Curmudgeonly Former Coach Mike Martz Rips 'Completely Awful' Justin Fields, Trey Lance
The Justin Fields, Trey Lance battle of Week 1 was marred by torrential rain, but that didn't stop Mike Martz from crushing both QBs.
Sunday's Chicago Bears vs. San Francisco 49ers game was a mess in every sense of the word. The Bears snagged the ugly 19-10 victory in a deluge of rain that left the turf at Soldier Field looking like a Slip' N Slide. While it's easy to chalk the poor performances of second-year quarterbacks Justin Fields and Trey Lance up to the conditions, former NFL offensive coordinator and head coach Mike Martz isn't letting them off the hook that easy. The curmudgeonly former coach absolutely crushed the two QBs following the sloppy game.
Mike Martz destroyed Justin Fields, Trey Lance 
Mike Martz has never pulled his punches, and it doesn't seem like he's about to start now. It's one of the reasons that the architect of "the Greatest Show on Turf" was an excellent offensive coordinator but a lousy head coach.
After the rain-drenched Bears vs. 49ers game Sunday, Martz joined The 33rd Team podcast and shared his scathing opinion on the two young QBs from the 2021 draft class.  
On Justin Fields:
[The Bears] took this quarterback. They went up and spent a lot to get him. And he was — 'less than remarkable' is the kindest thing that you could say about him. I don't know if I've ever seen such a bad performance by a quarterback in his opening performance of the season. He was just completely awful. He really deflated the football team with his performance. When you get a quarterback that can't do anything at all … you kind of lose hope.

Mike Martz on Justin Fields
 And on Lance:
I've never seen anything about this kid that was encouraging at all. He really has to plant himself to make a good throw. He's not a quick decision guy. Every shot in the rear [is] about him being a mobile guy and making plays with his feet. He looked like a fullback, stumbling around, trying to run the ball, to me. I mean, he's not Lamar [Jackson]. I don't know what he is. … I've never liked him. I still don't like him. I'd like to know what he does so well?

Mike Martz on Trey Lance
Ouch.
I mean, looking at the scoresheet, it's hard to argue with Martz that both QBs were bad. However, considering the conditions and the two teams on the field, one of these second-year players acquitted himself better than the other.
The Class of 2021 QBs were bad on Sunday, but the Bears signal-caller was better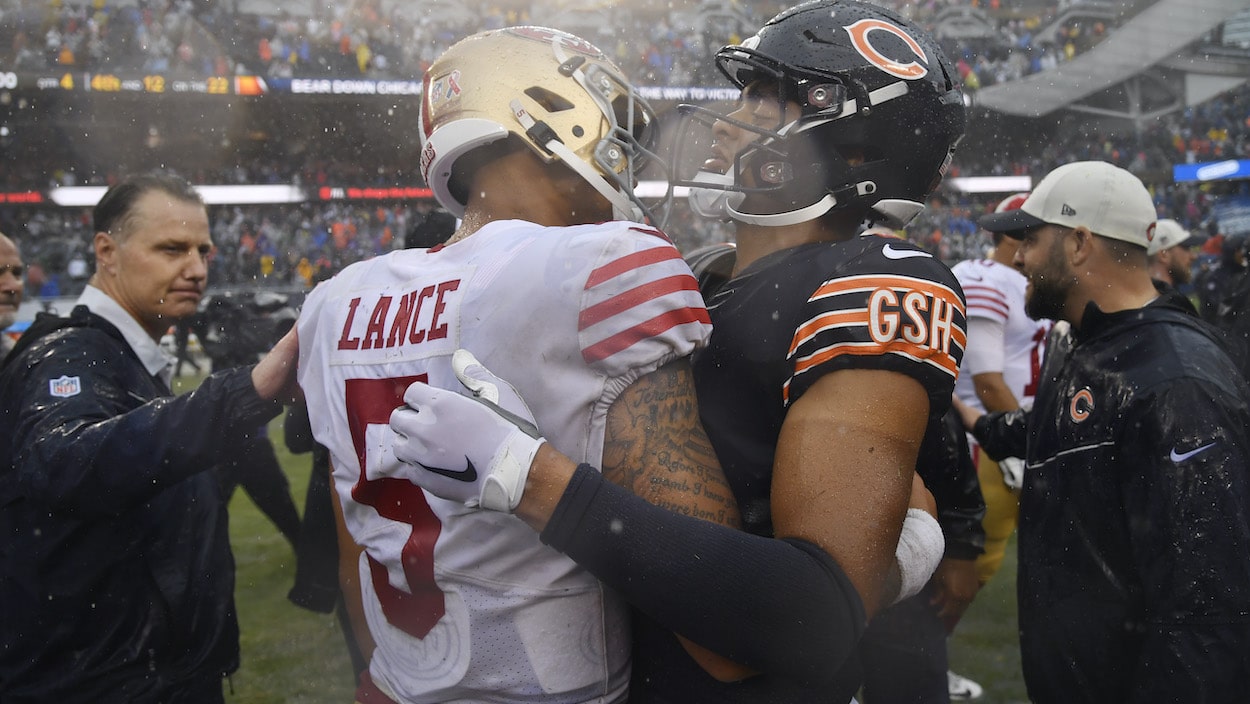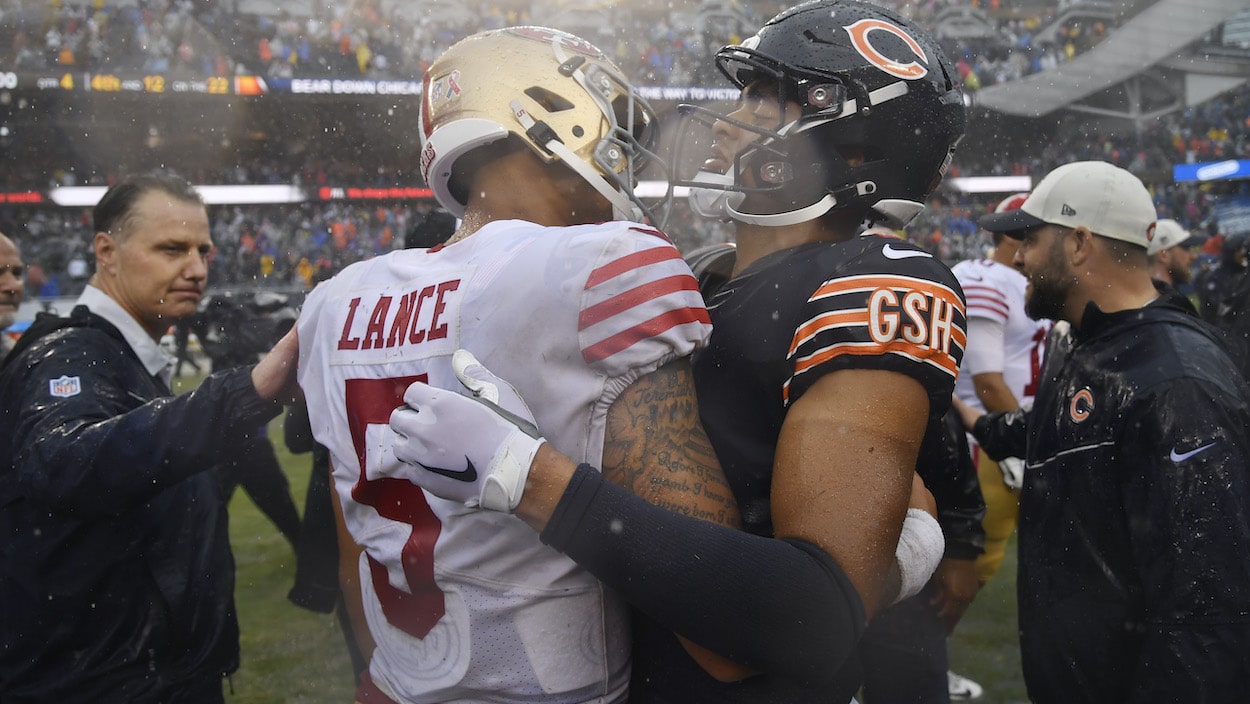 The stat lines from the Bears vs. 49ers game on Sunday tell you a lot about how tough a game Justin Fields and Trey Lance had. The final box score read:
Justin Fields: 8-of-17, 121 yards, two touchdowns, one interception, two sacks, 11 rushes, 28 yards
Trey Lance: 13-of-28, 164 yards, zero touchdowns, one interception, two sacks, 13 rushes, 54 yards, one fumble
The most significant stat of the game, though, was Fields' W. However, that's not the only reason that the former Ohio State signal-caller got the better of his matchup.
The Justin Fields, Trey Lance showdown goes to Fields because not only did he lead his team to a win, he led his far less talented team to a victory.
The 49ers have one of the best offensive lines in the league, while the Bears have one of the worst. Plus, Lance's skill position players in this game were Deebo Samuel, Brandon Aiyuk, and Tyler Kroft. Fields had David Montgomery, Equanimeous St. Brown, and Dante Pettis.
Despite Mike Martz's harsh critique, Fields had a relatively impressive performance in this weather-marred contest. You also have to give anything positive he does extra credit because of the supporting cast around him.
As for Lance, it's only fair to give him time. But if Martz is right about one of these two QBs, it's likely the former North Dakota State Bison.
All stats courtesy of Pro Football Reference