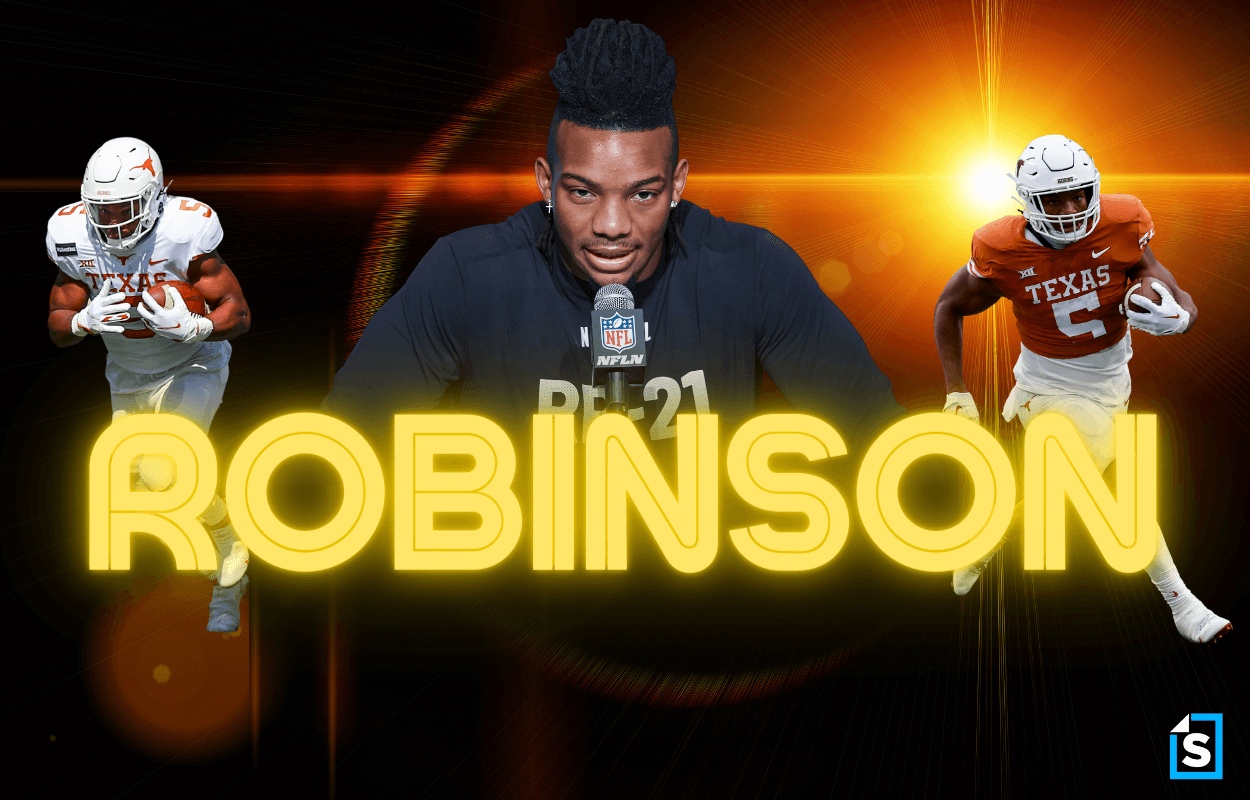 Bijan Robinson: Biography, Career, Net Worth, Family, Top Stories for the Future NFL Star
Here's everything you need to know about Atlanta Falcons running back Bijan Robinson.
Atlanta Falcons running back Bijan Robinson has been a star football player from his early days growing up in Tucson, Arizona, to Salpointe Catholic High School, to the University of Texas, where he etched his name in the school's illustrious RB history books alongside the likes of Earl Campbell and Ricky Williams.
After three years at Texas, the RB declared for the 2023 NFL Draft, where the Falcons selected him No. 8 overall. Robinson is highly-regarded as one of the best pro running back prospects in the last two decades, and whichever team gets him will likely have a future star on its hands. In the NFL, the "Smiley" back is also set to build on his endorsements and earnings that he started with an impressive array of NIL deals in college.
But who is Bijan Robinson? Below, you'll find everything you need to know about the future NFL star, ranging from personal information to his statistics to the top stories he inspired throughout — and beyond — his playing days.
Article Contents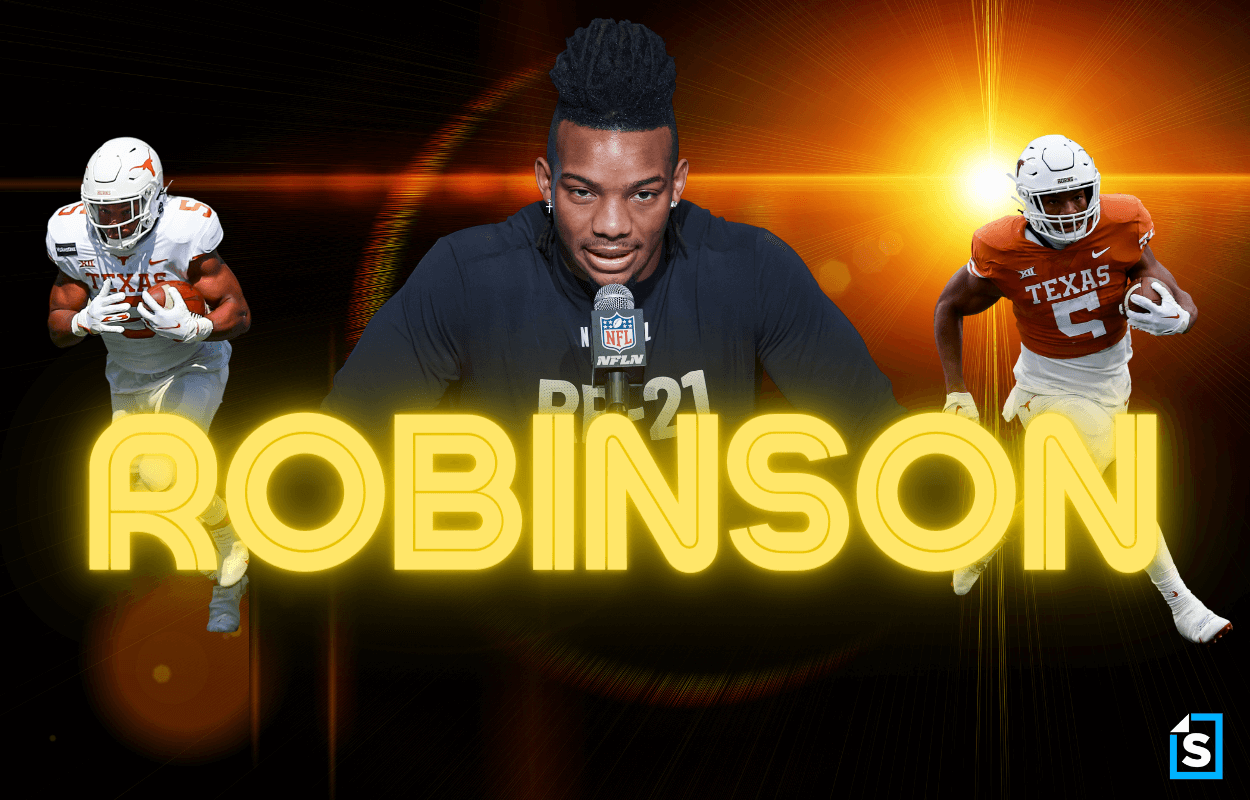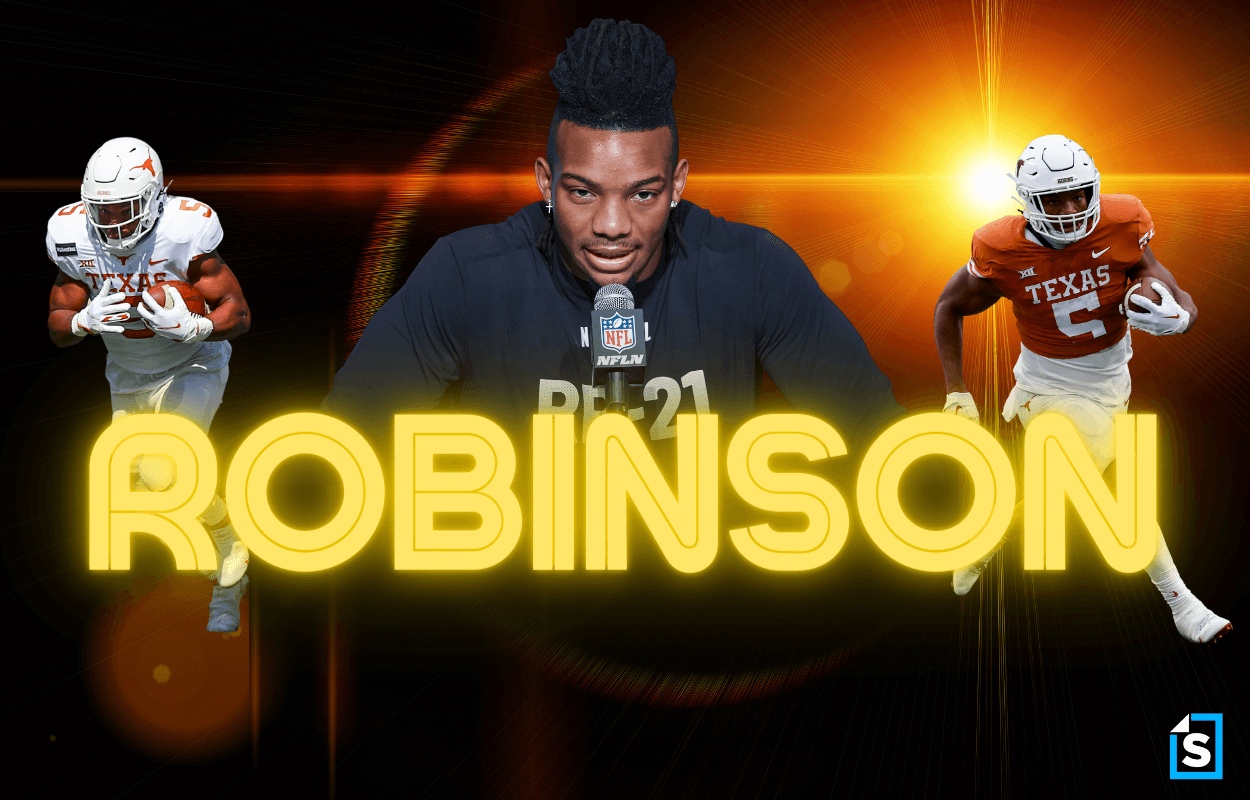 Quick facts
Early life
High school career
College career
2023 NFL Draft
Awards and Achievements
Stats
Scouting report
Girlfriend
Agent
Nicknames
Contract
NIL deals
Social media
Religion
FAQs
Quick Bijan Robinson Facts
Full name: Bijan Robinson
Birthday: Jan. 30, 2002
Birthplace: Tuscon, Arizona
Family: LaMore and Lamont Sauls (mother, stepfather), Gerri and Cleo Robinson (grandmother, grandfather)
Listed height: 5-foot-11
Listed weight: 215 pounds
High school: Salpointe Catholic High School (Tucson, Arizona)
College: University of Texas
NFL team: Atlanta Falcons
Positions: Running back
Jersey number: No. 5
Pro football playing career: 2023-present
Marital status: Single
Where did Bijan Robinson grow up?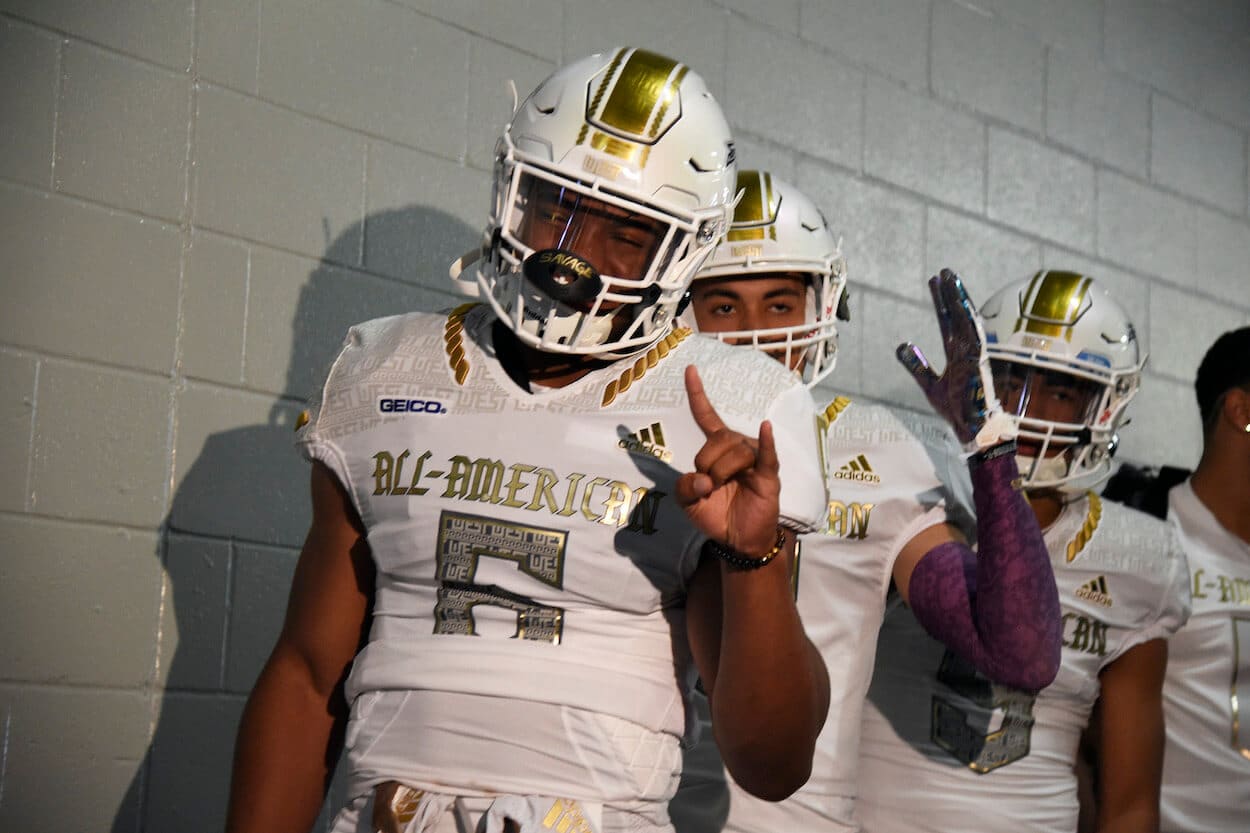 Bijan Robinson was born and raised in Tucson, Arizona. He lived with his grandparents, mother, and aunt as a child, and even when his mother moved out, he stayed with his grandparents, Gerri and Cleo Robinson.
Cleo was a huge influence on Bijan's life growing up and one of the major sources of his athletic talent. Cleo was an all-state linebacker and track star in high school and competed in track and field at Northern Arizona. Cleo's brother, Paul Robinson, was a running back at Arizona before the Cincinnati Bengals selected him in the third round of the 1968 NFL Draft. Paul played six NFL seasons, winning Offensive Rookie of the Year and making two Pro Bowls and one All-Pro team. 
Cleo also kept his sports-related career going after college. He worked in both on- and off-field/court roles as a football and basketball official in high school and college. At the collegiate level, he spent time with the Pac-10 and Big Sky Conference before becoming a Pac-12 instant replay official. 
Bijan Robinson high school career
Bijan Robinson played four years at Salpointe Catholic High School in Tucson, Arizona. The running back started for three of those seasons for the Lancers, becoming the first player in Arizona history to rush for over 2,000 yards in three consecutive campaigns.
His 114 touchdowns and 7,036 rushing yards are both Arizona state career records that stand to this day.
As a senior, Robinson played in the All-American Bowl and was the No. 21 overall player and No. 3 running back — behind fellow 2023 NFL Draft prospects Zachary Evans (TCU, Ole Miss) and Tank Bigsby (Auburn) — in the ESPN300 high school recruiting rankings.
Bijan Robinson's college career
The star running back had offers from all the top schools in college football and his home-state teams, Arizona and Arizona State. Robinson ultimately chose Texas over his other top choices, Ohio State, LSU, and USC.
2020 season
The Texas Longhorns' 2020 season was shorter than planned due to COVID-19. The team played 10 games, with its two opening nonconference games against South Florida and LSU, as well as its last Big 12 game vs. Kansas, canceled. 
Robinson played right away as a freshman, playing in nine games and starting the final six. He set school records for yards per carry in a single game (19.1 vs. Kansas State) and in a season (8.9). 
His three 100-plus-yard games tied him for third-most from a Longhorns freshman. That put him behind only Texas legends Cedric Benson (five) and Earl Campbell (four) and tied with Ricky Williams, Vince Young, Jamaal Charles, and Malcolm Brown.  
Texas went 5-1 in the games Robinson started and earned an Alamo Bowl berth at 7-3 on the season. The RB had 10 carries for 183 yards and a touchdown in that game, taking home Alamo Bowl MVP honors in a 55-23 win over Colorado. The team entered that game ranked 25th and finished 19th in the AP Poll. 
2021 season
In his sophomore season, Bijan Robison again starred for the Longhorns, starting all 10 games and putting up 195 carries for 1,127 yards and 11 touchdowns and 26 catches for 295 yards and four touchdowns. The 1,000-plus-yard season was the first by a Longhorns running back since D'Onta Foreman did it in 2016. 
Robinson earned first-team All-Big 12 honors despite the team finishing poorly in head coach Steve Sarkisian's first season as head coach. Texas went 5-7 overall and 3-6 in the Big 12. 
2022 season
In his junior season, the Longhorns performed better than during the previous campaign, finishing 8-5 overall and 6-3 in the Big 12.
Robinson was the star of the team, posting 1,894 all-purpose yards and 20 touchdowns on the season. He took home the Doak Walker Award as the nation's best running back and was a unanimous first-team All-American. The RB finished ninth in the Heisman Trophy voting.
The Longhorns again went to the Alamo Bowl as the No. 20 team in the country. However, Robinson opted out to prepare for the 2023 NFL Draft, and the team lost 27-20 to Washington and finished 25th in the AP Poll.
Bijan Robinson at NFL Draft
Bijan Robinson decided to forgo his senior season at Texas and enter the 2023 NFL Draft, where he became the No. 1 RB prospect in the draft class.
At the NFL Scouting Combine, he put up impressive numbers that helped his draft stock. His measurements and performance looked like this:
| | | | |
| --- | --- | --- | --- |
| Height | Weight | Arms | Hands |
| 5-foot-11 | 215 pounds | 31 1/8 inches | 9 ¾ inches |
| 40-yard dash | 10-yard split | Vertical jump | Broad jump |
| 4.46 seconds | 1.52 seconds | 37 inches | 10-feet, 4-inches |
Robinson did not participate in the 3-cone drill, 20-yard shuttle, or bench press at the combine. His 40-yard dash, 10-yard split, vertical jump, and broad jump results were sixth, third, sixth, and fourth, respectively, among participating RB prospects.
Mock drafts gave Robinson a wide range of outcomes throughout the predraft buildup. Some had him as high as No. 8 to the Atlanta Falcons, while others had him as low as No. 27 to the Buffalo Bills. Other teams often linked to the RB were the Philadelphia Eagles, Detroit Lions, Dallas Cowboys, New England Patriots, Baltimore Ravens, Los Angeles Chargers, and Cincinnati Bengals.
Ultimately, Robinson went at his highest projected spot, as the Falcons took him with the No. 8 overall pick.
Bijan Robinson awards and achievements
Robinson was nominated for many awards throughout his college career and earned several honors in his three seasons at Texas:
Doak Walker Award (2022)
Unanimous All-American (2022)
First-team All-Big 12 (2021, 2022)
Bijan Robinson stats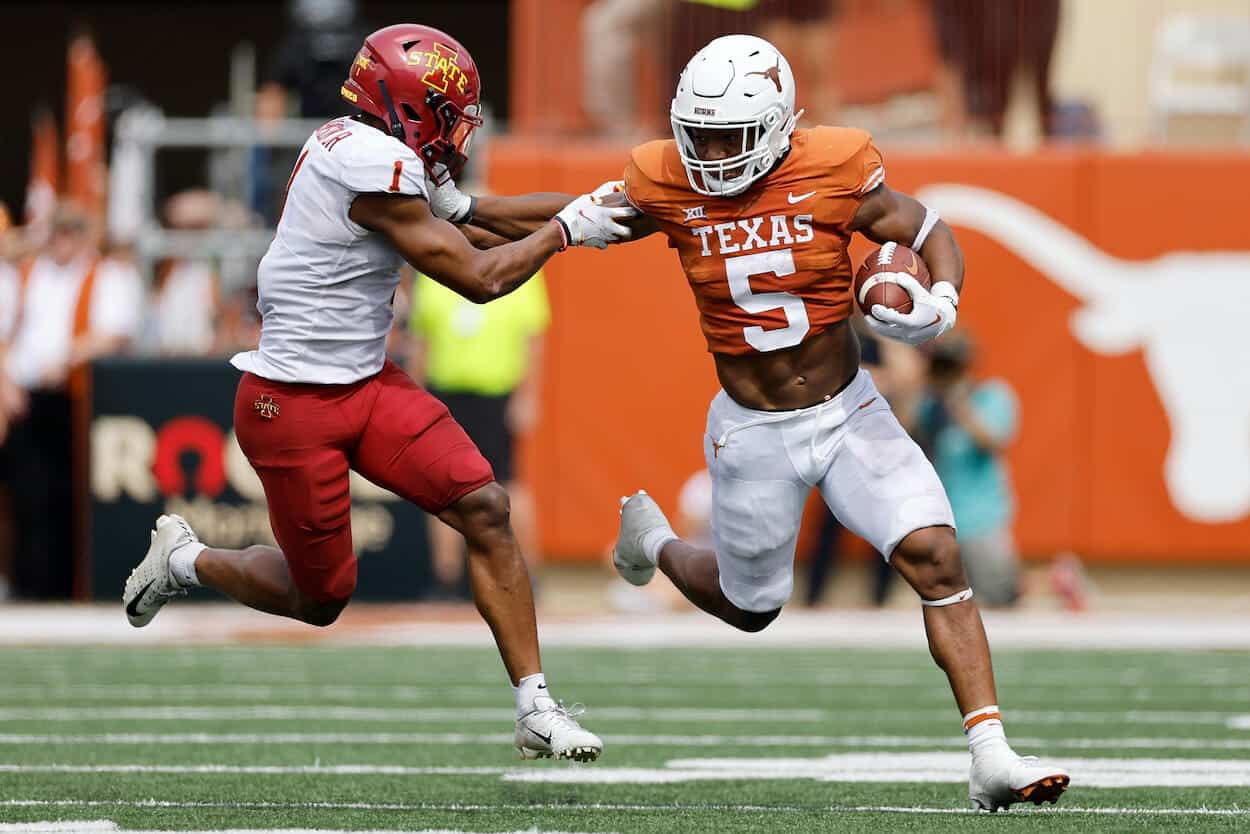 Here are the statistics from Bijan Robinson's high school and college career. 
High School 
| | | | | | | | | |
| --- | --- | --- | --- | --- | --- | --- | --- | --- |
| Season | Games | Carries | Rush Yds | Long | Rush TD | Rec | Rec Yds | Rec TD |
| 2016 | 9 | 42 | 378 | 44 | 4 | 12 | 233 | 2 |
| 2017 | 13 | 189 | 2,023 | 65 | 26 | 8 | 136 | 3 |
| 2018 | 13 | 170 | 2,400 | 99 | 35 | 10 | 153 | 1 |
| 2019 | 11 | 126 | 2,235 | 92 | 38 | 12 | 314 | 3 |
| TOTALS | 46 | 527 | 7,036 | 99 | 103 | 42 | 836 | 9 |
College
| | | | | | | | | |
| --- | --- | --- | --- | --- | --- | --- | --- | --- |
| Season | Games | Carries | Rush Yds | Rush TD | Long | Rec | Rec Yds | Rec TD |
| 2020 | 9 | 86 | 702 | 4 | 75 | 15 | 196 | 2 |
| 2021 | 10 | 195 | 1,127 | 11 | 62 | 26 | 295 | 4 |
| 2022 | 12 | 258 | 1,580 | 18 | 78 | 19 | 314 | 2 |
| TOTALS | 31 | 539 | 3,410 | 33 | 78 | 60 | 805 | 8 |
Bijan Robinson scouting report
Bijan Robinson is a do-it-all running back who is the best RB prospect to come into the NFL since Saquon Barkley in 2018.
As a runner, Robinson has a low center of gravity, nimble feet, and a good speed-to-size ratio. At 5-foot-11 and 215 pounds while running a 4.49-second 40-yard dash, the former Longhorns back is comfortable running physically between the tackles or beating defenders with speed to the edge.
When he carries the ball, Robinson has excellent vision and outstanding balance, allowing him to make quick cuts and carom off tacklers looking to knock him down. He also is a nasty run finisher who isn't afraid to lower his shoulder and initiate contact.
What makes Robinson a potential three-down superstar back in the NFL, though, is his route-running ability and soft hands. He is an excellent pass-catcher who should be able to stay on the field in third-down passing situations.
As for weaknesses, there aren't many. Robinson does need to improve as a pass-blocker at the pro level, and he also must become a little more decisive when starting runs against the elite speed of NFL defenses.
Bijan Robinson girlfriend
While Bijan Robinson is relatively active on social media, he hasn't shared his relationship status with the public. As of April 2023, there is no indication Robinson has a girlfriend.
Bijan Robinson agent
After declaring for the 2023 NFL Draft, Robinson signed a deal with Klutch Sports and head football agent Nicole Lynn to represent him.
Lynn is quickly becoming one of the top NFL agents on the scene. In the 2023 offseason, she helped secure Eagles quarterback Jalen Hurts a five-year, $255 million contract with an annual average value of $51 million per year, the highest AAV in NFL history.
Bijan Robinson nicknames
With a unique first name like "Bijan," which is a Persian name meaning "hero," the running back doesn't need many nicknames.
However, due to his bubbly personality, Robinson got the nickname "Smiley" back in his youth football days. After that, thanks to his similarities to Texas Longhorns legend Ricky Williams, he also earned the moniker "Little Ricky."
The most interesting play on his name is "Bijan Mustardson," which is the name of the mustard he endorses. "The Official Dijan of Bijan" went into production in 2022 and is "smooth and rich with a Texas kick," according to the website.
Bijan Robinson contract
As the No. 8 overall pick in the 2023 NFL Draft, the rookie Bijan Robinson contract will be a four-year, fully-guaranteed $21.9 million pact with a $12.9 million signing bonus, a $3.9 million 2023 cap hit, and an annual average value (AAV) of $5.4 million.
As a first-round pick, Robinson is eligible for a fifth-year option on his deal in 2027 based on playing time and performance.
Bijan Robinson NIL deals
Bijan Robinson played college football in the early days of name, image, and likeness rights. According to the NIL tracking site On3, Robinson has an NIL valuation of $1.8 million, which ranked him No. 8 in college sports and No. 5 in college football.
Robinson has 10 verified NIL deals with:  
Athletic Brewing Company
Candy Digital
Rhoback
Onyx Authenticated
Lamborghini Austin
C4 Energy
Leaf Trading Cards
DAZN
Cameo
Raising Cane's
Bijan Robinson social media
Bijan Robinson has three verified social media accounts with approximately 313,000 followers on all platforms. His accounts are:
Despite having nearly 2,000 followers on TikTok, Robinson has not posted any content.
Bijan Robinson religion
Robinson is a Christian who attended Salpointe Catholic High School and often talks about his faith. His Instagram bio reads, "Let's make God famous!" and "Trust in the Lord," while his Twitter bio says, "God is the way."
Ahead of the 2022 Texas Longhorns season, Robinson discussed his faith at a press conference.
"None of us would be here if God wasn't a part of our life," Robinson said (h/t Cory Mose on Twitter). "He blessed us to do something. He blessed you to do what you're doing, blessed me to do what I'm doing. So, when He's the center and the focal piece of a team, then that's when you start to see where you want to go and how you want to do it."
Where was Bijan Robinson born?
Bijan Robinson was born and raised in Tucson, Arizona.
How old is Bijan Robinson?
Born on Jan. 30, 2002, Bijan Robinson is now 21 years old.
How tall is Bijan Robinson?
At the 2023 NFL Scouting Combine, Bijan Robinson officially measured 5-foot-11 and 215 
pounds.
Where did Bijan Robinson go to college?
Bijan Robinson attended the University of Texas in Austin, Texas, and played for the Longhorns 
football team.
What team does Bijan Robinson play for?
Bijan Robinson played for the Texas Longhorns in college and is currently a top prospect in the 2023 NFL Draft who is expected to be a first-round pick. 
What position does Bijan Robinson play?
Bijan Robinson is a running back. 
What number is Bijan Robinson?
Bijan Robinson wore No. 5 both in high school at Salpointe Catholic High School and in college for the Texas Longhorns.  
Is Bijan Robinson married?
No. Bijan Robinson is currently single and hasn't given any indication of his relationship status on his social media accounts or in the press.
How fast is Bijan Robinson?
Bijan Robinson ran a 4.49-second 40-yard dash at the NFL Scouting Combine with a 1.52-second 10-yard split.