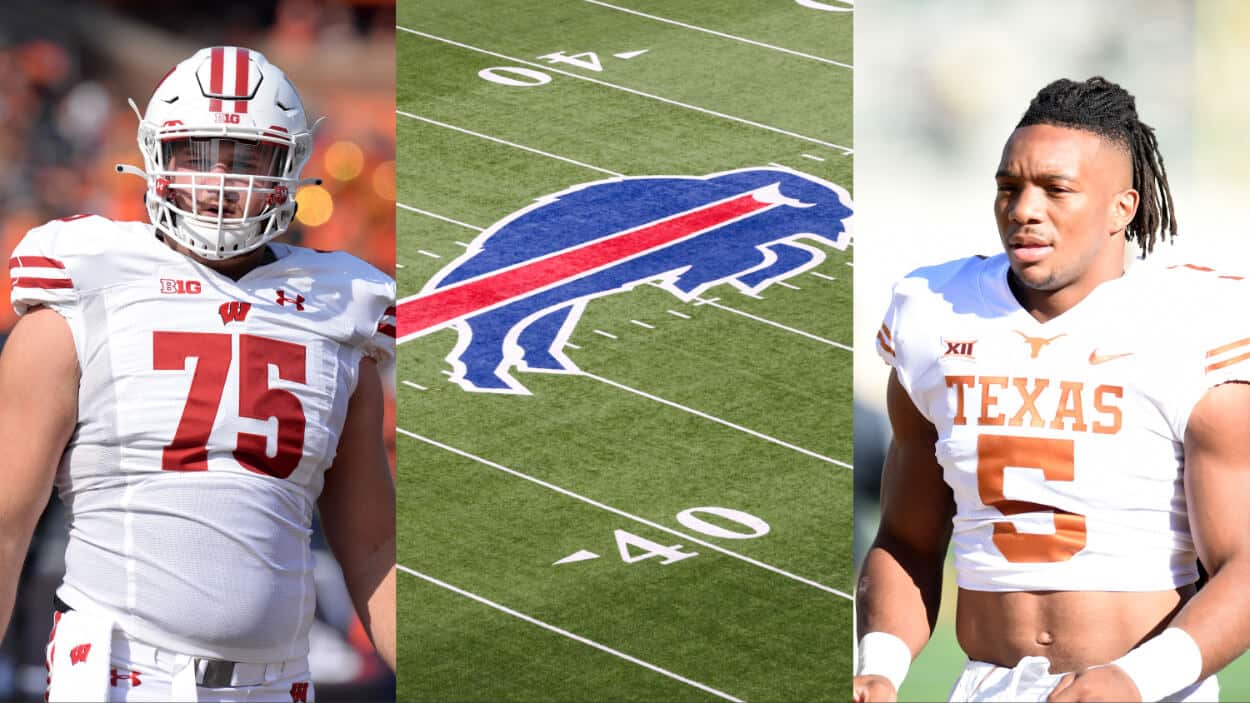 Buffalo Bills 7-Round Mock Draft 2023
This full seven-round Bills mock draft goes through every player Buffalo should select in the 2023 NFL Draft.
The Buffalo Bills need to get more talent in the building during the 2023 offseason. That was painfully clear in the team's playoff loss to the deeper and more talented Cincinnati Bengals. And with the salary cap nearly maxed out, the 2023 NFL Draft is the way to do that. This Bills mock draft for 2023 goes through all seven rounds (although technically, the Bills' draft will end with their sixth-round pick unless they make trades) and makes the best picks for Buffalo based on the players projected to be available.
Buffalo Bills Mock Draft 2023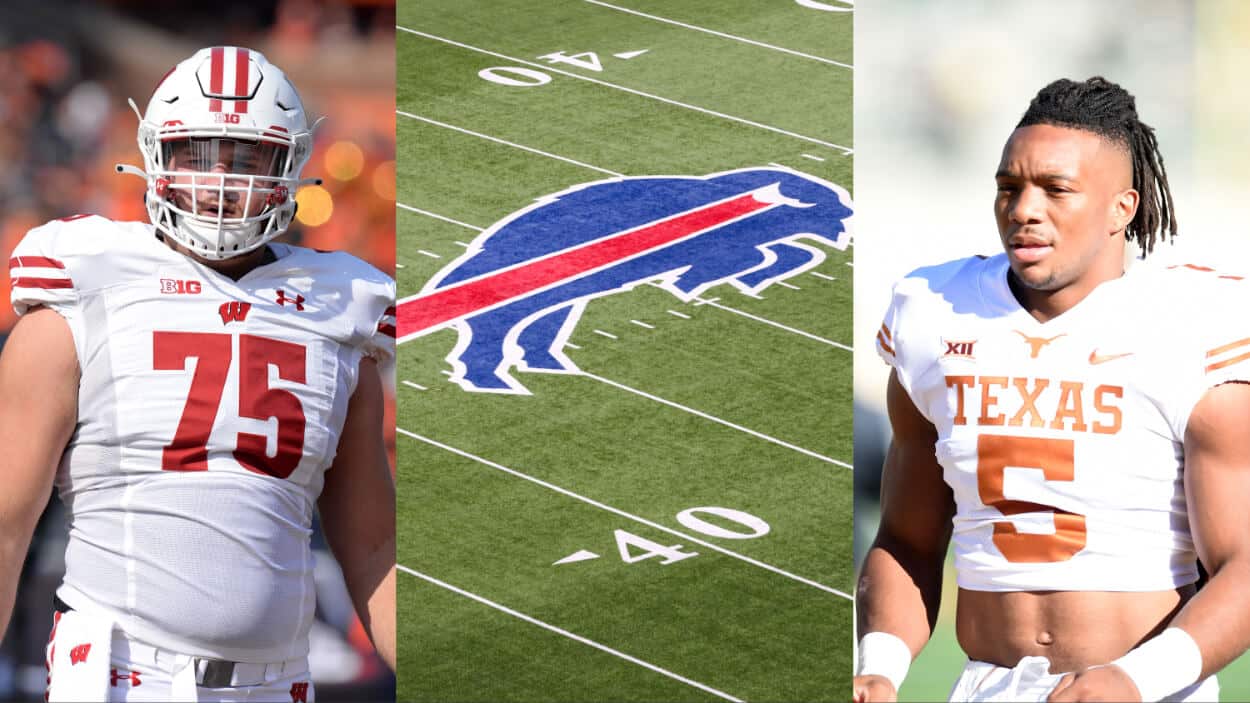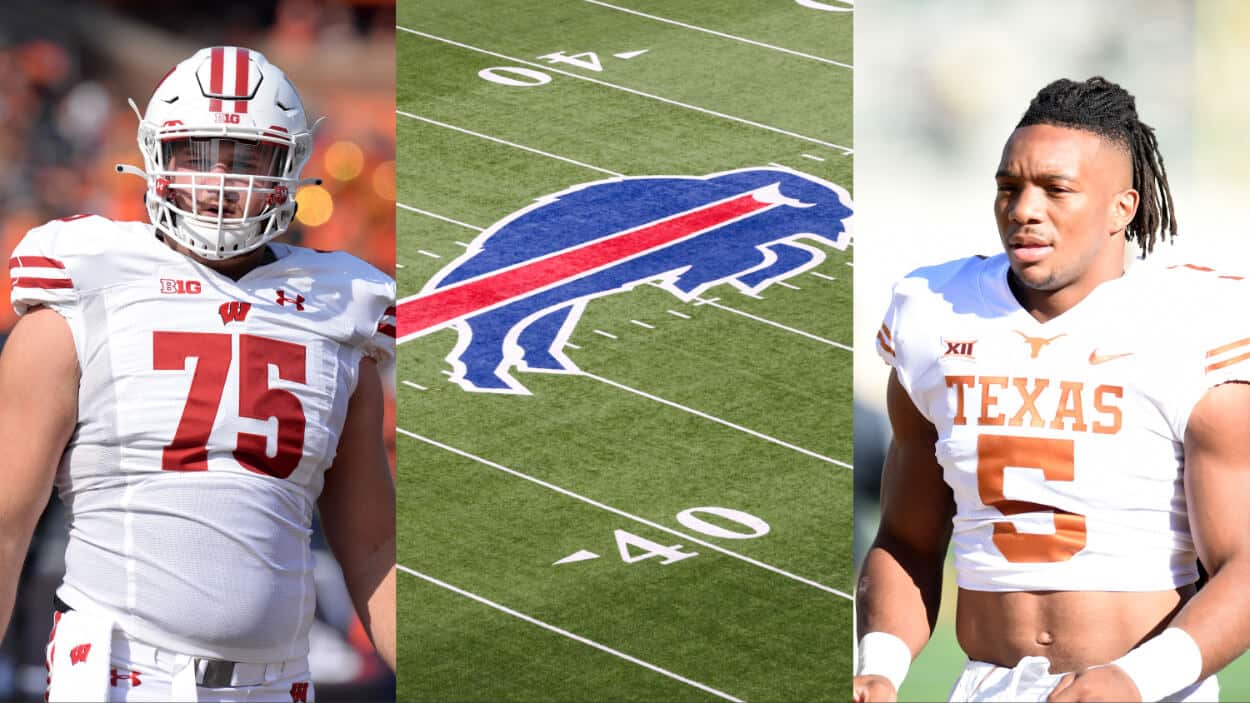 Round 1, Pick No. 27: Bijan Robinson, RB, Texas
This would be a dream scenario for the Bills. The running game has been horrific the past two seasons, and a big part of that is that they haven't had a dynamic running back (while the other part of the problem is the run/pass balance in play calling).
Texas RB Bijan Robinson is the best prospect at tailback since Saquon Barkley, so he could come off the board earlier. However, if teams decide to pass on the much-maligned running back position, he could fall to Buffalo as he does in this Bills mock draft of 2023.
Round 2, Pick No. 59: Joe Tippmann, C, Wisconsin
Buffalo needs to upgrade the interior of the offensive line this offseason, and one way they did that was to sign Dallas Cowboys guard Conner McGovern. However, they could still use upgrades over center Mitch Morse and guard Ryan Bates.
That upgrade is 6-foot-6, 313-pound Wisconsin center Joe Tippmann. The former Badger is huge for a center, which means he could start off as a guard in the NFL as well. He is also a smart, strong, and athletic player who should start in Week 1 following the 2023 NFL Draft.
Round 3, Pick No. 91: Luke Schoonmaker, TE, Michigan
The next Bills mock draft of 2023 pick is Michigan tight end Like Schoonmaker. The 6-foot-5, 251-pound pass-catcher is a versatile TE who excels as a receiver and is a good blocker with the potential to get better as he grows stronger.
Buffalo needs a second tight end to work with Dawson Knox, and Schoonmaker could be the perfect fit, as NFL.com has his current player comp as … Dawson Knox.
Round 4, Pick No. 130: Bryce Ford-Wheaton, WR, West Virginia
Think the Bills would have loved to draft DK Metcalf back in 2019? You betcha. Well, they may have another chance with West Virginia wide receiver Bryce Ford-Wheaton in the 2023 NFL Draft.
The Mountaineers WR is 6-foot-4, 221 pounds, and ran a blazing 4.38 40-yard dash at the NFL combine. He also finished first among wideout in the vertical (41 inches). The polish and production aren't there yet, but imagine Josh Allen throwing to this type of physical specimen if he can put it together.
Round 5, Pick No. 147: Brenton Cox Jr., EDGE, Florida
This is a risky pick in the Bills mock draft, but at this point in the draft, Brenton Cox Jr. might be worth it. The 6-foot-4, 250-pound edge-rusher was a five-star recruit coming out of high school in 2018. The issue is he's been dismissed by both Georgia after a possession of marijuana arrest in 2019 and by Florida for undisclosed disciplinary reasons in 2022.
This is the type of high-risk, high-reward pick that Bills general manager Brandon Beane hasn't made in recent years (the Matt Ariaza debacle notwithstanding), which is one reason he doesn't have a Pro Bowler on his draft resume since 2018.
Round 6, Pick No. 204: Earl Bostick Jr., OT, Kansas
Just like starting right tackle Spencer Brown, Earl Bostick Jr. started as a tight end before moving to tackle. This means that the 6-foot-6, 309-pound Kansas Jayhawk has the athleticism the Bills are looking for on the offensive line. Bostick will be a solid swing tackle to start his career and could push Brown and Dion Dawkins if things go well.