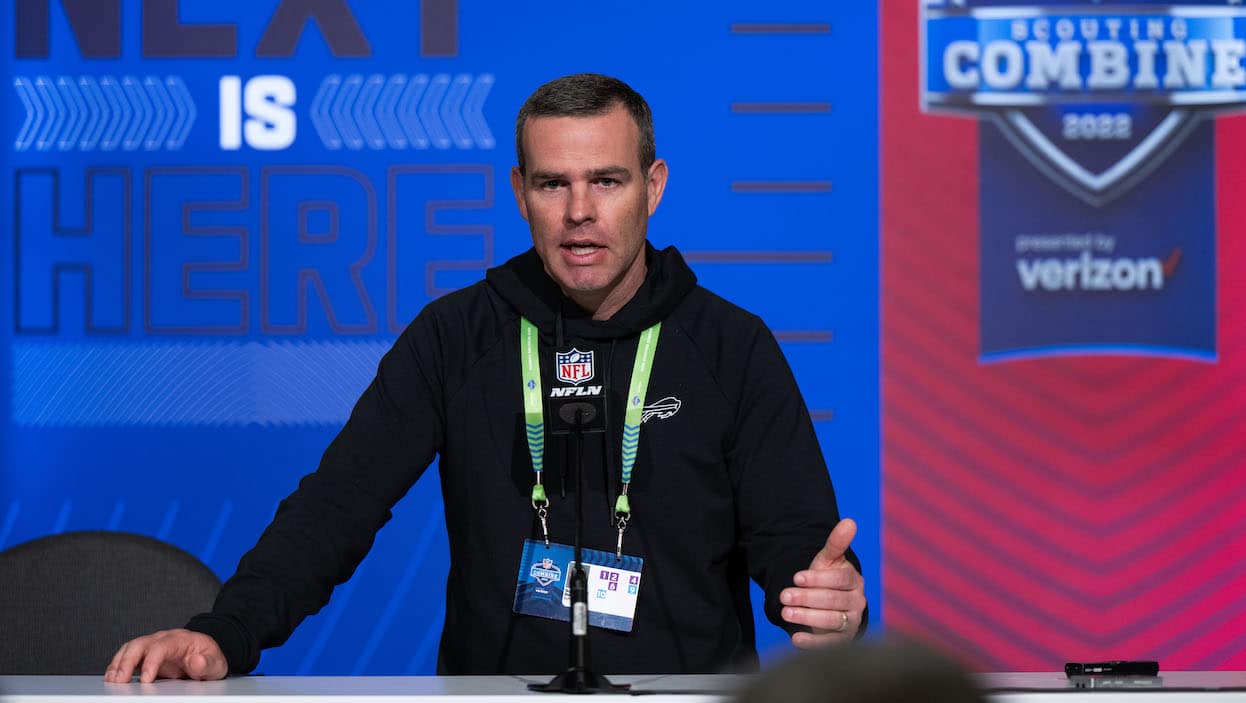 Bills GM Brandon Beane Makes Excuses, Takes Shots at Bengals After Playoff Exit
Bills GM Brandon Beane lamented not having the roster the Bengals do without admitting his role, and saying the Bengals sucked to get there.
The Buffalo Bills took an embarrassing L in the AFC Divisional Round, losing to the Cincinnati Bengals 27-10. The loss exposed several flaws in the Bills' game-planning, coaching, and roster construction. However, several days after the game, Bills general manager Brandon Beane was making excuses for the loss and saying he wouldn't "want to suck bad enough" to get the blue-chip players the Bengals have on their roster.
Brandon Beane makes excuses for his roster
Despite the Bills being the Super Bowl favorite the entire season, it was obvious on Sunday that the Bengals were the better team from top to bottom.
In his post-season press conference, Bills GM Brandon Beane made excuses for the disparity of talent on the two rosters and took a shot at the Bengals franchise, saying that they sucked for a long time in order to get where they are now.
"[The Bengals] have a good team. They, right now, are on the advantage of a rookie quarterback contract," Beane explained. "And they had some lean years, and — without getting too much into their build — I don't want to suck bad enough to have to get Ja'Marr Chase. He's a heck of a talent. I'd love to have him. But you have to go through some lean years to do that."
The Bills GM also noted that Stefon Diggs and Josh Allen are both making "a pretty hefty number" on their current contracts, and "there is the constraints of the cap."
What Beane left out is his role in trading for Diggs, giving him that "hefty" contract, and failing to draft a single Pro Bowl player while Allen was on his rookie deal.
Bills didn't need 'to suck' to draft Justin Jefferson or the team's best players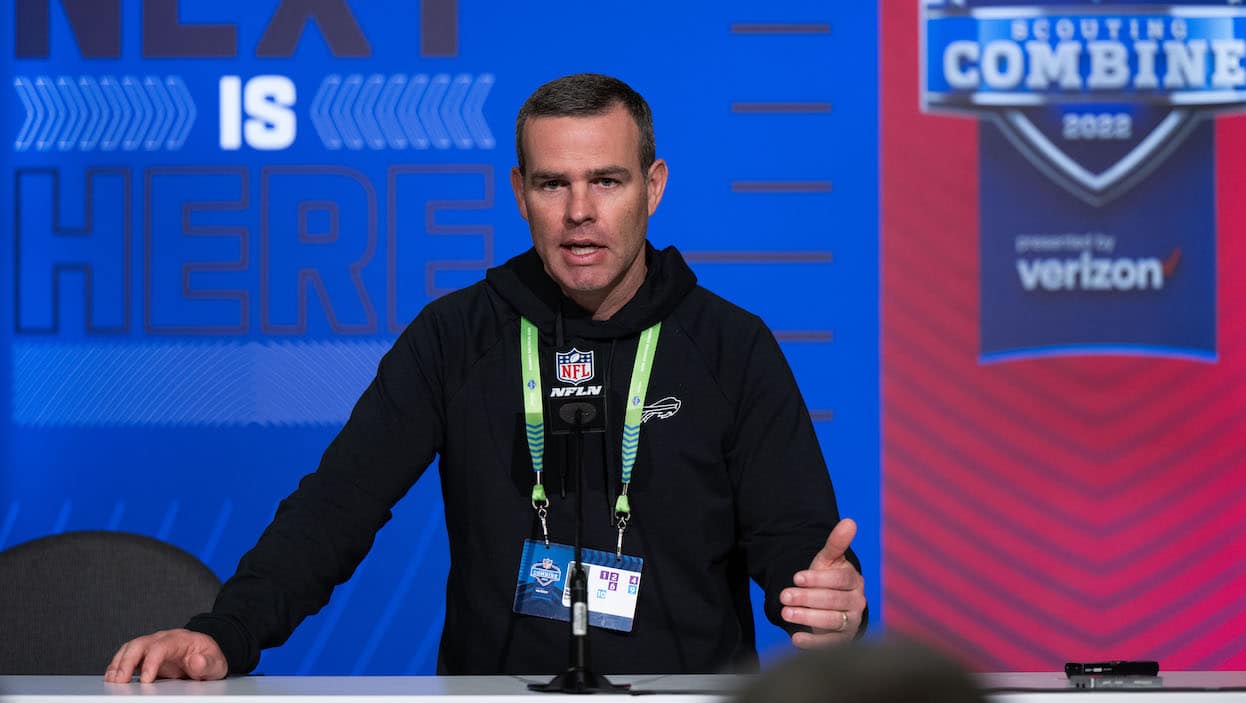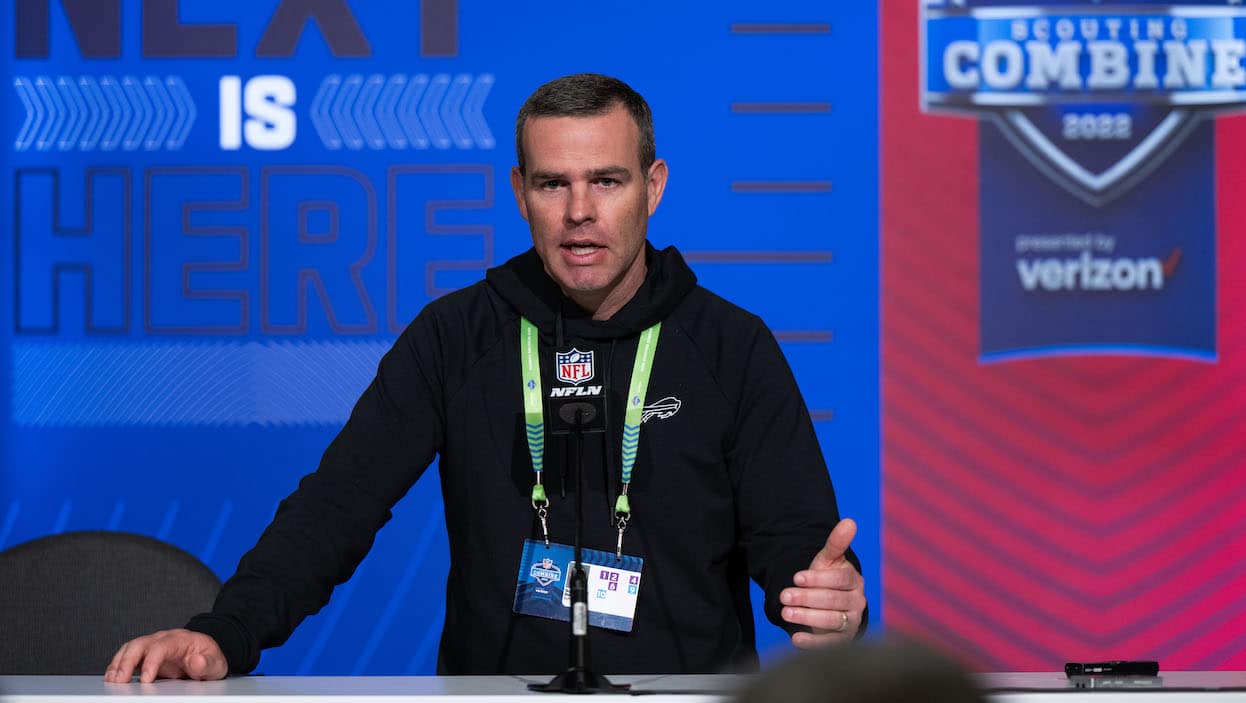 In 2017 and 2018, Bills GM Brandon Beane had excellent drafts. In those years, he took five Pro Bowl or All-Pro players in Tre'Davious White, Dion Dawkins, Matt Milano, Josh Allen, and Tremaine Edwards. Starting nickel corner Taron Johnson and special teams ace Siran Neal also came to Buffalo in those drafts.
And the Bills didn't have to "suck" to get most of those players.
The Bills traded back (out of the Patrick Mahomes spot) to take White at No. 27, and Dawkins (Round 2) and Milano (Round 5) came on days two and three. In 2018, the Bills traded up from No. 12 to No. 7 to take Allen and from No. 22 to 16 to take Edwards. Then Beane got Johnson and Neal in the 4th and 5th rounds, respectively.
Worst of all, the Bills GM whiffed on his chance to get his own Ja'Marr Chase in 2020. Beane traded Buffalo's 2020 first-round pick (No. 22) to the Minnesota Vikings for wide receiver Stefon Diggs. That move worked out well in the short term. Diggs was excellent in his first three seasons, but he'll turn 30 in 2023, will count for $26.5 million against the cap next season, and was last filmed yelling at his quarterback at the end of the loss to the Bengals.
It's hard to crush Beane for making this move in a vacuum, but after complaining that his team hasn't sucked enough to get a young, cheap, superstar WR, you have to point out that the Vikings used the pick he traded for Diggs to draft the best pass-catcher in the NFL in 2023, Justin Jefferson.
It also deserves pointing out that while Beane is whining about not having a QB on a rookie contract anymore like Joe Burrow, he did have that for five seasons. And he didn't draft a single Pro Bowl player in four of those years.