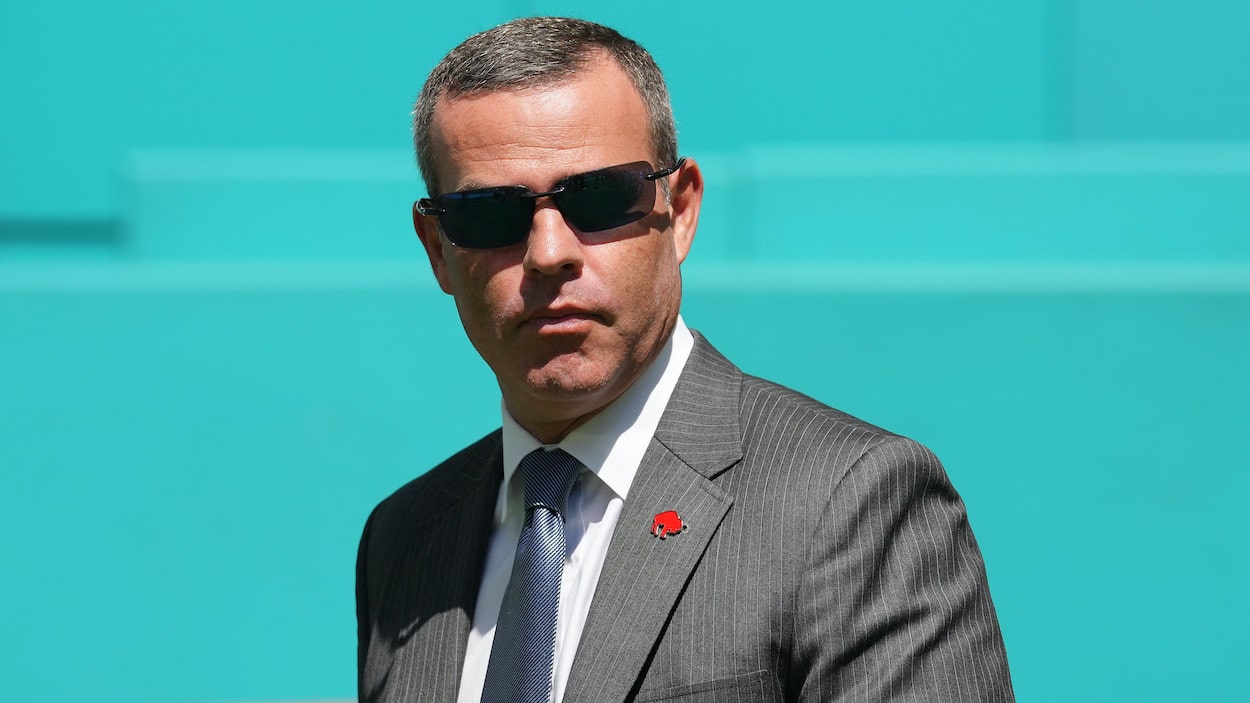 Bills GM Brandon Beane Needs to Take Major Blame for Bills-Bengals Debacle
After the Bills-Bengals playoff game, Bills GM Brandon Beane has some serious work to do after a rough couple of years in the front office.
The Buffalo Bills were supposed to be the Super Bowl favorite. Instead, they got embarrassed at home in the Divisional Round by the Cincinnati Bengals. There is a lot of blame to go around after this embarrassing loss. Injuries, inconsistency, and questionable play-calling on both sides of the ball took their toll. However, one person who needs to take more blame for the Bills-Bengals game is general manager Brandon Beane. He's done an excellent job rebuilding the Bills, but in recent years, his moves to create a true championship contender have fallen flat.
Bills GM Brandon Beane has failed to make the Bills a Super Bowl-caliber team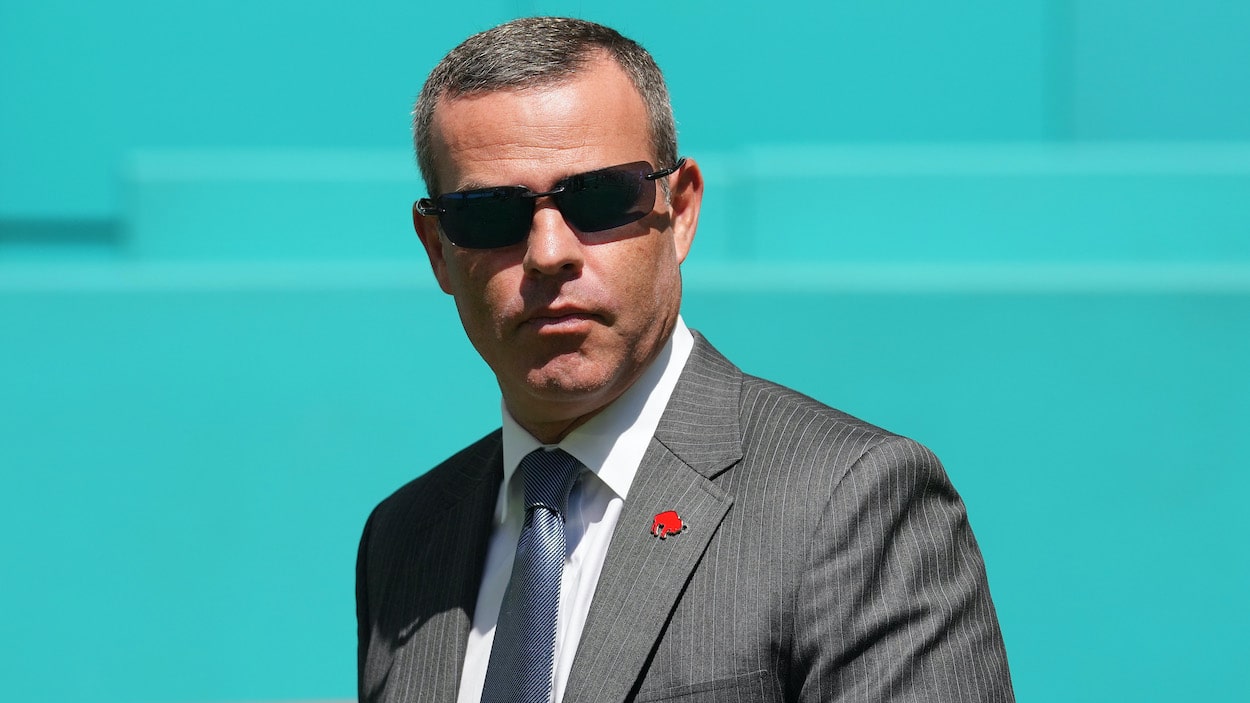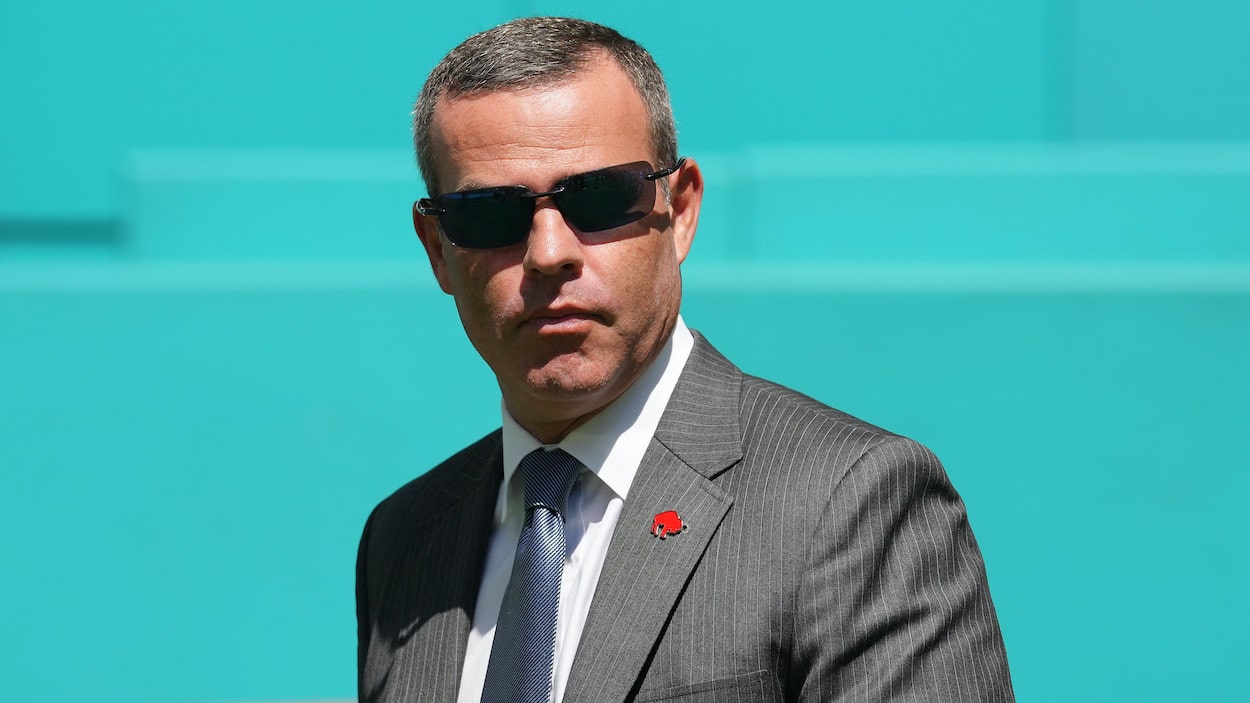 In Brandon Beane's first two drafts for the Bills, he made incredible picks that turned into the core of a playoff team. He selected All-Pros Tre'Davious White and Matt Milano, and Pro Bowlers Dion Dawkins, Tremaine Edwards, and Josh Allen in 2017 and 2018.
In 2017, the Bills GM also signed Jordan Poyer and Micah Hyde, who turned into the best safety tandem in the NFL.
Since 2018, though, the Bills' moves haven't moved the needle to the point where the team is now a Super Bowl-caliber squad. The first issue is that Beane hasn't picked a single Pro Bowl player in the last four drafts:
| | | | | | | | |
| --- | --- | --- | --- | --- | --- | --- | --- |
| RND | 2019 draft | RND | 2020 draft | RND | 2021 draft | RND | 2022 draft |
| 1 | DT Ed Oliver | 2 | DE A.J. Epenesa | 1 | DE Gregory Rousseau | 1 | CB Kaiir Elam |
| 2 | OT Cody Ford* | 3 | RB Zach Moss* | 2 | DE Boogie Basham | 2 | RB James Cook |
| 3 | RB Devin Singletary | 4 | WR Gabriel Davis | 3 | OT Spencer Brown | 3 | LB Terrel Bernard |
| 3 | TE Dawson Knox | 5 | QB Jake Fromm* | 5 | OT Tommy Doyle | 5 | WR Khalil Shakir |
| 5 | LB Vosean Joseph* | 6 | K Tyler Bass | 6 | WR Marquez Stevenson* | 6 | P Matt Araiza* |
| 6 | CB Jaquan Johnson | 6 | WR Isaiah Hodgins* | 6 | S Damar Hamlin | 6 | CB Christian Benford |
| 7 | DE Darryl Johnson* | 7 | CB Dane Jackson | 6 | CB Rachad Wildgoose* | 6 | OL Luke Tenuta* |
| 7 | TE Tommy Sweeny |   |   | 7 | OG Jack Anderson* | 7 | LB Baylon Spector |
* no longer with the Bills
There are some really solid players on the list above, and a few — Gregory Rousseau, Kaiir Elam, Christian Benford — have the potential to develop into Pro Bowl players someday. However, there isn't one game-changing difference-maker in the bunch above, and that showed up in the Bills-Bengals Divisional Round game.
Beane also needs to take some blame for drafting Matt Araiza, despite the horrific allegations he was facing back in San Diego.
It's not just the draft, either. The Bills GM has made some free-agent moves and trades that are now questionable in hindsight.
The Stefon Diggs trade seemed much needed at the time, and Diggs has been Josh Allen's best target over the last three seasons. However, he's on the books for over $20 million in 2023, is un-cuttable the next two seasons with $45.4 and $25.7 million dead cap hits, and his diva tendencies are coming out more and more as the years go by. Yelling at Allen at the end of the Bills-Bengals game and leaving the locker room before talking to reporters is not a good sign.
That's not the worst part of the Stefon Diggs trade, though. The worst part is that the Minnesota Vikings took Justin Jefferson with the Bills' pick in 2020. Allen to Jefferson would be a pairing that could have made the Bills a Super Bowl team.
Another quibble with Brandon Beane is his free-agent signings. Von Miller is an incredible player and the Bills' best pass-rusher this season. However, he's 33 and giving him a six-year, $120,000,000 contract with $51,435,000 guaranteed that the team can't get out of until after 2024 was short-sighted.
If the Bills had Miller in the Bills-Bengals game, maybe they would have put up more of a fight. That said, it can't be a surprise that a soon-to-be (March 26) 34-year-old got hurt during the season and wasn't available for the playoffs, especially after he played all the way to the Super Bowl last season.
It's not time to panic and call for the Bills to fire Brandon Beane. It is, however, time to put more of the blame for the Bills' failed campaign on him. And to ask him to draft better on a more consistent basis and make better short- and long-term roster moves before crowning him one of the better GMs in the NFL.