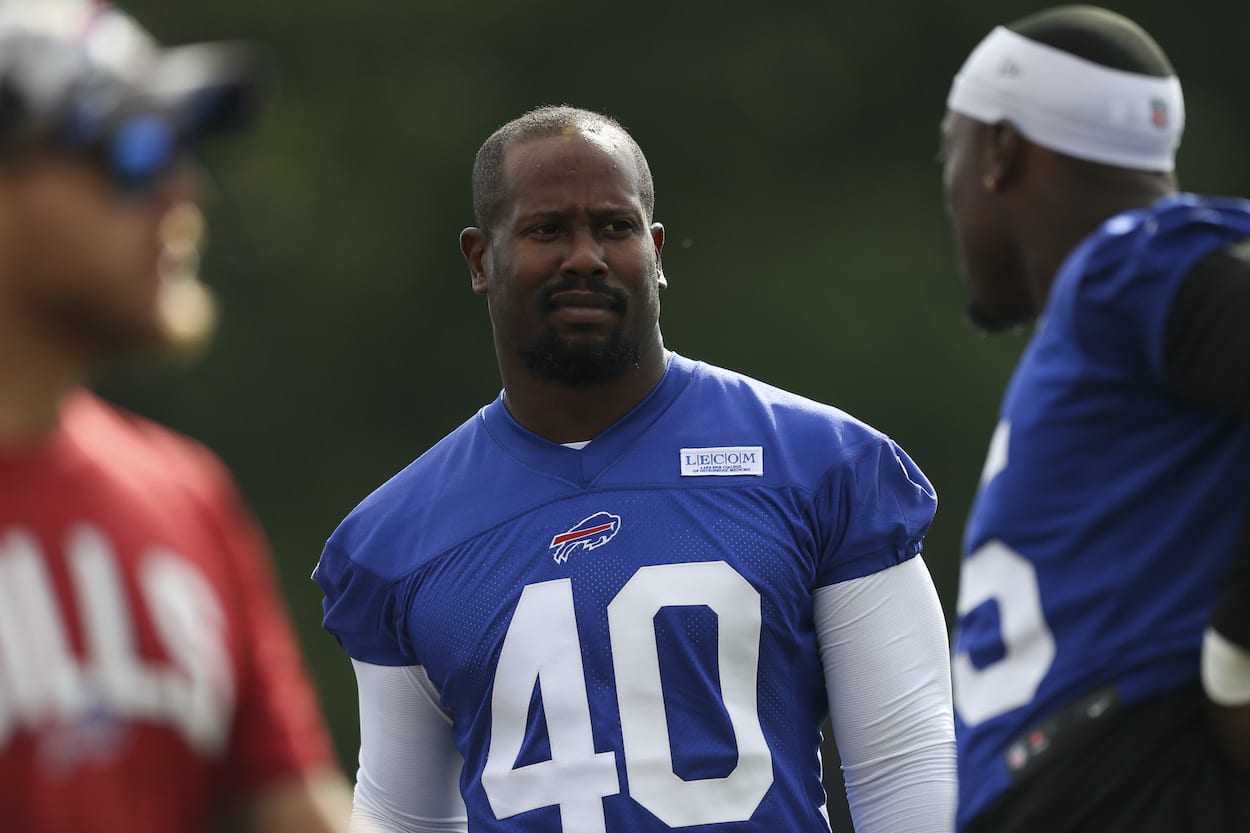 Von Miller is Mentoring Bills Teammate Gregory Rousseau: 'Been Feeding Him Gun Powder and Gasoline'
The Buffalo Bills signed future Hall of Fame pass-rusher Von Miller this offseason and his is already taking a young teammate under his wing.
This offseason, the Buffalo Bills added future Hall of Fame pass-rusher and 2021 Super Bowl champ Von Miller. Having a superstar like Miller — even an aging one at 33 — adds a lot to a roster that is already one of the best in the NFL. Having two elite pass-rushers on the Bills defensive line would take the team to yet another level. And that might be what the Bills have in 2022 as Miller is mentoring second-year player Gregory Rousseau.
Von Miller is mentoring Gregory Rousseau and the young Bills D-line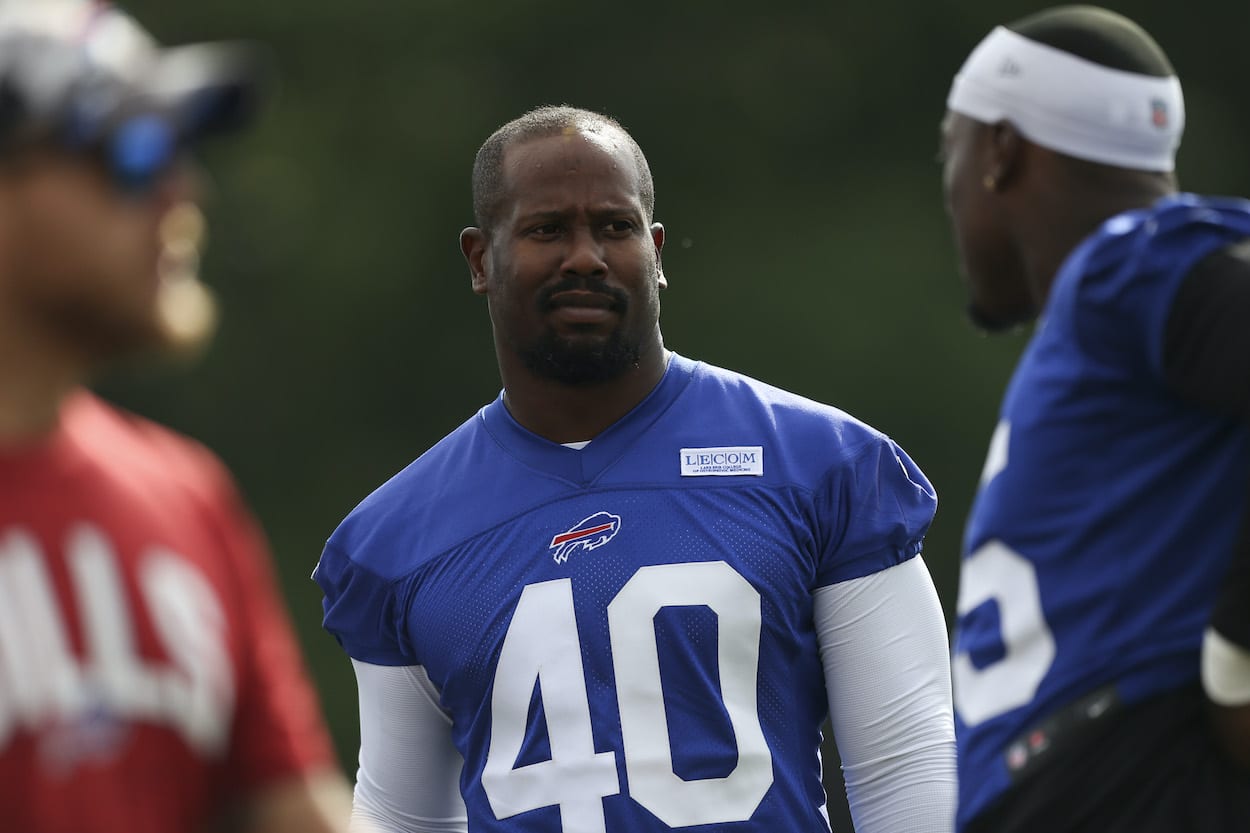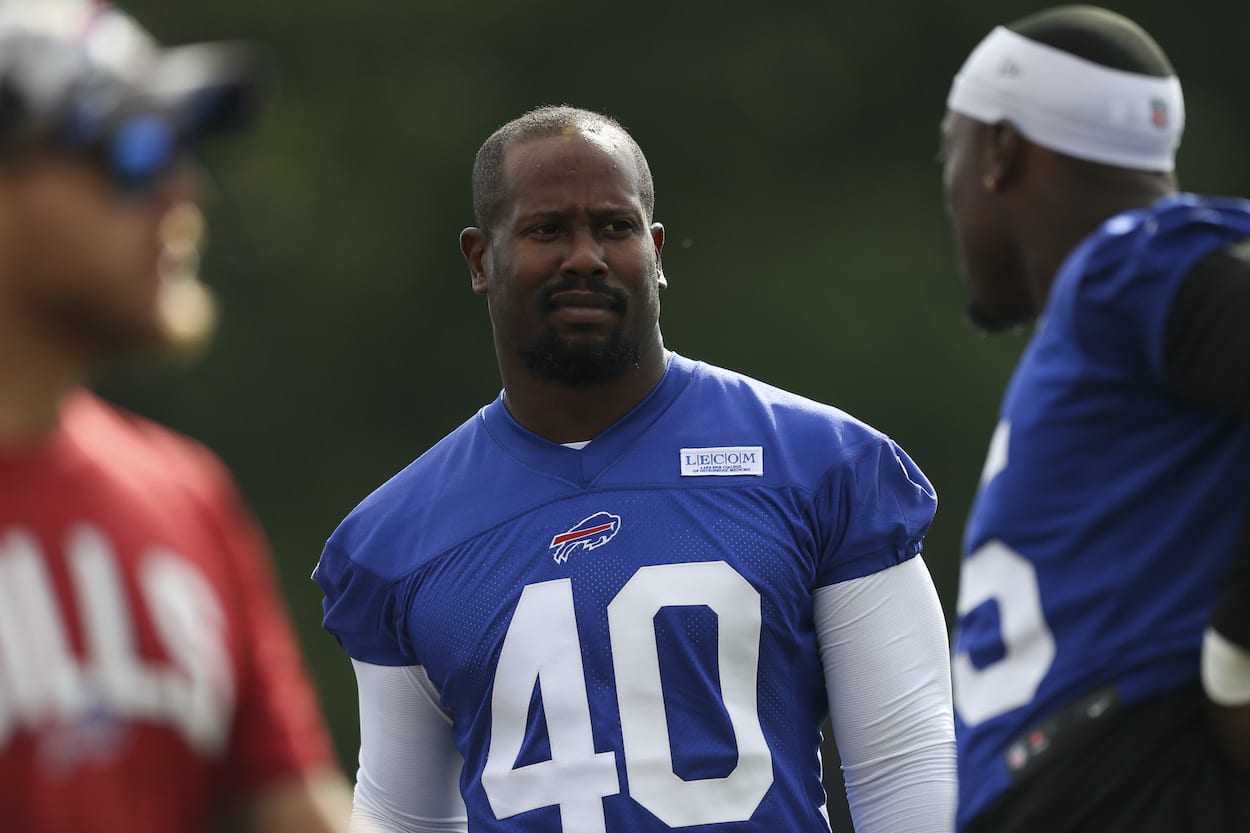 Outside of an injury-plagued 2013, Von Miller produced double-digit sack totals for the first eight years of his career. Even last year, playing for two different teams, Miller took down the quarterback 9.5 times.
He also was a key piece of the Los Angeles Rams Super Bowl run. Miller had four sacks (including two in the Super Bowl) and six tackles for a loss in last year's postseason.
Now, Miller is a member of the Buffalo Bills, signing a massive six-year, $120 million contract (with $51.4 million guaranteed) this offseason.
As exciting as having Miller in Western New York is for Bills fans, coaches, and players is, the idea of this legend mentoring Buffalo's young pass-rushers is just as exciting.
One player that Miller has already taken a shine to is former University of Miami standout and 2021 first-round pick Gregory Rousseau.
The No. 30 overall pick last year had a nice freshman season. He had three sacks in his first five games. However, he did tail off as the season went along, adding just one more sack in the final 12 contests.
In Bills training camp, Rousseau has impressed Miller, and the veteran is taking the youngster under his wing. Miller recently told reporters about Rousseau, "He's a demon. And I'm gonna bring it out of him. Been feeding him gun powder and gasoline. Gun powder and gasoline."
It's not just Rousseau either who Miller can mentor to create a fearsome pass-rush in Orchard Park. In addition to Rousseau, Miller, and veteran defensive end Shaq Lawson, the Bills DEs include 2021 second-round pick Carlos "Boogie" Basham and 2020 second-rounder A.J. Epenesa.
Despite having the No. 1 defense in the league last season, the Bills were only 11th in sacks (42) and fifth in QB pressures.
If Von Miller, Gregory Rousseau, and the rest of the Buffalo pass-rushers can improve on those numbers in 2022, the Bills D will be just as scary as the Bills O, and that would be a terrifying thing for the rest of the NFL.
All stats courtesy of Pro Football Reference