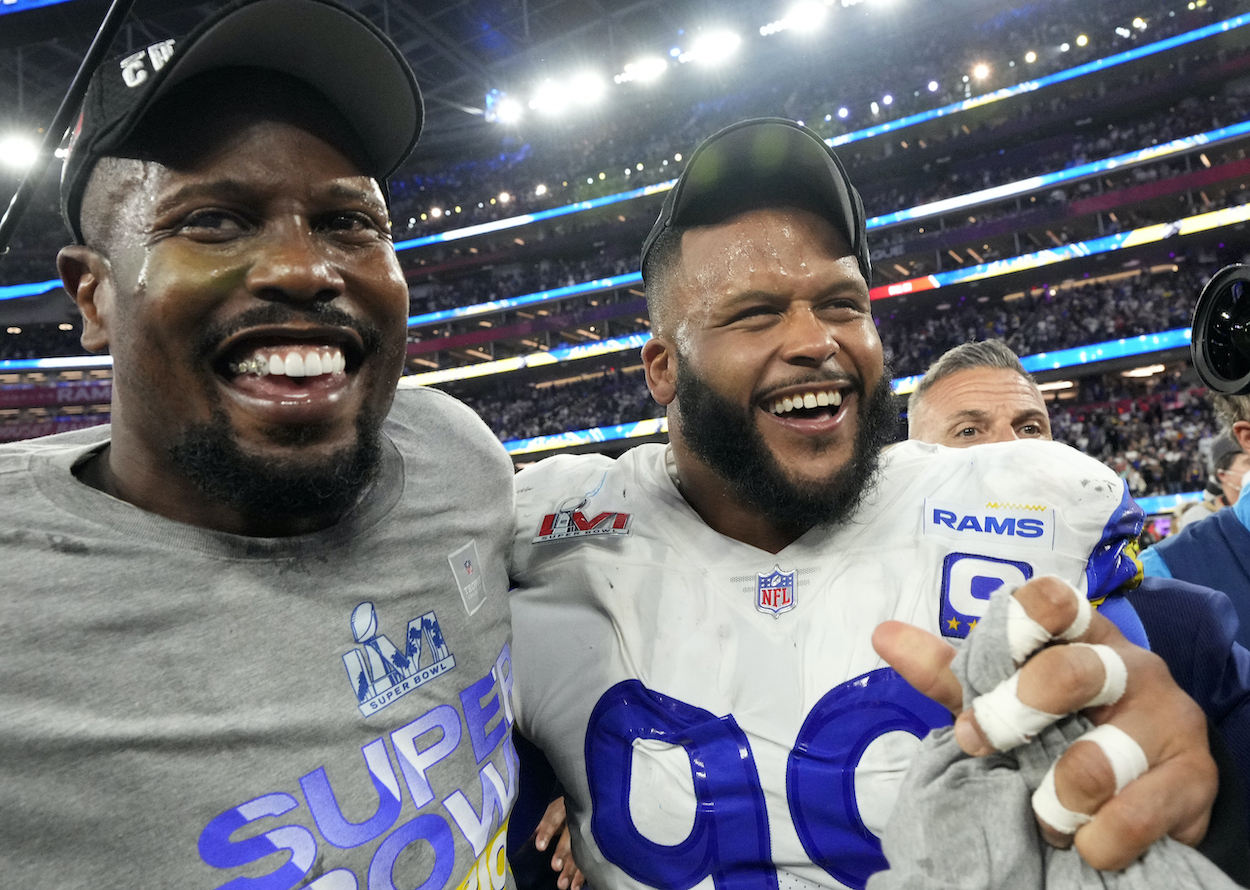 Aaron Donald's Teammate Von Miller Doubts the All-Pro Will Retire After Super Bowl Win: 'This is an Addictive Feeling, Man'
Aaron Donald's teammate Von Miller doesn't think the future Hall of Fame DT will retire even, even after accomplishing his ultimate goal of winning a Super Bowl.
Los Angeles Rams All-World defensive tackle Aaron Donald is inarguably one of, if not the best player in the NFL today. He has stacks of individual awards and, now, a Super Bowl championship on his resume.
Now that he's accomplished nearly everything in football, is he retiring?
The All-Pro defensive lineman has hinted that, with a Super Bowl ring, retirement may be an option. However, teammate Von Miller, who's played in the league three years longer than Donald, says he doubts his fellow Rams star will walk away.
Is Aaron Donald retiring? 
Although many draft experts believed Aaron Donald was the best player coming out in the 2014 NFL Draft, he fell to the then-St. Louis Rams at No. 13.
Because he is an interior defensive lineman, several teams ahead of the Rams prioritized higher-value positions like quarterback, wide receiver, offensive tackle, and edge-rusher. Some excellent players went before him, like Khalil Mack, Mike Evans, and Super Bowl teammate Odell Beckham Jr. However, there were busts too, like Blake Bortles and Greg Robinson.
Donald made the Pro Bowl in his rookie season (and every season since) while making first-team All-Pro in year two and every year since. The former Pittsburgh Panther won the 2014 Defensive Rookie of the Year and took home NFL Defensive Player of the Year in 2017, 2018, and 2020.
In just eight seasons, Donald has 441 tackles, 150 tackles for loss, 23 forced fumbles, and 98 sacks. That last stat puts him 63rd on the unofficial all-time list (since 1960) and 40th officially (since 1982 when the league started formally recording the stat).
Now, after losing the 2018 Super Bowl to the New England Patriots, Donald has a Lombardi Trophy on his resume.
To help his team get its big-game W, Donald had four tackles, 2.0 sacks, and three QB hits in the LA Rams' 23-20 Super Bowl 56 win over the Cincinnati Bengals. He also made the game-winning play, nearly sacking Joe Burrow on the Bengals' last fourth down. It was an MVP-level performance, although the award ultimately went to WR Cooper Kupp.
NFL Films captured Rams head coach Sean McVay on the sideline before that last effort telling his coaching staff, "Aaron Donald's gonna make a play."
Von Miller seems to think Donald will be back in 2023
After Super Bowl 56, one of the major discussion points was whether Aaron Donald will retire now that he's accomplished everything he set out to.
During the postgame press conferences, reporters asked Donald's D-line running mate Von Miller for his thoughts on the DT's next move. Miller, who's two years older than Donald and also won a Super Bowl with the Denver Broncos, said he didn't know what the All-Pro would do but thinks that the high of winning it all is too much to give up:
I don't know, man. He's done everything you can possibly do. But this feeling right here, there's nothing like it. It's addictive. Once you feel this — coming to the Super Bowl is one thing, but winning it is different. We just have to see. He's one so much, but I'll tell you, this feeling is great. It just makes you want it more and more and more, but he's definitely capped off a great career if he chooses to do that. But this is an addictive feeling, man, and I just can't see him walking away from this.

Von Miller on Aaron Donald retiring
Donald will turn 31 in May and shows absolutely no signs of slowing down. He's two-thirds of the way through a six-year, $135 million contract that could be ripe for the addition of a big extension this offseason given the way it is structured.
Whether he comes back or not, the Super Bowl-winning squad could be different in 2022.
The LA Rams could look quite different next season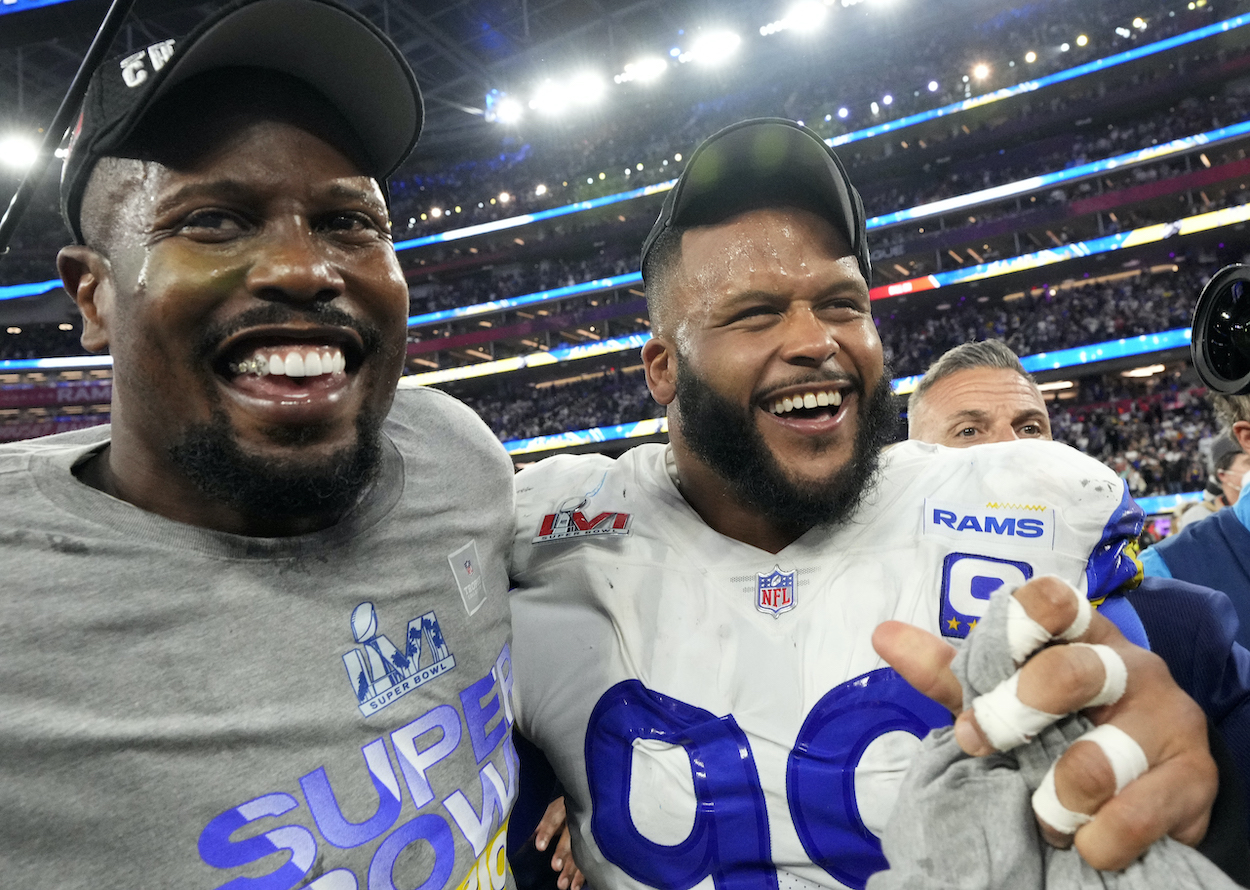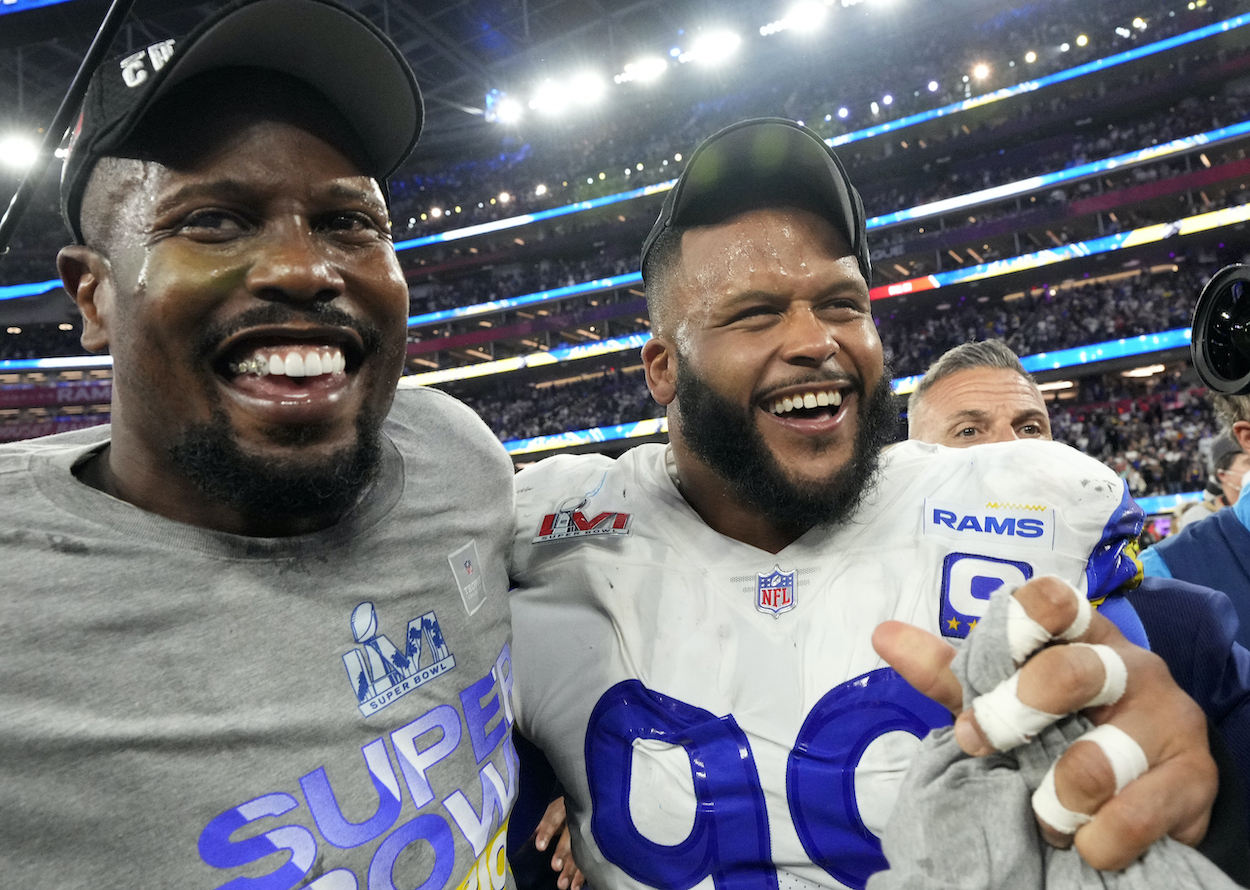 If Aaron Donald chooses not to retire to chase the "addictive" feeling Von Miller talked about one more time, it could be with a different-looking LA Rams team in 2022. But it doesn't necessarily have to be.
Most of the Rams' stars — Donald, Jalen Ramsey, Matthew Stafford, Cooper Kupp — are under contract for at least one more year. However, the team is around $10 million over the cap for the 2022 season.
That could hurt the team's chances of bringing back key free agents like Miller, Beckham, and several offensive linemen. That said, with a bit of creative contract maneuvering in the spring and summer, it's not out of the question.
In addition to Donald, though, there's also been retirement buzz around 40-year-old left tackle Andrew Whitworth, 34-year-old QB Matthew Stafford, and even 36-year-old head coach Sean McVay.  
All this makes Donald the lynchpin of the Rams' chance to defend their title. If he goes, the team's hope likely goes, both because of the loss of the individual brilliance and the fact that it might encourage other Rams to follow suit.
If he stays, though, and the organization can bring back its stars — kicking the salary-cap issues down the road a year or two — then the Rams will be a serious contender again next season.
All stats courtesy of Pro Football Reference and contract figures courtesy of Spotrac