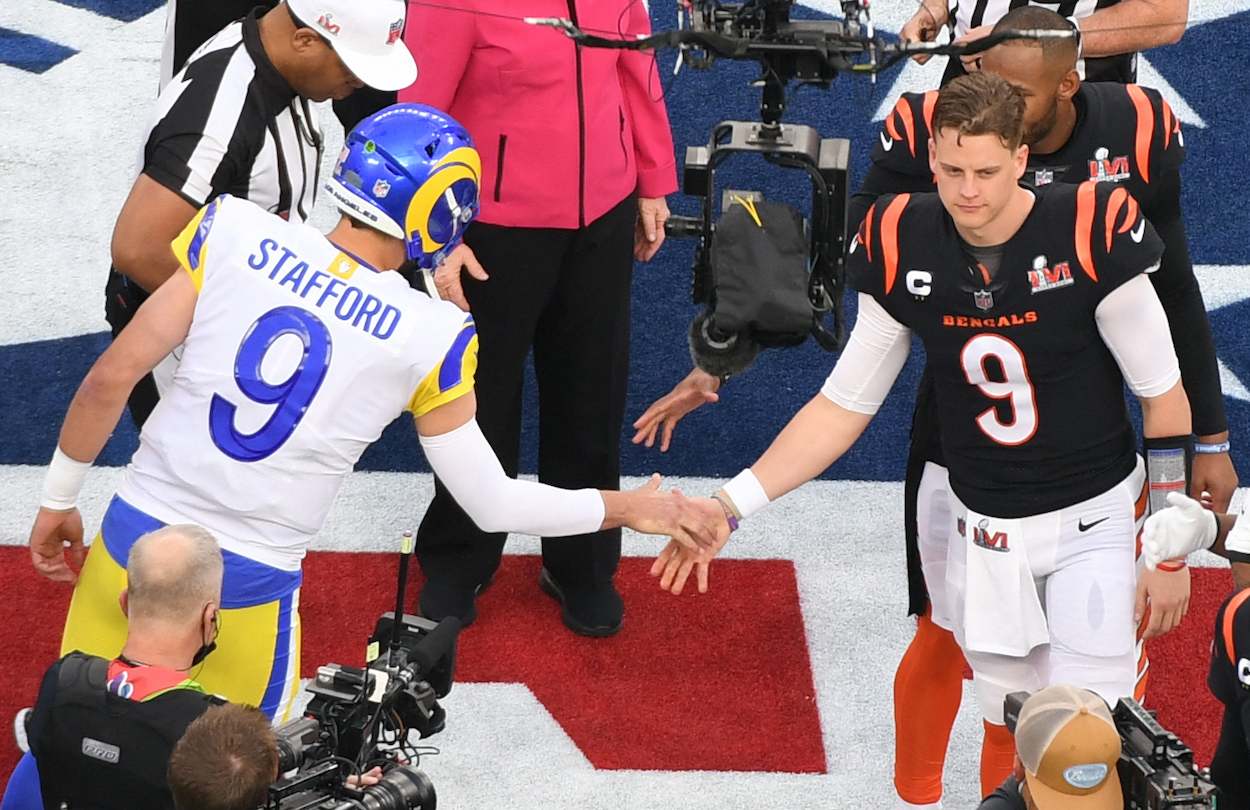 Early 2023 Super Bowl Odds: Rams, Bengals Not Among Top 2 Favorites to Win Next Year's Title
Which team is the favorite to win the 2023 Super Bowl and where do the Rams and Bengals stack up in the odds?
The 2022 NFL season just ended on Sunday, but it's never too early to start looking ahead to 2023. Even though next season is seven months away, Super Bowl 57 odds have already been posted by various sportsbooks.
In what might come as a surprise to some, the Los Angeles Rams and the Cincinnati Bengals didn't crack the top two spots on the odds board despite reaching the big game this year. So, which team is the 2023 Super Bowl favorite, and what early bets could be worth a sprinkle?
2023 Super Bowl odds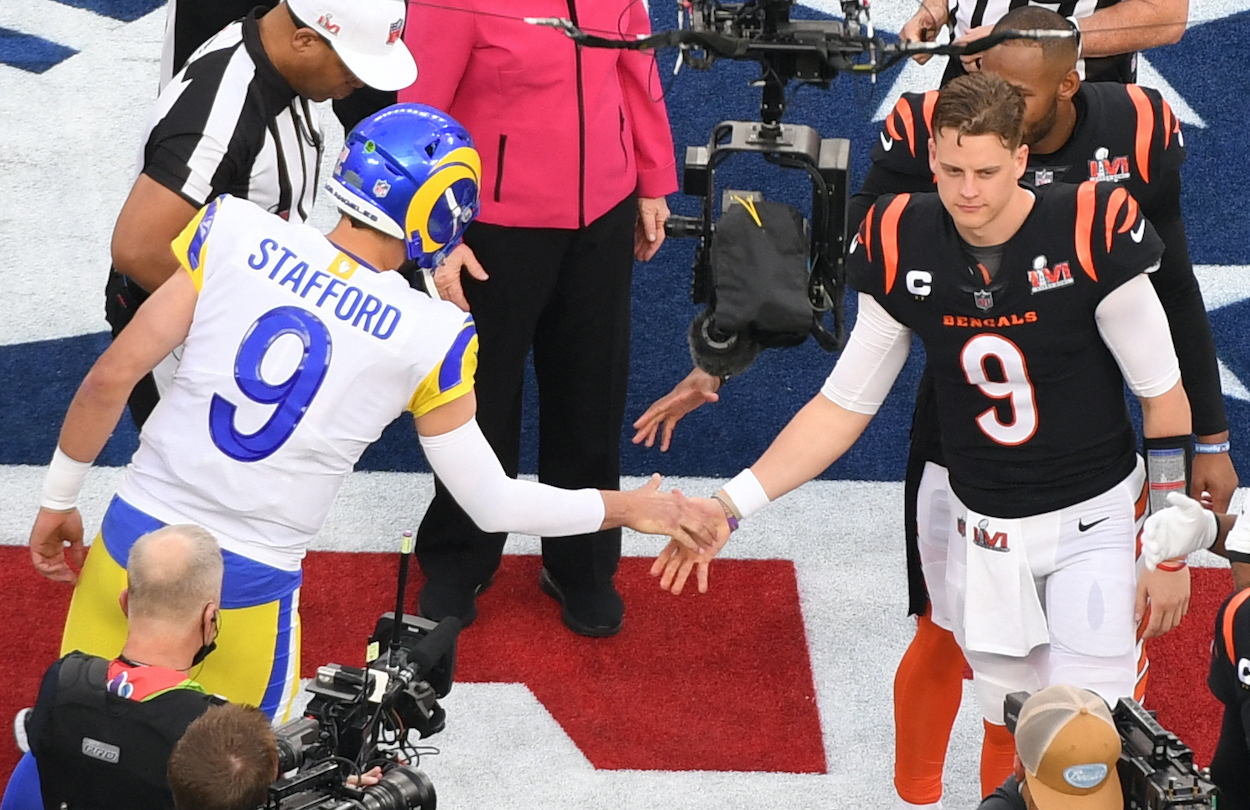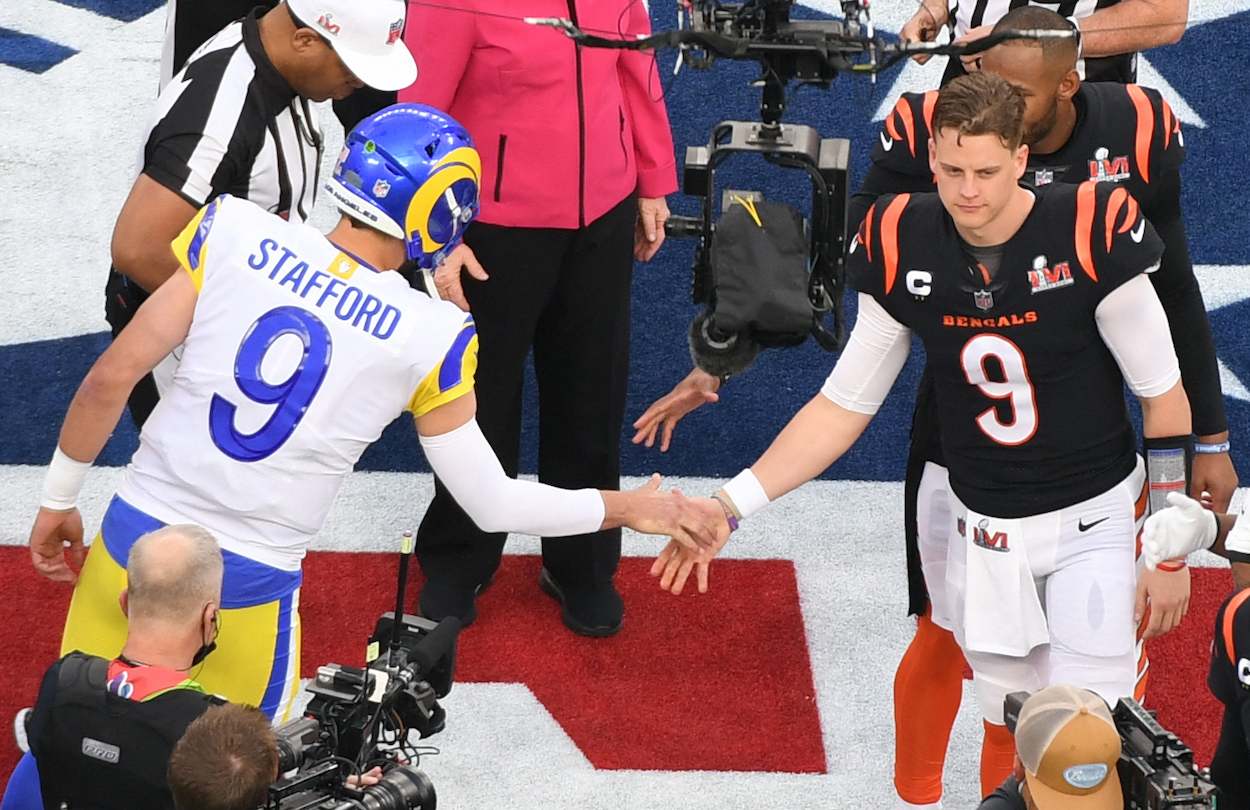 Considering the Rams and Bengals just met in Super Bowl 56, with LA squeaking out a three-point victory in the final minute, bettors might be surprised to see two teams in front of them on the 2023 Super Bowl odds board.
That's right, the Buffalo Bills and the Kansas City Chiefs have been pegged as the co-favorites to win it all next season at +700 odds each ($100 bet would win $700). The Rams and Bengals follow right behind at +900 and +1000, respectively.
Further down the odds board, the Green Bay Packers join the party at +1500, the Dallas Cowboys come in at +1600, and the Tom Brady-less Tampa Bay Buccaneers are +2200. Check out the odds for every team below:
Buffalo Bills +700
Kansas City Chiefs +700
Los Angeles Rams +900
Cincinnati Bengals +1000
San Francisco 49ers +1400
Green Bay Packers +1500
Dallas Cowboys +1600
Denver Broncos +1800
Baltimore Ravens +2000
Tampa Bay Buccaneers +2200
Tennessee Titans +2200
Arizona Cardinals +2500
Indianapolis Colts +2500
Los Angeles Chargers +2500
New England Patriots +2500
New Orleans Saints +3000
Cleveland Browns +3500
Seattle Seahawks +3500
Minnesota Vikings +3500
Miami Dolphins +4000
Philadelphia Eagles +4000
Pittsburgh Steelers +4000
Atlanta Falcons +5000
Las Vegas Raiders +5000
Washington Commanders +5000
Carolina Panthers +5000
Chicago Bears +6500
New York Giants +6500
Jacksonville Jaguars +8000
Detroit Lions +15000
Houston Texans +15000
New York Jets +15000
Super Bowl 57 bets to make right now
San Francisco 49ers +1400
The 49ers nearly made the Super Bowl this season with a flawed quarterback in Jimmy Garoppolo under center. With Trey Lance expected to take over the starting job next year, this already-elite running game is going to be a nightmare to stop.
I'm all in on San Fran for 2023.
New Orleans Saints +3000
The Saints narrowly missed out on the playoffs for the first time in five years, but that doesn't tell the entire story of their season. Before Jameis Winston went down with a season-ending injury, New Orleans was 5-2 with wins over the Packers, Patriots, and Buccaneers.
This defense can still stack up with the best in the league, Michael Thomas should be back on the field after missing the entire year, and the NFC South is wide open with Brady calling it quits. At 30-to-1, the Saints are my favorite 2023 Super Bowl future on the board.
Jacksonville Jaguars +8000
The Bengals were upwards of 100-to-1 to win the Super Bowl in 2022, and they were one stop away from giving their brave preseason backers the payout of a lifetime. Looking at the odds board for next season, I don't have much faith in the Lions, Texans, or Jets to make a surprising playoff run, but there's at least a slight chance the 2023 Jaguars could be next year's Bengals.
Doug Pederson is a massive upgrade at head coach, and if anyone can propel Trevor Lawrence to a second-year breakout, it's him. Jacksonville also has $56 million in available cap space to burn this offseason.
It's always fun to have a longshot future going into a new season, and the Jags have all the pieces in place for a bounce-back year.
Teams to avoid in 2023
Cincinnati Bengals +1000
Look, I think Joe Burrow and the Bengals will be back in the Super Bowl sometime soon, but at 10-to-1, I'm completely out on this team for 2023.
The Super Bowl hangover is a real thing, and the AFC North should be an improved division from top to bottom. The Ravens and Browns should be back to full strength after being crushed by injuries all season, and the Steelers will upgrade at quarterback no matter who takes over Ben Roethlisberger's starting job.
Don't be surprised if Cincinnati gets off to a slow start and doesn't even reach the playoffs next year.
Arizona Cardinals +2500
The Cardinals looked like legitimate championship contenders when they got off to that 7-0 start this season, but everything crumbled down the stretch. They lost four of their last five regular-season games and were outmatched in a blowout loss to the Rams in the playoffs.
Already this offseason, Kyler Murray has stirred up controversy by scrubbing his Instagram account of Cardinals-related content and unfollowing the team's official account. Now I don't know exactly what that means, but it can't be good.
Don't go near Arizona at this price.
All betting odds courtesy of Bovada as of 2/14.
Like Sportscasting on Facebook. Follow us on Twitter @sportscasting19.