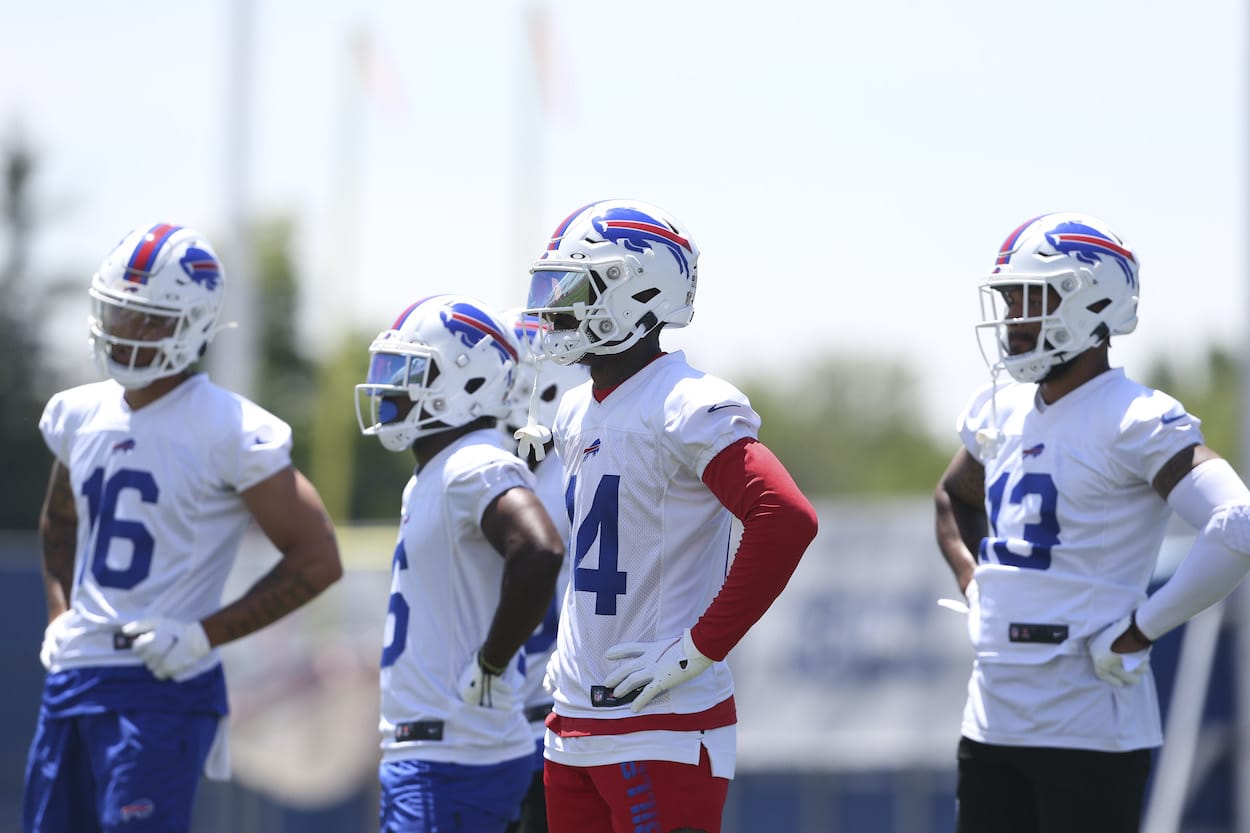 Buffalo Bills Training Camp: 3 Position Battles to Watch in 2022
As the Buffalo Bills training camp opens ahead of the 2022 NFL season, here are three camp battles to keep a close eye on.
The Buffalo Bills were 13-seconds away from consecutive AFC Championship Game appearances in 2022 before an epic collapse ended their season. The good news for Bills Mafia is that general manager Brandon Beane and head coach Sean McDermott brought back most of the key players from the last two seasons. As Buffalo Bills training camp gets underway, here are three positional battles to watch closely.
Buffalo Bills Training Camp Info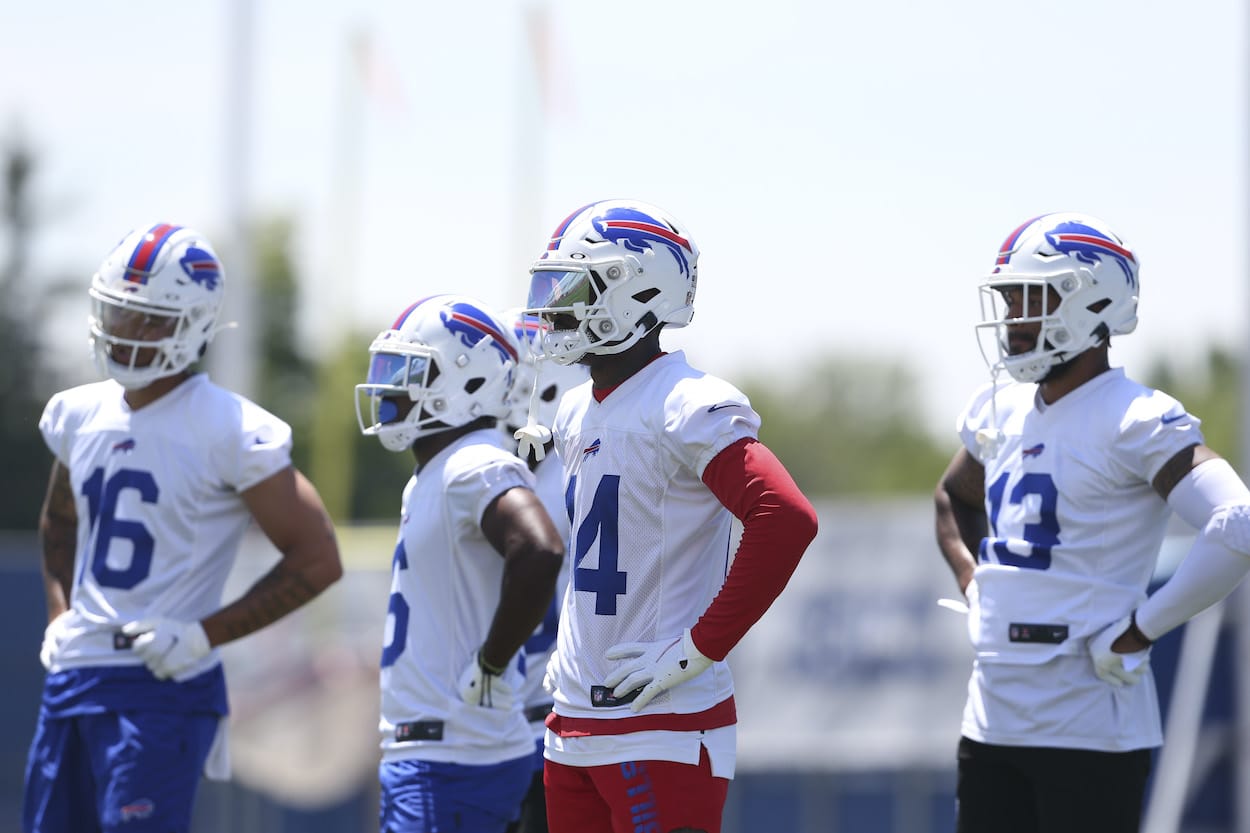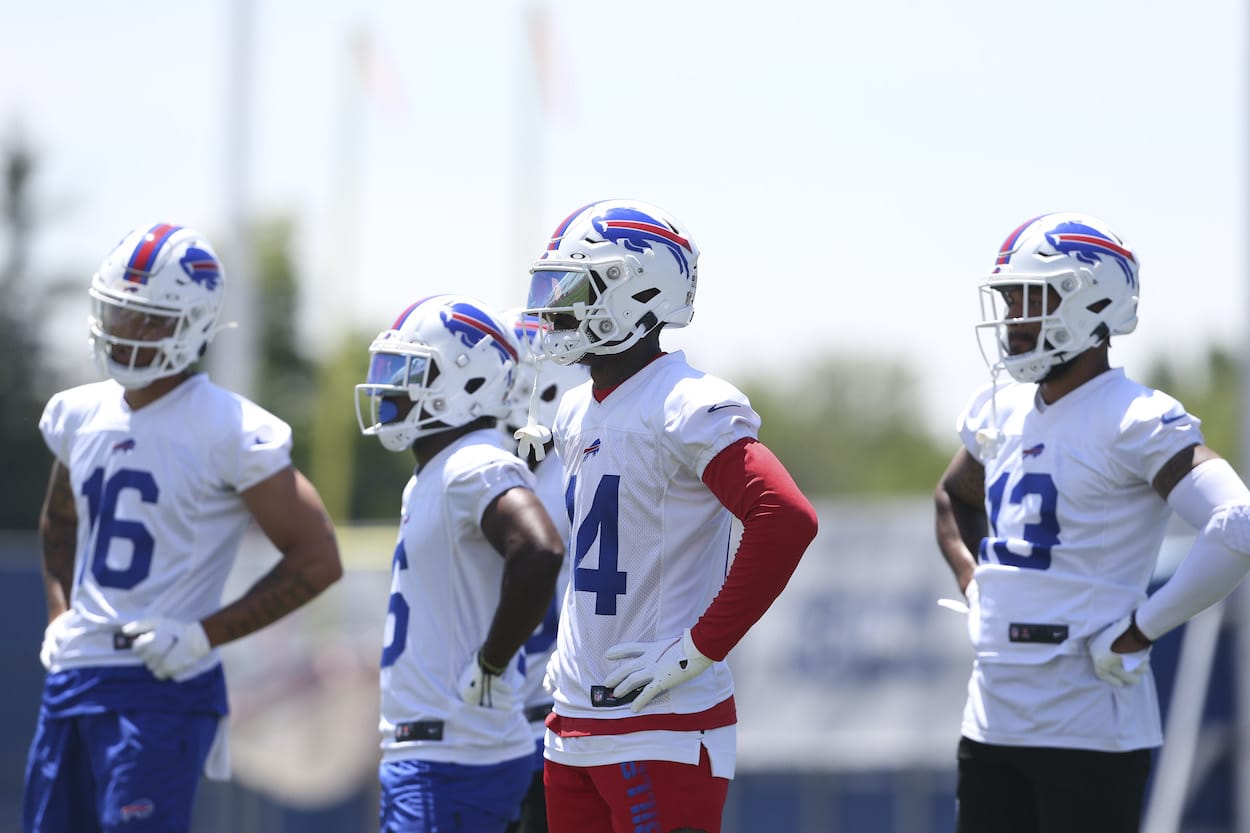 Location: St. John Fisher College, Rochester, New York
Rookies report: Monday, July 18, 2022
Veterans report: Saturday, July 23, 2022
First game: at Los Angeles Rams, Thursday, September 8, 8:20 p.m. EST
Battle No. 1: RBs — Devin Singletary vs. James Cook vs. Zach Moss vs. Duke Johnson
After missing out on top target J.D. McKissic, the Bills signed Duke Johnson and drafted Georgia running back James Cook in Round 2 of the draft.
If there is a weak link on the Bills offense, it's at RB, although Devin Singletary came on late last season. Right now, it looks like Singletary will man running downs, and Cook will be the pass catcher. But Cook is a rookie, and Singletary definitely doesn't have a stranglehold on the role.
The Bills could carry all four backs, and if they do, Moss backing up Singletary and Johnson backing up Cook seems the most likely outcome. However, if one back steps up and shows the ability to run, pass-catch, and block at a higher level than ever before, they could be in line for the lion's share of the work.  
Battle No. 2: WR3 — Jamison Crowder vs. Isaiah McKenzie vs. Khalil Shakir
Stefon Diggs and Gabriel Davis are penciled in as the Nos. 1 and 2 wide receivers for the 2022 season. What will be interesting to watch in Buffalo Bills training camp, though, is the fight for the No. 3 slot role. 
Isaiah McKenzie is the returning player who beat out Cole Beasley at the end of last season to take over the role. His 11-catch, 125-yard, one-touchdown performance in Week 15 vs. the New England Patriots is what got him the audition this year. 
Jamison Crowder is the consummate sure-handed veteran who (throwing out 2018 when he was injured) has never caught less than 50 balls for less than 400-plus yards in a season. Then there's Boise State rookie Khalil Shakir. At 6-foot, 190-pounds, he is bigger and more physical than the shifty McKenzie and the precise Crowder. 
All these players should make the team (sorry, Jake Kumerow), and Crowder and McKenzie will split the role (60/40 Crowder) in the beginning. But watch out for Shakir as the season progresses. 
Battle No. 3: P1 — Matt Araiza vs. Matt Haak 
Here's the thing about the Buffalo Bills training camp battles: They're not that interesting. Sure, the two skill-position battles above should be fun to watch, especially for fantasy football aficionados. But outside of that, the Bills have one of the strongest rosters in the league, and it's mostly set.  
The fight for the punter spot, though, should be fascinating. Matt Haak had a subpar year as a punter last season, but the Bills don't punt that often. However, he excelled as a holder for kicker Tyler Bass who made 87.5% of his field goals in 2022 and 51-of-51 extra points.
Holding aside, the Bills saw this as a position they could upgrade in the offseason and drafted the "Punt God" Matt Araiza from San Diego State in the sixth round. Araiza is raw and inconsistent, but he can boot the ball a mile.
Look for Araiza to win the spot and absolutely ruin opponents' field position in 2022.
All stats courtesy of Pro Football Reference