Bills Defender Who Allowed Miraculous Justin Jefferson Catch Goes on Profanity-Laced Rant … At Himself
It's not uncommon for professional athletes to blame others when things don't go their way. It was the referees' fault, the opponents', or their teammates' or coaches'. It's refreshing when players seem to truly hold themselves accountable, like defensive back Cam Lewis did after the Buffalo Bills' stunning loss to the Minnesota Vikings. The third-year player had the ball in his hands to end the game on a Vikings 4th-and-18 in the fourth quarter when Vikings superstar Justin Jefferson made a catch for the ages to take the ball away. After the game, Lewis opened up about the play and went into full attack mode, at himself.
Cam Lewis knows he should have knocked the ball down
When Chris Berman and Tom Jackson did NFL Primetime on ESPN, there was a recurring bit where Berman asked Jackson, a former NFL linebacker, what to do on a Hail Mary pass. The answer, as Jackson would yell, is, "knock it down!"
It was funny, but there was plenty of football truth in there. The job of a defensive back on terminal downs isn't to make an interception. It's simply to knock the ball down. It's the safe play and is just as good — if not better in many cases — than an INT.
That's not what Bills DB Cam Lewis did in the fourth quarter, up four, against the Minnesota Vikings. Coming out of the two-minute warning and facing a 4th-and-18, Vikings QB Kirk Cousins threw up a prayer to Justin Jefferson. While Lewis tried to grab it, Jefferson snatched it away with one hand while falling down.
After the game, Lewis classily stood by his locker and took all the blame for that play.
"I honestly thought it was over his head. But just gotta be more aware of the situation. It's f****** 4th-and-22. Knock the ball down, bro. I'm not a selfish player. I don't try to be a selfish player, I was trying to put the team before me. I just got to knock the f****** ball down. It's plain and simple. Gotta know the situation. If we knock the ball down, we f****** win."
You can hear the emotion in Lewis' voice as he scolds himself for the play. It's touching and refreshing for fans to hear something like this after a loss. And in defense of Lewis, the shocking L wasn't solely his fault by any means.
There are plenty of Bills to blame for the loss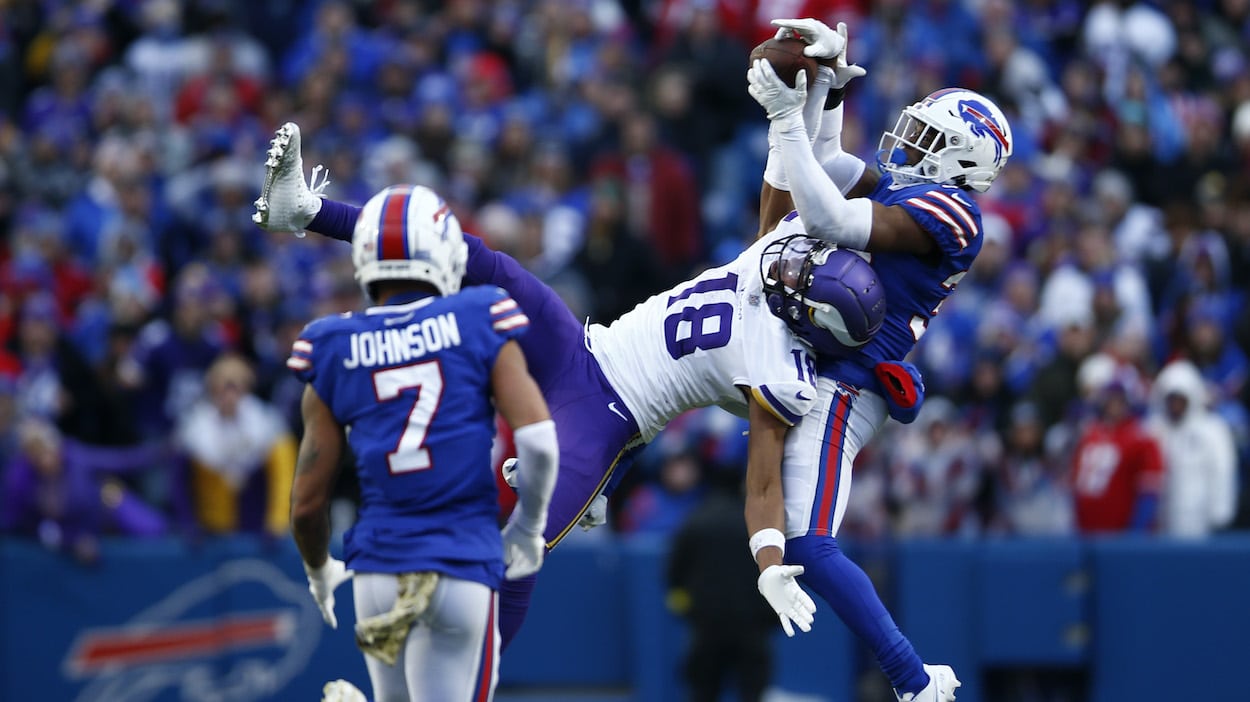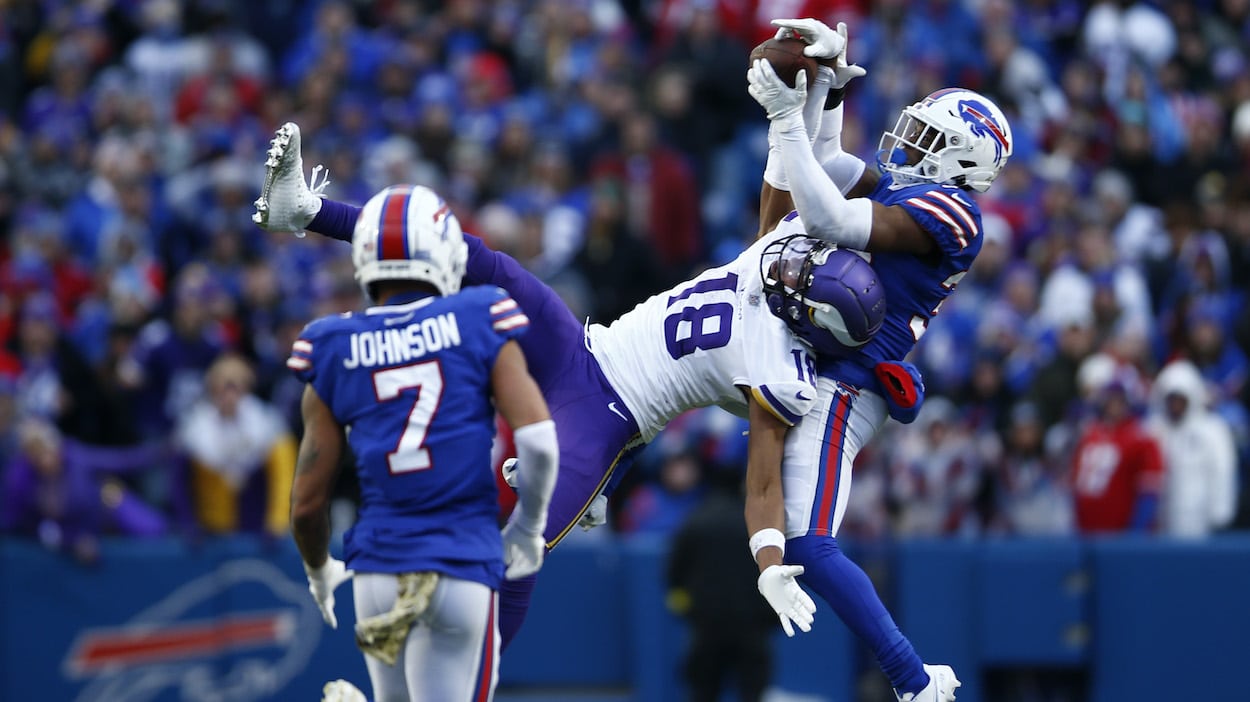 RELATED: Bills Cement Their Reputation as Choke Artists With Shocking Loss to Vikings
Cam Lewis taking the blame for the loss is noble and respectable, but it is a bit of a stretch. Sure, the Bills would have gotten the ball back under the two-minute warning if he made the play, but the Vikings didn't even score on that drive.
The defense made a goal-line stand on 4th down a few plays later, and the Vikings didn't take the lead until the next play when center Mitch Morse and quarterback Josh Allen fumbled the center/QB exchange.
And Allen's fault for the loss doesn't start there. He also threw two red zone interceptions, one of which would have ended the game in the third quarter by putting the Bills up by four possessions and one which officially ended the game in overtime.
Yes, Allen has a hurt elbow. But if he's out there, he has to be held accountable for his play.
Then there was Christian Benford with a big OT pass interference call and was on Jefferson several times as the Vikings star caught 10 balls for 193 yards. Again, Benford is a sixth-round rookie playing in his seventh NFL game, but if he's in the game, he is liable.
You can also call out offensive coordinator Ken Dorsey for getting conservative down the stretch, defensive coordinator Leslie Frazier for not scheming up a way to stop Jefferson, or head coach Sean McDermott for having an injured Allen in the game to run a QB sneak on his own goal line.
The point is, yes, Cam Lewis, you messed up. But good on you for stepping up and saying so, and you are certainly not alone.