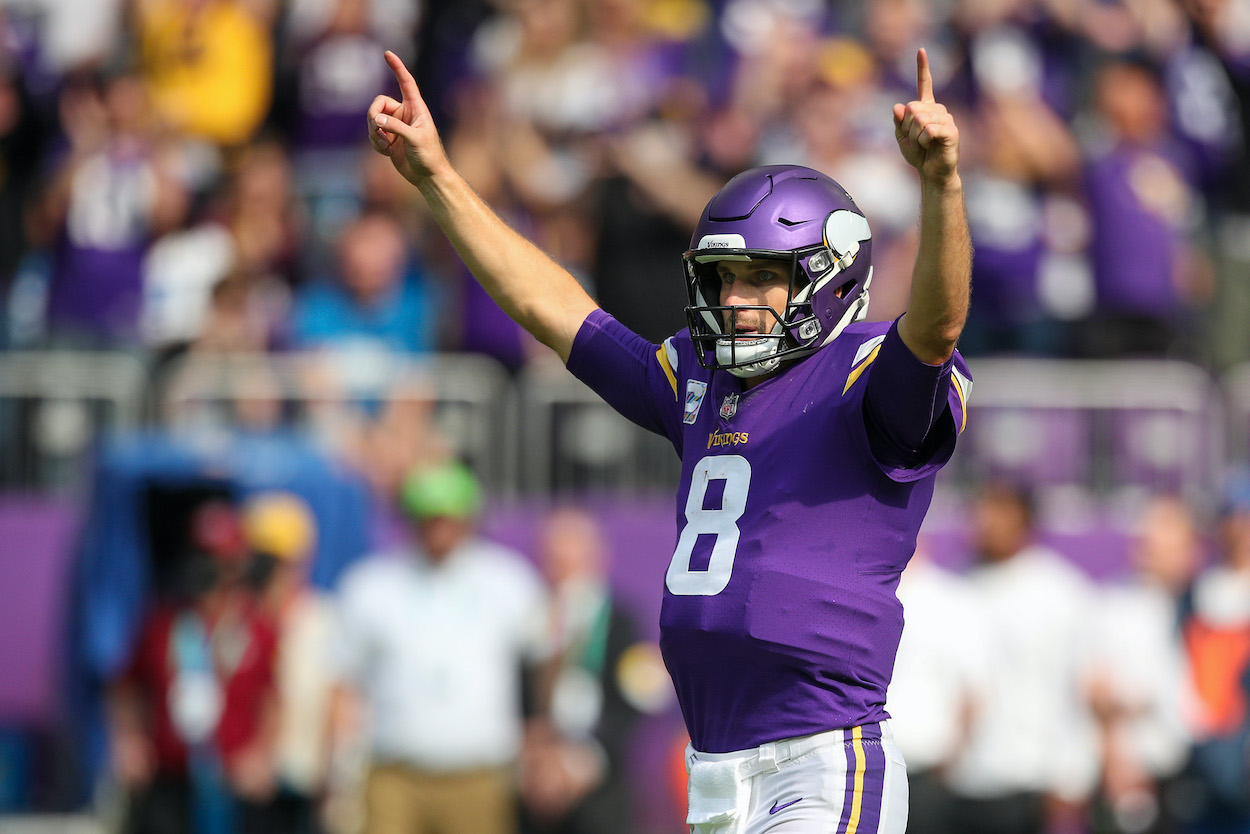 Kirk Cousins Career Earnings: How the Minnesota Vikings QB Became the 17th-Highest-Paid Player in NFL History
Former fourth-round pick Kirk Cousins' career earnings just grew by another $35 million after signing a Minnesota Vikings extension.
Kirk Cousins' career earnings may surprise you. The fourth-round pick out of Michigan State beat the odds and created a 10-year (and counting) NFL career for himself. And while there is plenty of debate around just how good the Minnesota Vikings starting quarterback is, two things are true.
Cousins is not the 17th-best signal-caller in NFL history, but he is currently the 17th-highest-paid player ever to play pro football. With his new $35 million contract extension, he'll be moving up that list in the next few years as well.
From Michigan State to Washington to the Minnesota Vikings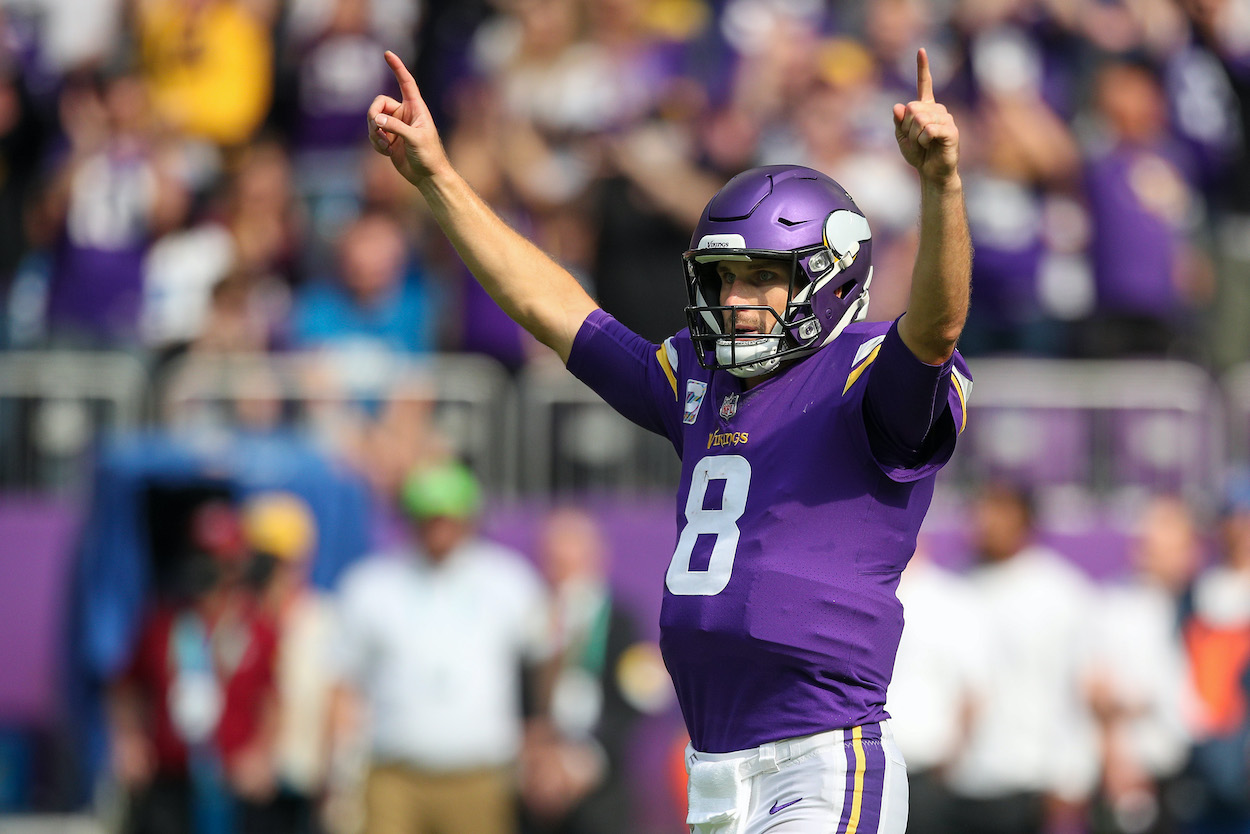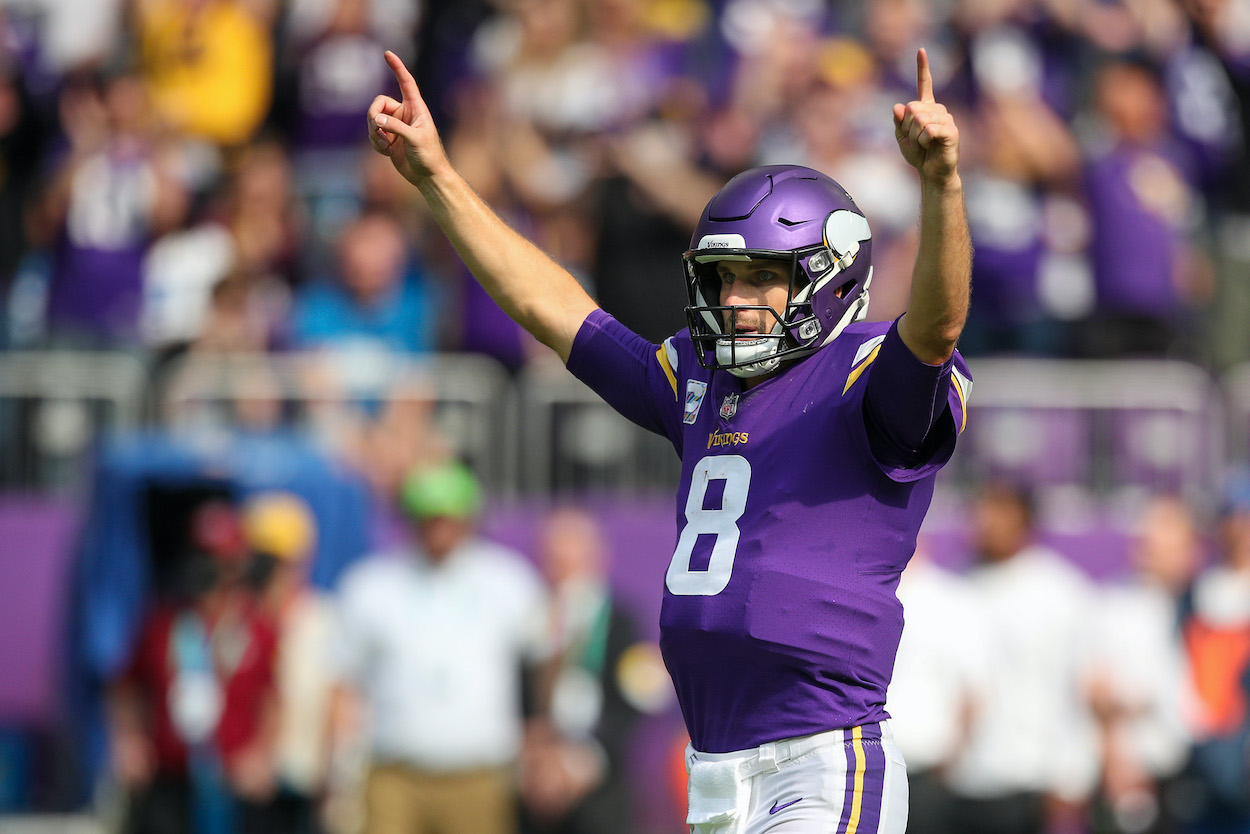 Prior to the 2012 NFL Draft, the now-Washington Commanders traded the Nos. 6 and 29 picks in 2012 along with 2013 and 2014 first-round picks to the then-St. Louis Rams to move up to the No. 2 slot and draft Heisman Trophy-winning Baylor QB Robert Griffin III.
That's not the strangest thing Daniel Snyder and Mike Shanahan did in that draft, though. After picking Griffin and OG Joe LeRibeus in the third, the team selected another QB in the fourth.
Kirk Cousins was a three-year starter for the Michigan State Spartans. During his four seasons on campus, he threw for 9,131 yards with 66 touchdowns and 30 interceptions.
As the No. 2 overall pick, RGIII won the starting job with relative ease in 2012 and led Washington to a 10-6 record and a playoff berth. In the Wild Card game against the Seattle Seahawks, Griffin re-injured his knee after hurting it in Week 14.
The promising QB was never the same after that, and, for the next few seasons, Cousins and the athletically compromised Griffin battled for the starting signal-caller role in the nation's capital. In 2016, Cousins won out and became the full-time starter.
Cousins ended his six years in Washington with 16,206 yards, 99 TDs, and 55 INTs. However, his record as a starter was just 26-30-1.
After his tumultuous time in burgundy and gold, Kirk Cousins' career earnings skyrocketed when he signed a free-agent deal with the Minnesota Vikings in 2018. In his four years as Minnesota's starter, Cousins has a better record (33-29-1), more yards (16,387), more TDs (124), more Pro Bowl selections (two vs. one), and fewer INTs (36) than he did in Washington.
Despite this development into a true QB1, the same knock on Cousins remains. He's just not a Super Bowl-level quarterback.
Kirk Cousins career earnings
Super Bowl QB or not, Kirk Cousins' career earnings definitely aren't subpar.
As a fourth-round pick, Cousins started his career on a four-year $2.57 million deal. As Washington hemmed and hawed about whether Cousins was worthy of a starting QB-level contract extension in 2016 and 2017, he played on the franchise tag both years.
The NFL calculates the franchise tag by taking the average of the top five salaries at a given position. In '16 and '17, that means Cousins earned $19.953 million and $23.9 million, respectively.
In 2018, the Minnesota Vikings did see Cousins as a true No. 1 and gave him a three-year, $84 million contract. Two years later, the former Spartan signed a two-year, $66 million extension. And, in 2022, on the eve of free agency, he signed another extension for one year and $35 million.  
As of the 2022 offseason, Kirk Cousins' career earnings of $161,699,486 make him the 17th-highest-paid player in NFL history. With the $70 million he'll earn in the next two seasons, Cousins will be at $231.6 million, which will put him in right around the top 10 of all-time, leap-frogging the lesser-paid players like Ndamukong Suh and retired ones such as Joe Flacco, Larry Fitzgerald, and Carson Palmer.
The only five active players above him on the all-time career earnings list (with their current career earnings) then will be Russell Wilson ($181.3M), Matthew Stafford ($239.3M), Aaron Rodgers ($263.6M), Matt Ryan ($267M), and Tom Brady ($292.9M).
New Vikings head coach Kevin O'Connell is betting on Kirk Cousins with this contract extension
This most recent contract extension means a lot for Kirk Cousins' career earnings, but what does it mean on the field for the QB and his team, the Minnesota Vikings?
The new deal essentially guarantees Cousins will be the team's starting quarterback in 2022 and 2023. While his roughly $34 million annual salary the next two years isn't outrageous in a league where the top QBs get $40 million-plus a season, his dead cap numbers the next two seasons are $80.1 million and $48.7 million, making cutting him difficult.
The new contract also gives him a no-trade clause, which will shut down the trade rumors that popped up this offseason for the foreseeable future.
This contract means that new head coach Kevin O'Connell has hitched his wagon to Cousins.
What makes this particularly interesting is that the first-time, 36-year-old head coach is more familiar with Cousins than you might realize. O'Connell was Cousins quarterbacks coach in Washington for the 2017 season.
The Vikings have a lot to do this offseason, but with Justin Jefferson and Dalvin Cook still in place, the offense has a lot of potential for 2022.
Now O'Connell just has to hope he made the right bet at QB by giving his signal-caller the extension and adding a few more dollars to Kirk Cousin's career earnings.
All stats courtesy of Pro Football Reference and contract figures courtesy of Spotrac