What the Minnesota Vikings' Plan of Attack Must Be for the 2022 NFL Offseason
The Minnesota Vikings came into the 2021 season with playoff aspirations. They had a veteran quarterback in Kirk Cousins and incredible offensive weapons like Justin Jefferson, Adam Thielen, and Dalvin Cook.
They also brought a star-studded defense to the table with longtime Vikings like Harrison Smith and Anthony Barr and new additions like Patrick Peterson and Sheldon Richardson.
The individual pieces looked like everything a playoff team would need. However, the outcome wasn't as expected. The team finished 8-9 and missed the playoffs for the second consecutive season and fifth in the Mike Zimmer era — an era that is now over as Zimmer and general manager Rick Spielman were fired on Black Monday.
Now, the Vikings have to go back to the drawing board. They must decide whether to continue to throw money at this team or blow it up and start from scratch.
Here's the plan of attack for the Minnesota Vikings during the 2022 NFL offseason.
Biggest offseason questions
To rebuild, or not to rebuild? That is the question—Whether 'tis nobler in the mind to suffer the slings and arrows of continuing to try for a Super Bowl, or to take arms against a sea of troubles, and, by rebuilding, end them?
There is only one overarching offseason question for the Minnesota Vikings this offseason, which is — with a bit of help from William Shakespeare — should the Vikings keep the status quo and run it back one more time?
Or, should they hit the reset button and try to build back quickly while Justin Jefferson and Dalvin Cook are still in their primes?
The answer to this question will inform all the other offseason questions. Should owner Zygi Wilf fire head coach Mike Zimmer and general manager Rick Spielman? We know now the answer to that one was yes.
Who will replace the coach and GM? Does it make sense to re-sign a slew of high-priced veterans? Is it time to start developing 2021 draft pick Kelen Mond at quarterback?
The Vikings' brain trust needs to answer the rebuild question then all the other dominoes will fall into place. With the salary cap and QB contract situation, bringing in a new coach and giving him one more shot with this general lineup makes the most sense. However, if the team fails again, it's another waster year for Jefferson and Cook.
Top free-agency decisions
Key free agents: Anthony Barr (LB), Patrick Peterson (CB), Sheldon Richardson (DT), Everson Griffen (DE), Nick Vigil (LB), Xavier Woods (S), Mackensie Alexander (CB), Tyler Conklin (TE), Mason Cole (G/C), Greg Joseph (K)
Now that Mike Zimmer and Rick Spielman are gone, the Minnesota Vikings' next leaders' first task will be deciding the fate of the team's glut of veteran free agents.
Minnesota already has $212.5 million in salary commitments with just 47 players under contract for next season. By comparison, the 2021 salary cap was $185.5 million. That means, even if the front office wants to run it back for one more year with Kirk Cousins at QB, they'll have to do some serious restructuring.
Because of the Vikings' high cap number, at least a few of the franchise's high-priced vets like Barr, Peterson, Richardson, and Griffen are probably gone.
However, the new GM can still reasonably keep strength and depth in the defensive back seven and along the offensive front by re-signing Vigil, Woods, Alexander, Cole, and Conklin. These players are all 28 and under and should be gettable on reasonable deals.
If a full rebuild is on, several other veterans could be in play for new teams in 2022 via release or trade. This includes DE Danielle Hunter, LB Eric Kendricks, and DT Dalvin Tomlinson.
2022 NFL Draft needs and potential targets
Top picks: First round (own), second round (own), third round (own), fifth round (Baltimore Ravens via Yannick Ngakoue trade), sixth round (own), sixth round (Kansas City Chiefs via Mike Hughes trade), sixth round (New York Jets via Chris Herndon trade), round seven (Denver Broncos via Stephen Weatherly trade)
Draft needs: CB, DE, TE, WR, QB
The Vikings cut 2020 first-round pick CB Jeff Gladney in the offseason after he "was indicted [in August] by a Texas grand jury for felony assault," per NFL.com. In December, the team cut offseason free-agent CB signing Brashaud Breeland after he got into what NFL.com described as "a verbal altercation during [a] practice" with the coaching staff.
As noted above, Mackensie Alexander and Patrick Peterson are free agents, as is backup CB Tye Smith. That leaves 2020 third-round pick Cameron Dantzler as the only starting-caliber CB in the roster heading into 2022.
At No. 12, there's a growing consensus among draft analysts that, with LSU CB Derek Stingley Jr. likely gone at that point, Cincinnati CB Ahmad "Sauce" Gardner should be the pick. At 6-foot-3, 200-pounds, and loads of raw athleticism, Gardner could be Patrick Paterson 2.0. If not Gardner, Clemson's CB Andrew Booth Jr. could be the pick.
In round two, pass-rushing help could be in order. In the 40s, the Vikings will be looking at the likes of Penn State's Arnold Ebeketie, San Diego State's Cameron Thomas, Georgia's Travon Walker, or Cincinnati's Myjai Sanders.
With the late picks, the new GM and coach can try to add depth to replace any lost free agents. The team should also look to target a high upside pass-catching tight end and speedy wide receiver late.
1 player on each side of the ball who must step up in 2022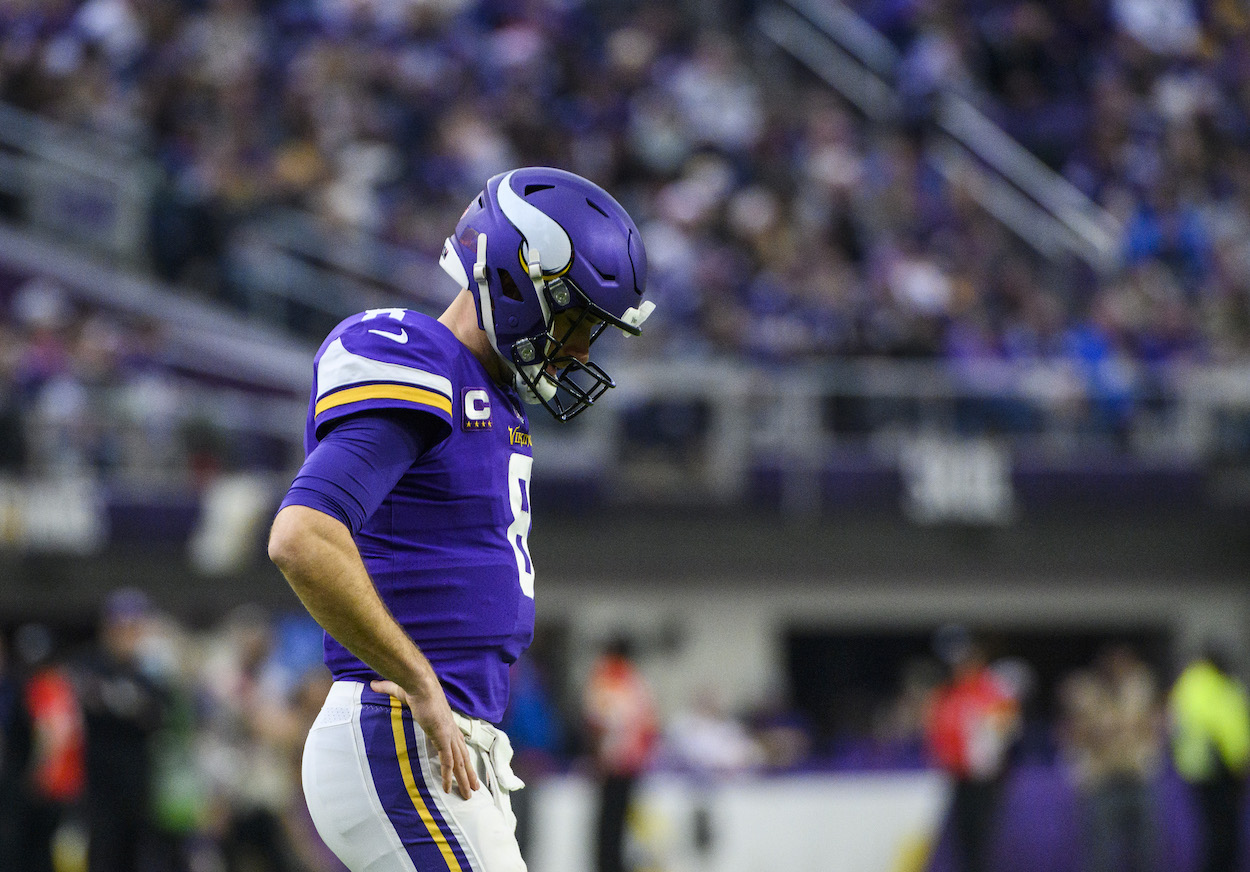 The answer on who needs to step up on the offensive side of the ball for the Minnesota Vikings is obvious. It's QB Kirk Cousins.
The former Washington Football Team QB is going into the final year of his two-year, $66 million extension he signed at the end of his initial three-year, $84 million deal. What has $155 million (so far) got the Vikings? Cousins has 16,387 yards, 124 touchdowns, and 36 interceptions in Minnesota. He also has a 32-29-1 record in the regular season, and one just playoff win.
If the Vikes want to rebuild, Cousins could be carrying a clipboard behind Kellen Mond next season. If not, though, he needs to step up. With the talent on the team, he doesn't have to be Aaron Rodgers. He just needs to be better than the Kirk Cousins of the last two years.
On the defensive side of the ball, there are two answers as to who needs to step up if the Vikings hope to have a successful 2022 season.
The first answer is DE Danielle Hunter. The talented 27-year-old pass rusher has three seasons of double-digit sacks (12.5, 14.5, 14.5) but tore his pec after seven games this season and missed the rest of the year. Especially if Everson Griffen is gone in the offseason, Hunter needs to step up and become a truly dominating pass-rusher to boost the Vikings' D.
The other answer is whoever the Vikings draft in the first round if they pick a defensive player. If Minnesota hopes to finally get over the top with its veteran team or do a fast-tracked rebuild, they need to hit on an impact defensive player with their No. 12 overall pick.
All statistics courtesy of Pro Football Reference, contract figures courtesy of Spotrac