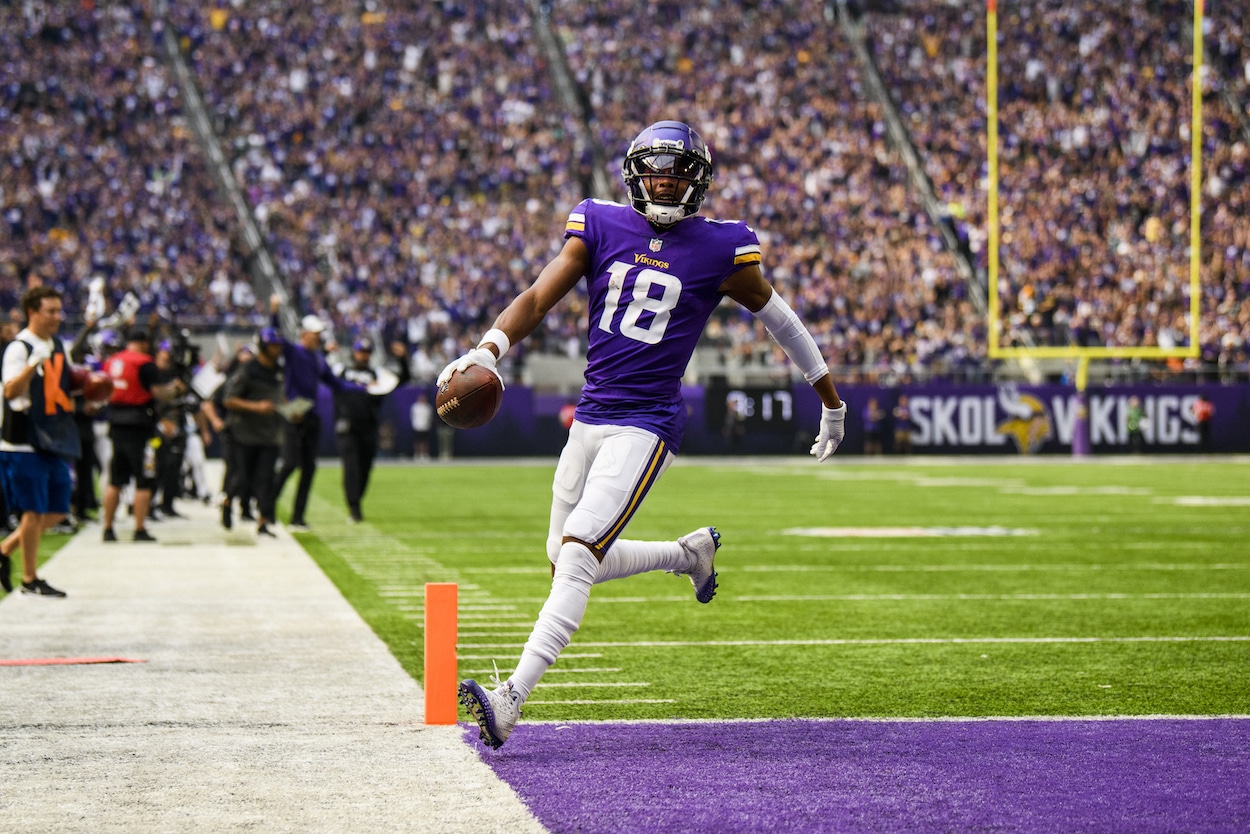 Former NFL QB Matt Hasselbeck Reveals the 1 Way to Stop Vikings WR Justin Jefferson's 'Uncoverable' Routes
Vikings WR Justin Jefferson is loving life in Kevin O'Connell's new offense, and defenses only have one way to stop him.
We all knew Minnesota Vikings wide receiver Justin Jefferson was good. In Week 1 vs. the Green Bay Packers, though, the third-year wideout looked utterly unguardable. Jefferson torched the Pack for nine catches, 184 yards, and two touchdowns.
What's changed?
After dominating NFL secondaries for two seasons under conservative, defensive-minded head coach Mike Zimmer, Jefferson now has an offensive mastermind head coach. That's Sean McVay disciple Kevin O'Connell. In just one game with O'Connell at the helm, Jefferson is already running "uncoverable" routes, and the Philadelphia Eagles can only do one thing to stop him.
Kevin O'Connell is a major offensive upgrade for the Vikings offense
Sean McVay and the coaches who have coached under him run some of the most innovative offensive schemes in the NFL. In addition to the Los Angeles Rams winning the Super Bowl last season, look at the offensive success of teams like the Cincinnati Bengals (Zac Taylor), Green Bay Packers (Matt LaFleur), and LA Chargers (Brandon Staley).
Kevin O'Connell is the next in this line of coaches who've worked for McVay, as well as Kyle Shanahan, Jay Gruden, and, in O'Connell's case, Chip Kelly. And as a backup QB in the league, he played for Bill Belichick.
With this lineage, it's no surprise the new Vikings head coach has installed more modern passing concepts into the Minnesota offense. One of those concepts is the deep crossing route.
It seems like a simple concept. But former NFL QB Matt Hasselbeck explains why it is so dangerous when run by a receiver like Jefferson, and the one and only thing defenses can do to stop it.
Matt Hasselbeck reveals the only way to stop "uncoverable" Justin Jefferson routes
Fifteen-year NFL vet Matt Hasselbeck joined the Pat McAfee Show on Monday and broke down film on Justin Jefferson and the Minnesota Vikings offense ahead of their Monday Night Football showdown with the Philadelphia Eagles.  
During the segment, Hasselbeck illustrated how Jefferson lined up on one side of the field multiple times in Week 1 and caught the ball on the other side of the field. Especially against the Packers' zone-heavy defense, Jefferson running across nearly every zone on the field makes that route hard to guard.
It's also difficult to guard in man-to-man. In fact, Hasselbeck even shared that it's an unwritten rule of NFL practices that a WR can't run routes like this in practice. It's unfair to ask the opposing corner to guard an elite wideout for that long. As Hasselbeck says, "it's like, uncoverable."
After Hasselbeck's breakdown, Pat McAfee asked the relevant questions. One was, why doesn't everyone run this play? The former QB's answer was simply, "they should."
As for how Philadelphia stops it, Hasselbeck shared that there's only one way: "You got get a pass rush."
How the Philadelphia pass-rush stacks up against the Vikings offensive line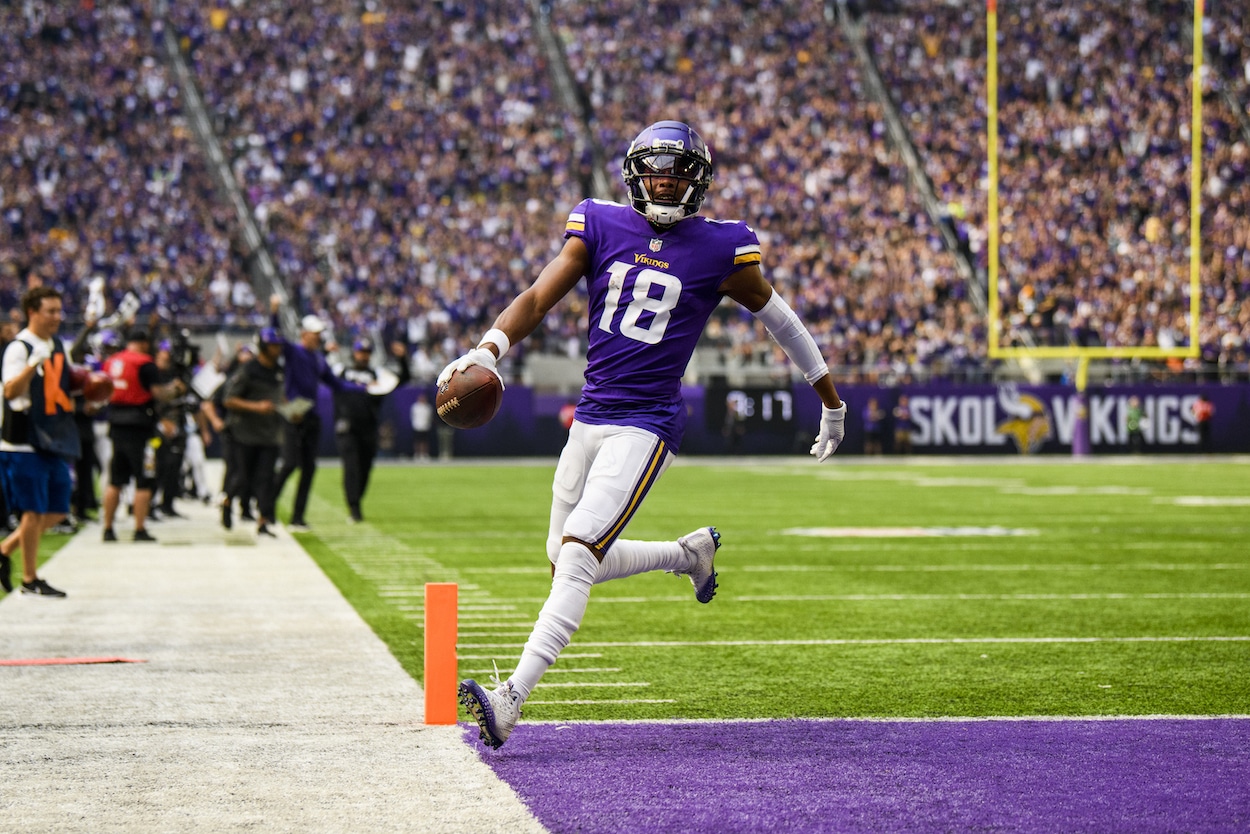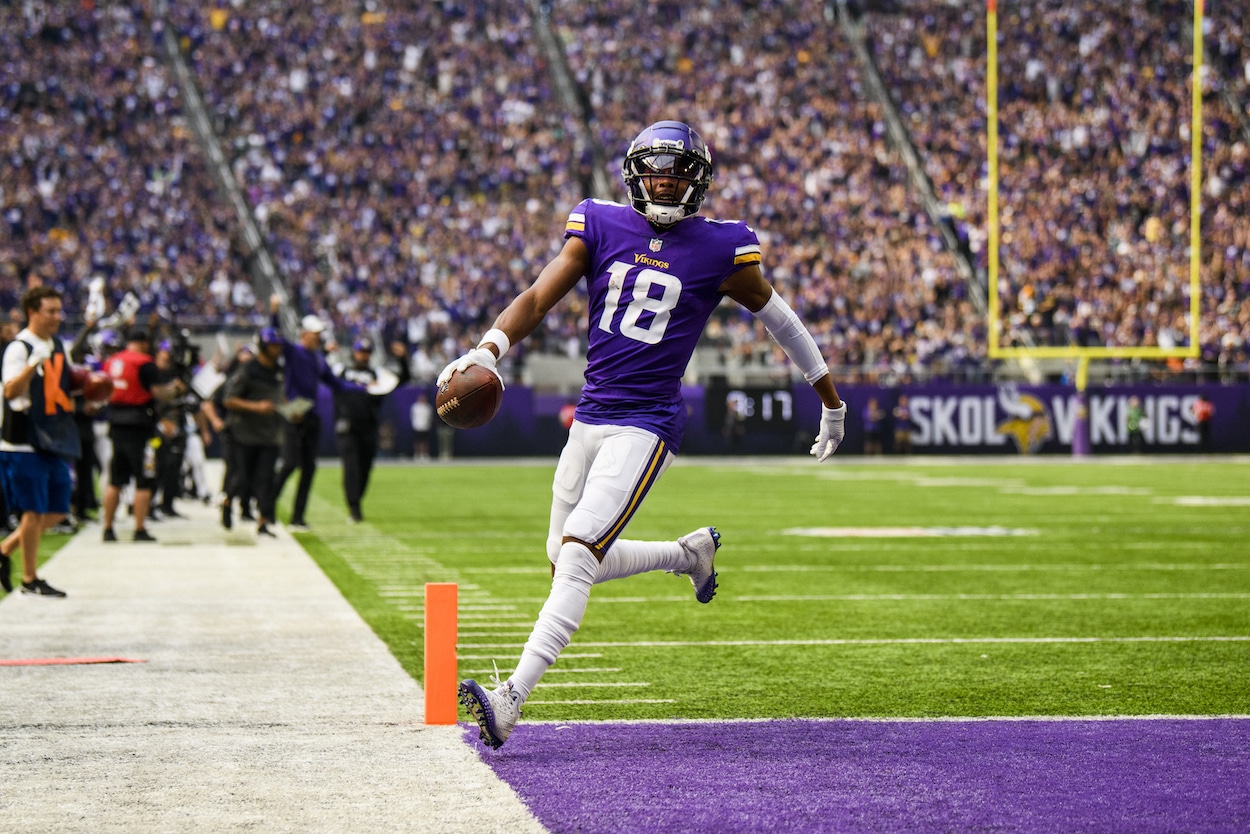 The key to the Minnesota Vikings vs. Philadelphia Eagles Monday Night Football matchup might be the Vikings offensive line vs. the Eagles defensive line.
If the Eagles can make Kirk Cousins uncomfortable in the pocket — something the Packers simply couldn't do in Week 1 — Philly has a chance to slow down the Cousins to Justin Jefferson connection.
That's easier said than done, though.
The Vikings have a solid offensive line, but Green Bay didn't truly take advantage of the weak spots. Tackles Christian Darrisaw and Brian O'Neil, guard Ezra Cleveland, and center Garrett Bradbury all held up well in Week 1.
The weak spot was rookie guard Ed Ingram. The former LSU Tiger allowed one hurry, three hits, and one sack on 33 drop-backs, per PFF.
On the home team side, the Eagles defensive line is also an above-average unit. All-Pro Fletcher Cox leads the way for pass-rushers like Brandon Graham, Josh Sweat, and Haason Reddick to get after the QB.  
If the Eagles D-line can get to Cousins before he has time to hit Jefferson on the deep crossing routes, the Eagles could shut the QB/WR combo down. If they can't, watch out for another Justin Jefferson romp.
All stats courtesy of Pro Football Reference