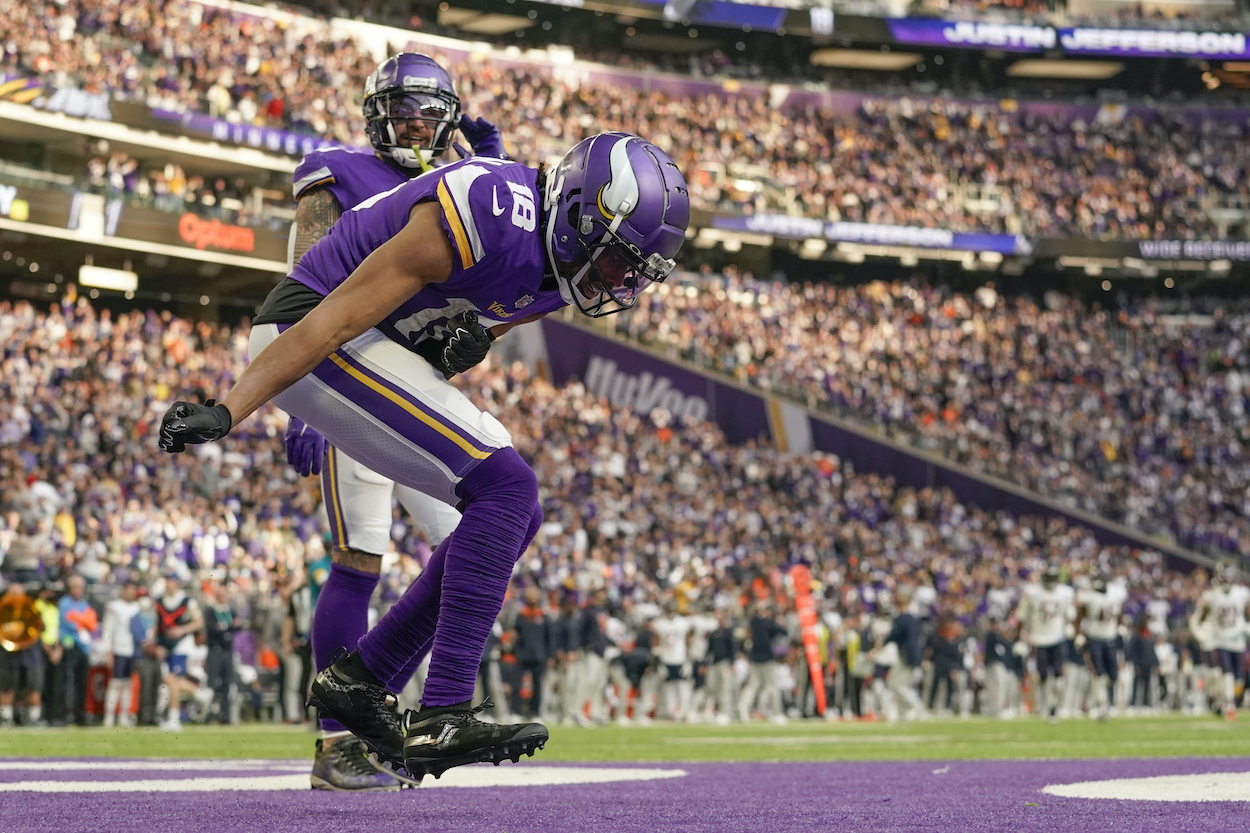 Justin Jefferson Reveals Why He Likes New Minnesota Vikings Head Coach Kevin O'Connell Better Than Mike Zimmer: 'You Know He'll Play Music in the Locker Room'
Minnesota Vikings WR Justin Jefferson reveals why he can't wait to have young, offensive-minded head coach Kevin O'Connell over Mike Zimmer.
When an NFL team replaces its head coach, the new person in charge is usually the polar opposite of the last one. That's the case with the Minnesota Vikings in 2022. The team jettisoned 65-year-old, defensive-minded Bill Parcells protégé Mike Zimmer with 36-year-old, offensive-focused Sean McVay disciple Kevin O'Connell. And Vikings star wide receiver Justin Jefferson sounds like he couldn't be happier about it.
Mike Zimmer had a tumultuous tenure as Minnesota Vikings head coach
After 20 years coaching in the NFL and 14 seasons as defensive coordinator for the Dallas Cowboys, Atlanta Falcons, and Cincinnati Bengals, Mike Zimmer finally got a head coaching gig with the Minnesota Vikings in 2014.
Zimmer's regular-season record is 72-56-1. His teams never won less than seven games in a season, but they also only won double-digit games three times. These three 10-plus win seasons represent his three playoff appearances (2015, 2017, 2019).
He won two playoff games in these three appearances, and one of those was the famed Minneapolis Miracle game over the New Orleans Saints in 2017.
The last two seasons haven't gone well either. Despite having talented veteran teams with explosive young offensive weapons like Justin Jefferson and Dalvin Cook, the Vikings went 15-18 in 2020 and 2021.
This tough stretch wasn't all Zimmer's fault. But, he's never got the best out of quarterback Kirk Cousins and has had several noted run-ins with players. This includes Stefon Diggs unhappily asking out after the 2019 season and big-money free-agent Bashaud Breeland getting cut during his first season with the team after "a verbal altercation with coaches and teammates," per ESPN.com's Courtney Cronin.
While Zimmer did have success, it was time for him to go.
Justin Jefferson sounds thrilled he has a young, player-friendly coach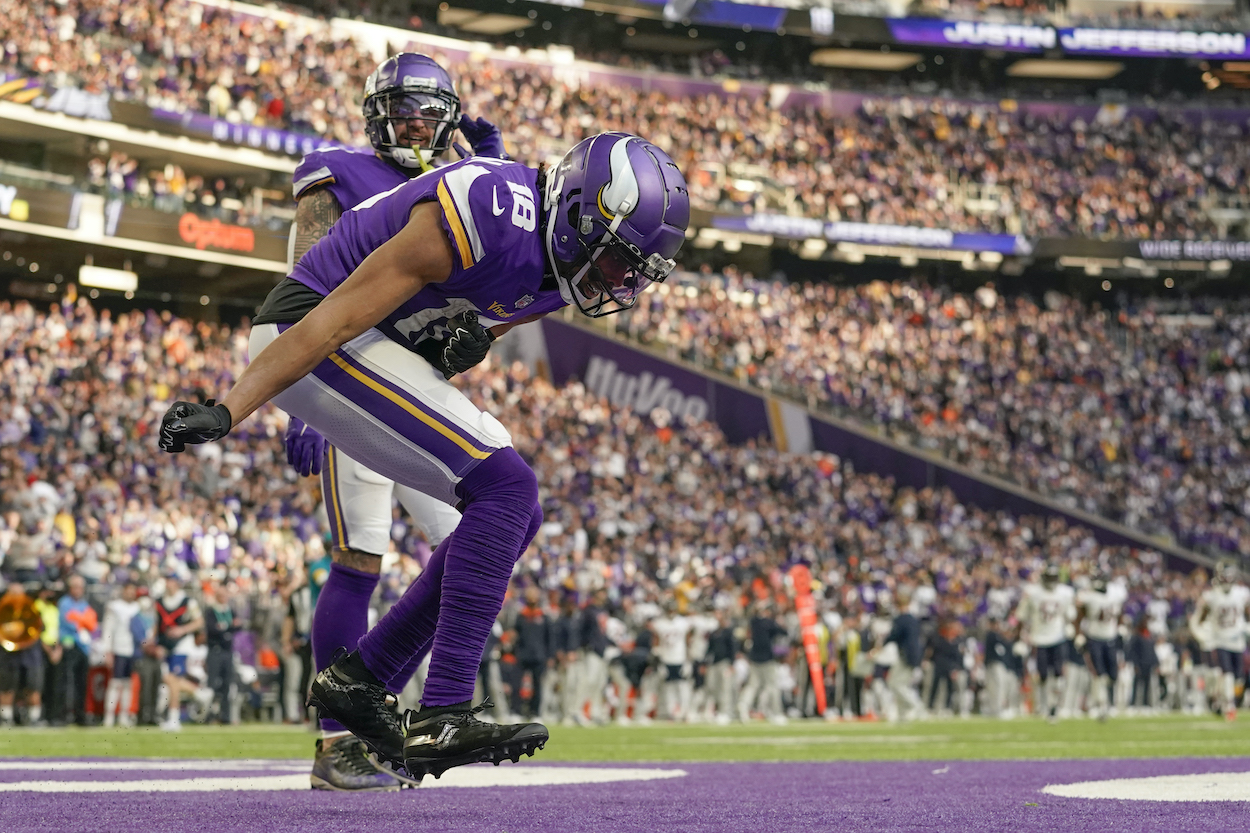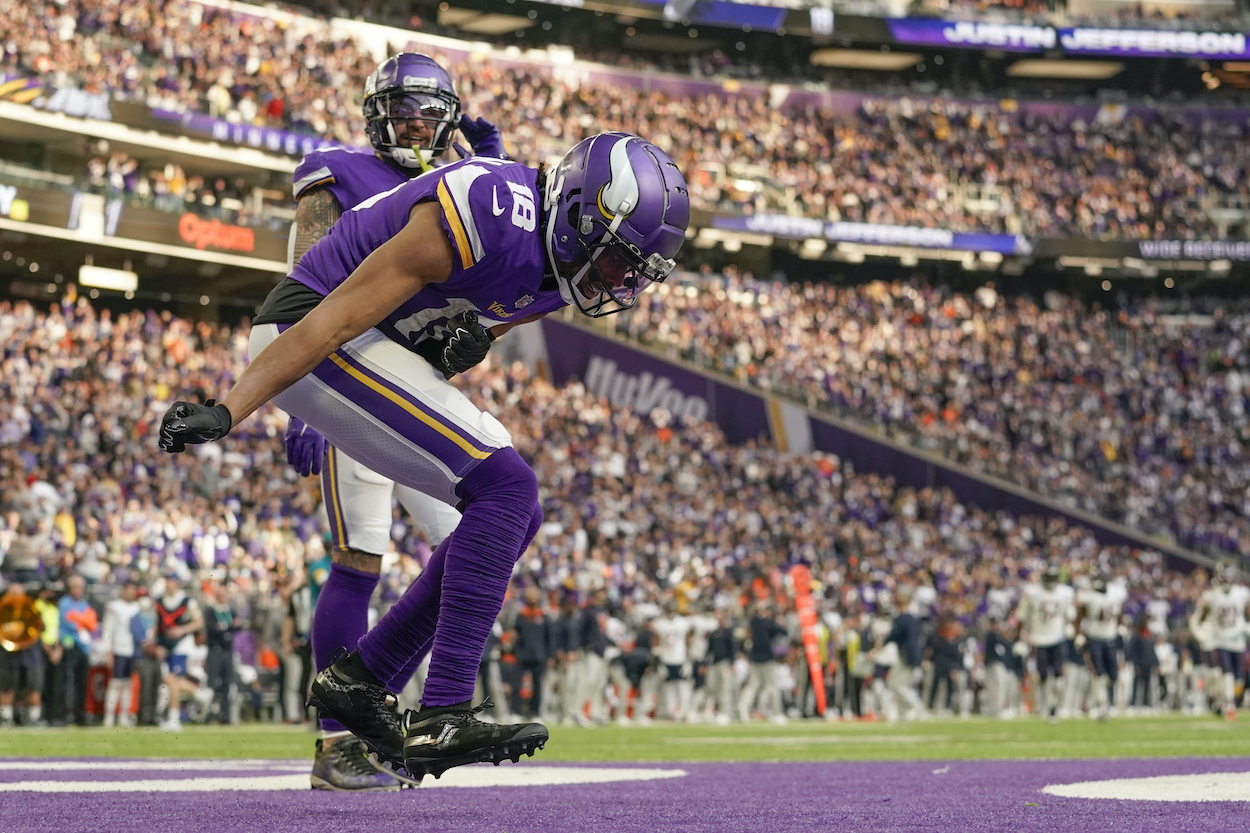 As several NFL teams have in the last few seasons — including the AFC Super Bowl representative Cincinnati Bengals – the Minnesota Vikings looked to the Sean McVay coaching tree when hiring a new head coach.
Kevin O'Connell isn't much older than many of his veteran players. And, as such, is expected to be a player-friendly coach. That seems to thrill star 23-year-old Vikings wideout Justin Jefferson.
On the NFL Network's Good Morning Football, reporter Will Selva revealed that "the honeymoon phase is in full swing" between Vikings WRs Jefferson and Adam Thielen and O'Connell. They're excited that, for the first time in either of their NFL tenures, they'll have an offensive-minded head coach.
Jefferson reportedly took his excitement a step further and explained he's also excited about O'Connell's youth and energy.
"He has that younger vibe," Jefferson said of O'Connell. "So, you know he'll play music in the locker room, play music in the meeting room before the meetings start."
While the former LSU Tiger didn't specifically mention Mike Zimmer, it's hard to read that statement as anything but a subtle criticism of his old coach's old-school ways.
What will Kevin O'Connell bring to the Minnesota Vikings?
In direct contrast to Mike Zimmer's long, slow ascent up the NFL coaching ladder, Kevin O'Connell went from a backup QB who threw six career passes with the New England Patriots to a head coach with incredible speed.
The San Diego Chargers released O'Connell ahead of the 2012 season. He then got a job coaching the Cleveland Browns QBs for the 2015 campaign. He spent the next season as an offensive assistant with the San Francisco 49ers before heading to Washington.
There, the former San Diego State star coached the quarterbacks (including Kirk Cousins) for two years before becoming OC. In 2020, he joined fellow former Jay Gruden assistant Sean McVay in Los Angeles. O'Connell was his OC for two seasons before getting the Minnesota Vikings job.
It's easy to think that Vikings fans will see a Midwest version of McVay's LA offense. However, we don't know if that's the case yet. While O'Connell ran the offense and created game plans, McVay was the primary play-caller. Same thing in Washington, where Gruden called the plays.
It does seem as though O'Connell will call the plays in Minnesota, however, as his OC is Wes Philips (son of longtime NFL coach Wade), who has primarily been a tight ends coach in the league.
We'll see in 2021 if O'Connell has the play-calling chops to succeed and to make Justin Jefferson and company happy. The most optimistic sign that he can get it done is that Cincinnati Bengals head coach and fellow former LA Rams assistant Zac Taylor didn't call plays under McVay either. Although, he did as Miami Dolphins interim OC and at the same position at the University of Cincinnati.
All stats courtesy of Pro Football Reference