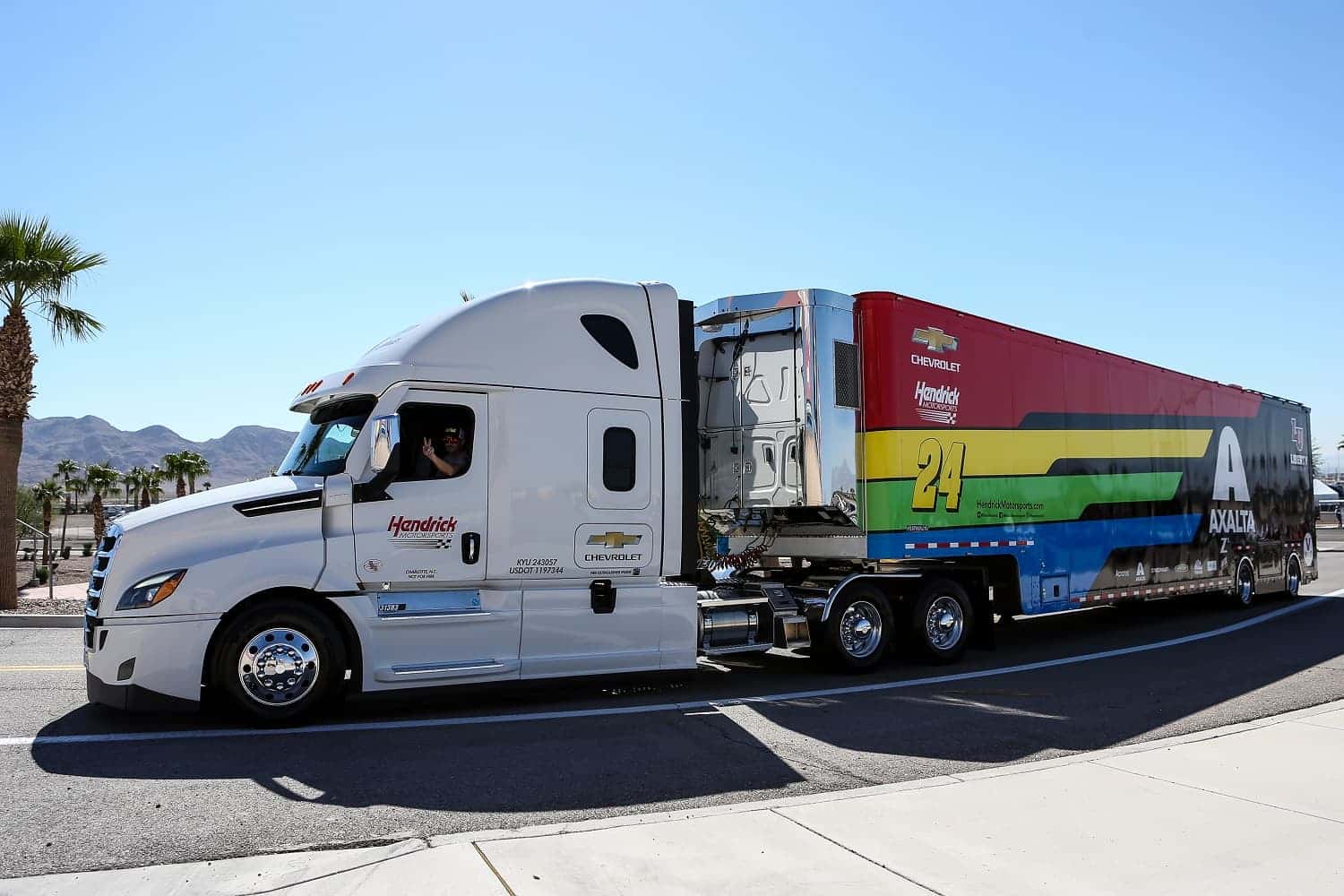 How Long Does It Take NASCAR Haulers To Travel From Coast to Coast for Races?
Drivers may fly to races during season, but NASCAR haulers carry several tons of equipment to tracks around the country each week.
This weekend's NASCAR Cup Series race at Fontana may be 20% shorter for drivers than the season-opening Daytona 500, but don't try telling some of the crew how much easier the Pala Casino 400 will be.
That's because some of the team logged five Daytona 500s in a day and a half this week. Technology may be improving all the time, but those NASCAR haulers don't drive themselves.
This is a grueling portion of the NASCAR Cup Series schedule
With most NASCAR teams headquartered near Charlotte, North Carolina, flying drivers, pit crews, and support staff to race locations is simple. Even employees who can't make the charter or private plane departures have multiple commercial flights at their disposal.
However, it's a different story for transporting equipment. The cars, spare parts, tools, race-day electronics, and most of the niceties that make life on the road bearable move around in massive haulers that fans usually only see when the blimp flies over the infield during TV coverage.
The start of the Cup Series season is grueling now that NASCAR has moved the Busch Light Clash to Los Angeles. Teams work on their cars in the shop until the last possible moment before loading the haulers for the initial trip to California. Because NASCAR takes off Super Bowl Sunday, there's less urgency than usual to return to North Carolina quickly. But that's where the leisurely pace ends.
The 2023 NASCAR schedule had teams at Daytona on Feb. 19. Fontana comes up this Sunday, Las Vegas on March 5, Phoenix on March 12, Atlanta on March 19, and then Circuit of the Americas in Austin, Texas, on March 26 before the series anchors itself back east for a month.
As a consequence, those huge haulers crisscross the country repeatedly for six weeks to kick off the longest season in U.S. team sports.
How long does it take NASCAR haulers to travel coast to coast?
The driver, crew chief, and pit crews are the only NASCAR Cup Series personnel most fans see, but there are engineers, mechanics, and fabricators back at the shop. In between the two sets of staffers are the drivers moving stuff to and from races.
Hendrick Motorsports recently posted a story on its website explaining the nuts and bolts, and it all begins with two drivers in each of the NASCAR haulers. In the case of William Byron's No. 24 Chevy, Joseph Anderson and Jason Gray do the driving.
With the Cup Series activity in Fontana beginning on Friday at 3:30 PST with inspections, they left North Carolina on Tuesday night as soon as the cars and equipment were loaded. Haulers for the three other HMS teams left at approximately the same time.
"It's roughly 36 hours to get there. It's 2,500 miles," Anderson said. "We take shifts and drive about 11 hours each per shift. We'll drive eight hours straight, take a 30-minute break, drive another three and a half hours and then we'll switch. … We don't like to waste time."
After the teardown Sunday afternoon at Auto Club Speedway, all the NASCAR haulers move on to Las Vegas, where additional crews deliver the primary vehicles for the next race. It's a similar scenario the following week at Phoenix Raceway.
"We're going to do minimum 10,000 miles in a couple weeks," Anderson said. "It's tiring and mentally draining. Physically also. But that's our job and it's what we do. We plan it out very well in what we're doing. Everything is scheduled out for us."
It's even more daunting for Formula 1 teams
The transportation routine obviously is more complicated for teams with full-time Xfinity Series cars like Joe Gibbs Racing, Stewart-Haas Racing, and Kaulig Racing. The shops are constantly building and repairing cars, and they need more NASCAR haulers to stay on schedule.
At least they're not Formula 1. The F1 schedule is less than two-thirds as long, but the 23 races are scattered across 20 countries on five continents. It's less of a challenge for consecutive races in Europe, but it's still daunting because they travel with even more equipment and employees.
When it comes to the remaining races, teams assemble five identical sets of their least critical equipment and deploy the shipping containers by ship and then trucks to Circuit of the Americas, Singapore, Qatar, and elsewhere weeks ahead of time. When that race is over, the containers are reloaded and sent to a site five races down the schedule.
The cars, electronics, and critical garage equipment are a different matter. Formula 1 charters multiple Boeing 777s that the 10 teams share. It's the only way to be sure that everything arrives at the next venue and clears customs in time for teams to properly prepare. That's an issue NASCAR teams are happy not to face.
Got a question or observation about racing? Sportscasting's John Moriello does a mailbag column each Friday. Write to him at [email protected].