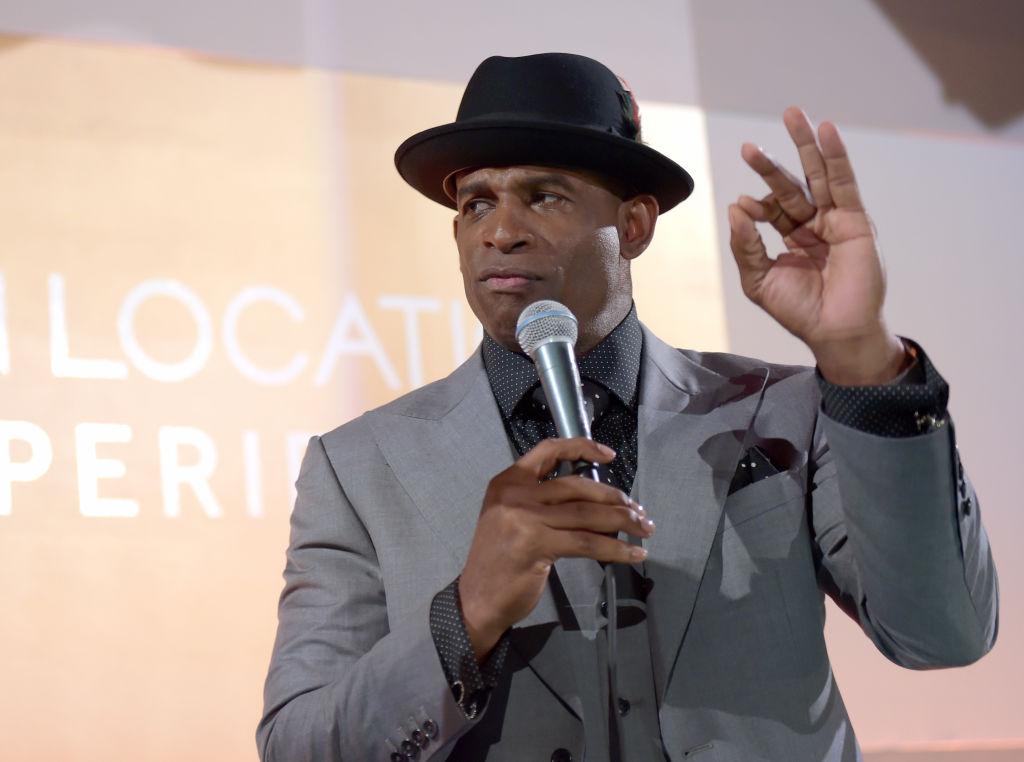 How Many Super Bowl Rings Does Deion Sanders Have?
Deion Sanders might be the best corner in NFL history. His athleticism and sheer talent are legendary, so how many Super Bowls did he win?
Deion Sanders deserves credit as perhaps the single best corner in the history of the NFL. Some would even argue that Sanders has also earned a place in the debate about the single best player at any position. Regardless of where your opinion falls in that regard, there can be little argument that Sanders possessed the ability to smother opposing receivers like few other defensive backs in the history of the game.
Sanders didn't just excel in individual terms, although his resume in that regard is top-notch. He also contributed in a big way to team success, as evidenced by his teams' excellent records and postseason success. Here we take a look back at Sanders' career, his Super Bowl victories, and Sanders' post-career legacy.
NFL career
The Atlanta Falcons drafted Sanders with the fifth pick of the 1989 NFL draft. Sanders proved himself ready from the start, returning a 68-yard punt against the Los Angeles Rams in his first NFL game. Sanders carried that excellence through the subsequent 14 years of his career in the league, racking up numerous awards in the process.
Let's quickly recap those awards. Sanders appeared in eight Pro Bowls. He earned nine consecutive first-team All-Pro selections as a cornerback, from 1991 to 1999. Sanders also earned first-team All-Pro selections as a kick returner and a punt returner. In 1994, he took home the NFL Defensive Player of the Year award.
During one season, Sanders became one of the very few players in history to play both offense and defense. Sanders also holds the impressive distinction of being the only player to score a touchdown in six different ways: punt return, interception return, kickoff return, rushing, receiving, and fumble recovery.
How many Super Bowl rings does Deion Sanders have?
Sanders made it to the Super Bowl twice in his career, winning both times. Those two titles came in back-to-back years, although Sanders played for a different team in each one. Sanders won his first title — in Super Bowl XXIX — as a member of the San Francisco 49ers. In that game, he logged one interception while leading the 49ers to a 49-26 victory.
Sanders' subsequent free agency was dubbed "Deion Sweepstakes" by members of the media. He ended up signing a deal with the Dallas Cowboys.
That Cowboys squad ultimately won Super Bowl XXX against Pittsburgh Steelers. In that game, Sanders caught one pass for 47 yards and returned one punt for 11 yards, en route to a 27-17 victory.
Sanders' retirement and legacy
Sanders retired twice in the course of his NFL career. The first time came in July 2001, following his first year of a seven-year contract with the Washington Redskins. Many found the decision puzzling, especially since Sanders had put up solid numbers during the 2000 season. A year and a half later, the Redskins waived Sanders from their reserve/retired list.
Sanders didn't make his return to football until 2004, at the age of 37, when Sanders signed a one-year contract with the Baltimore Ravens. Sanders ultimately spent two years with the Ravens. The team failed to make the postseason in both years, and in January 2006 Sanders announced his retirement for the second and final time.
Sanders was elected to the Pro Football Hall of Fame in 2011, his first year of eligibility. Recently, Sanders made some controversial remarks about the Hall of Fame on an appearance on "The Dan Patrick Show."
Sanders' main point was that the Hall of Fame has grown too permissive about the players it enshrines. Apparently, if Sanders had his way, only the most elite NFL players would earn the honor.