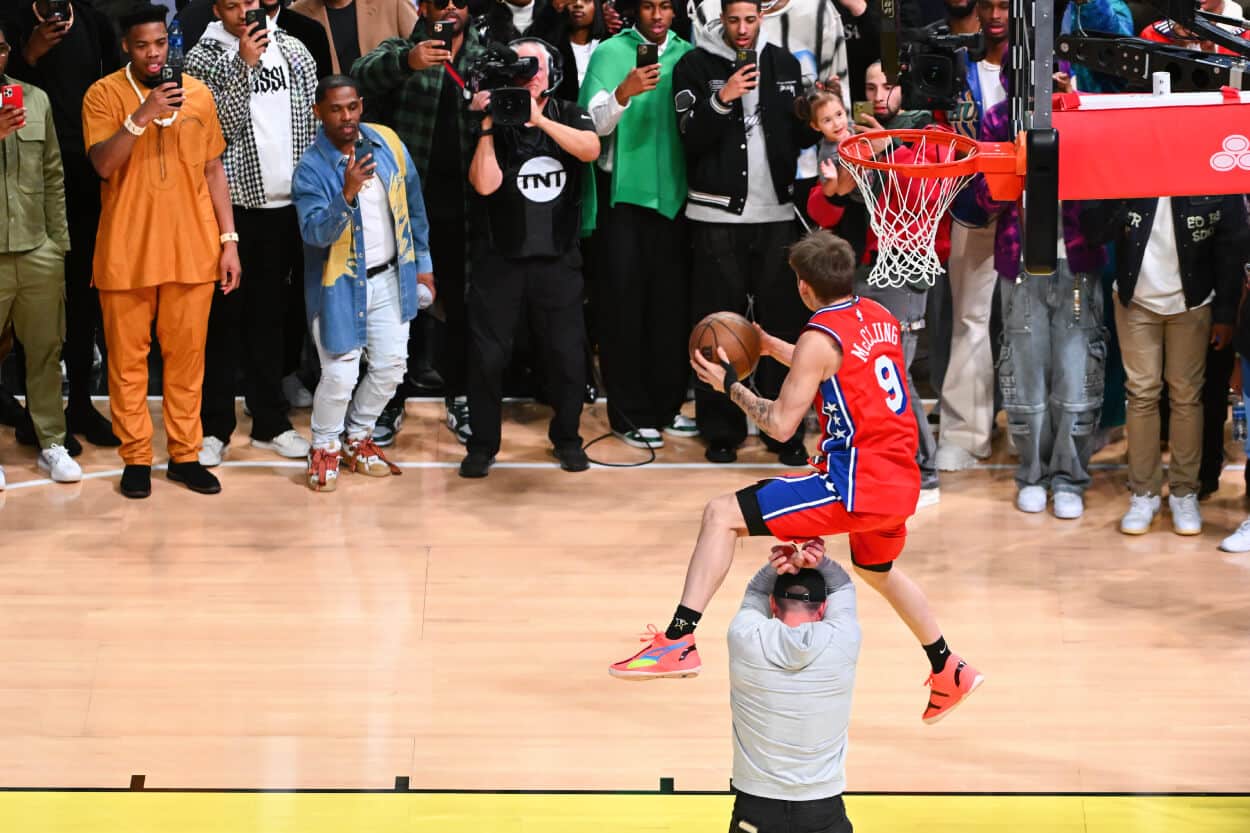 How Much Money Does the Winner of the NBA Slam Dunk Contest Make?
Let's just say it was well worth it financially for Mac McClung, who won the 2023 NBA Slam Dunk Contest.
The NBA Slam Dunk Contest has lost some of its luster over the years, but Mac McClung added some juice to the event in 2023. McClung was the only G-League player ever to take part in the event, and he wowed the crowd with his performance. The 6-foot-2 guard blew his three competitors out of the water en route to the slam-dunk title. With the win, he made a name for himself, and he also took home a decent amount of cash.
History of the Slam Dunk contest
The dunk contest started as a remnant of the ABA. Those ABA dunk contests saw the rise of Julius Erving, who eventually took part in the inaugural NBA contest, too. There, a 34-year-old Erving faced off against Larry Nance and lost, making Nance the first NBA Dunk Contest champion. 
From there, some of the most famous dunkers of all time took the throne. Dominique Wilkins, who became a mainstay of the competition, took home the 1985 title but fell in the ensuing years to diminutive Spud Webb and the legendary Michael Jordan. Wilkins regained his title in 1990. 
The 90s were a mixed bag when it came to the dunk contest. Some of the names might have been lost in time, like Harold Miner and Brent Barry. The event had a three-year hiatus after a 1997 contest that saw a young teenager named Kobe Bryant dazzle the audience with his athletic showmanship. 
When the contest returned, Vince Carter stole the show with one of the best showings the world has ever seen. He secured his place in NBA history with dunks that are still talked about 20-plus years later. Outside of a few memorable runs from Jason Richardson, Dwight Howard, Nate Robinson, and Blake Griffin, the contest lost its steam.
How much money did McClung get for winning the NBA Slam Dunk Contest? 
The events of All-Star weekend come with incentives such as trophies, exposure for the lesser-known players, and an exciting weekend in the host city, but players are not working for free, either. All of the events come with a prize. According to NBC Sports Philadelphia, each All-Star on the winning team walks away with $100,000.
Each player on the losing team gets $25,000.
How much did McClung get for winning the dunk contest?
McClung also walked away from the event $100,000 richer. The second-place finisher took home $50,000, while the other two participants collected $25,000 each.
McClung took home $50,000 more than the three-point contest winner, Damian Lillard. The payouts are lower in that event, with the runner-up getting $35,000, third place taking home $25,000, and the next three finishers getting $10,000.