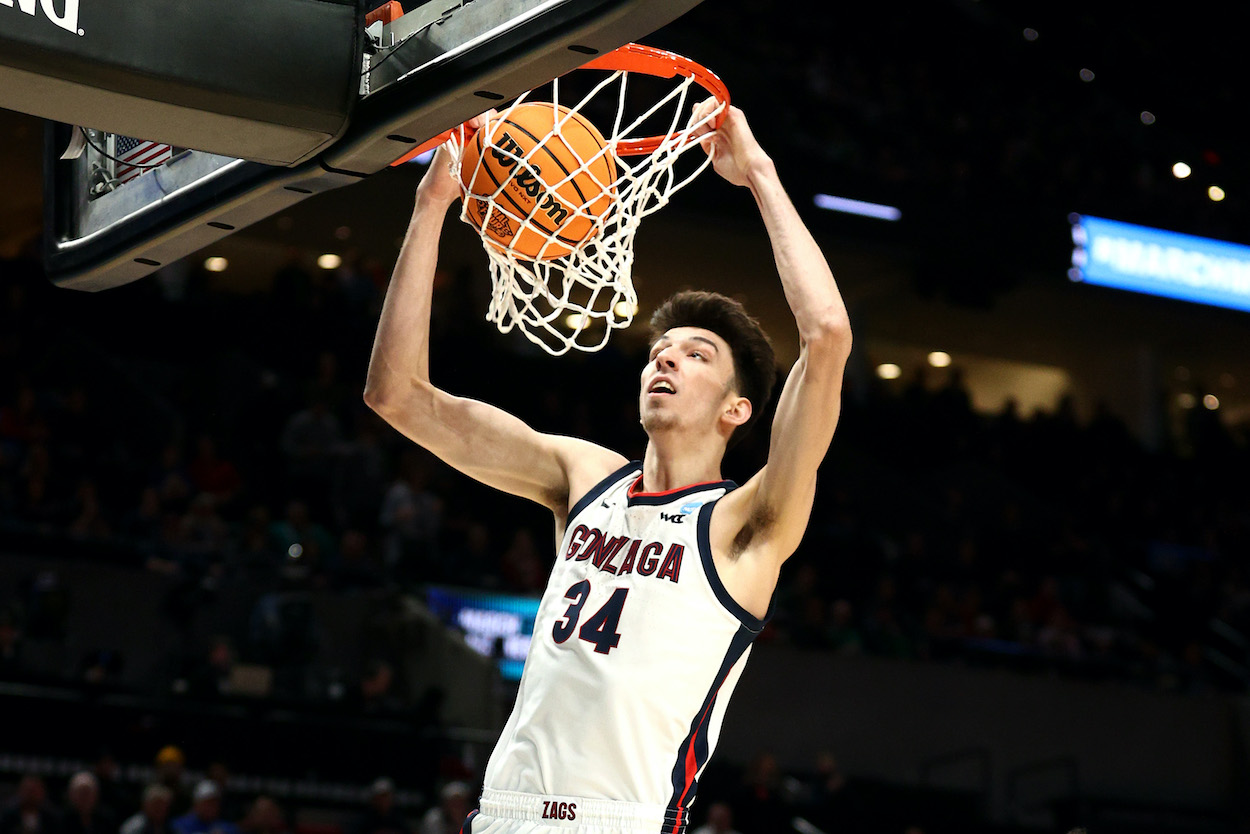 How Tall Is Gonzaga Big Man Chet Holmgren and How Much Does He Weigh?
Chet Holmgren might be slender, but he's one of the most elite NBA prospects in college basketball.
Chet Holmgren is one of the more fascinating NBA draft prospects we've seen in quite some time. The tall, lanky big man from Gonzaga looks like he could blow over with the slightest breath of wind, but he's one of the best rim protectors in college basketball and has a unique skill set that has NBA scouts drooling.
So, how tall is Holmgren, how much does he weigh, and what makes him such an enticing prospect?
Chet Holmgren has lived up to the hype at Gonzaga
Holmgren signed with Gonzaga as the No. 1 high school recruit in the country, and he's only exceeded expectations in his freshman year with the Bulldogs. The 19-year-old phenom is averaging 14.2 points, 9.8 rebounds, and 3.7 blocks per game this season.
Only three players in NCAA Division I have swatted more shots than Holmgren this year. He's proven to be an elite rim protector at such a young age, and he continued his shot-blocking dominance into the NCAA Tournament.
In Gonzaga's first-round game against Georgia State, Holmgren finished with 19 points, 17 rebounds, and seven blocks in the comfortable win. Seven blocks! He followed up that epic performance with nine points, nine rebounds, and four blocks against Memphis to power the Bulldogs to the Sweet 16.
Holmgren has been a stat-stuffer all season long, and he's right in the think of the race to become the No. 1 overall pick in the 2022 NBA Draft.
How tall is Chet Holmgren and how much does he weigh?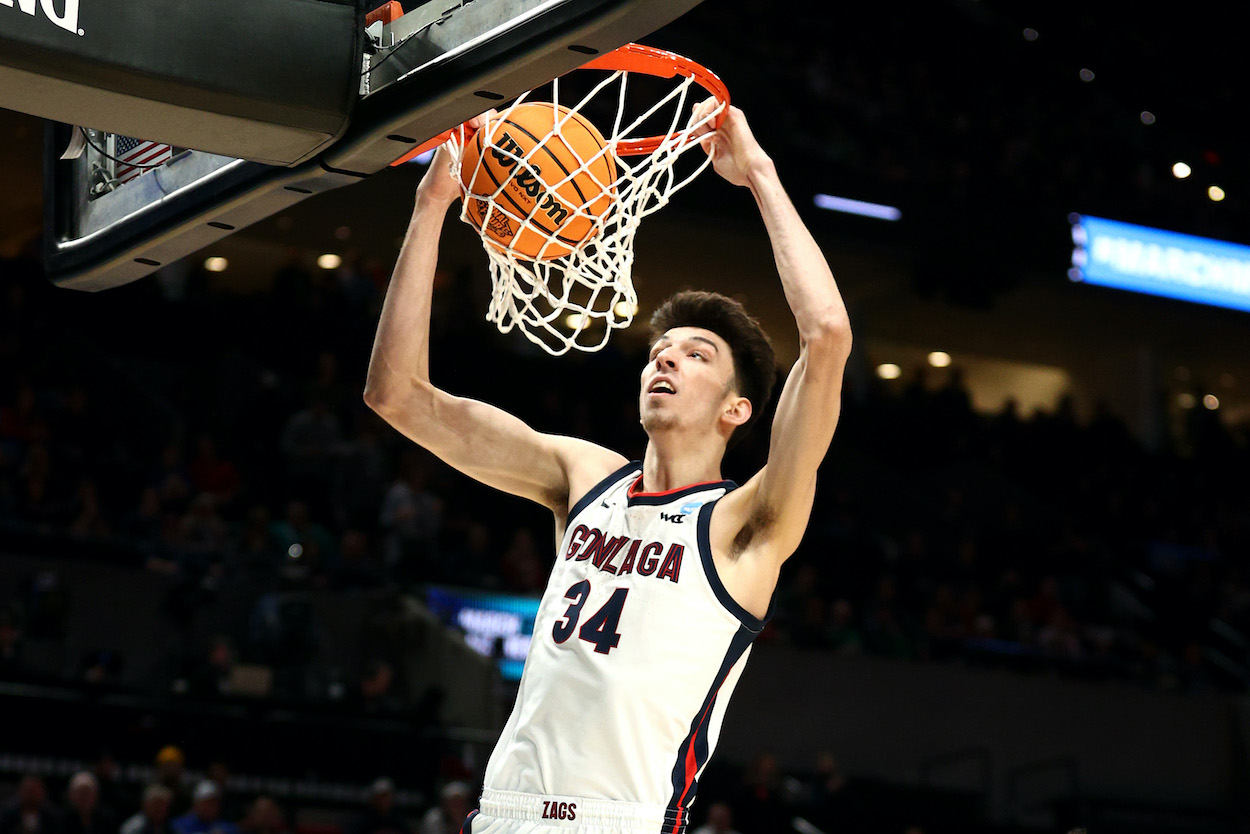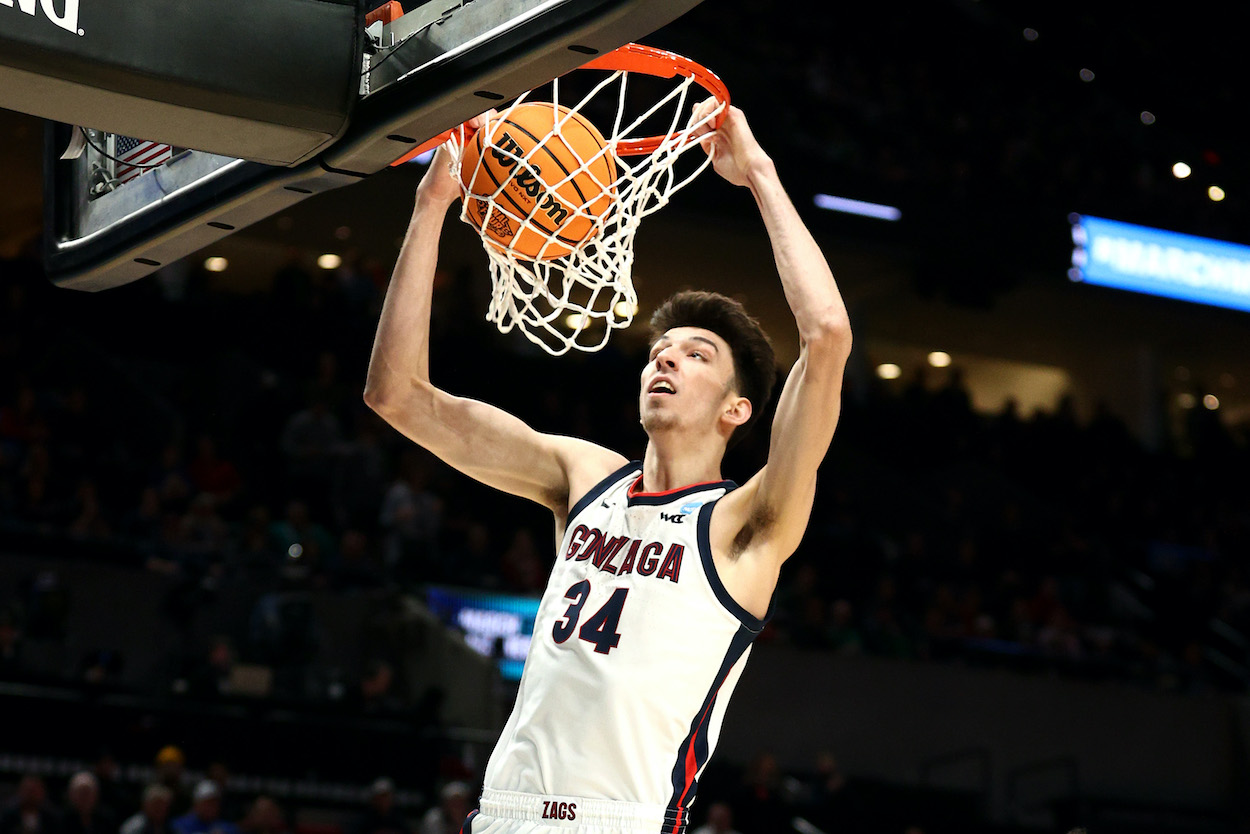 Holmgren doesn't have the look of a typical No. 1 overall draft pick. Sure, he towers over almost every other player on the court every game, but he looks as if he's never been inside a weight room in his life.
According to Gonzaga's official athletics website, Holmgren stands 7-foot-0 tall and weighs in at 195 pounds. For reference, Kevin Durant, who has a similar body type, is two inches shorter than Holmgren but weighs 240 pounds.
Part of what makes Holmgren unique is his ridiculous 7-foot-6 wingspan. Even though he might not be as strong as opposing centers, he's still able to protect the rim at a high level thanks to his length.
Future No. 1 overall pick?
Holmgren will surely have to put on a few pounds if he doesn't want to get pushed around in the NBA. No matter how good of a shot-blocker he's been in college, he won't stand a chance in the post against guys like Joel Embiid and Nikola Jokic.
Still, Holmgren's unique combination of length and skill make him a likely No. 1 overall pick in the 2022 NBA Draft. Not only can he protect the rim and rebound at an elite level, but he possesses guard-like ball-handling skills and can stroke it from the outside. As a freshman, he shot 39.2% from three on 3.3 attempts per game.
He's impossible to guard when he gets a full head of steam in transition, and defensively, he can switch on guards and hold his own on the perimeter. The only knock on Holmgren seems to be his slender frame, but that can change pretty quickly once he gets around NBA strength coaches.
Get used to the name, because Chet is going to be around for a long time.
Like Sportscasting on Facebook. Follow us on Twitter @sportscasting19.