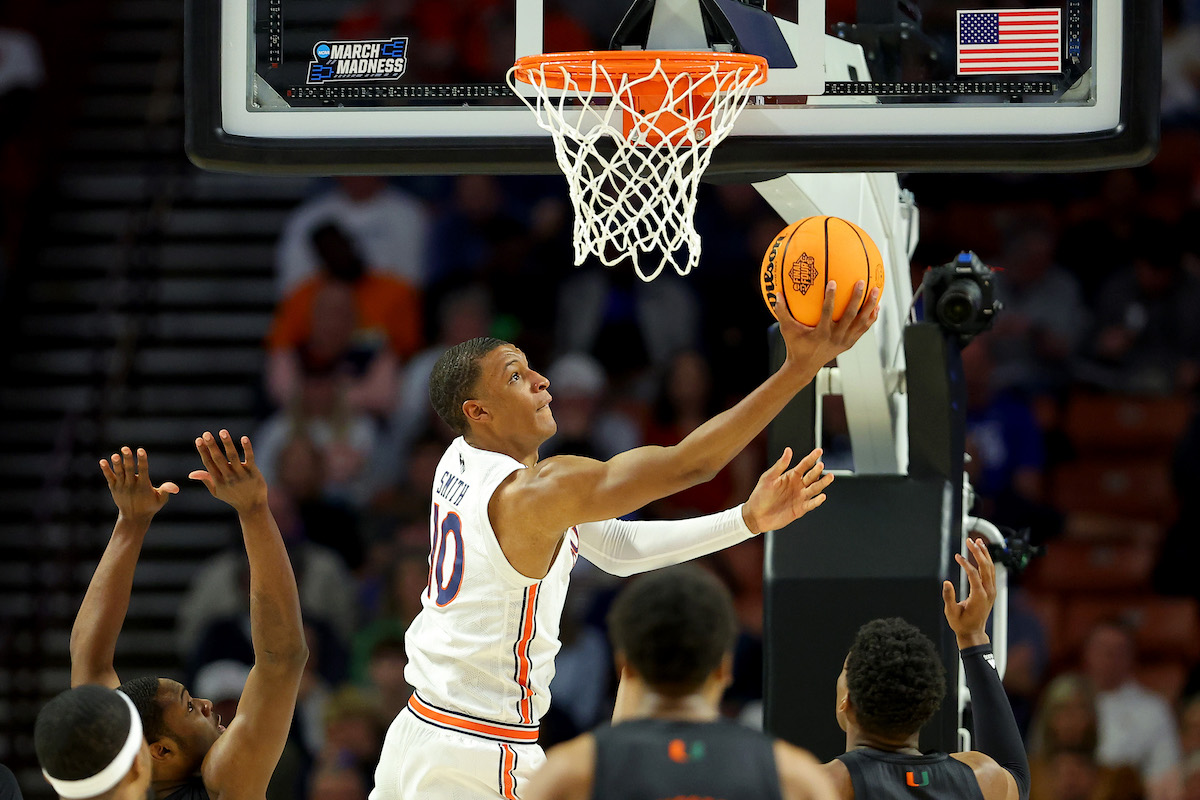 If Jabari Smith Goes No. 1 in 2022 NBA Draft, He Wouldn't Be 1st Top Pick With Early March Madness Exit
If Jabari Smith becomes the No. 1 pick of the 2022 NBA Draft, he wouldn't be the first top prospect to have experienced an early March Madness exit.
Well this isn't how Jabari Smith Jr., a potential No. 1 pick in the 2022 NBA Draft, wanted what's likely to be a one-and-done season with the Auburn Tigers to end.
The second-seeded Tigers were heavily favored to beat 10th-seeded Miami in the Round of 32 and advance to the Sweet Sixteen, but they instead dropped a 79-61 stinker against the Hurricanes and suffered an early exit. Smith's performance — 10 points, 15 rebounds, four assists, and three blocks on 3-of-16 shooting from the field — was a mixed bag, filled with the highlight-reel plays that have elevated his stock but also brimming over with heavily contested attempts that found iron instead of twine.
Of course, it's hard to pin too much of the blame on his shoulders.
Auburn's backcourt often seemed to forget it was playing with such a highly touted prospect, commandeering possessions after crossing the timeline and ignoring him to pound the ball into the hardwood or throw up an ill-advised jumper. But he still struggled, and the enduring memory — if he chooses to go pro — will be of him walking off the floor in defeat.
Fortunately for his draft stock, that might not actually matter. If he goes anywhere after the first pick of the 2022 draft, it'll be for reasons other than an early March Madness departure.
Jabari Smith and the Auburn Tigers exited two games into March Madness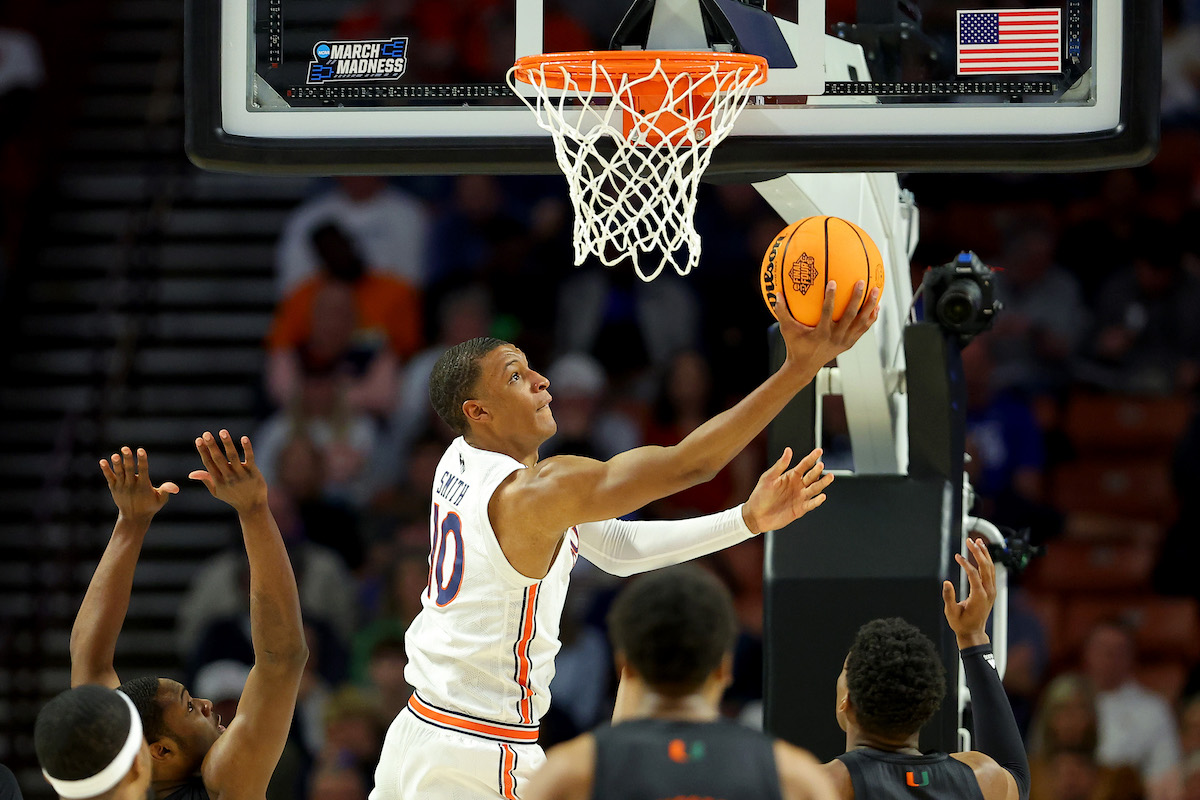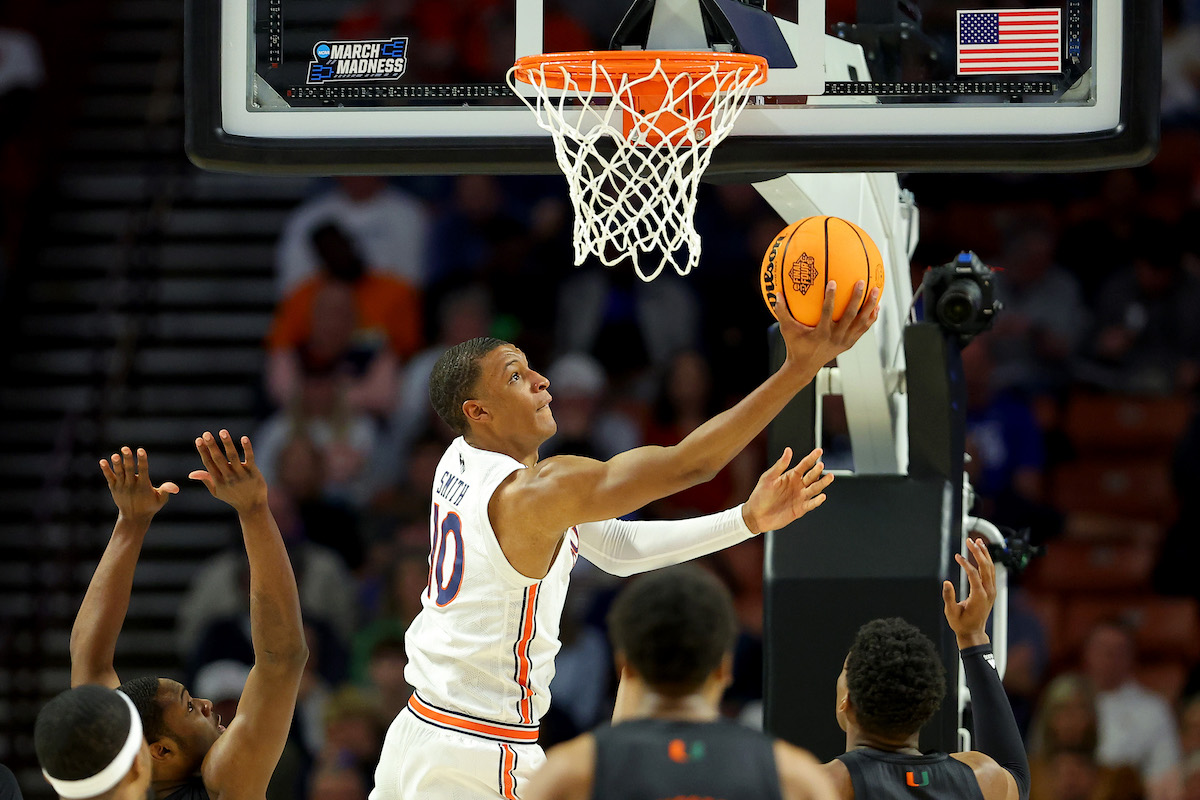 A 6-foot-10 forward who can put the ball on the floor and attack the basket, thrive on the glass, rain in pull-up jumpers over even the most athletic defenders, and throw it down with authority when he's given a runway, Jabari Smith's season shouldn't be defined by one game.
A member of the All-SEC First Team, he was the SEC Rookie of the Year, averaging 16.9 points, 7.4 rebounds, 2.0 assists, 1.1 steals, 1.0 blocks, and just 1.9 turnovers while shooting 42.9% from the floor, 42.0% from beyond the rainbow, and 79.9% at the charity stripe. Throw in his defensive versatility, and it's not exactly surprising that he's featured at or near the top of virtually every mock draft — including the one we published back in late February.
But that still doesn't change the unfortunate reality. Smith's Tigers only went two games into the 2022 NCAA men's basketball tournament before coming up on the wrong end of a double-digit margin despite entering the affair with a No. 2 next to their name.
After going 27-4 in the regular season to earn the best record in the SEC, the Tigers dropped the first game of their conference tournament to the Texas A&M Aggies. They got back on track with an 80-61 defeat of Jacksonville State in their first March Madness game, but that momentum evaporated against the Hurricanes.
Smith's performances — again, driven down by the lackluster nature of the Auburn backcourt, especially in high-leverage situations — followed suit. But the same is true for plenty of recent No. 1 picks who entered the NBA in the top spot despite similarly early exits.
How recent No. 1 picks fared in March Madness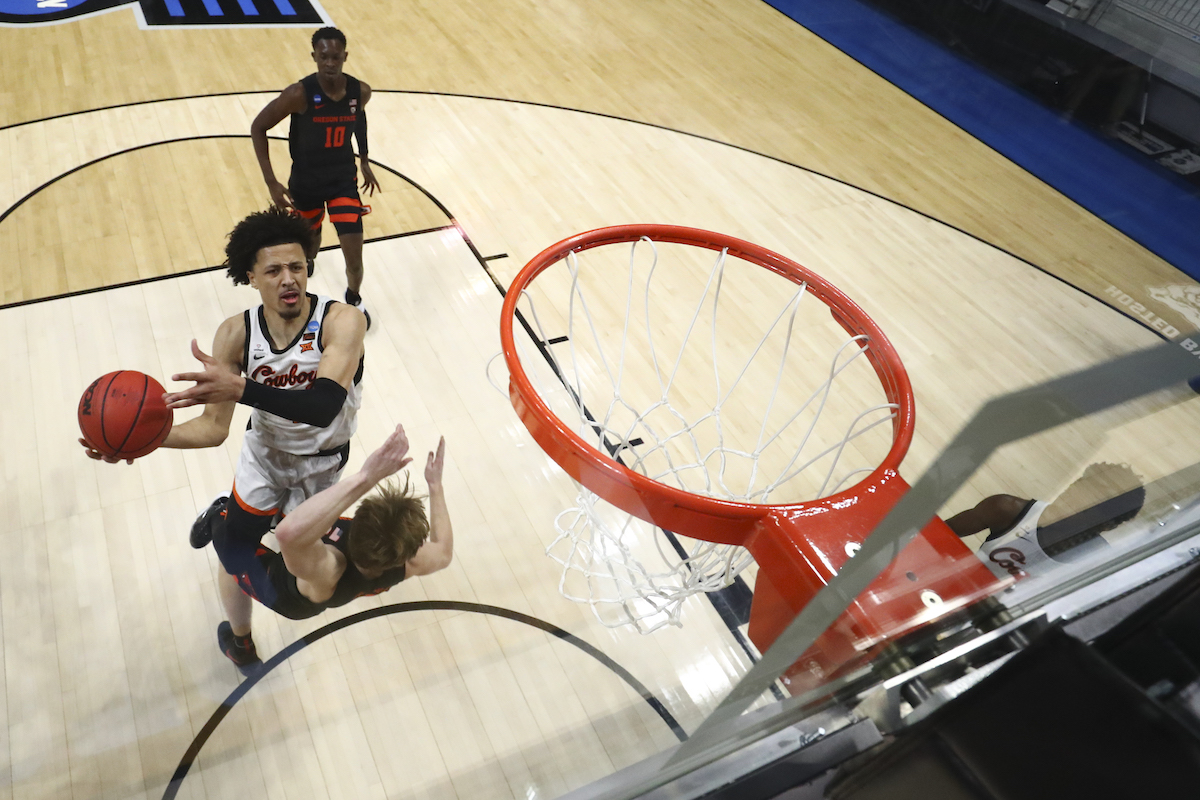 Though we could easily go back further into the archives, only the last decade of draft history is necessary to show that a deep postseason run isn't actually a prerequisite for earning a top spot in the prospect pageant:
2021: Cade Cunningham was a freshman for an Oklahoma State team that earned a No. 4 seed and lost to No. 12 Oregon State in the second round
2020: Anthony Edwards was a freshman for a Georgia team that went 16-16 and failed to make the NCAA tournament
2019: Zion Williamson was a freshman for a Duke team that earned a No. 1 seed and lost to No. 2 Michigan State in the Elite Eight
2018: Deandre Ayton was a freshman for an Arizona team that earned a No. 4 seed and lost to No. 13 Buffalo in the first round
2017: Markelle Fultz was a freshman for a Washington team that went 9-22 and failed to make the NCAA tournament
2016: Ben Simmons was a freshman for an LSU team that went 19-14 and failed to make the NCAA tournament
2015: Karl-Anthony Towns was a freshman for a Kentucky team that earned a No. 1 seed and lost to No. 1 Wisconsin in the Final Four
2014: Andrew Wiggins was a freshman for a Kansas team that earned a No. 2 seed and lost to No. 10 Stanford in the second round
2013: Anthony Bennett was a freshman for a UNLV team that earned a No. 5 seed and lost to No. 12 California in the first round
2012: Anthony Davis was a freshman for a Kentucky team that earned a No. 1 seed and won the title
Smith wouldn't just avoid aberration status; he'd actually be one of the more successful top picks should he come off the board before anyone else.
Anthony Edwards, Markelle Fultz, and Ben Simmons failed to make the Big Dance. Deandre Ayton and Anthony Bennett couldn't make it out of the first round, both losing to lower seeds than the No. 10 Hurricanes in the process. Cade Cunningham and Andrew Wiggins both lost in the second round, and the most recent top pick fell to a No. 12 seed at the same stage.
Only Zion Williamson, Karl-Anthony Towns, and Anthony Davis, all of whom attended blueblood programs at the heights of their modern-era powers, actually made it further into the marquee competition.
Will Jabari Smith actually go No. 1 in the 2022 NBA Draft?
Following the second-round loss, Jabari Smith is allegedly undecided about his future, per Tom Green of AL.com.
Allegedly.
If he turns down the opportunity to become a shoo-in for one of the top three picks of the 2022 NBA Draft, he'd be one of the most highly touted prospects in recent memory to eschew the ranks of the professionals for one more season in college. Maybe the name, image, and likeness (NIL) rules change the monetary equation significantly, but he'd still be risking injury altering a stock that can only trend down.
In all likelihood, he'll be declaring for the draft in the coming weeks, likely when the pain of the Miami defeat isn't so raw. Expecting a prospect to abandon camaraderie with their teammates in the immediate aftermath of a season's bitter end isn't exactly the smartest strategy if you're hoping to gain access to their true feelings.
If and when Smith declares, he won't be a lock to go No. 1, though that's obviously not because of the March Madness shortcomings.
Chet Holmgren and Paolo Banchero have already led Gonzaga and Duke, respectively, into the Sweet Sixteen and will keep showcasing their immense talents to the many scouts in attendance. They're both incredible talents, and the former's unicorn game, in particular, could allow him to rise all the way to the top spot by the time someone is cutting down the nets.
Either one — or even a red-hot Jaden Ivey at Purdue — could earn top billing, but it wouldn't be because Smith lost it when his team came up short.