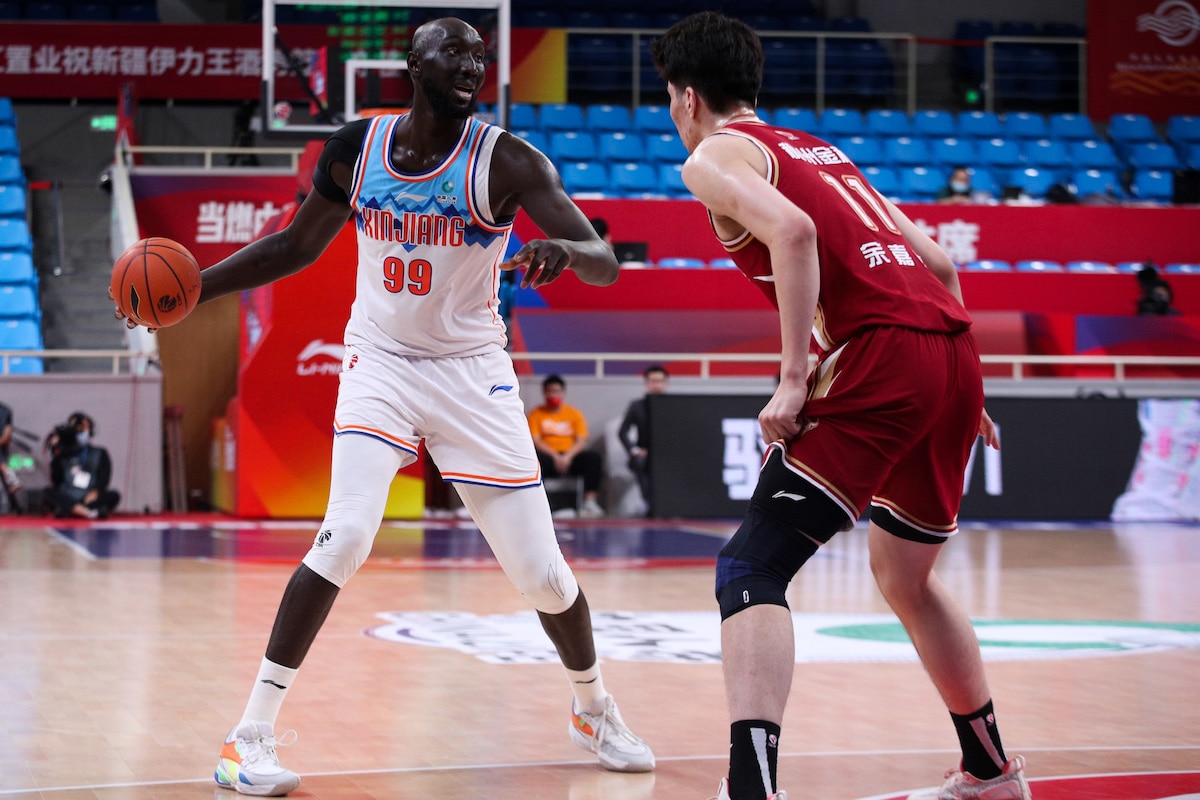 How Tall is Tacko Fall?
Tacko Fall is one of the tallest players to ever play the game of basketball.
Tacko Fall has gained a lot of recognition throughout his basketball career, which featured more than a few hurdles while he tried to establish himself in the NBA. Being one of the tallest players in the history of the Association can have its challenges. But Fall has embraced being 7-foot-5 with a size-22 shoe.
From being a part of Aaron Gordon's legendary dunk in the 2020 Slam Dunk Contest to gaining a lot of fans throughout his playing days, Fall has grown his celebrity status to match his height.
Tacko Fall's NBA combine measurements were outrageous
During the 2019 NBA Draft Scouting Combine, Tacko Fall turned heads with his measurements.
He measured in at 7-foot-7 with shoes on and posted an 8-foot-2 1/4 wingspan and 10-foot-2 1/2 standing reach. According to NBA.com's combine database, Fall was the tallest player and had the longest wingspan of any player measured at the event.
Still, concerns existed about whether Fall could succeed in the league given his size. Did the University of Central Florida product have the quickness to match up with other NBA players?
Where did the height come from?
Interestingly, Tacko Fall did not get his height from his parents. His mother is 5-foot-8, and his father is 6-foot-0.
Tacko Fall's professional career
After finishing his UCF career, Tacko Fall entered the 2019 NBA Draft. He went undrafted but later signed with the Boston Celtics, who rewarded his Summer League performance with a two-way contract.
Fall debuted with the Celtics on Oct. 26, 2019, against the New York Knicks. He scored four points and grabbed three rebounds in four minutes of play. In his home debut against the Detroit Pistons, he finished with five points and exited to a standing ovation from the crowd. The center quickly became a fan favorite, receiving exhortations for playing time in a number of blowouts.
Fall played in 26 games for Boston before his contract expired, and the Cleveland Cavaliers signed him to a deal in September 2021. He remained with the Ohio-based organization until he was waived on Jan. 9, 2022, after playing just 59 minutes over the course of 11 games during the 2021-22 campaign.
After suiting up for the G League's Cleveland Charge, Fall joined the Xinjiang Flying Tigers of the Chinese Basketball Association on Aug. 24, 2022.