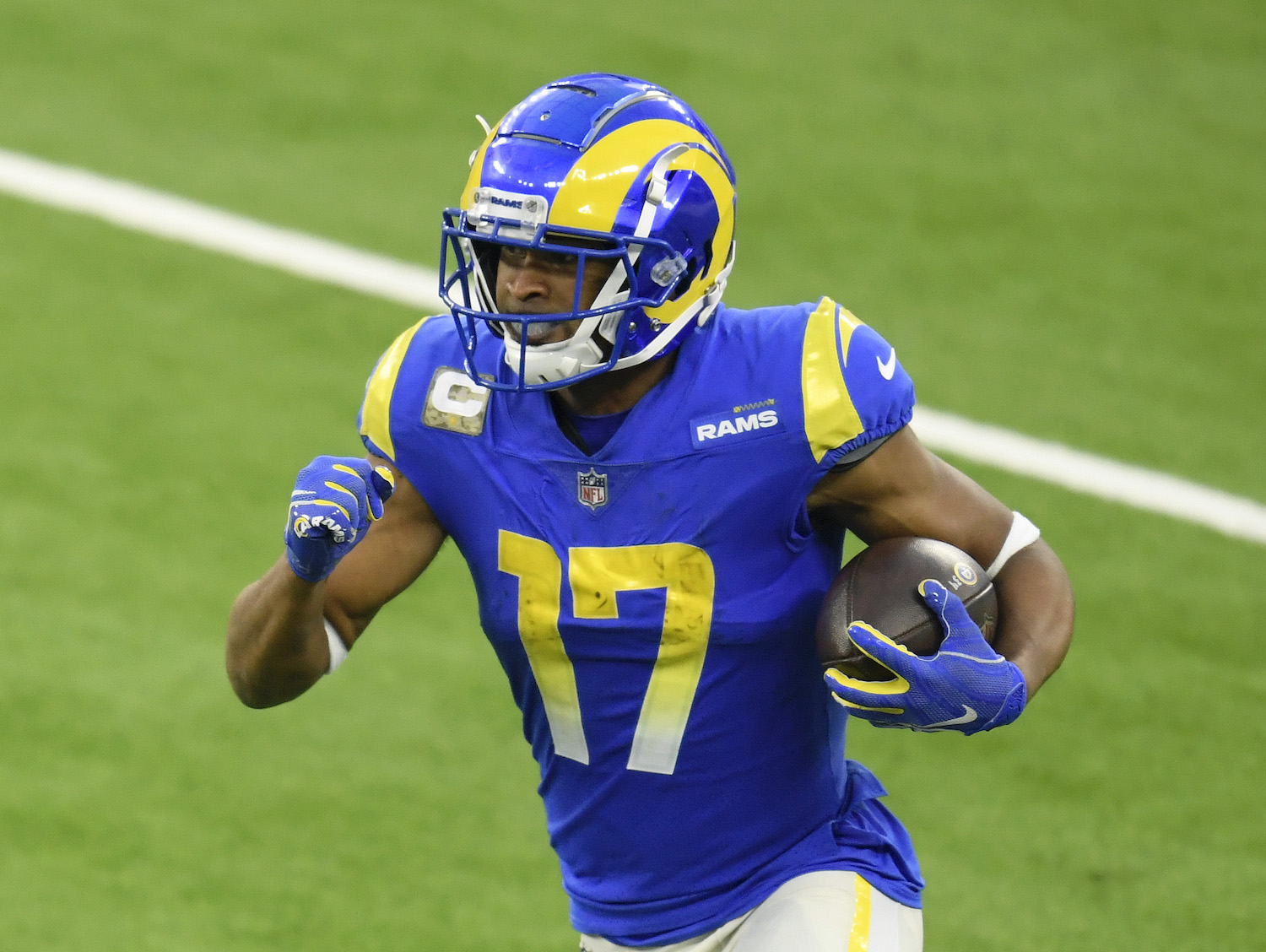 How the LA Rams' Robert Woods Found Inspiration in His Dying Sister's Final Words
Just hours before her death, Robert Woods' sister said something that didn't register until after she had died. Those words forever changed the way he approaches life and how plays the game.
Veteran wide receiver Robert Woods is in his eighth NFL season and fourth with the LA Rams. In the last two seasons, Woods has become a favorite target of quarterback Jared Goff and taken his game to the next level, catching more than 85 passes and breaking the 1,000-yard mark each season. He's a model for the younger receivers to follow by his work ethic at practice and in the game. Woods setting a good example is by design and is something he sets out to do every day in everything he does. It all started years ago in the final hours of his young sister's life. 
Robert Woods returns to USC and gets his degree
After three seasons with the USC Trojans, including a consensus All-American year as a sophomore, the Buffalo Bills drafted Robert Woods with the 41st overall selection in the 2013 NFL Draft. 
With the Bills, Woods wasn't extraordinary but productive. That's what happens when you're on the receiving end of passes from five different quarterbacks. Despite that lack of consistency under center, Woods could be counted on for three or four touchdowns and around 500 yards per season.
Off the field, during each spring, he would return to USC to take classes to finish up his degree. 
"I chose to forgo my senior year and decided to pursue my dreams and enter the NFL draft, but I never once wavered with the thought of not completing my education," Woods told ESPN in 2016. "Once I got to the NFL, I would always hear people say, 'What you going back to school for? Ain't you in the NFL?' Yes, but I had other dreams to fulfill, and that was ensuring I received my degree. After my football career, my education would carry me throughout. I made a requirement to come back every spring and finish what I started." 
In 2016, Robert Woods received his degree in policy, planning, and development.
Robert Woods joins the Rams and excels
A year after graduating, Robert Woods returned to LA on a more permanent basis when he signed with the hometown Rams. With studying for classes no longer part of his daily routine, Woods redirected his focus to studying the Rams' offensive playbook and working with quarterback Jared Goff.
Just days after signing with the Rams and still in the offseason before official team workouts had started, Woods and Goff began meeting at different nearby high schools and colleges to work on timing. 
"The biggest thing is what we were talking in meetings, we're coming out here and we're seeing it happen on the field," Woods told ESPN in a 2017 interview. "We're seeing how the defense plays, and the big thing is coming out here and executing what we're talking about."
Goff immediately took notice of Robert Woods and his work ethic when they first started working together.
"You can tell how much it means to him and how bad he wants it," Goff said. "He's just a competitor. He's smart, he's fast, he's strong, and he competes every day. He wants to be the best he can be every day, and you can tell."
Woods' sister inspired him in her dying moments
Robert Woods and his work ethic on the football field and his drive to complete his degree were both born from tragedy. It all started just hours before his 17-year-old sister Olivia breathed her last breath and died of cancer in 2007.
Woods, who was 15 at the time of his sister's death, told the story of his sister and her impact on his life when he delivered the commencement speech at his USC graduation back in 2016. He described how his sister taught him how to hit a baseball and how she helped him when he was struggling with math.
He said it was just hours before she died, in the pair's final conversation, when she told him something that would forever change his life. "You have to be a model," she told her younger brother.
"It later hit me what she was talking about, what she was asking of me. She wanted me to be a role model," Woods told the crowd of students and their families. "Living in a spotlight of being a top recruit, playing under the bright lights at the [Los Angeles] Coliseum or constantly being watched by those following our footsteps, she wanted me to know, for us all to know, to be an example and a leader for those who are next."
Robert Woods has lived those words every day since, going back and getting his college degree, putting in the extra work on the football field to be the best he can be. Through tremendous pain and tragedy, Woods found inspiration. And today, he tries to share it and inspire others just like his sister inspired him.