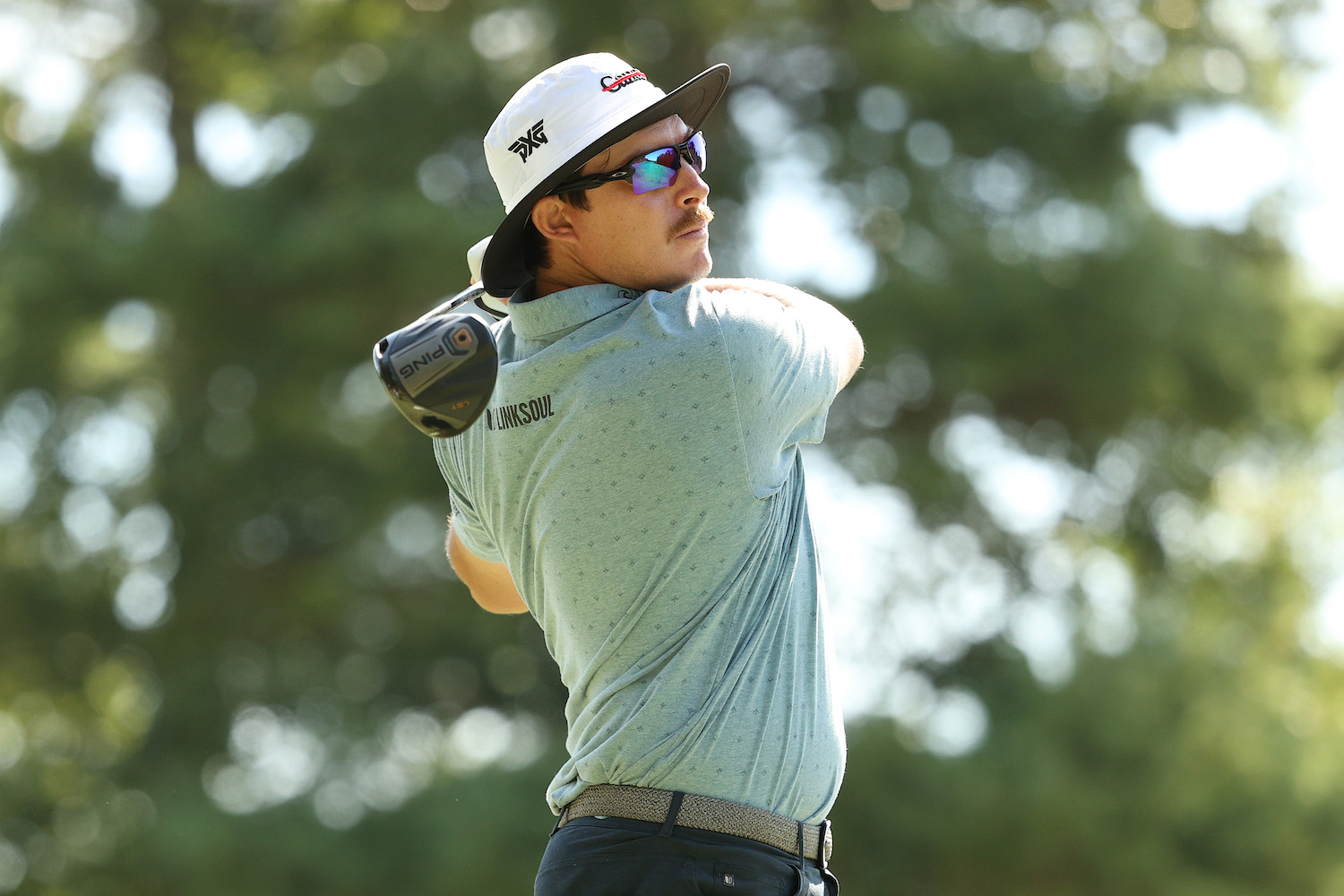 How Twitter Might Land You a Round of Golf With PGA Tour Player Joel Dahmen Next Weekend
PGA Tour player Joel Dahmen is having the best season of his career. After missing this weekend's cut, he took to Twitter and found some golfing action with a few of his followers.
If given the opportunity, any casual weekend golfer would jump at the chance to play with a PGA Tour player. Even though most realize they wouldn't stand a chance of winning, the experience would make a memory to last a lifetime. For several Twitter followers of PGA Tour player Joel Dahmen, that's exactly what happened this weekend.
Joel Dahmen's career on the PGA Tour
Since 2014, Joel Dahmen has been a journeyman and played a variety of professional tours, including the PGA Tour Canada, PGA Tour Latinoamerica, and the Korn Ferry Tour. He's had his PGA Tour card, lost it, and regained it for the 2017-18 season.
While Dahmen won a couple of times in Canada, his best finish on the PGA Tour occurred last season when he finished second at the 2019 Wells Fargo Championship. In 2020, Dahmen has had his best season as a pro with five top-10s, ranked No. 38 in FedEx Cup rankings, and earned more than $2 million in prize money. And he's currently ranked No. 59 in the Official World Golf Rankings.
After a tie for 10th a few weeks ago at the PGA Championship, Dahmen joined the rest of the world's best players this week in Boston at The Northern Trust, the first tournament of the FedEx Cup Playoffs. Dahmen shot 2-under after two rounds, but it wasn't good enough and he missed the cut by a stroke.  
Joel Dahmen sends out tweet looking to play followers
Just hours after Joel Dahmen realized his score wouldn't be good enough to play on the weekend, he took to Twitter looking for some of his followers in the area to play a round with him for some money.
"This might be a bad idea, but im going to throw it out there. I have the weekend off and I'm looking for a money game tomorrow. I'd prefer it be close to Foxborough area. Want to play for enough money that it matters, but not enough to have to sell my house."
Not surprising, Dahmen received plenty of responses to his invite, including one from Phil Mickelson, who had also missed the cut at The Northern Trust.
"You don't say," Mickelson replied.
A couple of hours after his initial tweet, Dahmen had his golfing partners lined up and expressed his thanks and surprise at the response.
"Thanks to everyone who reached out! This got way more action than I anticipated. I will be sure to do more of this going forward, although I prefer not missing cuts. I'll update everyone tomorrow on the action."
Everyone had a great time
On Saturday, Dahmen returned to Twitter with an update on the round. By all accounts, everyone had a great time, including the top 100 ranked player in the world. 
"Today was a great day. Thanks to Cody and Andrew for the game. Thorny Lea ended up being a thorn in our side! The pros ended up losing a couple bucks, but worth the fun!"
It was win-win for everyone involved. Joel Dahmen got in some weekend work while the players he joined had one of the most memorable golf experiences ever. As he initially suggested, Dahmen plans on doing this again in the future. It wouldn't be surprising to see other golfers do it as well. In all honesty, it sounds like a made-for-television show on Golf Channel — Golfers Who Missed Cuts vs. Their Twitter Followers.