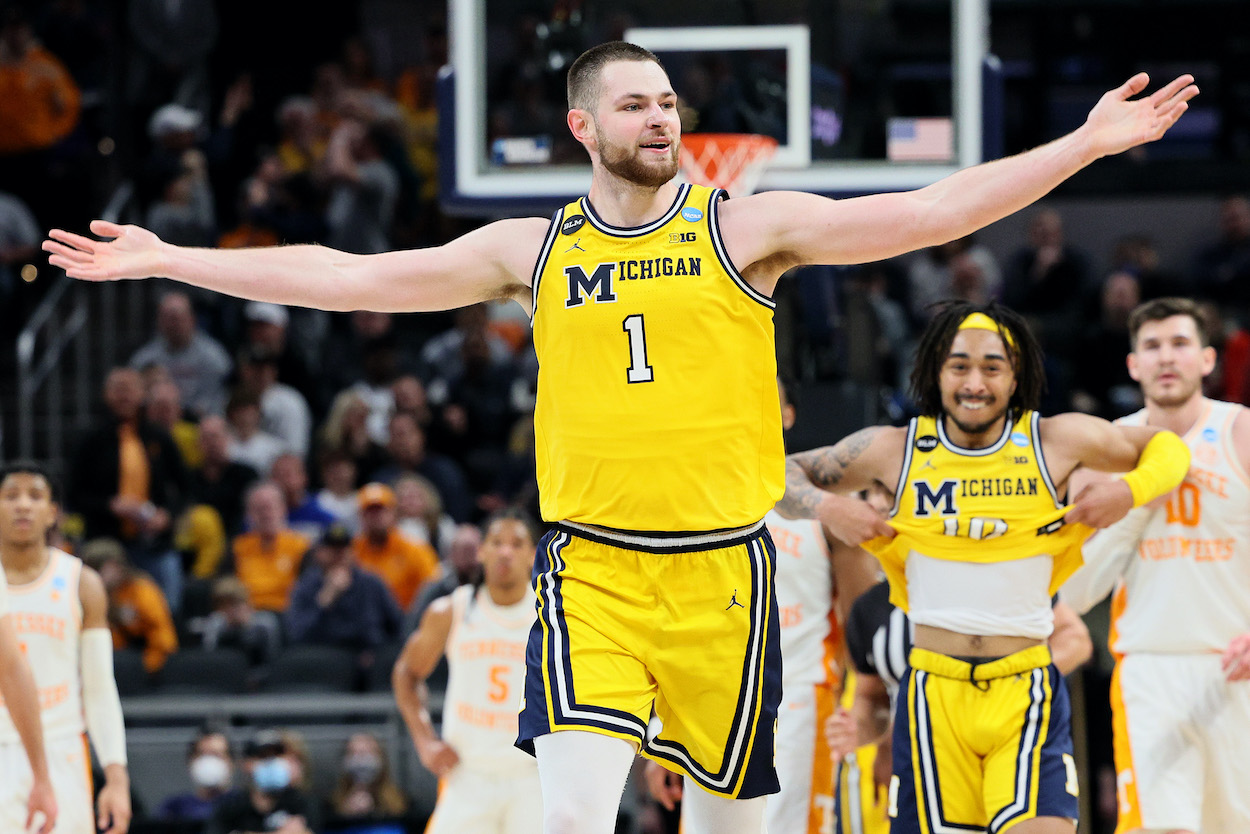 Hunter Dickinson Ruthlessly Calls Out Big Ten Rivals for Doubting Michigan
Michigan has proved its doubters wrong in the NCAA Tournament, and Hunter Dickinson let them hear about it.
If you asked most of Big Ten country a few weeks ago, Michigan didn't even deserve to be in the 2022 NCAA Men's Basketball Tournament this year. The Wolverines went 17-13 in the regular season, and they blew their chance to make a statement in the Big Ten tournament by blowing a 17-point lead to Indiana in their first game.
But Juwan Howard's bunch still snuck into the Big Dance as an 11 seed, and it proved it belonged by upsetting Colorado State and Tennessee to reach the Sweet 16. Now, with Michigan one of only two Big Ten teams still alive in the NCAA Tournament, star center Hunter Dickinson decided it was time to fire back at the doubters.
Michigan is proving doubters wrong in the NCAA Tournament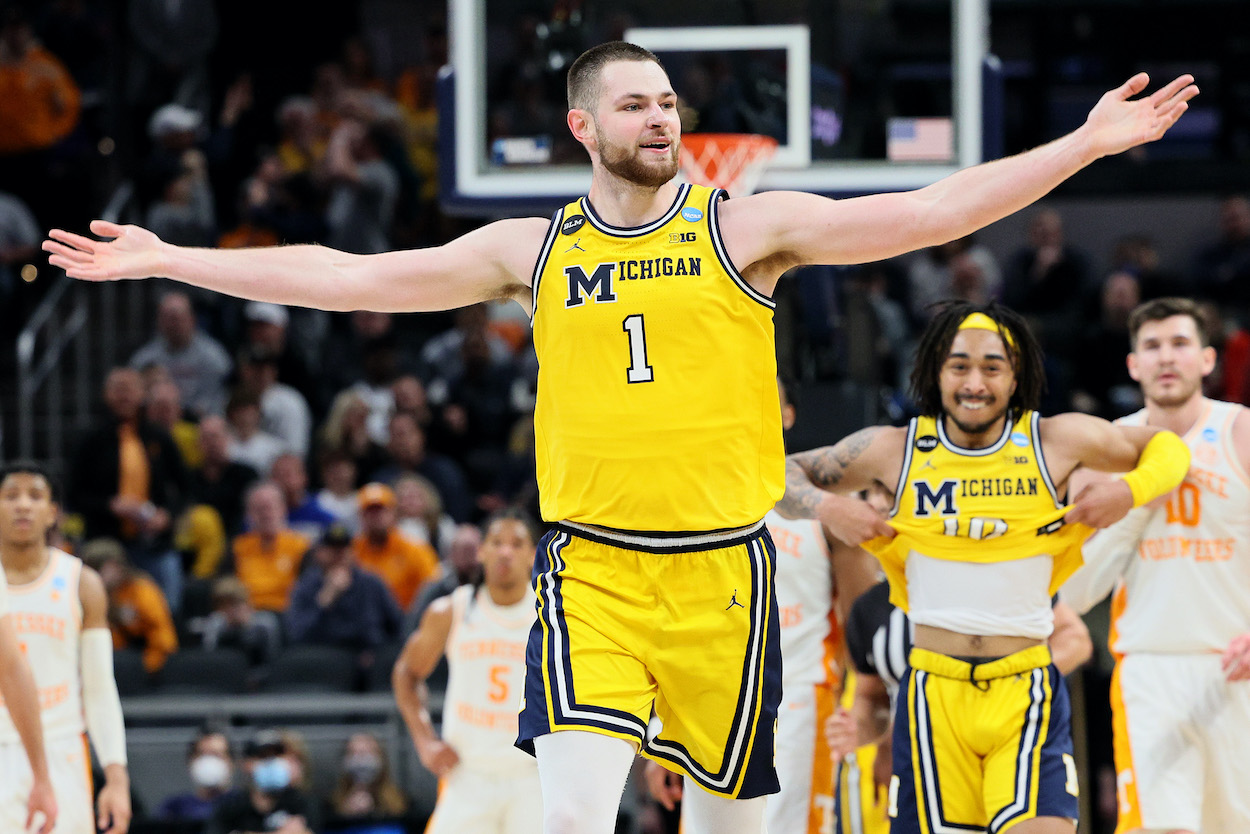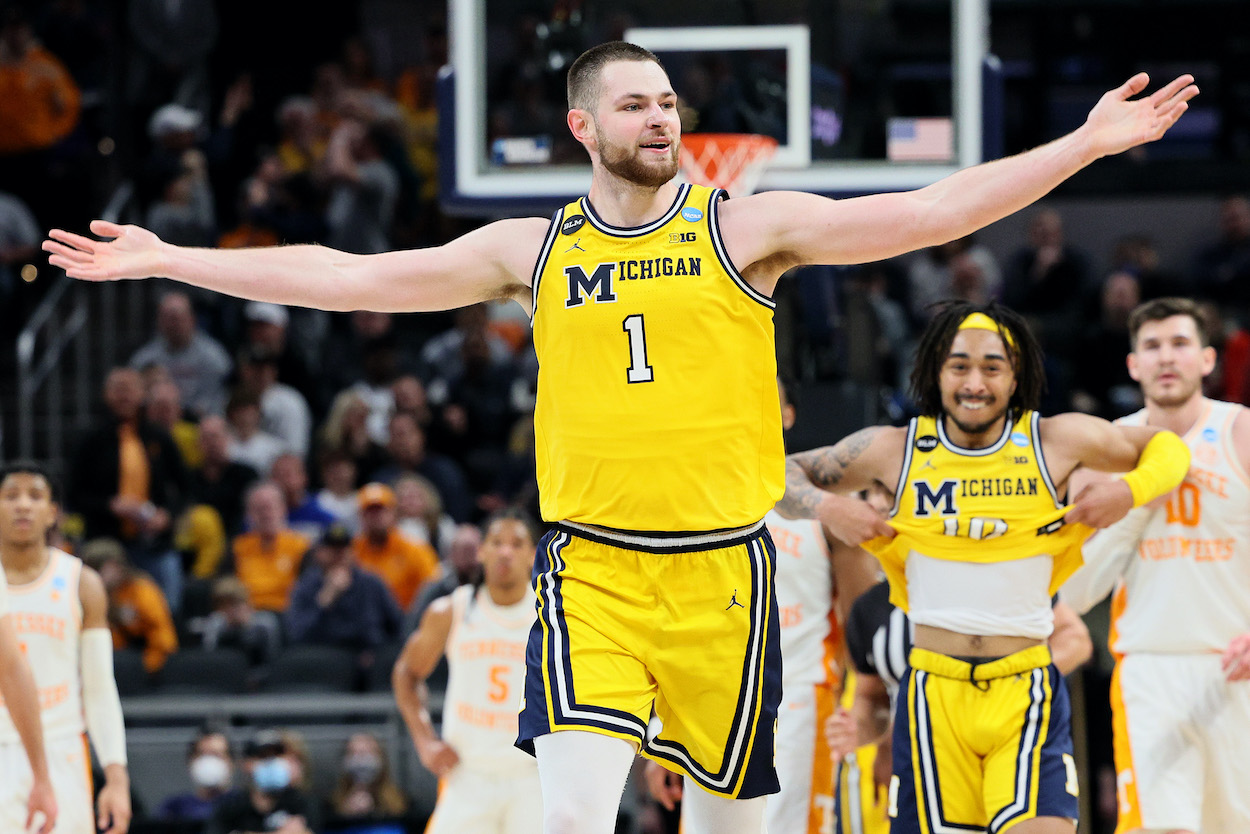 Michigan was one of a handful of teams firmly on the bubble leading up to Selection Sunday. The Wolverines' 17-13 regular-season record (11-9 Big Ten) was a pesky stain on their resume, but five Quadrant 1 wins and a top-five strength of schedule eventually pushed them through to the field of 68.
Many college basketball fans and media pundits, especially ones associated with the Big Ten, bashed Michigan for squeaking into the NCAA Tournament on brand alone. But the good thing about the tournament? You get to prove you belong on the court, and that's exactly what the Wolverines have done through two rounds.
Michigan rallied in the second half to knock off Colorado State in the Round of 64, then turned around two days later and made another second-half comeback to upset Tennessee. It's the fifth straight time the Maize and Blue has reached the Sweet 16.
Meanwhile, Wisconsin, Ohio State, Illinois, Iowa, Indiana, and Rutgers have already bowed out of the tourney.
Who's laughing now?
Hunter Dickinson fires back at trash-talking Big Ten teams
Dickinson heard the haters and doubters loud and clear leading up to the NCAA Tournament. All he did to respond was drop 21 and 27 points in the first two rounds to lead Michigan to the Sweet 16, and after watching most of the Big Ten falter before the Wolverines, he felt it was time to fire back.
"This season was definitely not the best, not the way that we wanted to (play), and other fans definitely let us know that, particularly Michigan State, Illinois, who else? Ohio State. Who else? There was another team in there … Oh, the team down in Madison, the red and white team (Wisconsin). They definitely let us know how they felt about our season.

We heard those 'N-I-T' chants. They were hurtful. They definitely hurt. It's funny how they'll be watching us on Thursday back in their cribs."

Hunter Dickinson
Those teams can talk all they want, but Dickinson is the one still playing late in March.
A chance to silence the critics
Regular season results do matter in college basketball, but all fans will remember is how far a team went in the NCAA Tournament. And Michigan has a chance to be the last Big Ten team standing in 2022.
It won't be easy to get there, though. The Wolverines drew an experienced Villanova squad in the Sweet 16, while Purdue will face off against the Cinderella of this year's tourney, St. Peter's. With Dickinson dominating the paint as he has through two rounds, it's not crazy to think Michigan can reach the Elite Eight and maybe even the Final Four.
Dickinson got his shots in this week, but the best way to stick it to his critics is to do it on the court.
Like Sportscasting on Facebook. Follow us on Twitter @sportscasting19.