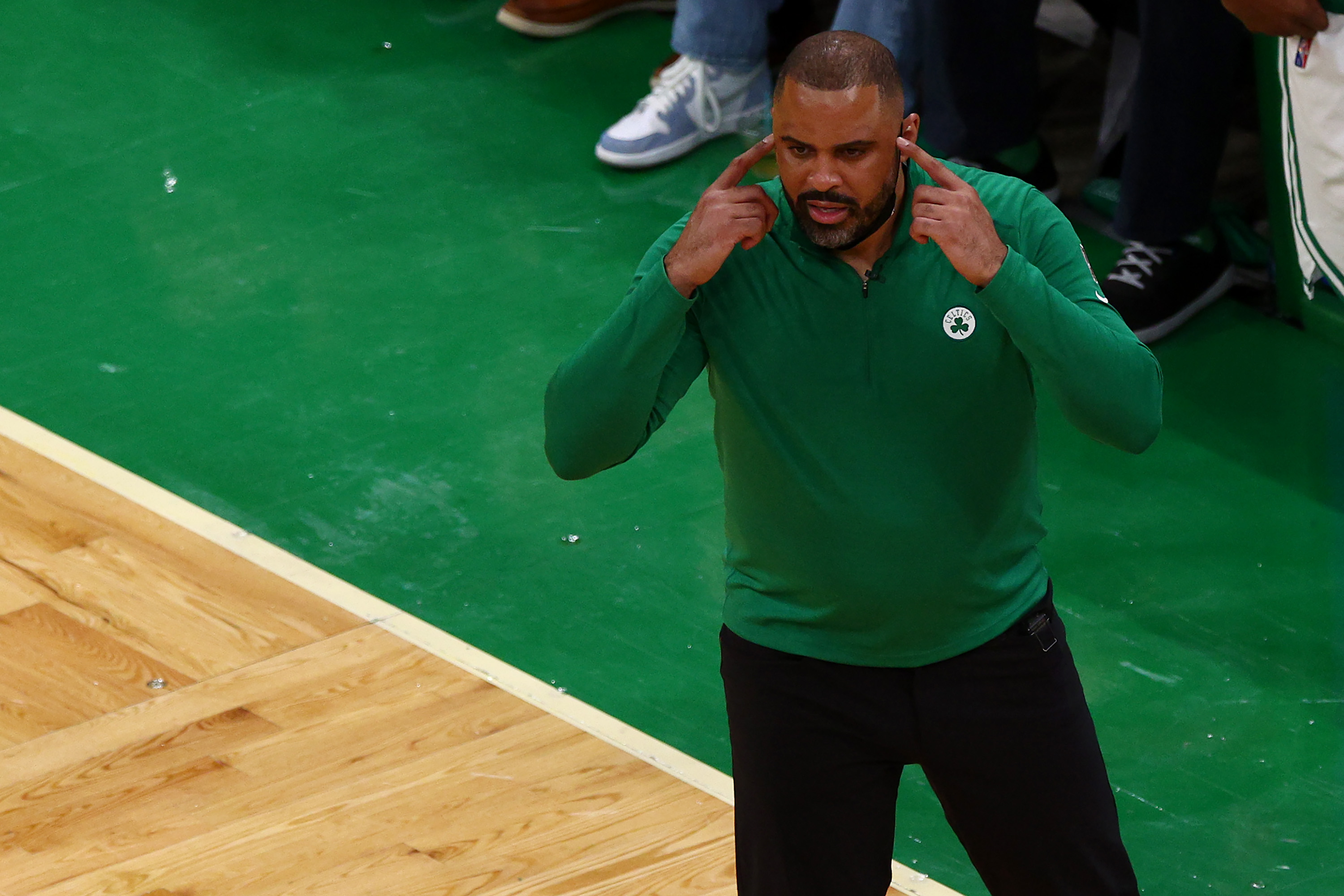 Ime Udoka Report Draws Responses From Former Boston Celtics Players, Speculation From Others
Boston Celtics coach Ime Udoka is in the headlines for all the wrong reasons.
We haven't even hit training camp yet, and the Boston Celtics are already off to a horrible start. It goes well beyond the knee injuries to Danilo Gallinari and Robert Williams III. Wednesday night's late report regarding head coach Ime Udoka has the Celtics in a mess.
They're not in a mess because they don't know who will coach the team if he gets hit with a lengthy suspension. The problem is there's too much speculation as to what's happening, and other innocent people are getting involved. Reports say Udoka is likely to be suspended, possibly for the entire season, and former Celtics players weighed in on the situation.
Ime Udoka reportedly had an 'improper' relationship with a female staff member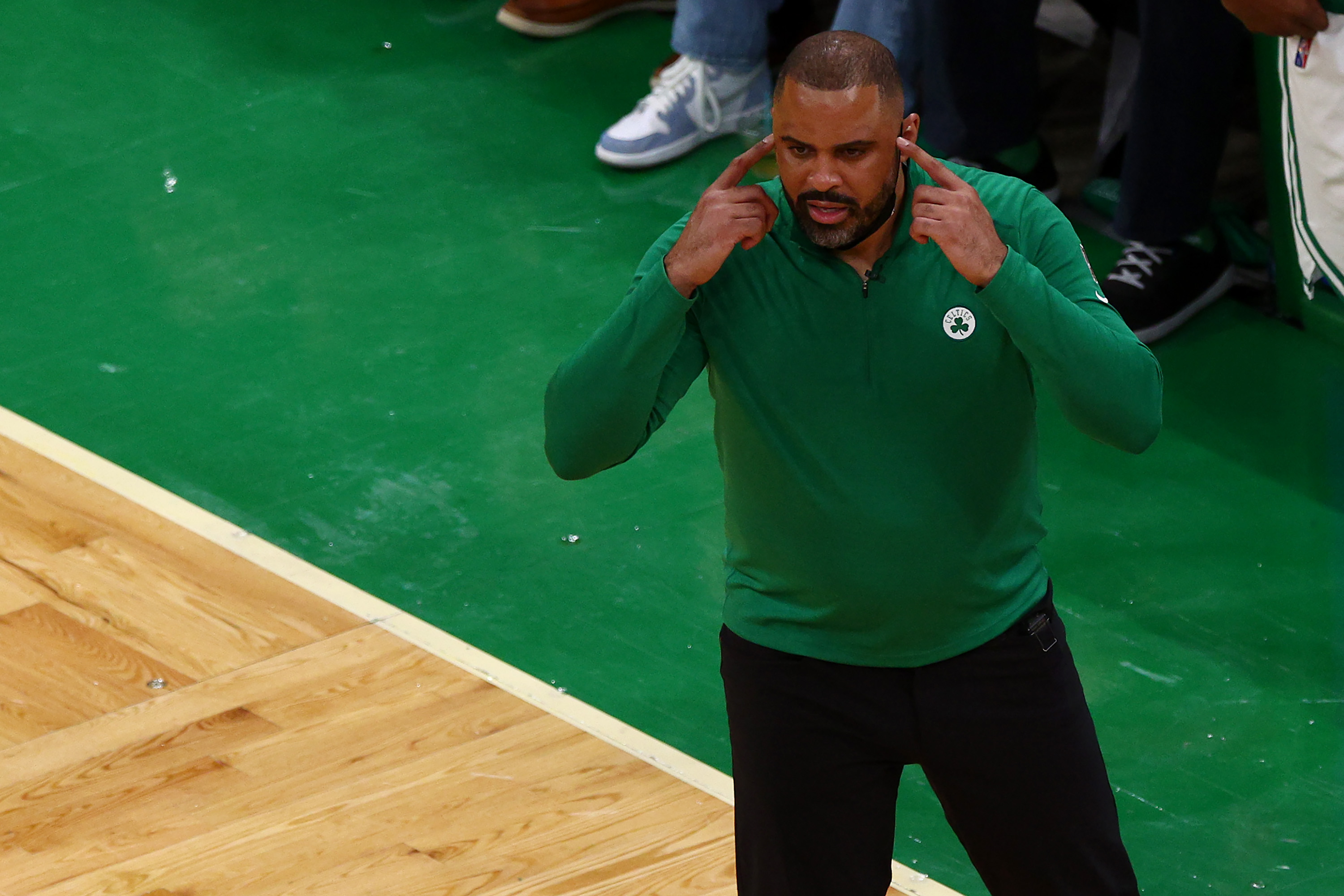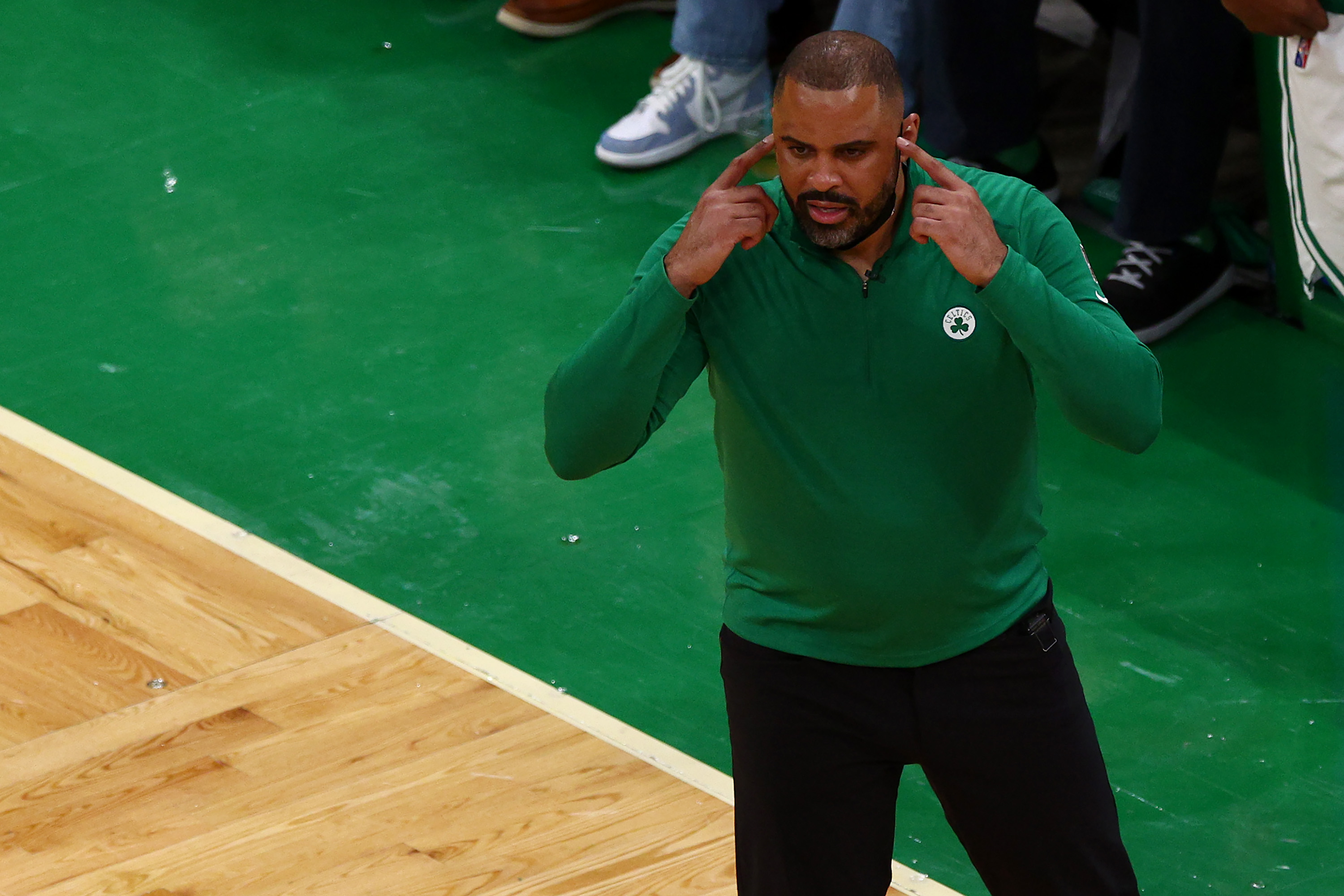 Late Wednesday night, ESPN's Adrian Wojnarowski shocked the NBA world — more specifically Celtics fans — when he tweeted that Udoka faced a lengthy suspension for an "unspecified violation of organizational guidelines." 
Shams Charania of The Athletic added more to the story later Thursday.
"Celtics coach Ime Udoka had an improper intimate and consensual relationship with a female member of the team staff, sources tell @TheAthletic @Stadium," he tweeted. "It's been deemed a violation of franchise's code of conduct."
The biggest problem is that the Celtics haven't addressed the situation, leaving others to speculate. Some people have (inaccurately) posted photos of female staff members on social media, claiming they were involved.
It's an ugly situation all around. Speculation will only continue until it's addressed. It's unknown exactly what Udoka did. Reports are that it was a consensual relationship, but the same reports say he's looking at a season-long suspension. Again, speculation takes over as people wonder if there's much more to the story.
Former Celtics players weigh in on the Udoka report
With less than a week before training camp begins, the Celtics have been in the news for all the wrong reasons. They've had to deal with a pair of knee injuries to Gallinari and Williams, but the recent Udoka report has taken over the headlines.
Former Celtics star Paul Pierce believes the report of a year-long suspension wouldn't fit the crime.
"It should just be a fine not a suspension," Pierce posted on Twitter.
Enes Freedom, who had two stints with the Celtics, took a shot at Udoka on social media. Freedom, known for being outspoken, believes he's being blackballed by the NBA for his anti-China comments. During his second time with the Celtics, he was traded to the Houston Rockets and hasn't played in the NBA since. He took a shot at the Celtics coach for the way he felt he was treated.
"No need for revenge," Freedom tweeted. "Just sit back and wait. Those who hurt you will eventually screw up themselves and if you're lucky, God will let you watch. Karma."
Two-time Celtics All-Star Isaiah Thomas also posted about the Udoka situation.
"Don't let this Ime thing get talked about more than Brett (Favre)!!" Thomas wrote.
Thomas spoke in reference to former Green Bay Packers quarterback Brett Favre, who's involved in a Mississippi welfare scandal.
The Udoka situation has people talking. The Celtics need to step in and prevent the speculation.
Like Sportscasting on Facebook. Follow us on Twitter @sportscasting19 and subscribe to our YouTube channel.