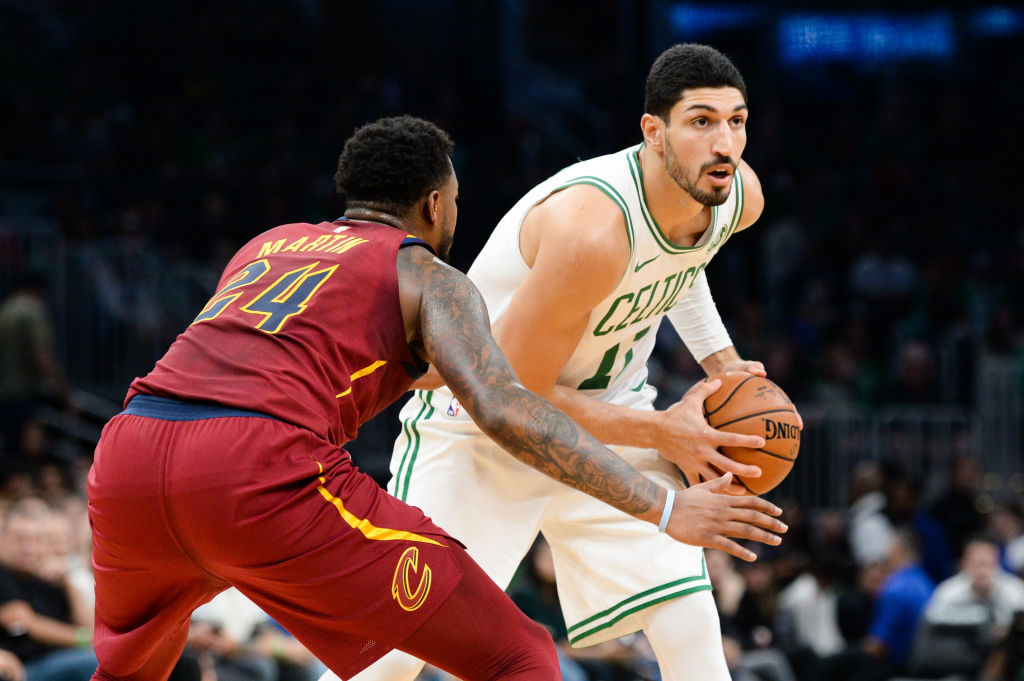 NBA: Did Enes Kanter Call Out LeBron James Over His China Comments?
On Monday night, LeBron James made some regrettable comments about the NBA's China controversy. Shortly after Enes Kanter appeared to respond.
Over the past couple of weeks, the NBA has been wrapped up in controversy regarding Hong Kong and China. While everyone from team head coaches to commissioner Adam Silver has weighed in on the issue, everyone took notice when LeBron James sided with China over Rockets general manager Daryl Morey. Enes Kanter not only noticed but made his own statement.
Taking to Twitter Monday night, the Celtics center fired off several messages about the price of political freedom. The seemed to stand in direct response to James' comments.
LeBron James' controversial comments
While it's newsworthy anytime LeBron James speaks, the NBA star made major news before the Los Angeles Lakers' game against the Golden State Warriors. Rather than issuing a few bland cliches, he took aim at Morey.
"I don't want to get into a [verbal] feud with Daryl Morey, but I believe he wasn't educated on the situation at hand, and he spoke," James told reporters. "And so many people could have been harmed not only financially, physically, emotionally, spiritually. So just be careful what we tweet and say, and we do, even though, yes, we do have freedom of speech, but there can be a lot of negative that comes with that, too."
While James tried to backtrack on Twitter, he was met with a social media firestorm. Many fans accused him of protecting his own business interests over standing up for what's right; one NBA player, however, chimed in, too.
Enes Kanter takes to Twitter
Boston Celtics center Enes Kanter is never shy about sharing his opinion about any topic. On Monday night, he took to Twitter, apparently to express his disappointment with LeBron James.
After tweeting "Wow dude!" with a face-palming emoji, Kanter simply said "SMH," and a nauseous emoji. He would then fire off a longer, more verbose tweet, indirectly explaining his feelings on the matter.
Kanter, who is a Turkish national, listed the series of challenges that he and his family have faced for their opposition to President Recep Tayyip Erdoğan. He concluded the tweet by simply reminding his followers that "FREEDOM IS NOT FREE." While he never directly mentioned LeBron James or China, his message was clear: personal profit should never come before standing up for human rights.
Kanter's political activism
As he alluded to in his tweet, Kanter has a history of political activism. He's been an outspoken critic of Erdoğan, even calling him "the Hitler of our century." Unsurprisingly, that has made him and his family the target of various pro-Turkey forces.
The center has, among other issues, had problems traveling with his Turkish passport, before it was ultimately canceled. Turkey also issued a warrant for his arrest, accusing Kanter of being part of a terrorist group. Those factors have caused him to remain in the United States, refusing to play games in Canada or Europe due to safety concerns.
None of the issues have stopped Kanter from speaking out, though. For the center, opposing injustice comes before all else. "I hope people around the world will open their eyes to the human rights abuses," he wrote in a Players Tribune post. "Things have gotten very bad over the last year. This is not my opinion."
While Kanter didn't name names, his stance on global issues became clear once again on Monday night. People in the public sphere have an obligation to speak out against injustice, even if you're LeBron James.