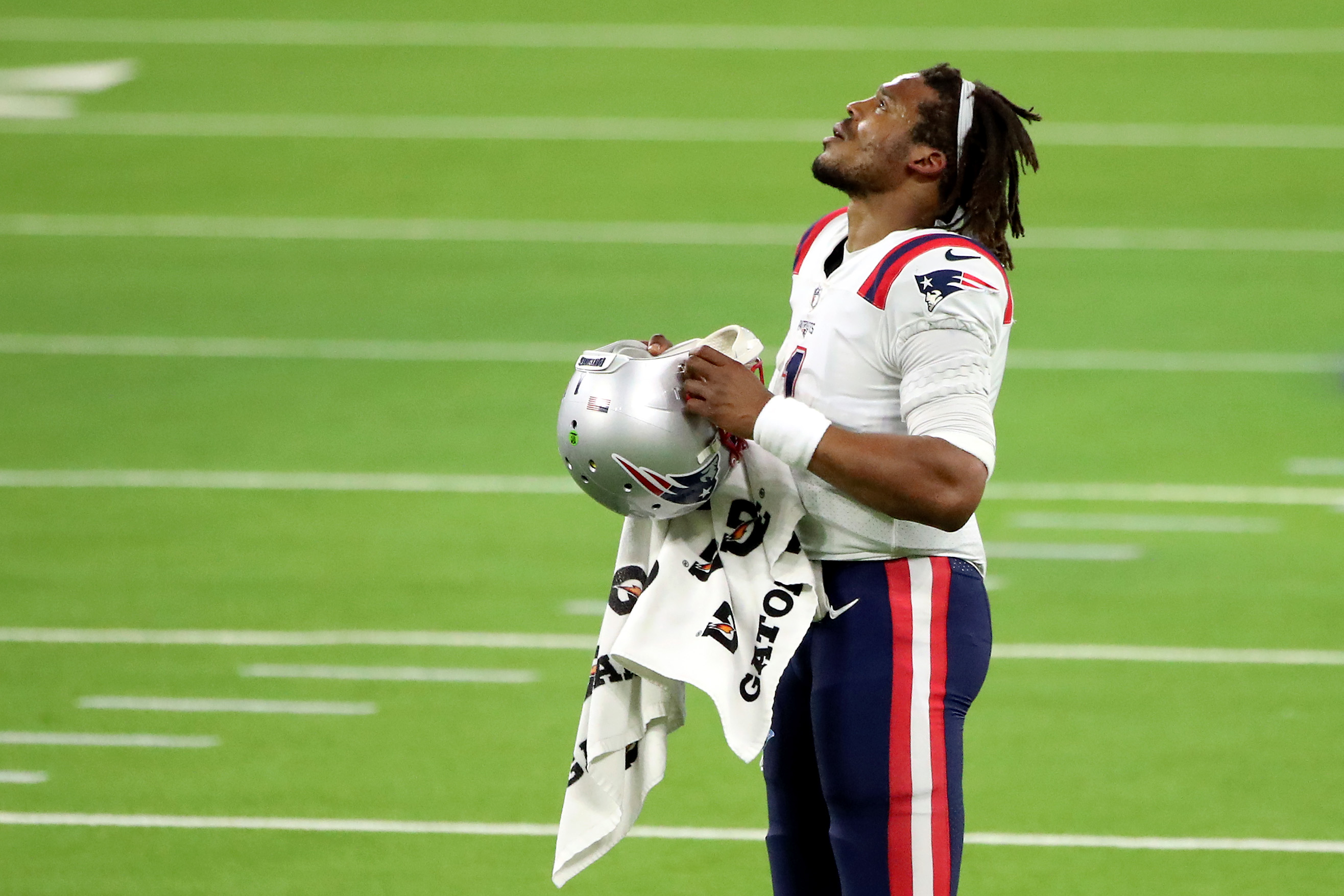 Is Cam Newton Washed Up? 'Injury Has Changed Him'
New England Patriots Cam Newton has had a rough go in the passing department this year. Is the former MVP washed up?
Cam Newton has been put in a tough position. He's been asked to replace six-time Super Bowl champion Tom Brady as the quarterback of the New England Patriots. He's also been asked to do so with very little offensive help. He hasn't helped himself with his recent play, leading people to wonder if the 2015 MVP's days in the NFL are numbered. Some coaches and scouts in the NFL recently expressed their thoughts on Newton.
Cam Newton was the NFL's best in 2015
Cam Newton was the No. 1 pick in the 2011 NFL draft out of Auburn. Selected by the Carolina Panthers, Newton made an impact in his rookie season when he made the first of his three Pro Bowls despite the Panthers' 6-10 record. During that first year, Newton threw for 4,051 yards and 21 touchdowns.
In 2013, Newton had his first winning season with the Panthers, going 12-4 and making his second Pro Bowl. He tossed 24 touchdown passes and showed his durability by starting all 16 games for the third straight season. His best year, however, came two years later.
During the 2015 season, Newton and the Panthers finished the regular season with a 15-1 mark. Newton threw a career-high 35 touchdown passes and racked up 3,837 passing yards in the regular season. The Panthers then defeated the Seattle Seahawks and Carolina Panthers to earn a berth in the Super Bowl. The Denver Broncos ended Carolina's magical season with a 24-10 win in Super Bowl 50. Newton was named the league's MVP for the 2015 season.
Newton struggling with the New England Patriots
Cam Newton got off to a nice start in his New England Patriots debut, rushing for two touchdowns and completing nearly 80% of his passes in a 21-11 victory over the Miami Dolphins in Week 1. He followed that up by throwing for 397 yards and a touchdown while rushing for two more scores in a 35-31 loss to the Seattle Seahawks.
After getting the Patriots off to a 2-1 start, Newton was diagnosed with the coronavirus (COVID-19). He missed the game at the Kansas City Chiefs and then played poorly at home against the Denver Broncos. Newton threw five interceptions and zero touchdown passes in consecutive home losses to the Broncos and San Francisco 49ers. New England failed to win a game in October and had dropped four out of five games.
The Patriots turned things around with a come-from-behind victory over the winless New York Jets. They won four of five games to climb back to 6-6 before getting thumped last week by the Los Angeles Rams. Although Newton does have 11 rushing touchdowns, he has struggled mightily in the passing game. He has five touchdown passes and 10 interceptions.
Is Newton washed up?
In Albert Breer's Sports Illustrated column, Breer set out to speak with some NFL coaches and scouts to get their take on Cam Newton. Breer asked them if Newton had anything left in the tank. One AFC defensive coordinator told Breer, "I think his body is breaking down. Never has been a great passer of the ball. Looks to me like he is an older tailback playing QB."
One NFC defensive coach agreed that he might be washed up. "No," he said when asked if there was anything left. "Throwing motion is messed up. Injury has changed him. Doesn't look like he can bring his arm all the way back. And he can't raise the ball up either. Almost looks like his shoulder prevents him from getting his elbow up in his throwing motion. It's awkward."
One AFC executive said Newton might still have something left, but he likely won't be commanding a long-term deal anywhere. "I think he can still be a competitive starter, but he's far from elite because he's not the same athlete with speed anymore," he said. "He's playing with a below-average receiving corps too, so if his next team has better weapons, I could see his statistics increase and become a more effective passer. I don't see him getting a large multiyear deal on the market. … He's always had a jerky, power-type motion. Maybe he doesn't have quite the velocity he used to. He's more accurate down the field than on the short stuff actually … because of his motion."