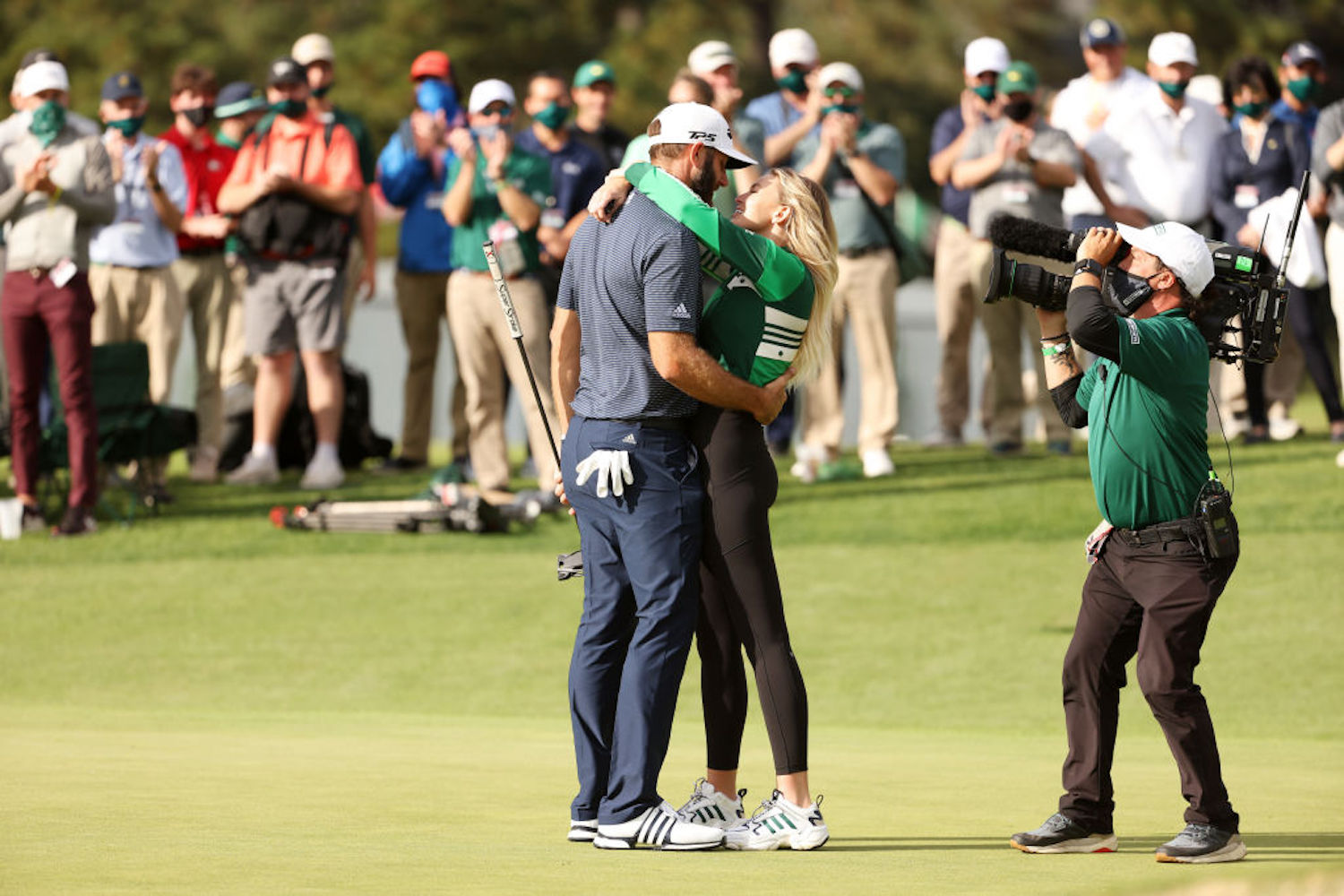 Is Dustin Johnson Married or Is He Still Dating Paulina Gretzky?
Dustin Johnson is routinely seen embracing The Great One's daughter, Paulina Gretzky, after his wins, but are the two married?
After Dustin Johnson wins a PGA Tour event (which happens often nowadays), he snuggles up and gives a big smooch to Paulina Gretzky on the 18th green. Paulina is famously the daughter of NHL legend Wayne Gretzky, and she's been apart of Johnson's life for nearly a decade.
The couple has been dating for seven years and has even built a small family together, but have Johnson and Gretzky tied the knot yet?
How did Dustin Johnson and Paulina Gretzky meet?
Dustin Johnson and Paulina Gretzky are two of the most famous celebrities in their respective fields. Johnson is the No. 1 ranked golfer in the world, while Gretzky routinely graces the covers of the world's most popular magazines for her modeling career.
But the way the two met was anything but glamorous. Gretzky told the story of their first meeting to Golf Digest in 2014.
"At the end of 2011, my mom played with Dustin in the Wednesday pro-am at Tiger's tournament at Sherwood. She told Dustin about her daughter, blah-blah-blah, and invited him to the house that night.," Gretzky said. "I'm sure he was rolling his eyes, and so was I when my mom invited me over to meet this golfer she had just met. So I show up looking like a complete ragamuffin, and here's this really cute guy. I didn't stay long, but he was such a gentleman, so endearing. He's always been that way to me. We exchanged numbers, and here we are."
That awkward encounter sprouted into a relationship a few years later.
Dustin Johnson and Paulina Gretzky have two children together
Johnson and Gretzky started dating in early 2013. The two evidently hit it off right away, and they got engaged later that year after dating for just seven months. Hey, when you know you know.
In 2015, the couple welcomed their first child, Tatum Gretzky Johnson. Two years later, they had their second son and named him River Jones Johnson. The couple is still together today, and they just celebrated Johnson's biggest win of his career last November at The Masters.
Are Johnson and Gretzky married?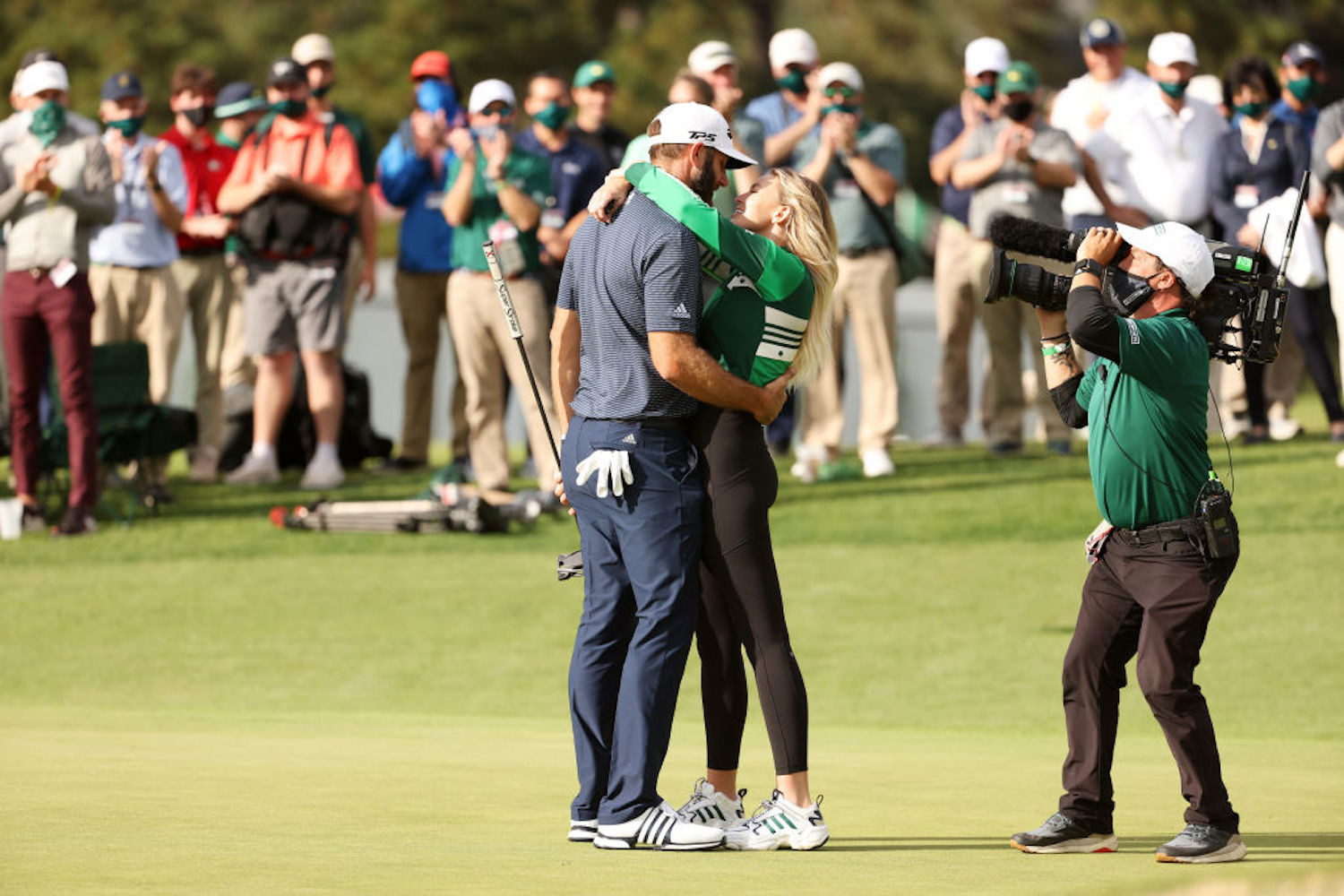 Despite being engaged since 2013, Johnson and Gretzky still haven't tied the knot as of January 2021. The two celebrities each have extremely busy schedules, so they're still waiting for the right time to get hitched.
"We wanted so badly to do it this fall, but with his schedule and all it's been hard to set a date," Gretzky told Golf Digest in 2014. "It'll be our special day, and we just want it to be right and to fit."
Johnson and Gretzky aren't worried about what anyone thinks about their relationship. One day they'll get married. But until then, they're going to enjoy being a family.
"The most important thing for me right now is my relationship with Dustin," Gretzky told Golf Digest. "It's what makes me happiest, and I don't think there's anything wrong with that. It's important for people to realize it's OK to be happy in love. If you don't want to give up something, that's OK. But if you're in love and have to give up something, that's OK, too."