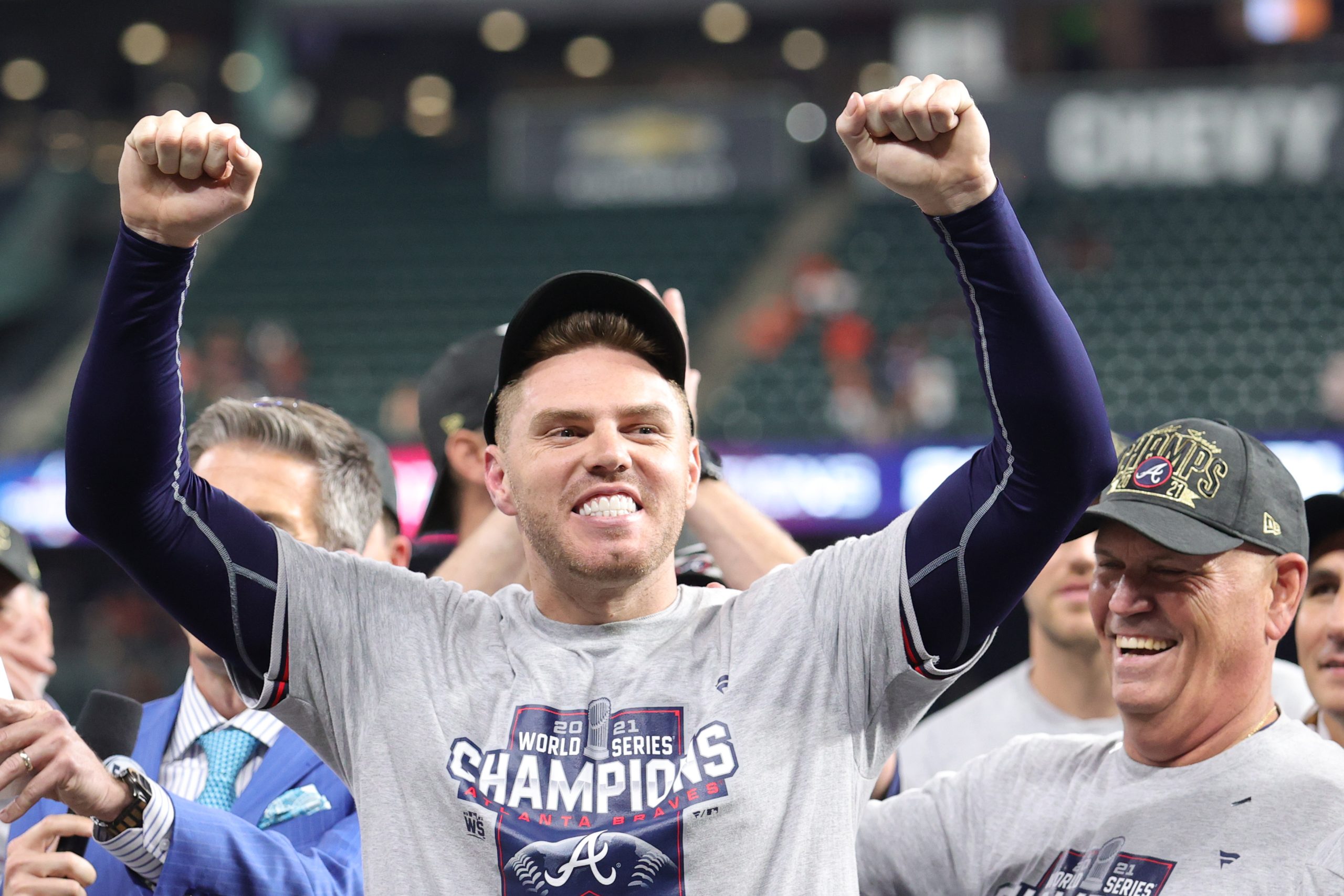 Is Freddie Freeman's Time Up With the Atlanta Braves?
Will Freddie Freeman be suiting up for the Atlanta Braves in 2022?
There isn't a lot of talking going on between Major League Baseball players and the owners as the lockout extends into spring training. There has, however, been some talk going on outside the lines. Some of that chatter has been about Freddie Freeman, the man who guided the Atlanta Braves to the 2021 World Series.
Freeman's future with the Braves is in serious doubt. He and the Braves failed to extend his deal before the lockout, and there's been some talk that he may not have been happy with the way those negotiations went. Some MLB players are even having some fun speculating on where Freeman may wind up.
Freddie Freeman's 12-year run with the Braves in jeopardy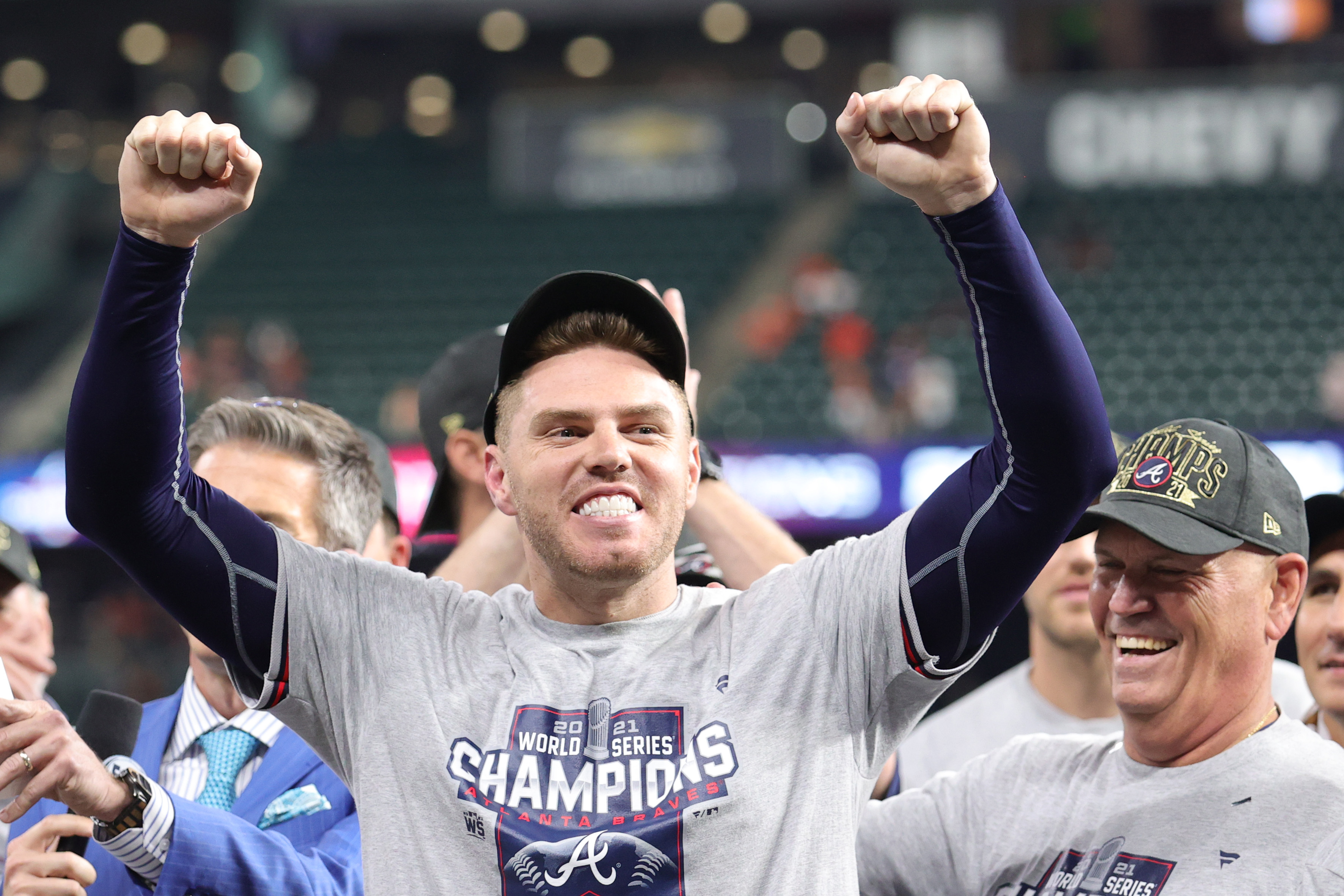 Freeman has been the face of the Braves for the last 12 seasons. He was named the National League MVP in the 2020 season that was shortened by the pandemic. Last year, he guided the team to a World Series title.
Freeman is a five-time All-Star, yet his status with the Braves remains in serious question. Last season was the final year of an eight-year, $135 million extension, and the Braves paid him $22 million in 2021.
The Braves and Freeman failed to reach an agreement before the lockout. Buster Onley of ESPN reported Freeman turned down a five-year, $135 million offer from the team. Freeman reportedly wants six years.
Only also reported that one baseball official believes that the Braves are ready to move on.
"I think (the Braves) will move quickly to settle on an alternative and move on to get past the conversation," one official said, per Onley.
Chipper Jones believes Freddie Freeman is 'frustrated' with the Braves
During an appearance on The Game 92.9 Atlanta Sports Radio, former Braves third baseman Chipper Jones said he hopes Freeman returns, but he didn't sound convinced it would happen. Jones spent all 19 of his big-league seasons in Atlanta. He'd love Freeman to make a run at his longevity with the Braves.
"I haven't talked to Freddie in quite some time, but I'm sure he's probably a little frustrated this wasn't done in spring training last year," Jones said. "But the fact of the matter is we didn't have any fans in the stands. We've got owners that didn't know where revenue was going to be at the end of the year and maybe held out a little bit.
The bottom line is, Freddie, I believe before it's all said and done, will be playing where he wants to play. I know he's a West Coast guy. I know he has a home here in Atlanta. But Freddie, if he wants to play for the Atlanta Braves, will be playing for the Atlanta Braves. I'll leave it at that."
Jones said he hopes Freeman will retire a Brave maintain his legacy in Atlanta.
"The Braves have made some offers, didn't make him happy," Jones said. "He's being courted by some of the prettiest girls on the block right now, so he's going to listen to them. I hope that he thinks about his legacy here in Atlanta and they can come to some sort of an agreement to bring him back.
"I'd love nothing more than for his number to go right in there in between Dale Murphy and Bobby Cox. In between the 3 and the 6, a couple down from the No. 10 because we've talked about it often and I think it would be a shame if that didn't happen."
Some MLB players are having fun speculating on Freeman's future
While teams and players cannot negotiate during the lockout, there have been plenty of rumors and speculation circulating on social media. Many of those talks have revolved around Freeman.
San Francisco Giants pitcher Alex Wood responded to a Twitter post from Jared Carrabis, who wrote, "People forget that the last home run in a sanctioned MLB game was by Freddie Freeman for the World Series champion Atlanta Braves."
Wood responded with, "I just hope he keeps hitting homers for the Braves and not you know…anyone in the NL West." For good measure, he added three laughing emojis.
Los Angeles Dodgers third baseman Justin Turner then responded to Wood's post, writing, "#DislikeButton." He, too, added the laughing faces.
It's clear Freeman is a wanted man, but do these guys know a little something about Freeman with the West Coast talk?
It should be an interesting ride for Freeman, but right now the first step is Major League Baseball getting its act together so baseball will be a thing in 2022.