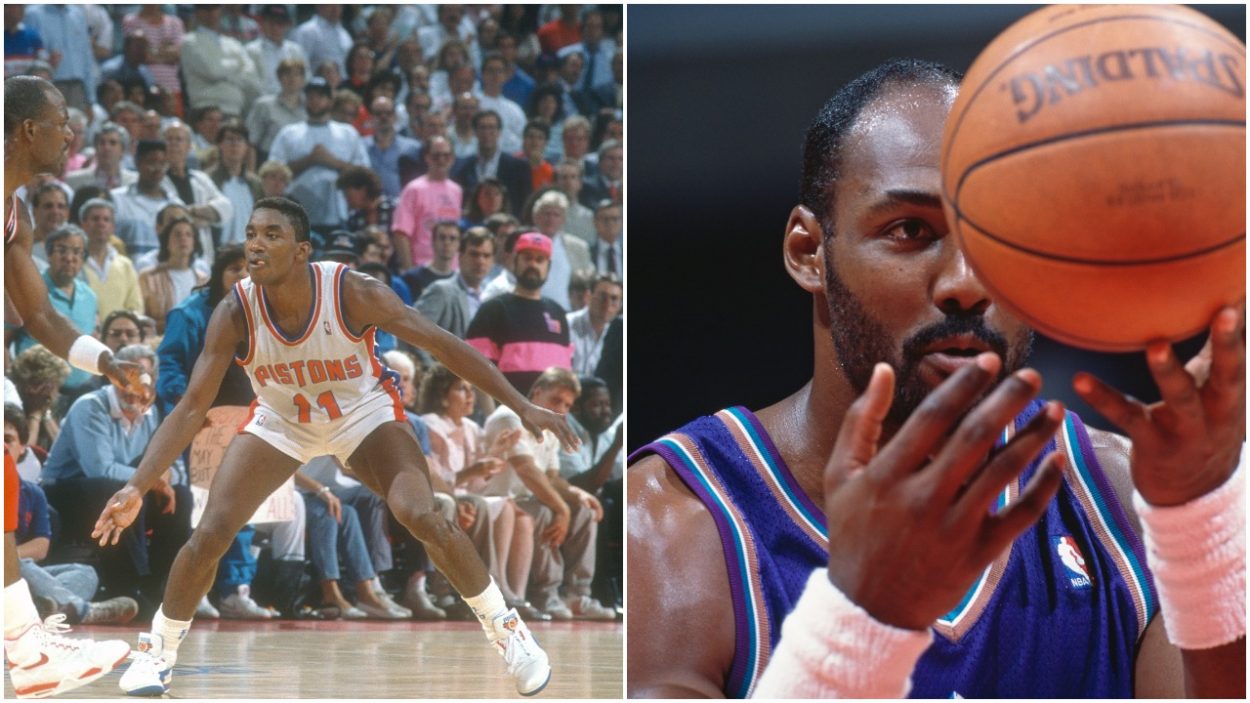 Isiah Thomas Once Blasted Karl Malone for Doling Out the Most 'Vicious' and 'Intentional' Foul in NBA History: 'It Was Horrific'
Isiah Thomas and the "Bad Boy" Detroit Pistons dished out their fair share of hard fouls and cheap shots in their heyday. However, it's Thomas who feels he was the recipient of the most "vicious" foul in NBA history, courtesy of one Karl Malone.
The details of Detroit Pistons legend Isiah Thomas' contentious relationship with former Dream Team players like Michael Jordan and Scottie Pippen are pretty well-known at this point. But Thomas also had a rather icy relationship with longtime Utah Jazz forward and fellow Dream Teamer Karl Malone, thanks mainly to an infamous clash between the two in 1991 that still infuriates Zeke to this day.
Karl Malone brutally elbowed Isiah Thomas in the head during a 1991 meeting between the Jazz and Pistons
Karl Malone is one of the strongest players in NBA history. It probably wouldn't feel good to be on the other end of an elbow from the Mailman, especially when he executed the act intentionally.
Isiah Thomas and the "Bad Boy" Pistons handed out quite a few cheap shots in their day. Physical play and psychological intimidation were part of their aura. However, what Malone did to Thomas on December 14, 1991, put the likes of Bill Laimbeer and Rick Mahorn to shame.
Thomas absolutely destroyed the Jazz and John Stockton in the first matchup between the two teams during the 1991-92 season. The USA Basketball selection committee had just chosen Stockton over Isiah for the Dream Team. Zeke responded by hanging 44 points on Stockton's head two weeks into the season.
That apparently didn't sit well with Malone.
The Jazz and Pistons met again one month later. Thomas drove to the rack early in the first quarter and beat former Jazz center Mark Eaton before being met at the rim by Malone. Only, the Mailman never truly made an attempt on the ball. He elbowed Thomas in the head, giving Zeke 40 stitches and prompting outrage from the Pistons bench.
Mark Aguirre came onto the floor and tried to confront Malone. Pistons head coach Chuck Daly was utterly enraged, as was Laimbeer.
Replays clearly showed Malone angling his elbow directly at Thomas' head. He was fined $10,000 and suspended for a game. The foul continues to haunt Isiah.
Thomas called Malone's elbow the most "vicious" and "intentional" foul in NBA history
Isiah Thomas remains resentful about Malone's foul.
The Hall of Fame point guard explained during an interview with the Detroit News in 2020 that his wife began crying as soon as he returned home and that there was "so much swelling" on his head. The 40 stitches probably told as much.
But Thomas went a step further. He suggested (h/t Yahoo Sports) Malone's transgression is the most severe and intentional play in NBA history.
Whether Malone's elbow is the cheapest foul in NBA history is up for debate. As dirty as it was, the fact that Malone goes up seemingly to make the block at least implies a basketball move, even if the elbow is anything but that.
Realistically, this might not even be the dirtiest elbow in league history. Metta Sandiford-Artest's shot on James Harden in 2012 appeared every bit as intentional and occurred after a made basket. The former Los Angeles Lakers forward was suspended seven games for that action.
In any case, Thomas' bitterness about the foul is very much in line with his belief that he received as much punishment as any other player in the NBA. There's also a strangeness to Malone's motives, considering the nature of the Stockton-Thomas relationship.
There's irony to the Malone foul
Karl Malone has never explicitly stated why he elbowed Isiah Thomas in the head. Zeke obviously doesn't understand why the Mailman did it, either.
However, given how John Stockton's selection to the Dream Team seemed to wound Isiah and how events transpired thereafter, one might suggest that Malone delivered the blow as retribution for Stockton. If that's the case, it's quite ironic.
Thomas served as Stockton's presenter when he entered the Naismith Memorial Basketball Hall of Fame in 2009. That says a lot about his respect and admiration for Thomas, regardless of potential petty dramas or Malone taking revenge in his name.
Regardless, it's probably fair to say there isn't much love lost between Thomas and Karl Malone. After all, 40 stitches leave a pretty indelible scar.
Stats courtesy of Basketball Reference.