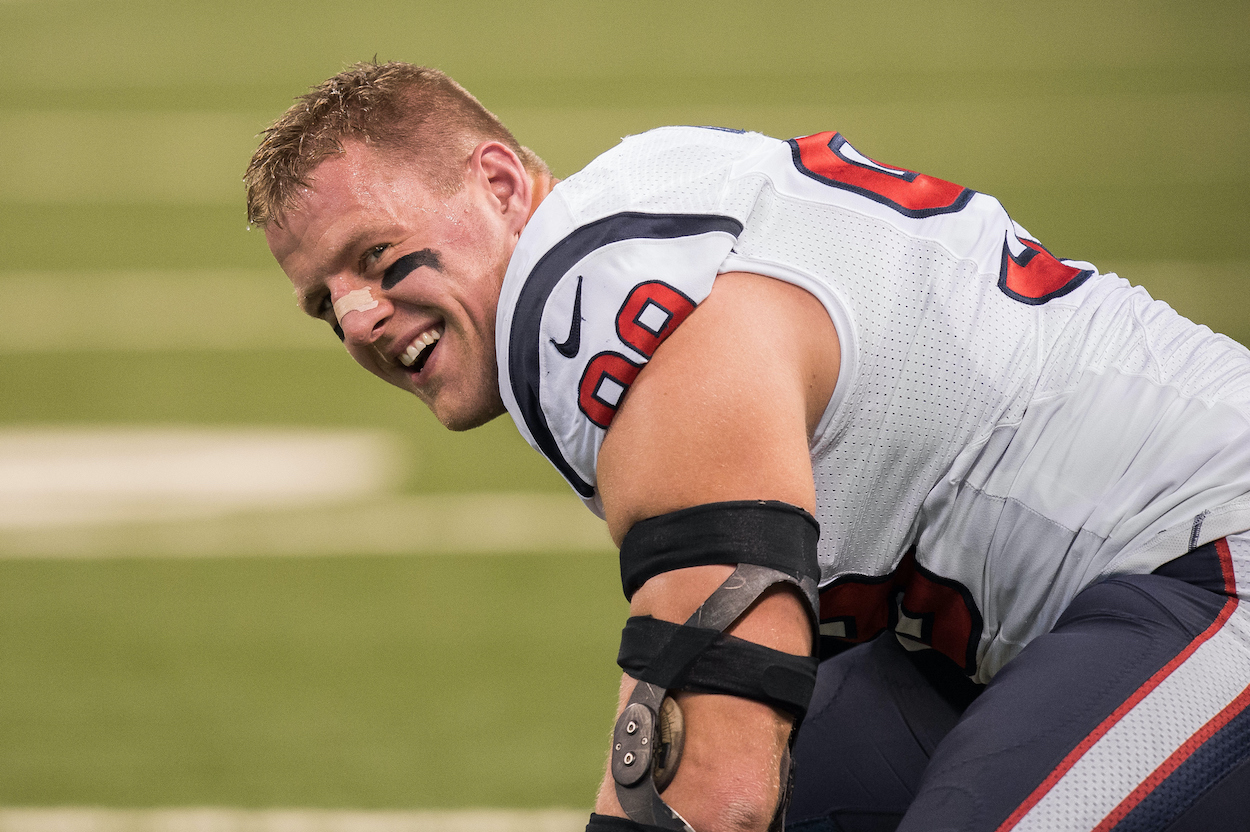 J.J. Watt Sends NFL Fans Into a Frenzy About His Free Agency Decision With a Quirky Science Fact
NFL fans are watching J.J. Watt's every move, and his latest cryptic tweet sent the Internet into a frenzy about his impending decision.
J.J. Watt is having a little bit of fun with his impending free agency decision.
The longtime Houston Texan is on the open market for the first time in his NFL career, and he's relishing the opportunity to mess with fans on the Internet along the way. Watt has been dropping hints about his next destination all over social media in the last week, and his latest cryptic tweet about mitochondria has sent fans into a frenzy.
J.J. Watt is finally leaving the Houston Texans
After 10 years in Houston, J.J. Watt will be suiting up for an NFL team not named the Texans next season. Watt was released by the Texans last week and immediately became a free agent for the first time.
In 10 seasons with the franchise that drafted him, Watt recorded 101 sacks, 172 tackles for loss, 25 forced fumbles, and three defensive touchdowns. He leaves Houston as one of, if not the greatest player to ever put on a Texans uniform. Despite making five Pro Bowls and being named a First-Team All-Pro five times during his tenure in Houston, Watt never made it past the AFC divisional round in the playoffs.
"I have sat down with the McNair family and I have asked them for my release," Watt said in a video message posted to Twitter last week. "We have mutually agreed to part ways at this time…
"I came here 10 years ago as a kid from Wisconsin who had never really been to Texas before. And now I can't imagine my life without Texas in it. The way that you guys have treated me – except for draft night, you booed me on draft night – but the day after that you treated me like family."
NFL fans are watching J.J. Watt's every move in free agency
As is the case for every high-profile free agent, NFL fans and Internet sleuths have their notifications on for every time J.J. Watt tweets or posts an Instagram. If Watt so much as tweets a picture of his dogs (which he did over the weekend), fans will explode with theories on what it means in terms of his free agency decision.
So, Watt has decided to make his next destination a humorous guessing game. On Feb. 17, Watt simply tweeted, "free agency is wild." When asked by a fan a few days later when he plans on signing, Watt responded, "I scroll through door dash for like an hour before I pick a restaurant man… You're gonna have to give me a second to choose a new team and city."
But Watt's latest tweet is the most mysterious of all.
J.J. Watt sends NFL fans into a frenzy with cryptic science fact
On Tuesday morning, Watt sent NFL fans into a frenzy with a quirky, seven-word science fact. "Mitochondria is the powerhouse of the cell.," Watt wrote in the tweet. Almost immediately, the search term, "mitochondria" started trending on Twitter, and fans flooded Watt's replies with theories of what the cryptic message could be about.
Now, everyone who took elementary biology knows this to be true, but no one believed Watt was simply interested in sharing his cell knowledge with the world. So, what could it mean?
Fans quickly surmised that it could be a hint that Watt is joining the Buffalo Bills. It's a stretch, but the Mitochondria Research Society just happens to be located in Buffalo, N.Y. Others believed Watt could be referencing the Cleveland Browns, who play in FirstEnergy Stadium. Energy. Mitochondria provide energy to the cell.
As you can tell, some of these theories have gone off the rails.
No one except J.J. Watt knows exactly what he meant when he decided to tweet that out to the world, but it's more than likely he's just messing with NFL fans looking for a hint in everything he says in free agency. Let's just wait on an official announcement, shall we?