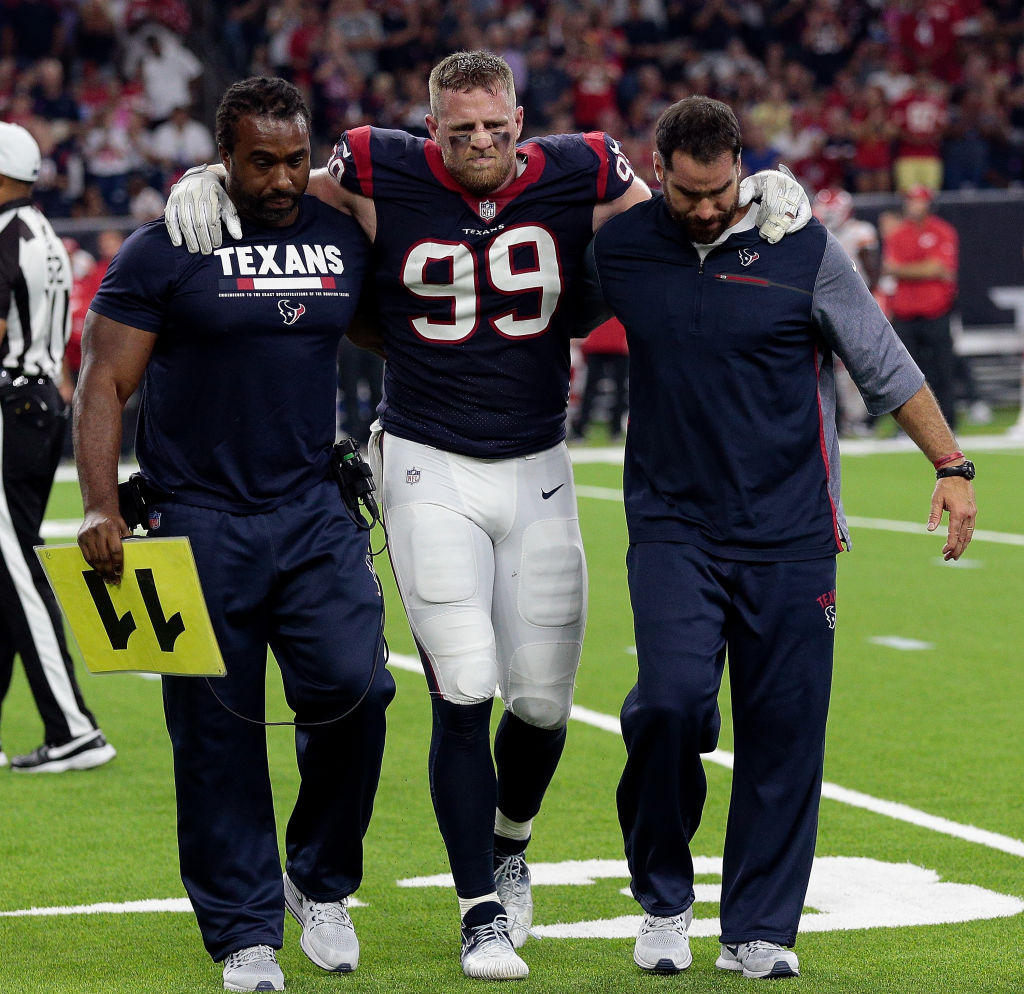 You Won't Believe How Long J.J. Watt's Injury History Is
J.J. Watt has been one of the most injury-plagued players in the NFL of recent years. How much better could he have been if he never got hurt?
J.J. Watt is undeniably one of the best defensive players in the NFL when healthy. Watt has won three Defensive Player of the Year awards in his nine-year career. He has also made been selected as a First-Team All-Pro five times.
The 6-foot-5, 288-pound defensive end is an elite mix of speed and power. The Houston Texans would not have had the recent success they've enjoyed without Watt terrorizing quarterbacks for them. If only Watt could stay on the field consistently.
J.J. Watt's extensive injury history
Watt actually played in all 16 games of his first five seasons. However, Watt had to leave the Texans' 2015 playoff loss early due to a multitude of injuries. Following the season, Watt has surgery to repair five torn muscles in his torso, groin, and upper legs. He also had surgery before the 2016 season for a herniated disk in his back.
Watt returned for the start of the 2016 season but re-aggravated his herniated disk injury in the third game of the year. He didn't return the rest of the year.
Watt played the first five games of the 2017 season before fracturing his leg against the Kansas City Chiefs and undergoing season-ending surgery. He finally completed another full season in 2018, but in 2019 he tore his left pectoral muscle midseason and missed eight games. Watt returned for the playoffs and should be ready to go for 2020.
J.J. Watt should be fresh and healthy for the start of the 2020 season
Watt has only played one full season since 2015, but he will have a full offseason with no surgeries or lingering injuries leading up to the start of this season in September. The Texans' All-Pro recovered from his torn pectoral in time for the team's playoff game last season and will be 100 percent healthy to start the year.
That's great news for Texans' fans, as Watt proved he could still rush the passer at an elite level in his last full season in 2018. Watt recorded 16 sacks and a career-high seven forced fumbles two seasons ago.
How good would J.J. Watt be if he never got hurt?
J.J. Watt is most likely a Hall-of-Famer when it's all said and done. His production when he's on the field is unmatched.
Watt recorded 20.5 sacks in a season twice in his career, which is tied for the seventh-highest in a single season in NFL history. He has 96 career sacks to his name, already putting him at 41st all time. Watt averages 0.86 sacks per game in his career. If he hadn't missed 32 regular-season games to this point, Watt would have around 124 career sacks. That would be the 19th-highest total in NFL history with Watt still only 30 years old.
Watt could conceivably be on pace to shatter the NFL record for total sacks if he never got injured. Bruce Smith still has the record with 200 total sacks in 18 seasons. If Watt played 18 full seasons averaging his normal 0.86 sacks per game, he would reach 247 career sacks.