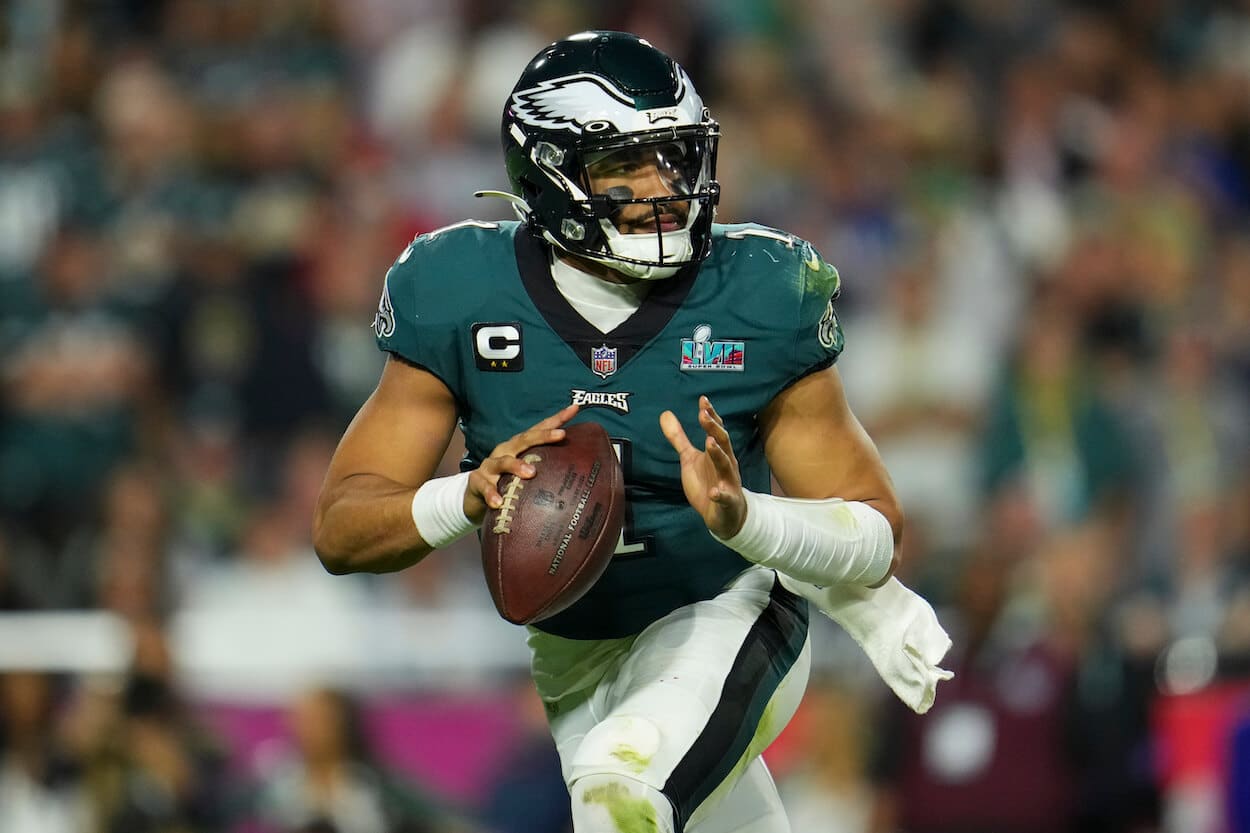 Jalen Hurts Proved in Super Bowl 57 He's Closer to Patrick Mahomes' Level Than You Think
Jalen Hurts deserves to be mentioned in the elite tier of NFL QBs.
If you made a tiered list of the top quarterbacks in the NFL right now, Patrick Mahomes would be by himself on the top rung. In five years as a starter, the Kansas City Chiefs QB has made five Pro Bowls, won two Super Bowl titles, and won two MVP awards. No other QB in the league deserves to sit with Mahomes on the top tier.
The next tier gets a bit messy with Josh Allen, Joe Burrow, Lamar Jackson, Justin Herbert, and Aaron Rodgers jockeying for position on the platform. But hiding behind those goliaths all season has been Philadelphia Eagles QB Jalen Hurts. Most people just didn't see him — or didn't want to — until he solidified his place as a top-five quarterback in the NFL in Super Bowl 57.
Jalen Hurts was brilliant in Super Bowl 57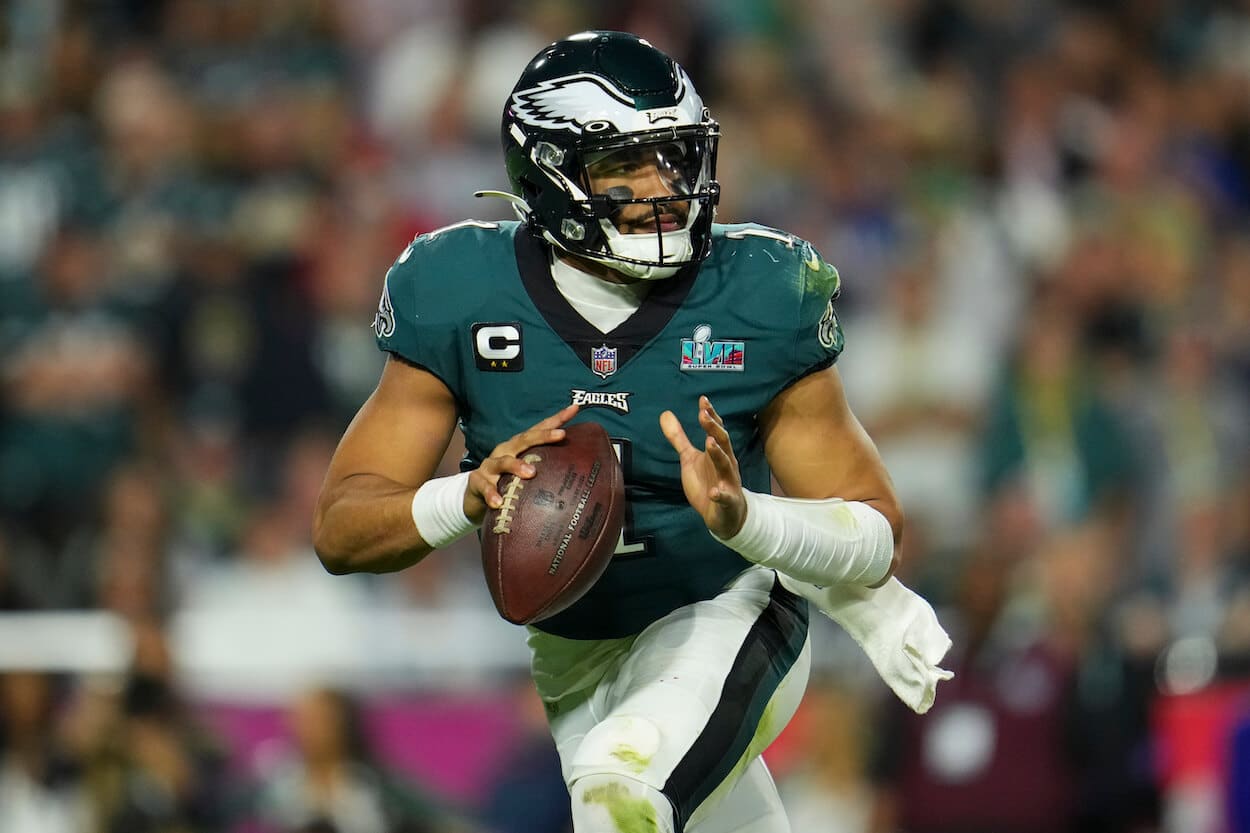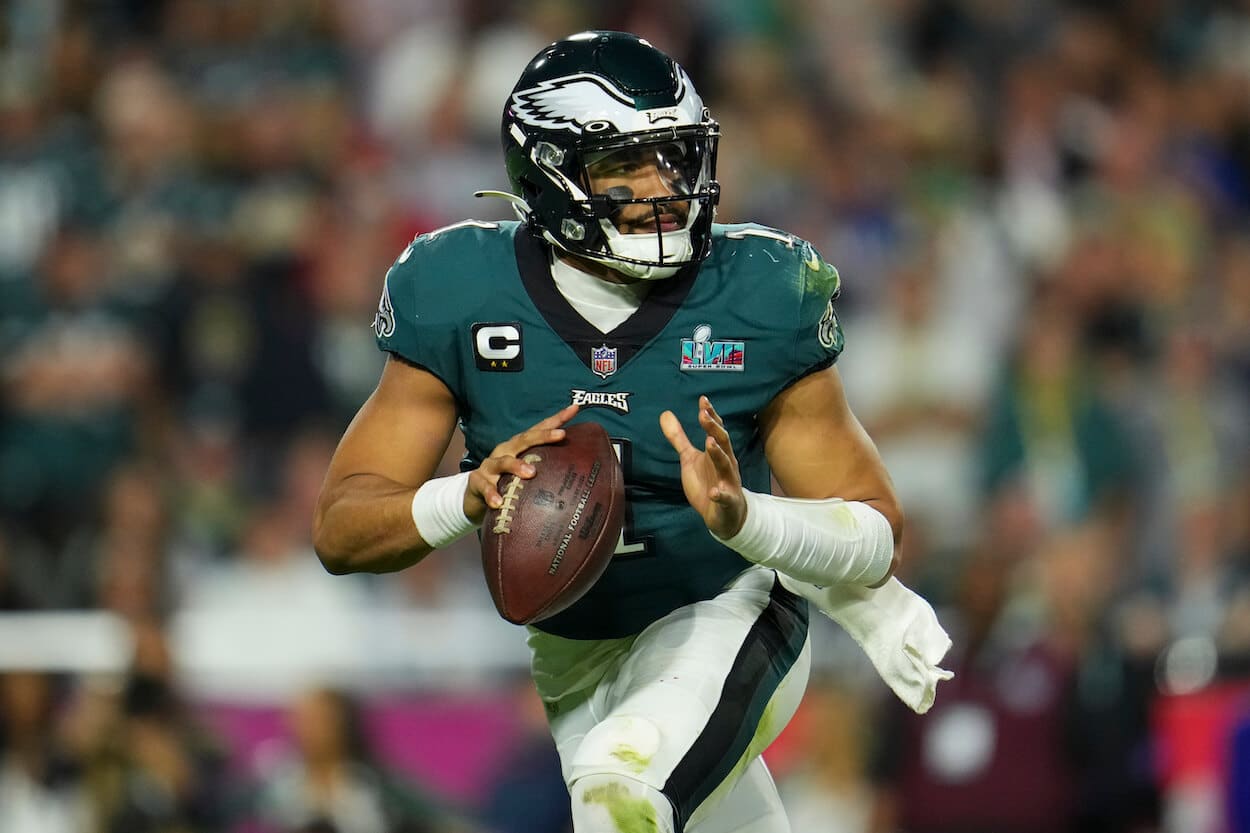 A few years from now, when we look back at the greatest QB performances in losing efforts in the Super Bowl, Jalen Hurts' display in Super Bowl 57 will be near the top of the list.
The Eagles quarterback completed 27 of his 38 pass attempts (71.1%) for 304 yards and a touchdown. He also rushed 15 times for 70 yards and three scores. By doing so, Hurts set the record for most rushing yards by a QB in the Super Bowl, tied Terrell Davis' record for most rushing TDs, and became the first QB in league history to lead his team to 35 points in a losing effort.
Leading up to Super Bowl 57, there were still doubters who didn't consider Hurts a high-level passer. He shut them up on Sunday night, as the 24-year-old was on time and accurate all game while fitting the ball into tight windows in the biggest moments.
If it wasn't for the inexplicable fumble in the first half that Kansas City ran back for a touchdown, it would've been an immaculate performance from the young signal-caller.
Jalen Hurts is closer to Patrick Mahomes' level than you think
Eagles fans who watched Hurts slice up the Chiefs defense all night in Super Bowl 57 weren't surprised in the slightest. They watched the same performance over and over again in the regular season, and he saved his best for last.
You could argue Hurts outplayed Mahomes in Super Bowl 57, just as you could argue he outplayed him throughout the regular season. Let's check out the stats, shall we?
| QB | Completions | Attempts | Completion % | Passing Yards | Yards per attempt | Passing TDs | Interceptions | Rushing yards | Rushing TDs |
| --- | --- | --- | --- | --- | --- | --- | --- | --- | --- |
| Patrick Mahomes | 435 | 648 | 67.1 | 5,250 | 8.1 | 41 | 12 | 358 | 4 |
| Jalen Hurts | 306 | 460 | 66.5 | 3,701 | 8.0 | 22 | 6 | 760 | 13 |
What stands out most from this comparison are the similarities in the passing statistics. Mahomes and Hurts had a similar completion percentage and a near-identical yards-per-attempt figure. Sure, Mahomes threw for over 1,500 more yards, but that's because he attempted nearly 200 more passes. On a yards-per-attempt basis, they were almost identical. Hurts also threw half as many interceptions as Mahomes and ran for 402 more yards and nine more touchdowns.
I'm not arguing that Hurts is as good or better than Mahomes. That would be ludicrous. Mahomes very well might be the most talented quarterback in the history of the sport.
But before this season, Hurts wasn't even considered a franchise quarterback. With his stellar regular season and his brilliant performance in Super Bowl 57, Hurts officially established himself as a top-five quarterback in the NFL.