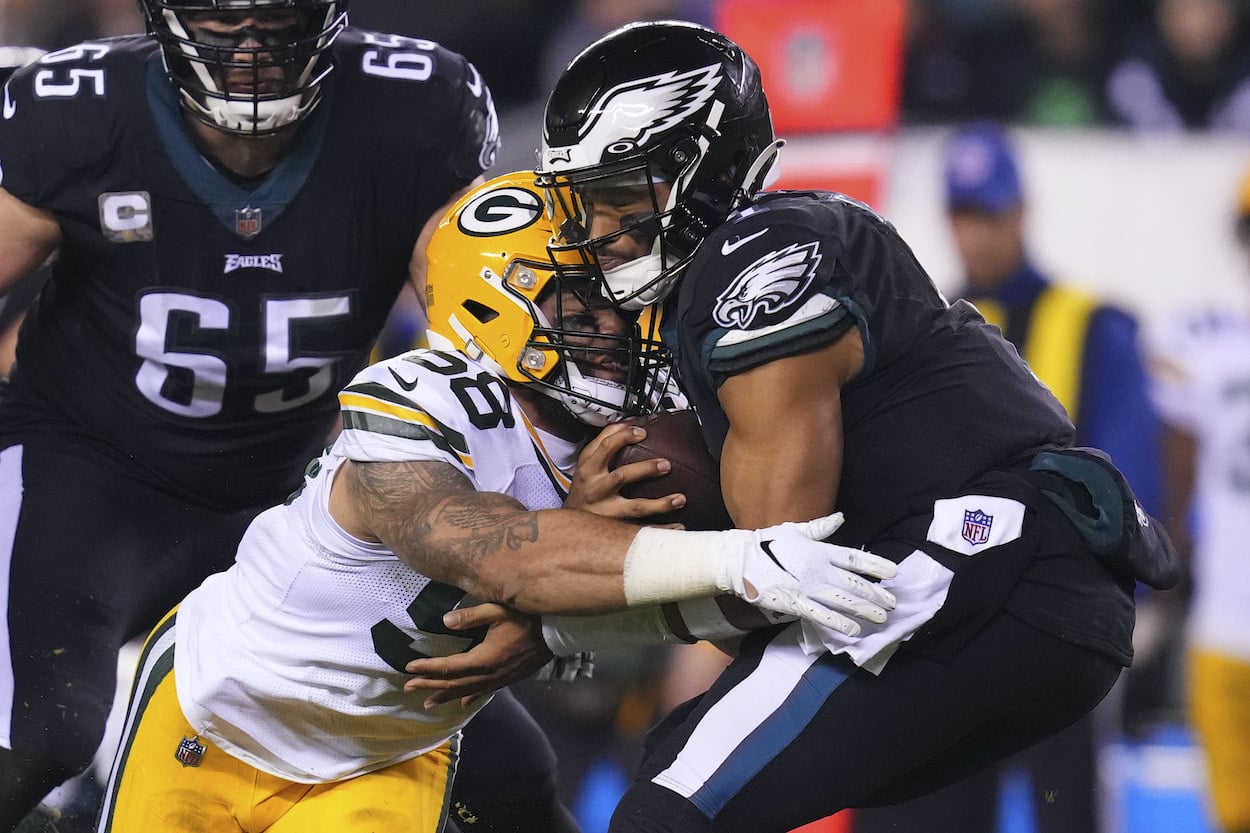 Is Jalen Hurts' Success as a Dual-Threat QB Sustainable for the Philadelphia Eagles? 
Jalen Hurts could be putting the Eagles season in jeopardy by using his legs too much.
The Philadelphia Eagles are 10-1 for the first time since 2004 and in the driver's seat for the No. 1 seed in the NFC, and Jalen Hurts might be the biggest reason why. Hurts hasn't just improved immensely as a passer, but he's also rushing more often and more effectively than he did last season.
Hurts' legs just carried the Eagles to two straight victories in less-than-stellar team performances over the last two weeks, and they're going to be crucial down the stretch if Philadelphia wants to secure a first-round bye. Only, that's a dangerous reality for an Eagles team with Super Bowl aspirations.
Jalen Hurts is rushing more often than he did last season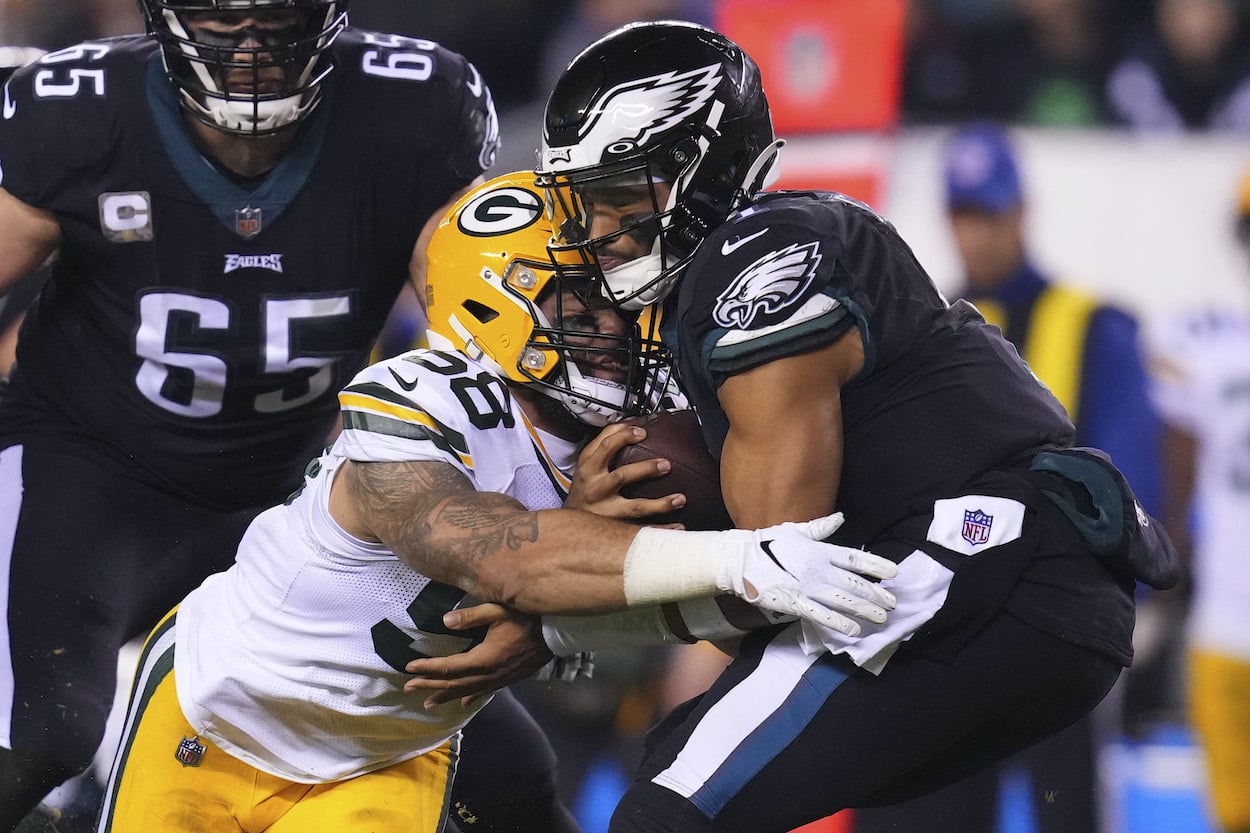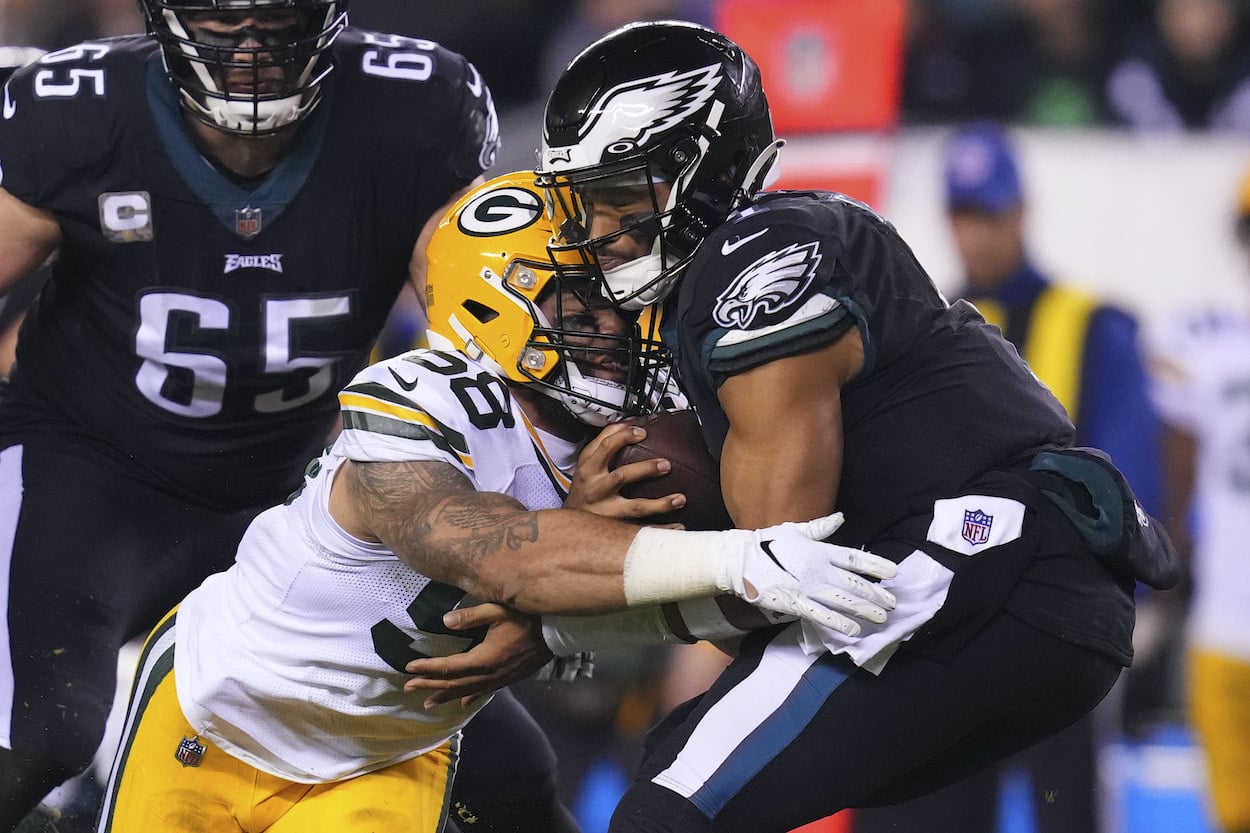 In Jalen Hurts' first full season as Philadelphia's starter, which came back in 2021, he relied on his legs to mask his deficiencies as a passer.
The Alabama and Oklahoma product finished the season with just 209.6 passing yards per game, a 61.3% completion percentage, a 16:9 touchdown to interception ratio, and the 19th-best QBR (54.6) among qualified starters. He did, however, lead the Eagles to a 9-8 record and a playoff appearance, in large part due to his 784 rushing yards and 10 touchdowns on the ground — both of which led the NFL among QBs.
Thanks to some hard work in the offseason and the addition of A.J. Brown to the offense, Hurts has become a much-improved passer in 2022. The 24-year-old is notching career-high marks in passing yards per game (232.7) completion percentage (67.3%), and touchdown passes (17). He also ranks fourth in QBR (68.2) through 12 weeks.
Hurts' improvement as a passer has unlocked a new dimension for this offense, but it's also opened up the field for him to run even more effectively than he did last year.
Through 12 weeks, Hurts is averaging more rushing yards per game (54.3) and more rushing attempts per game (11.5) than he did in 2021. He currently ranks third among QBs in rushing yards (600) and first in rushing touchdowns (eight). Against the Green Bay Packers last Sunday, the MVP candidate ran for a franchise-record 157 yards on 17 carries. That's even more impressive when you consider the Eagles employed the likes of Michael Vick, Randall Cunningham, and Donovan McNabb over the years.
The Eagles are at their best when Hurts is taking off on designed runs and scrambling when his protection breaks down, but how sustainable is that game plan?
Dual-threat QBs and injuries
Mobile quarterbacks used to be unicorns in the NFL. If you couldn't stand in the pocket under pressure, read defenses, and consistently deliver accurate passes, then you weren't respected as a QB. It didn't matter how dangerous you were as a rusher.
But today, rushing quarterbacks are more the standard than the anomaly. Dual-threat QBs such as Josh Allen, Lamar Jackson, Patrick Mahomes, and Jalen Hurts are piloting four of the best teams in the NFL. Designed runs for quarterbacks are more prevalent than they've ever been, but that increases the risk of injury to the most important player on the field.
We've seen it with Jackson over the last few seasons. The Baltimore Ravens signal-caller missed five games last year, and he's never played a full season in his career. And what about Justin Fields? The Chicago Bears started infusing more designed quarterback runs to the playbook a few weeks ago, and Fields suffered a separated shoulder and partially torn ligaments during a scramble in Week 11. He missed the following game and could miss even more time moving forward.
Injuries can strike at any time for quarterbacks taking more hits every week than the average pocket passer, and Hurts is getting hit more than he ever has right now.
The Eagles are at their best when Jalen Hurts is using his legs
The Eagles know the injury risks associated with dual-threat quarterbacks, but they also know how unstoppable this offense can be when Hurts is mixing in the run with the pass.
Just take a look at the last two weeks.
After losing to the Washington Commanders in Week 10, the Eagles continued to struggle on offense against the Indianapolis Colts the following Sunday. Miles Sanders was held in check with only 47 rushing yards on 13 carries, but Hurts continually bailed out the offense by scrambling for first downs. He picked up a crucial fourth down with his legs late in the game and punched in the game-winning touchdown a few plays later, finishing with a team-high 86 rushing yards.
Last Sunday against the Packers, Hurts once again led the Eagles in rushing with 157 yards on the ground. The defense struggled all game and the passing attack wasn't clicking, but Hurts' legs bailed out his team for the second week in a row. Philadelphia could easily be on a three-game losing streak right now and watching the NFC East slip away, but his elite rushing ability stopped that from happening.
How should the Eagles balance Hurts' rushing ability with the injury risk?
The Eagles won't be able to accomplish their ultimate goal of winning the Super Bowl unless Hurts is operating as the dual-threat quarterback he's always been. But, more simply, they need him healthy and on the field to execute that game plan.
Thirty-three rushing attempts over the last two weeks are far too many. We saw Hurts stand up slowly a few times last Sunday after taking some violent hits on scrambles, and those nervous moments are only going to escalate if he continues to run the ball at this pace.
Hurts can still lead the Eagles to a first-round bye with his arm, and he needs to focus more on sliding or running out of bounds to avoid big hits in the coming weeks. Once the playoffs arrive, that's when Nick Sirianni and offensive coordinator Shane Steichen can unleash him as the most unstoppable dual-threat weapon in the NFC.