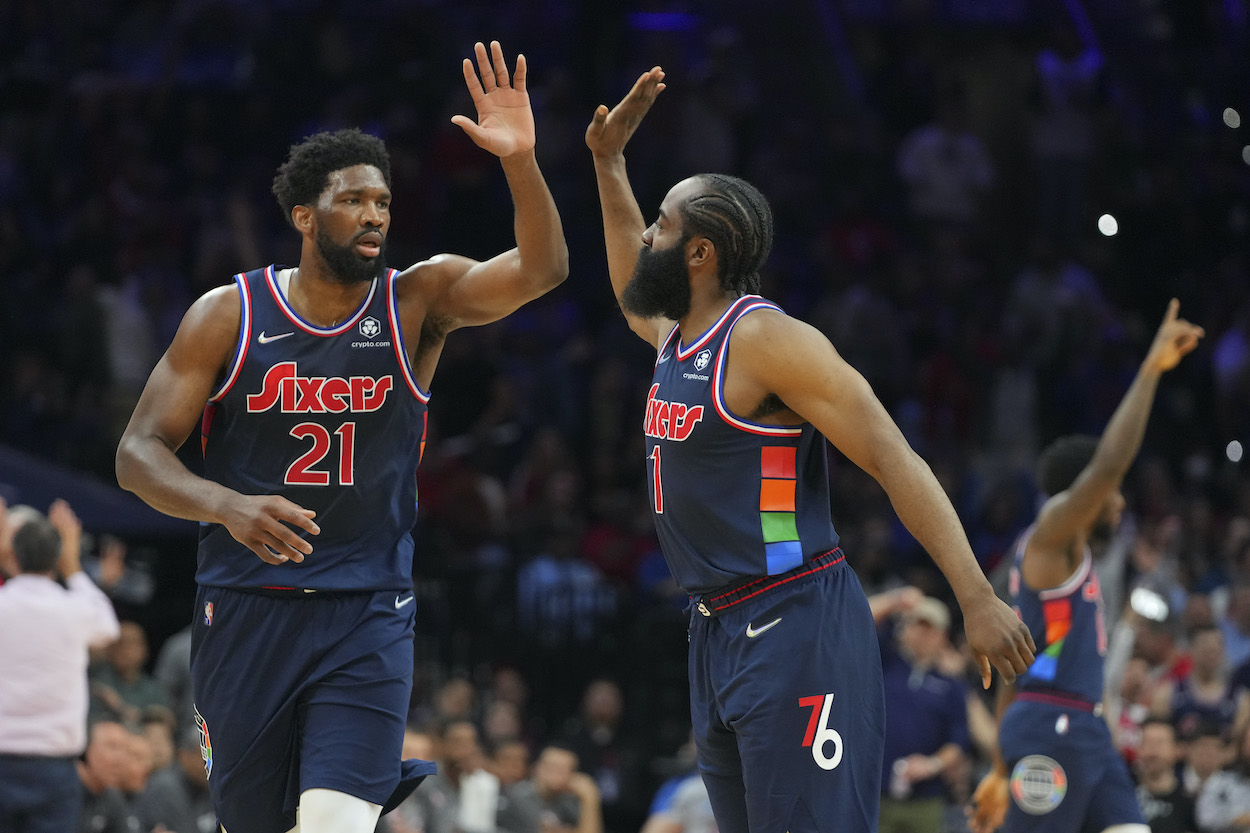 James Harden Passionately Lobbies for 76ers Teammate Joel Embiid as the MVP
James Harden is convinced Joel Embiid deserves to win the MVP award this season.
The 2022 NBA MVP race is coming down to the wire, and it feels as if three players still have a chance to win the award. Joel Embiid has been the betting favorite for a few months now, but Nikola Jokic and Giannis Antetokounmpo are close behind in the odds and would also be deserving winners this year.
If you ask James Harden, though, he's convinced Embiid deserves the MVP after spending just a few weeks as his teammate.
Joel Embiid is still the betting favorite to win MVP
It's been a wild roller coaster of an MVP race this season. Stephen Curry jumped out to the early lead as the Golden State Warriors got off to a hot start to the season, then Kevin Durant seemingly took over the No. 1 spot with his impressive scoring run.
A knee injury eventually kicked Durant out of the race, and Embiid stepped in as the new favorite early in 2022. Jokic and Antetokounmpo have been hot on his heels for the last few months, but Embiid is still the betting favorite with only a few games left on the schedule. Check out the current MVP odds below:
Joel Embiid: -180
Nikola Jokic: +140
Giannis Antetokounmpo: +800
Devin Booker: +2500
Ja Morant: +5000
Luka Doncic: +5000
Kevin Durant: +15000
Stephen Curry: +20000
James Harden passionately lobbies for Embiid as MVP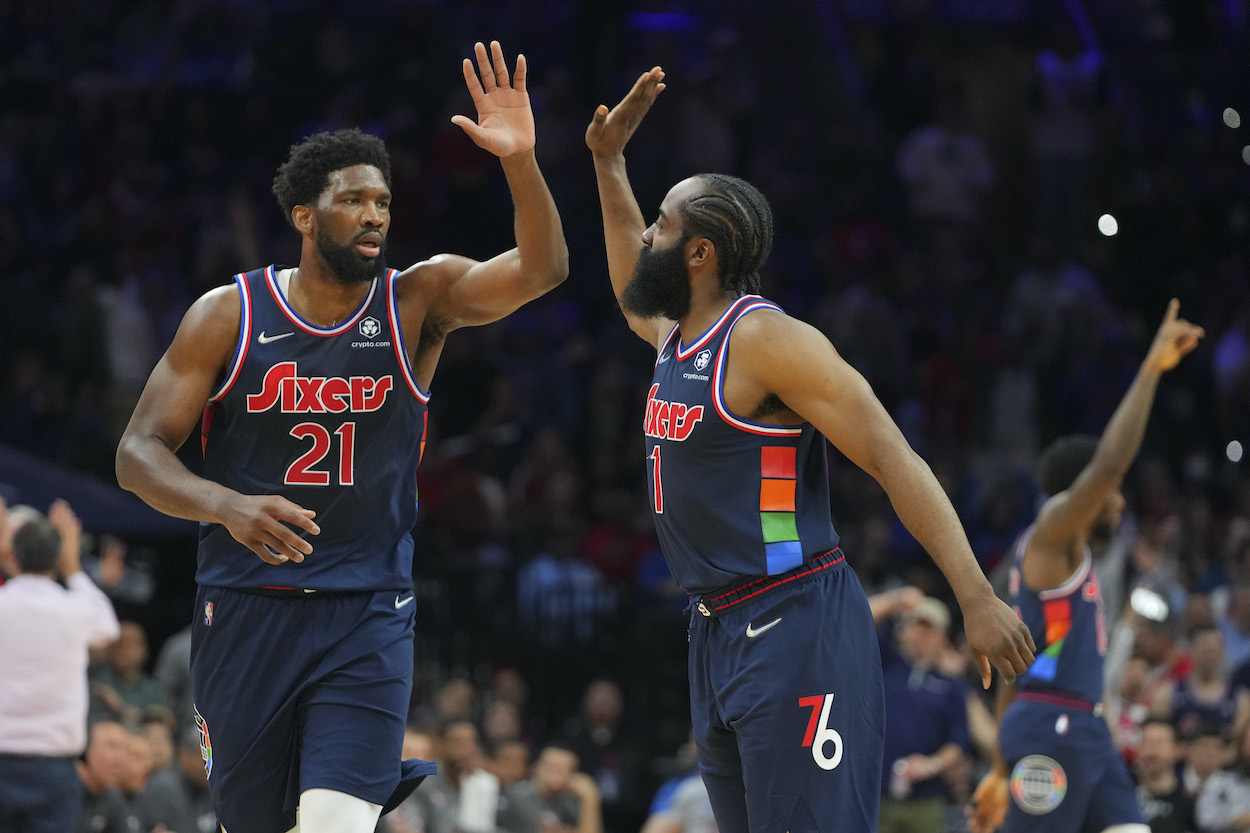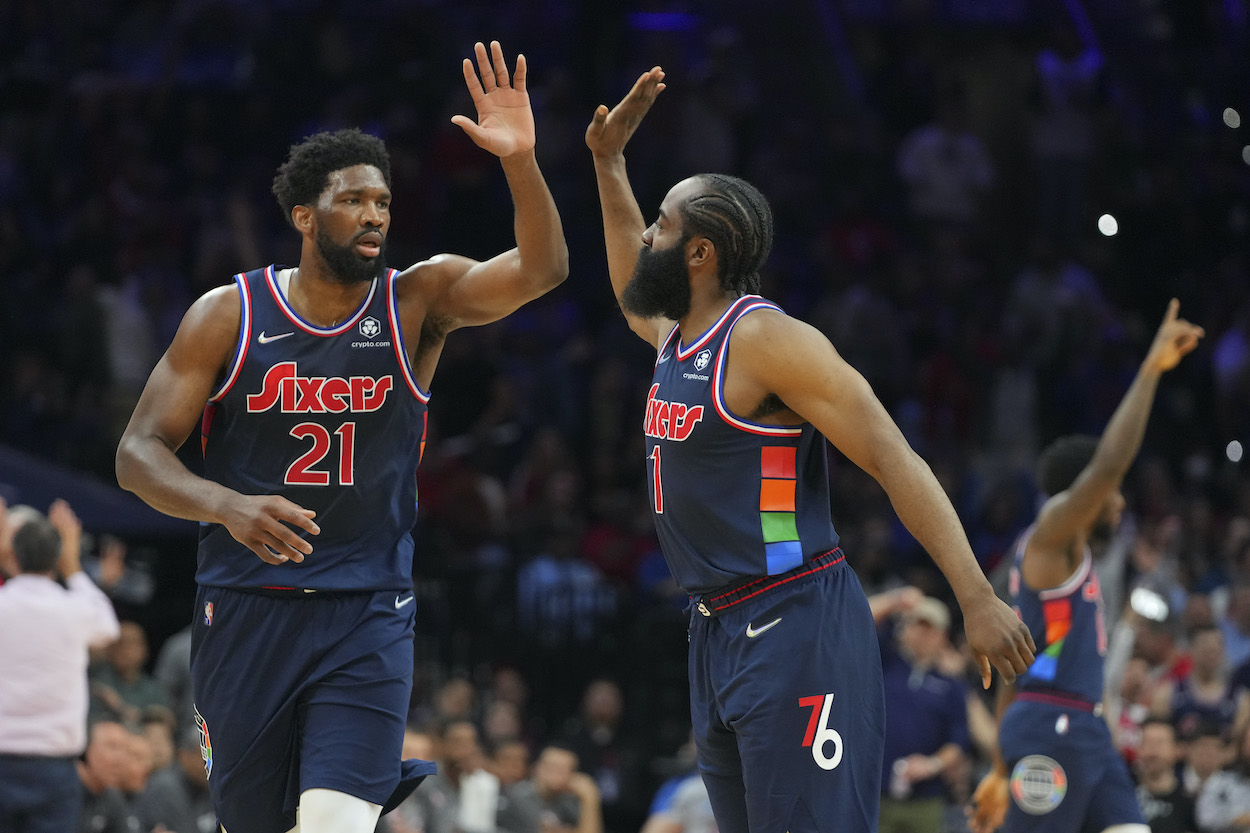 Harden has only been teammates with Embiid for a few weeks, but he's already seen enough to name him the MVP of the 2022 season. As a former MVP himself, he knows a bit about what it takes to win.
"He deserves it, man," Harden told Ramona Shelburne of ESPN in a recent interview. "I've only been here for a few weeks, but I already see his mindset. He wants to win. Some guys just want numbers, but he has both. He has the mentality of winning, and he scores the ball at a high level. I think he's prepared himself, especially coming off last year, for this year to be one of his best years."
Embiid is second in the NBA in scoring this season at 29.8 points per game, but it's his leadership and impact on winning that pushes him over the top for Harden.
"Most of the games he's played this year, we've been fighting for the No. 1 seed," Harden said. "And he's not only top two, top three in scoring but he's impactful to our team winning."
Does Embiid really deserve the MVP?
Embiid has been a dominant scorer all season long, and he has the 76ers tied for the No. 1 seed in the Eastern Conference with nine games remaining on their schedule. If he finishes strong and Philadelphia ends up with the best record in a loaded East, it will be hard to argue against Embiid for MVP.
But the Denver Nuggets wouldn't be sniffing the playoffs if not for Jokic, and Antetokounmpo is having the best scoring season of his career while pitching in nearly 12 rebounds and six assists per game. All three would be worthy winners this season, and it wouldn't be a shock to see any of them take home the award.
All betting odds courtesy of DraftKings as of 3/27.
Like Sportscasting on Facebook. Follow us on Twitter @sportscasting19.