Jaret Patterson, the Washington Football Team's New Undrafted RB (and Chase Young's High School Teammate), Owes His $2.425 Million Contract to His Twin Brother
Former Buffalo Bulls running back Jaret Patterson will join former high school teammate Chase Young with the Washington Football Team.
Despite playing just six games for Buffalo this past season as the MAC schedule was limited due to COVID-19, running back Jaret Patterson was one of college football's most exciting players in 2020. But as he stands just 5'8″, he's long been seen as undersized and was expected to be a late-round pick in the NFL draft if even selected at all, which he wasn't. But the NFL dream is alive and well for Patterson as he's signed with the Washington Football Team as an undrafted free agent and will be reunited with former high school teammate Chase Young in the nation's capital.
Jaret Patterson teamed with Chase Young for two years in high school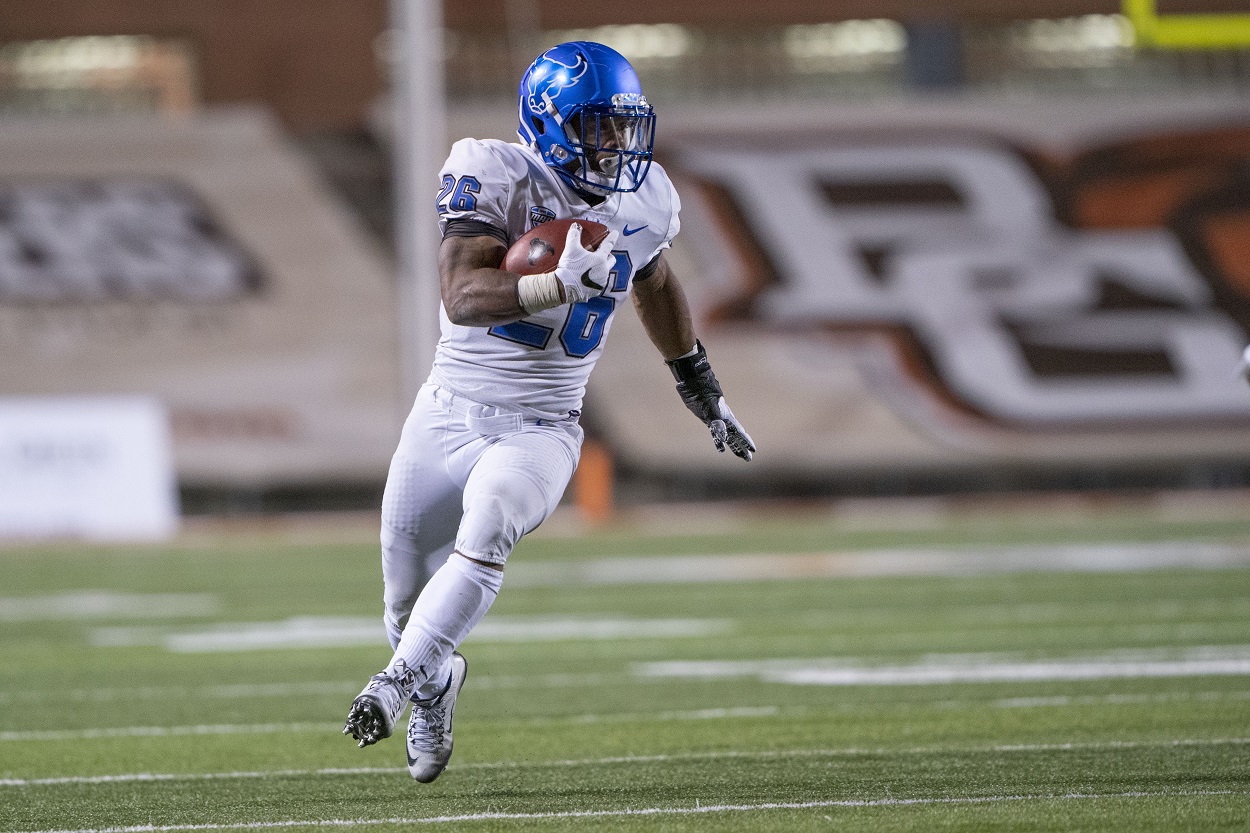 Born and raised in the state of Maryland, Patterson attended St. Vincent Pallotti High School in the city of Laurel beginning in and teamed with Young, who would go on to become an All-American at Ohio State, for two seasons before the future No. 2 overall pick in the NFL draft transferred to nearby DeMatha Catholic in Hyattsville.
He wasn't heavily recruited and essentially only got a Division I scholarship because of his twin brother
As Jaret Patterson's high school career progressed, he put up solid numbers but simply wasn't on the radar of any Division I programs. But his twin brother James, a linebacker, was being looked at and Jaret would simply tag along on some of the visits.
However, James had a stipulation for the programs looking to bring him in. If they wanted him, they had to recruit Jaret as well. But most schools didn't see Jaret as a Division I running back due to his size and only a handful actually made offers to both. The Buffalo Bulls were part of that group and both of the Patterson brothers committed to the program just ahead of their senior season at Pallotti, a season in which Jaret earned All-State honorable mention honors by rushing for 2,045 yards and 23 touchdowns.
But there was a problem. Buffalo didn't have a scholarship to offer at running back for the 2017 season so they asked Jaret to grayshirt, which meant deferring enrollment for a semester and joining UB in the second semester, which is what he did. But James wouldn't join the team without his brother and did the exact same thing. Both joined the team on a full-time basis in the spring of 2018 and began their respective careers with the Bulls that August.
Patterson rushed for 1,000+ yards in each of his three seasons at Buffalo
With the chance to prove himself at the Division I level, Jaret Patterson certainly took advantage. As a freshman in 2018, he rushed for 1,013 yards, averaging 5.5 yards per carry, and scored 14 touchdowns, earning MAC Freshman of the Year honors.
The following year, he had the best season of any running back in school history, rushing for 1,799 yards with 19 touchdowns, also adding 13 receptions for 209 yards and a score. He led the Bulls to their first bowl win in program history, a 31-9 drubbing of the Charlotte 49ers in the 2019 Bahamas Bowl, and was named MVP after rushing for 173 yards and two touchdowns.
In just six games in 2020, Patterson averaged 7.4 yards per carry on the way to 1,072 yards and again scored 19 touchdowns, eight of them coming in a 70-41 win over Kent State, tying an FBS record. He ran for 409 yards that day, the second-most single-game rushing yards in FBS history and just 18 shy of the record. Just 11 days earlier, he'd rushed for 301 yards and four touchdowns in a 42-17 win over Bowling Green.
Unfortunately for Patterson, he was unable to suit up for the Bulls in their Camellia Bowl matchup with Marshall (which they won) due to a knee injury but was still named the MAC player of the year.
For those wondering, James has had a solid career at Buffalo as well, recording 180 tackles over the past three seasons, 15.5 for a loss, including 2.5 sacks, and is a two-time MAC All-Conference selection.
As for Jarret, he felt it was the right time to head to the NFL and after going undrafted will now try to prove he belongs, a scenario he certainly knows well. Patterson is the only undrafted free agent Washington will sign and has inked a three-year/$2.425 million contract.
Stats courtesy of Sports Reference